Advertisements

Kent vocalist, blues harmonica player and singer-songwriter Katie Bradley came into the spotlight with her 2012 debut album She's Ready.
The song I Hear The River, was nominated for Best Original Song in the British Blues Awards. Her career has been peppered with collaborations and supporting acts such as Luther Allison, Lucky Peterson and Georgie Fame. In 2015 Katie supported Kirk Fletcher on a UK wide tour. More recently she has collaborated with guitarist Pete Farrugia on her new release Soho Heart. This is a collection of twelve original songs including an instrumental.
Blues Matters caught up with Katie to discuss the new album and other topics.it went something like this…
Hi Katie, how are things with you, what are you up to?
I'm good thanks. Working on new songs. Got a new acoustic bluesy EP coming out with Pete Farrugia. We'll be writing a new album in the summer,
How have you been coping through this pandemic?
Everything has come to a standstill but I've been doing some online gigs as you know, recently. Also in London and around the world, they've been doing Blues dances online. The first was Blues at The Ritzy in Brixton. Usually, people turn up, have a dance lesson, there's always a live band then a DJ playing blues music. It's excellent I did one from home on Zoom and you could see lots of people dancing, which was good. The adrenalin is still the same doing these online events.
Given that live stream concerts are what we've got just now how you prepare for these. Thinking in particular about the recent Wrotham Arms Blues and Roots Festival?
It was different. I'm at home and Pete was in his place in London. He used tracks from the album but played his parts live on the video and sent it to me. I added the vocals. Think it went quite well. He's very clever technically, which helps!
When did you last play a live event?
In the summer at the Ain't Nothin' But The Blues Bar, London, September.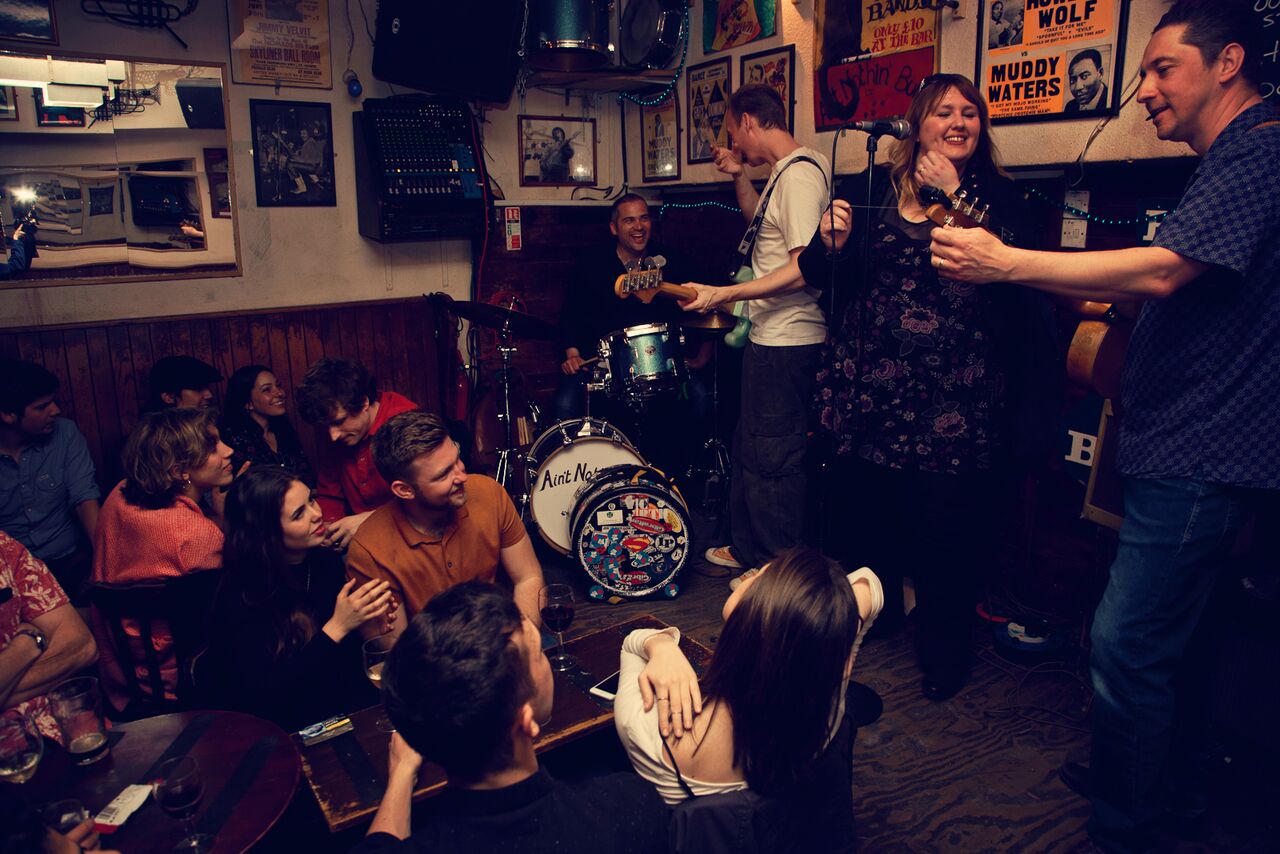 Right, let's talk about your newest album, Soho Heart – great artwork on this?
Yes, I did that! During lockdown I've been exploring my illustration, which was one of the projects.
Let's do this track by Track, that sound ok?
It starts off with a Memphis sound on Tell Me About It. A sassy blues style number. It's a " dancy "number. A few numbers are more lyrical and slower, this one's a bit of fun! It features Dom Thatcher on all horns, saxophones and things! He's a talented young London musician.
I Already Know is a "moody" blues tune, a love story, that wasn't destined to happen I think. I love the horn arrangement on that. Dan Edwards's organ playing is superb. We had a guest drummer Ron Roesing who has played with the likes of Buddy Guy in Chicago. He happened to be in London at the time. Jason Smith also played the drums on other tracks.
How did the title track Soho Heart come about?
I started playing a couple of chords and I love the Motown sound and the girl groups in the '50s and '60s, Shirelles and the likes. Pete added a zither which he got from Dudley Ross who I have played with on previous releases. The song is based on nights out in the Ain't Nothin' But The Blues Bar. The rickshaws appeared after the gig to pick people up. It's a very romantic song. How I started out was at that club. Ian Siegal was running the jam there; I played with him about twenty years ago as well!
Willow Man is a beautiful folky tune with a Kate Bush influence. I wanted a soul sound here to the vocals.
This album seems more focused on your vocals; would that be right to say?
Yes, not so much harmonica on this album as well, we wanted a different vibe. The next EP is back to full-on blues.
Mysterious Ways is a Gospel type tune. It has a waltzy timing. It sounded romantic to me, like at the end of a dance night.
Chickpea Curry, is that Pete's signature cooking dish? All musicians experience this when they go round to his house, they have this dish. We had a track organized but couldn't really find something to go with it. I sang a vocal but I said you are an amazing guitarist make it an instrumental. He's made a cookery video about it now!
Does Your Star Shine Brighter, is a very personal song. My dad died about two years ago. It's a heartfelt song, he was a blues musician, I really miss him. It was one of those songs that I thought; wherever you are I hope you know we're thinking of you. It's a reflective thought and brought the best out of me. It has an upbeat Caribbean flavour!
Gaslight is another bluesy song about relationships. I did a walk for a Refuge charity, I think they may use this one.
Keep on Wishing is lovely. We have a beautiful harbour here in Folkestone. It reminds me of an upbeat Stevie Wonder song. Might be a song about meeting up with people and having a dance after lockdown!
Take A Ride is a bluesy tune with Dan on the piano.
Jump This Ship is a song I really love. It references walking in the valley alone.
Raise The Game the last song is something different altogether. To me it's classy soul, we wrote it together Pete and myself. It leaves the album hanging! It relates to what we go through and raising the game is all we can do. The only way is up to sort of thing!
All songs are musical vignettes, with no real theme as such!
We came together Pete and me wondering what we could bring to the music. He's an amazing blues guitarist with many influences. I come from a folk and blues background. It was nice trying out a lot of things. There is a stream of blues through it but other influences there. People have said this lacks harmonica, well the next one there will be plenty!
Your vocals are excellent on this album, how have you managed to keep your vocal cords sharp during this lockdown without many shows?
My neighbours are very understanding! I sing Gospel to myself. I'd like to do some Gospel Sundays featuring The Staple Singers songs. Dave Ferra is recording some backing tracks for me. I sing acapella a lot.
Who have been your influences on your music style?
Aretha Franklin, Etta James, Big Mama Thornton. Lots of influences here from different genres. Americana, soul to blues, Like Gladys Knight as well. Blues wise, Bessie Smith for belting out the vocals!
What made you choose the harmonica as an instrument to play?
I started when I listened to an album my dad had. Best of Muddy Waters, it also had tracks by Little Walter and James Cotton; I fell in love with that sound. I learned about the relationship between harmonica and guitar. I saw Larry Adler. I used to go to my mum's folk sessions and vamp along with the chords. I enjoy jazz solos and I love Sonny Boy Williamson. Help Me, is my favourite Blues solo. Sonny Terry and Brownie McGee are also influences.
What music did you listen to in the family home growing up?
Lots of different music. My mum was offered a recording contract in the 60s. She played all the Clubs. I'm following in her footsteps; I play places she used to like the Troubadour in Earls Court. She remembers Bob Dylan coming downstairs when she was playing; she hung out with Long John Baldry. My dad was based in Kent he was on the Blues scene. The house was always full of musicians. My mum used to get me up to sing during the breaks and I played with differing jam bands. I had my first band when I was fourteen. The first gig was The Phoenix at Faversham. The band was called Katy Lied, after the Steely Dan album! I teamed up with Chris Corcoran in 2000. \we recorded an album. In 2017 we made C'est La Vie. Anchor Baby Sessions with Dudley Ross was a follow up to She Is Ready featuring Sam Kelly and the Station House guys! Since then I have travelled all around the world. Only seriously came onto the blues scene a few years ago, when I was nominated by Kevin Beale (Blues on the marsh) for 'I hear the river' at the UK Blues Awards.
Any tales from the road you can tell us here?
I helped Dudley with the Kirk Fletcher tour. I had set up all these harmonica players. I thought it would be good to get a new harmonica player for each gig. By the third one, I was informed he wasn't into this idea, he didn't mind the way I played though! Luther Allison played a gig at Blackheath, he called me on stage. I also played with Bernard some years later at Tenby, so the Allison experience came full circle. I started doing a residency at Ronnie Scotts and when Lucky Peterson played there for three nights, I was invited to open for him! I chatted with him after the show, such a lovely guy.
What's the best musical advice you have had?
From Tom Attah. He said, "Never fool your audience, always be true to yourself". I never sing a song unless I can put everything of myself into it.
How would you describe your style of music?
Generally, I play soul based blues. Blues means having a deep respect for where it came from. It's a feeling and something you live with. Once you've been touched by the blues, you can't lose! When I first picked up the harmonica at thirteen I felt this. I jammed along to compilations of blues, then I researched them. Then I discovered female artists like Bonnie Raitt and Sippie Wallace, Bessie Smith. Contemporary wise, I like Alice Armstrong and Kyla Brox. Blues music will always be around, it touches your spirit! It's a fundamental part of the music. You can make your own path in music now. I don't think you need to listen to someone telling you what to do!
Finally, anything about you that people don't know about?
I am an illustrator, I play the penny whistle, not sure if that will come into play. I'd be an illustrator if I wasn't a musician! Writing children's books and illustrating. I'm also using lockdown to hone my harmonica playing! Working out new styles, and I've got a new amp. Always evolving. Every day is a new day it's what you put into it that matters.
Thanks for chatting to Blues Matters.
Thanks, nice speaking to you too!