WORDS: Colin Campbell : PICTURES: Alan Dunkley
As this year 2020 comes to a close, I got the chance to talk to Elles Bailey about her recent release 'Ain't Nothing But'. Due to Covid pandemic, Elles like many other musicians has not been able to perform to a live audience. Unfazed by this, she took to doing live stream shows from her home in Bristol. This venture then snowballed into  three virtual performances, where Elles was invited to perform at White Noise Studios in Weston-Super-Mare. Her newest release is the result, encompassing live covers of sixteen tracks from two of these White Noise Shows. Elles was joined by Joe Wilkins on guitar, Phil King on guitar and Joe James on double bass, they all shared backing vocals. The release is raw and captures an as live experience, including many different styles and genres that has pushed boundaries within the band and exhibits that connection. It's a compilation, a "best of", unedited and down to the bone. Various other things have occurred recently with Elles in this less than ordinary year. Read on…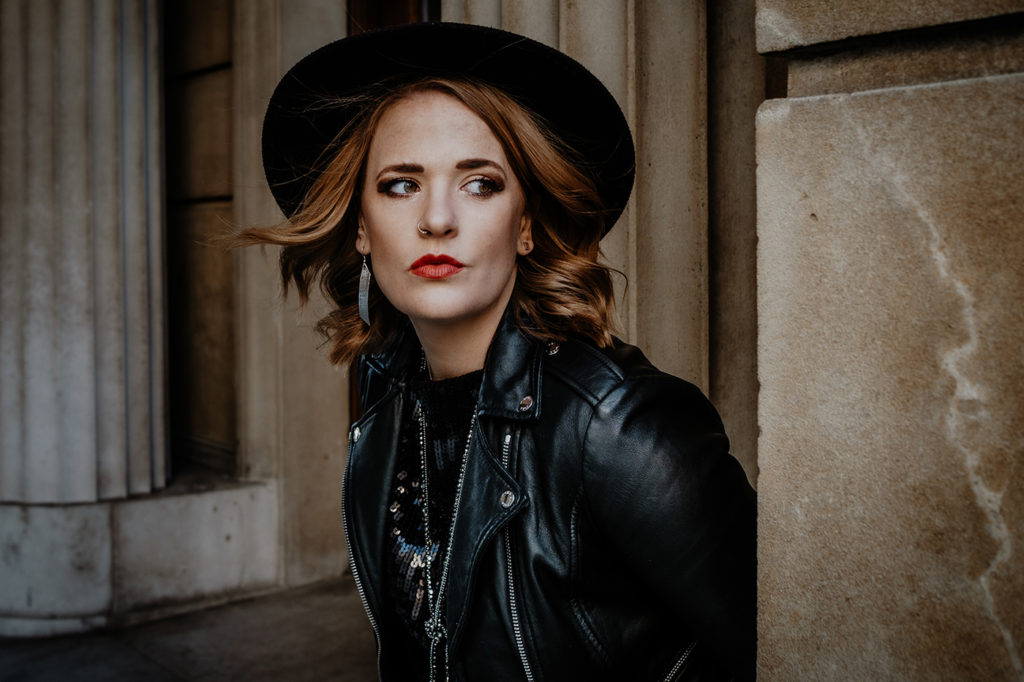 Hi Elles, how's it going with you, thanks for taking time to talk to Blues Matters!
A pleasure!
Sum up your year so far if you can?
That's tricky. 2020 was the year when music kind of stopped. However, for me I've made the most music I have ever done. I made a record, an E.P., a covers album and have taken part in loads of collaborative projects. To have the time and space to do that has been a real blessing. Obviously, the making of the new album, career wise, is the most important thing. That was so precarious. We were doing it at the end of the year and have literally just finished it. Everyone had to self-isolate prior because we were going into a residential Studio for a fortnight. It was a full on experience. I was worried something would come up, maybe someone would get the virus and it would be cancelled but it didn't! I've made the record and won't have to worry about singing for a while as my belly gets much bigger! With the baby growing it was like a time clock I had to get this record finished! 2020 – It's been tough on so many levels. But career wise it hasn't been too bad!
Talk about the last release, Ain't Nothing But!
It was born of a pandemic. As soon as we came off the road, I was plunged into the streaming world and got involved with the likes of the Lockdown Music Festival. That paved 3 months of streaming with gradual improvement of videos and sound. I set up a P.A and an interface and got into more technological stuff. But by mid-June I felt pretty uninspired after that. It got to a point; to how do we make this better? That was when this studio in Weston-Super-Mare got in touch. This was when lockdown restrictions we lifted slightly and musicians were able to get back into the studio again. I got my guitarist Joe Wilkins and drummer Matthew Jones, and we did a test stream on Facebook and it was amazing.
Unlike a tour, where you can play the same set every night because you're playing to a different audience, when you're streaming you have to do a different set. I've always been asked who my influences are, you know, that classic interview question, so I thought – why don't I pay homage to my influences in two live streams, that's how the Ain't Nothing But streams started. And after the streams I listened back to the tracks and thought….. this could make an album and it did!
Were the first seven songs voted by your fans?
No – That was the 2nd stream 'Ain't nothing but Elles Bailey Requests' The first 7 songs were from the show, Ain't Nothing But the lyrics. As much as I've been championed by the blues scene, Americana and Country music have been a big part in my writing. One of my heroes is John Prine who died of Corona Virus in April. For me that was the beginning of the seriousness of the pandemic. I got home to Bristol from tour, the sun was shining and I spent the first week or so I could enjoy walks and admiring the blossom, then April came, he got sick and it was like, this is taking our heroes and reshaping music forever. John is such a huge influence – There are two John Prine songs on the album.
I Remember Everything is a song they released posthumously and I listened and thought "What did you know' – there's so much beauty and nostalgia. It's like he took a breath, looked back on his life and wrote about it. That had to open the album and the set. When I was younger, I didn't enjoy playing the piano. I was doing grades but couldn't read music and got away with it by listening to the teacher play and then playing by ear. But I didn't get past Grade 3 or 4. When I moved Schools. My mum asked the teacher to teach me to play like Elton John …. And that epically failed – ha – But it did open a new world of more chordal structures to my piano playing. That inspired me to play and write my own music. That New teacher, and the new School paved a new direction for me, so I had to pick an Elton John song. The show happened during the Black Lives Matters marches. I thought Border Song, its such a good song about breaking down barriers that we have, something that needs to happen in this world.
A similar reflective theme goes through the first seven songs. Mercy Now, by Mary Gauthier, you listen and think wow – what a world do we live in and how much mercy we surly need. Mavis Staples' You Are Not Alone, reflects lockdown, and living in isolation and fear. I did a writing retreat in Arkansas and was flying to Nashville for Americana Fest and listened to The Highwomen album. Crowded Table really stood out, it resonated in me. I come from a house with an open door policy; where no matter who you are you are welcome. If you had nowhere to go at Christmas you came to our house. I listened to the lyrics and thought that's the house I grew up in! Again, a reflection of 2020, the year we cannot have crowded tables. It's reflective of modern song writing it had to go in.
Bonnie Raitt's cover of Chris Smither's Love Me Like A Man, is challenging, I wanted to take it down a key but It just didn't sound right! Bonnie's my hero along with John Prine and Mavis Staples. I was given tickets to the Americana Awards 2019, they were second row tickets for the Ryman Theatre in Nashville. I had no idea who was playing and John Prine and Bonnie Raitt sung Angel From Montgomery, two days before I released it as a single. It was a special moment, the only time I've seen him. Mavis Staples performed as well and I met her that night!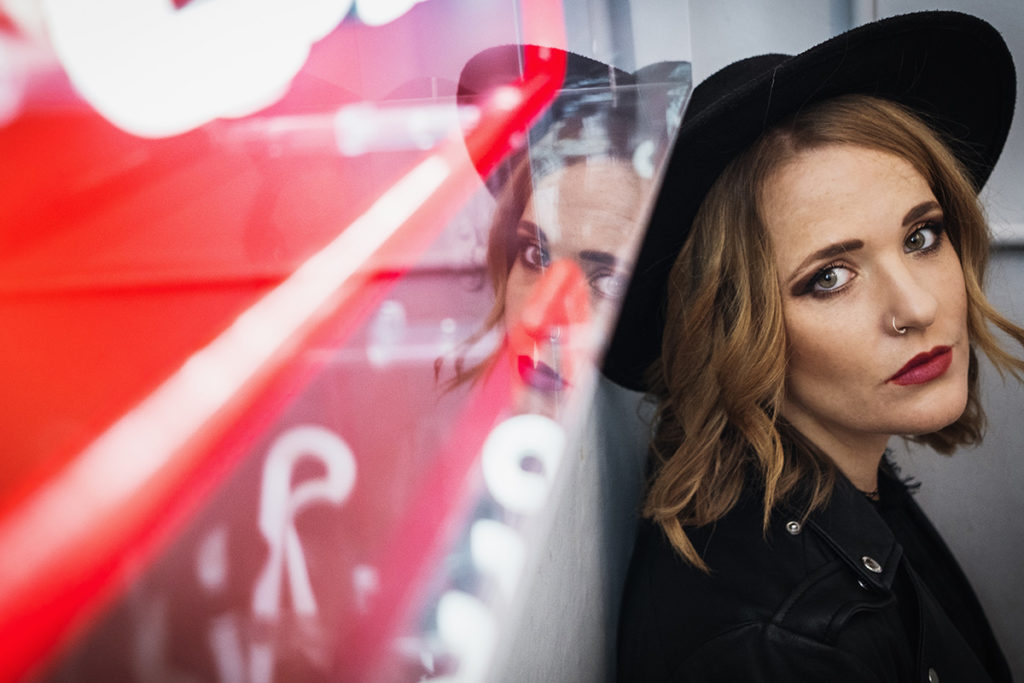 It's an album of two halves, the second being more blues and roots orientated?
That was from the last of the three shows 'Ain't Nothing But The Blues' paying homage to the legends where we took a small journey through the history of the blues. Picking trailblazers like Leadbelly, then 50s Chicago blues. There's Tom Waits and Ben harper there also. For the show I picked a Kyla Brox song too, It's not on the album as I don't think I did justice to it! But I wanted to celebrate my contemporaries in the music scene, a celebration of the blues in all its forms throughout the years. Leadbelly's Where Did you Sleep Last Night , inspired our one, amazing.
Tom Waits' Way Down In The Hole, reflects my 2020. It's been the year of television shows; it's also the theme tune to the series The Wire. Just before the tour was cancelled at Glasgow I was supposed to do a Ladies Of The Blues concert with Lady Nade and Victoria Klewin at The Bristol Jazz and Blues festival. When The Levee Breaks was going to be a song we sang in tribute of Memphis Minnie. We took it for the stream and put a 12 bar spin on it. Bobby Bland's Ain't No Love In The Heart Of The City, what a tune! I went travelling round Montenegro last year with my husband that framed our driving around the cliffs. I love that tune.
I hadn't heard much of Ben Harper, my husband loves him. I researched more and looked at the Ben Harper and Charlie Musselwhite album and out jumped No Mercy In This Land, which also reflects present times, that's why I chose it.
When I first put a band together for the first time under the auspices of Elles Bailey I didn't even know there was a blues scene! Spoonful was always a cover we used to do. It harks back to early band sets. I played it at Skeggy on the Introducing Stage so that track was a throwback to five years ago.
Buffalo Springfield's For What It's Worth reflects taking to the streets in protest. It pays tribute to Stephen Stills, a great storyteller. Bo Diddley's, You Can't Judge A Book By Its Cover now that's a fun song to sing. I borrowed my dad's 4 by 4 when we were making the new studio album in Devon because it was raining like a bitch for a while and flooding. The only CD in the car was the 'Ain't Nothing But' one! And that final song – It's lighthearted. The blues comes from a place of pain and separation. But it's such a versatile genre and hearing Bo Diddley is just fun.
Its strange- during the set, after playing eight or more blues songs I become more American for some reason – ha!
This album celebrates the musicians I was playing with as well. Joe Wilkins features on every track but I wanted to use artists like Phil King and Joe James as they should have gone on tour with me before it was cancelled. The record celebrates the talent we have from Bristol, I'm very proud of it.
What do you as an artist get out of live streaming?
There is still a feeling of connection which is so important for fan to artist. The ones on Facebook are great because you get so many comments. You feel you're connecting with people who are maybe isolated and in fear. Streaming is a way they can escape this for an hour or so. I believe it has been so important to help the moral of the nation. However when you don't have the comments on a stream it's much harder for an artist to connect. It becomes faceless.
When is your new album due for release?
I expect September 2021, but we'll be dropping singles before then. A long album campaign and I'll tease the audience as much as possible. Its been a journey – making an album slap bang in the middle of a pandemic whilst pregnant and moving house with Brexit looming, It's definitely been interesting but I am proud of what we have created! It has all the flavours of an Elles Bailey album but It's given me a chance to play with my touring band and they are so incredible. For each track we featured an instrument throughout the song; it showcases the talents of my band. However, I have only just finished it, we'll chat in the future when I've a better perspective on it.
Crowded Table – Highwomen (Elles Bailey Cover)
Good to talk to you, thanks Elles!
Thanks Colin bye!
---