Advertisements

The Steelies (South Durham Social Club)
Hartlepool
November 11th -13th November 2022
Words and pictures: Colin Campbell
This is the second year this wonderful festival has been running and the line-up this year seemed even better than the previous. Organised by the mercurial Thomas Wormald (Tommy) and his committee, this is set in a Social Club affectionately known as the Steelies.
The venue is compact and has one stage, so it was time to be a captive audience, no pub trails, but this building had enough bars to cater for all tastes. There was food on sale, but a lot of people brought their own and had a blues weekend picnic, must say the pies were excellent, thanks for the hospitality. This must be one of the friendliest festivals in the UK there is a real camaraderie and sense of community that enhanced the overall experience and feeling of connection between music lovers and eighteen acts.
Advertisements

Great sound, great stage crew, seamless band turnarounds and a consummate MC Gary Grainger only enhanced the feeling of fun and enjoyment of this event. Anyway, onto the music and brief resumes of the acts performing. This was value for money and appreciated by a large crowd, who participated throughout, lots of dancing and merriment through the whole weekend.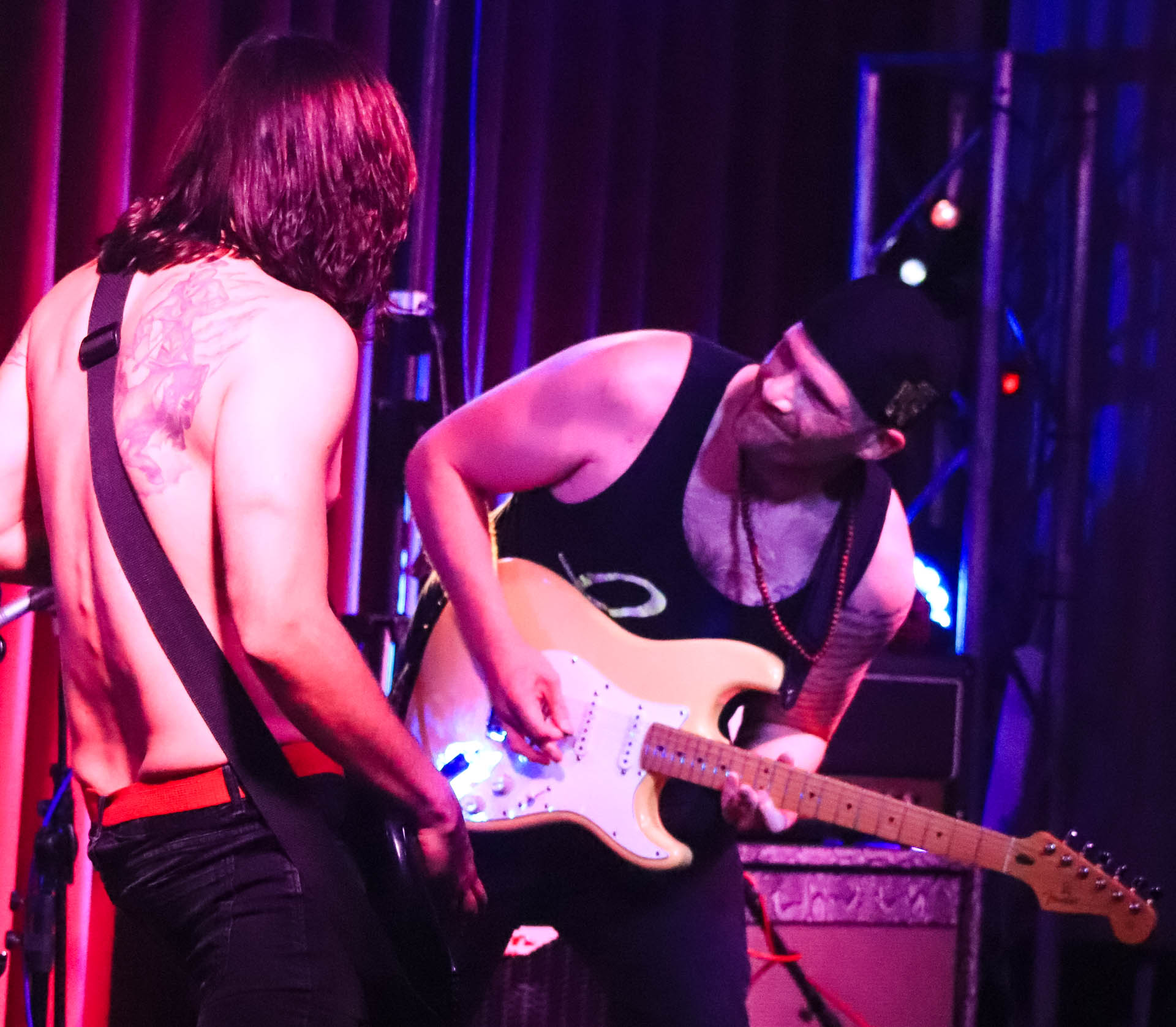 Proceedings were started early on Friday like all the days, music started promptly at 1.30 pm and finished at 11.30 pm, quite a Blues infused marathon including various forms of the genre. First up was singer-songwriter and guitarist Greg Brice doing a solo spot. Intimidating to start such a festival but he provided a great set of songs, including differing styles including some great fingerpicking on Jeremy Spencer's Bitter Lemon, Tipitina had a ragtime feel. Gospel was provided in the Wood Brothers tune, One More Day. Then he dazzled with his rendition of the Rory Gallagher tune, As The Crow Flies a particular favourite. Also enjoyed his original, Together But Long Distance, which was sung full of emotion. He finished off with a slide guitar-driven instrumental interpreting Sonny Landreth. A brilliant set, mellow, musical, and thought-provoking, a treat for the senses, a great musician.
If the first act was mellow, then the opposite of this was noted in the next set from The Five Points Gang. They are a powerhouse trio delivering their style of rocky and contemporary blues with their own twist. All great characters, Joe Pearson on lead vocals and guitar, Dinho Barral on bass guitar and new drummer Thanos raced their way through a dynamic and high octane fuelled set. Freddie King's Boogie Man was given their own treatment, great groove, and rhythm on this track to set the tone. Joe even going onto the dance floor next to do a walk about and the crowd enjoyed this.
Later the heat must have been too much for Dinho as he took his shirt off, much to the enjoyment of the audience also. Their stage presence is very striking, and they are an entertaining band. What Kind Of Man was delivered well full of mellow bluesy tones. Hoochie Coochie Man was a favourite as was their powerful delivery on Crossroad Blues, this is an excellent trio. They funked things up with Superstition also. Made Man, an original was also a standout. All-Points Bulletin likewise had the crowd wanting more. They duly delivered with a powerful bluesy, Change In Me with a doft of cap to John Lee Hooker. Another impressive set by a rocking blues band gaining lots of plaudits.
The Bates Motel were next on stage, a six-piece band from the North East of England. They played an eclectic mix of tunes varying in styles from the R&B tempo of Let Me Be Your Doctor, the mellow countrified Talking To Jesus with some mighty slide guitar from Ally Lee. Lead singer Bob Bates was vocally never better than on Blues Ain't Gonna Feed You. Help Me To Decide had soul tones and a catchy riff. Sausalito was another wonderful track stating their mellow side and great craftsmanship on this. Honest hard-working musicians, they rocked out on their self-penned number Bridge Street.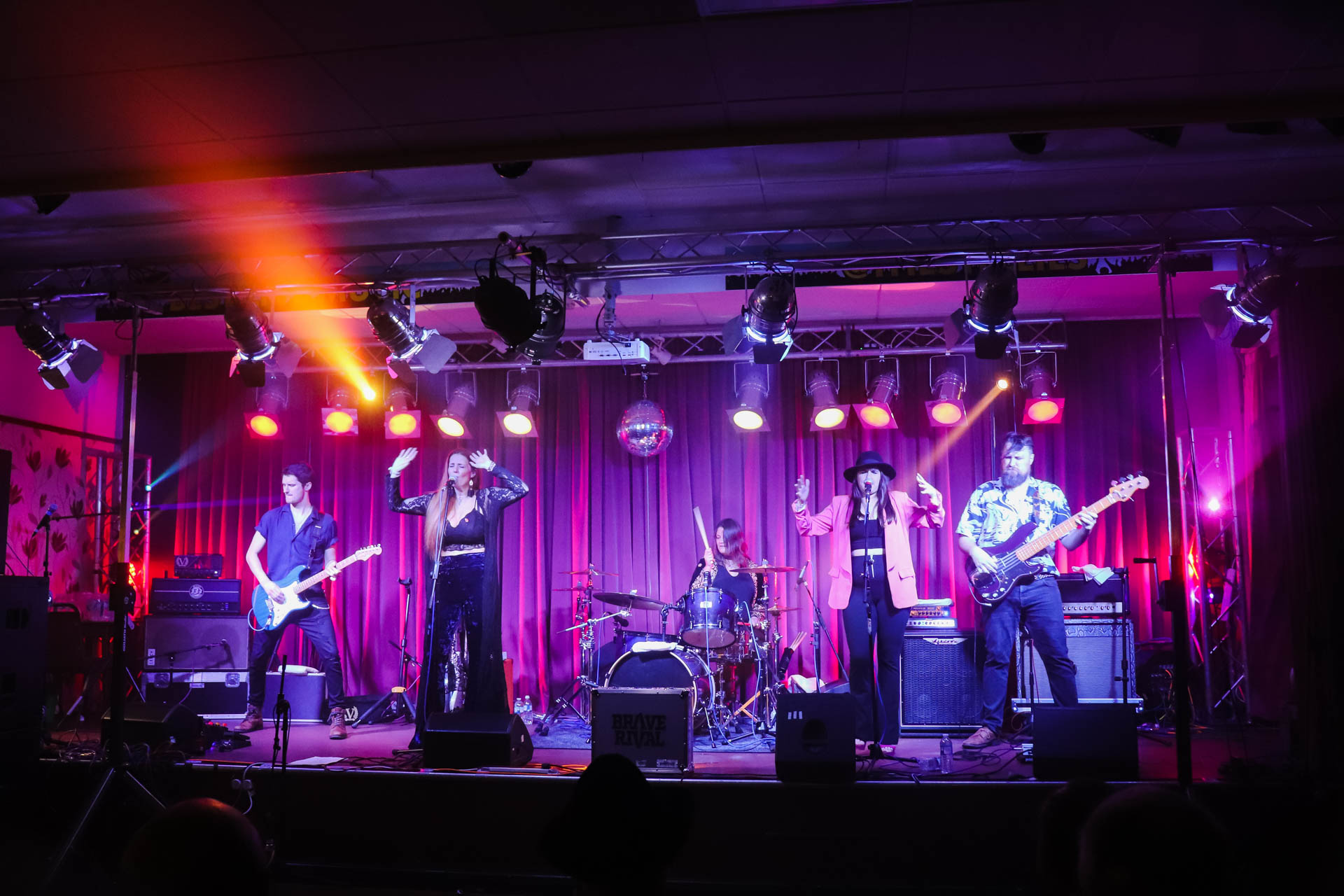 Brave Rival were next to play and again gave a wonderful, polished performance. This band have been getting a lot of well-earned acclaim recently and it was not difficult to hear and see why. Another five-piece, comprising, shared vocals by Chloe Josephine and Lindsey Bonnick. Ed Clarke provided great guitar solos with some major playing on such songs as Run And Hide and Break Me. The rhythm section comprises, Billy Dedman on bass and drummer Donna Peters was excellent, one of the best all weekend.
The first song set the tone for this quite brilliant set, Heart Attack was followed by Secrets, some wonderful harmonies here. Their interpretation of the Etta James classic, Damn Your Eyes had the audience spellbound. Without You was another special track hearkening to influences like Heart. The Letter had the dancefloor moving to the beat the band was rocking now, powerful rocky tunes with a great backbeat continued with Come Down. Finishing with the anthemic What's Your Name. This band are on the rise, soulful vocals mix with plenty of adrenaline fuelled guitar and drum beats their sound is infectious, not your usual blues band something for everyone here.
Redfish Blues Band were next on stage and gave a premier performance blending some well-known blues standards with some new original songs. They are a solid unit, a four-piece oozing with style and talent. Led by Christian Sharpe on vocals and lead guitar, he is special, and his vocal range tops the scale. Steve McGuckin plays a heavy Hammond organ, and this is complimented by the driving rhythm section of Rod McKay on bass guitar and Steve Gibson on drums. A mixed set started with Tell The Truth then a wonderful rendition of See See Baby.
How Blue Can You Get mesmerised the crowd with excellent organ and guitar. Then they mellowed things with Soulshine. Special mention to the self-penned tune, Money Don't Make It, a song for these uncertain times we are living through, a very moving song. They got the dancefloor full with their recent single, Together Is Better, superb. Then Tear it Up was another well-received tune. In the final tune, Chuck Berry's You Never Can Tell exhibited their passion for music and the connection they have with the audience: wonderful musicianship.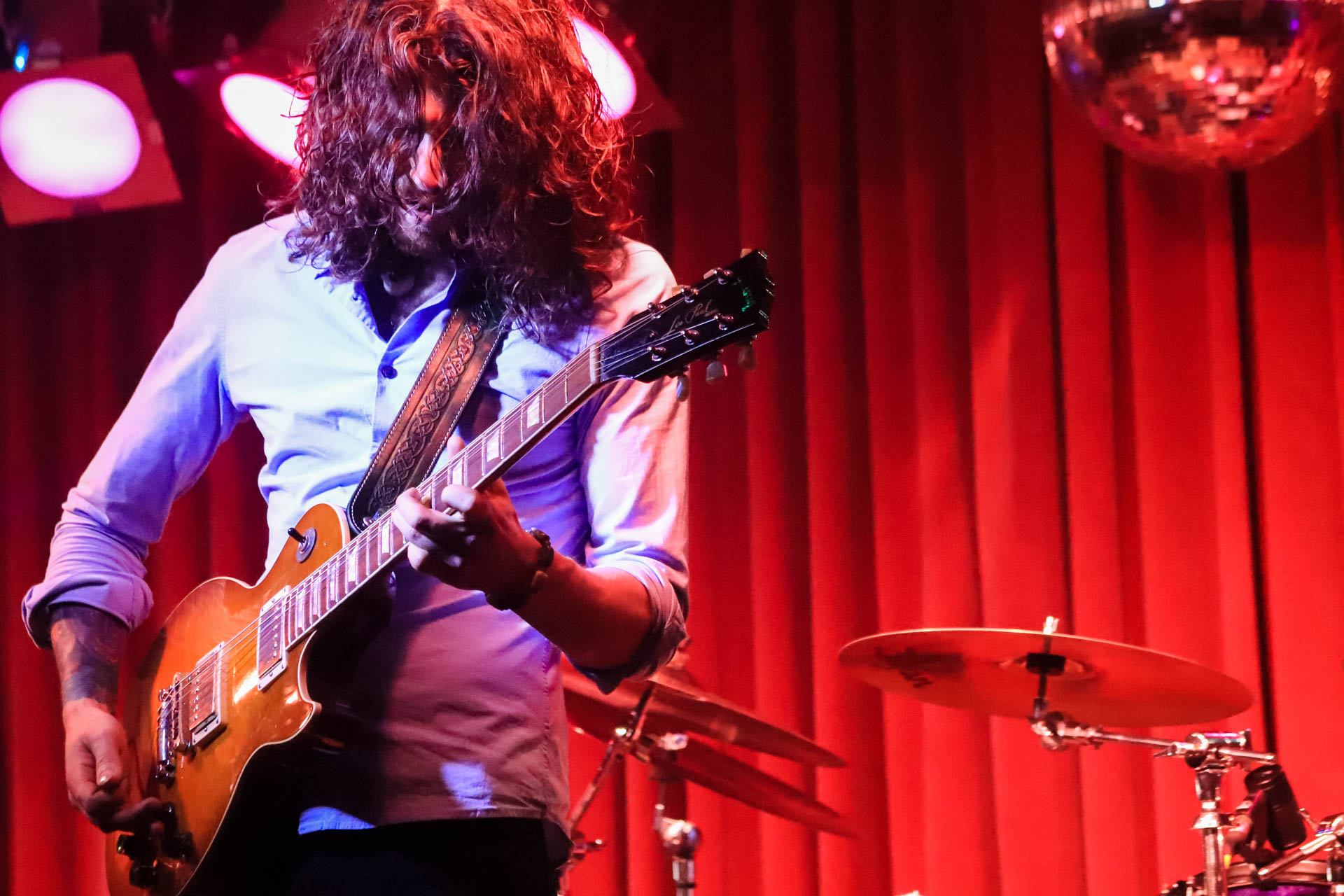 Dom Martin was next to ply his trade and stagecraft, with initially three songs (Easy Way Out, Addict and Echoes) he played acoustically before his band joined him. Solo, he can bear his soul lyrically, narrative and his guitar playing is mesmeric and just full-on emotion. He has an instant rapport with the audience, you just feel his honesty and soul-bearing with every breath he takes. These songs just feel like a warm emotional blanket around the venue. Then the band comes on to do their piece and they become a powerhouse trio with a distinctive groove and vibe. Laurence McKeown on drums and new bass player Sam Weston add the rhythm and groove on tunes like Maxwell Shuffle, and the amazing Unsatisfied, where the guitar sonics from Dom just filled the room. Man From Nowhere was delivered with style and panache.
Previously Dom had done a walkabout and got various audience members to play his guitar slide, a special moment. He finished with a pulsating tribute to Rory Gallagher (Laundromat, Morning Sun and What's Going On). This was an absolute joy; the sound had increased with every tune, and this added to the effect. His star is on the rise, live he just takes his music to stratospheric levels. Catch him when you can.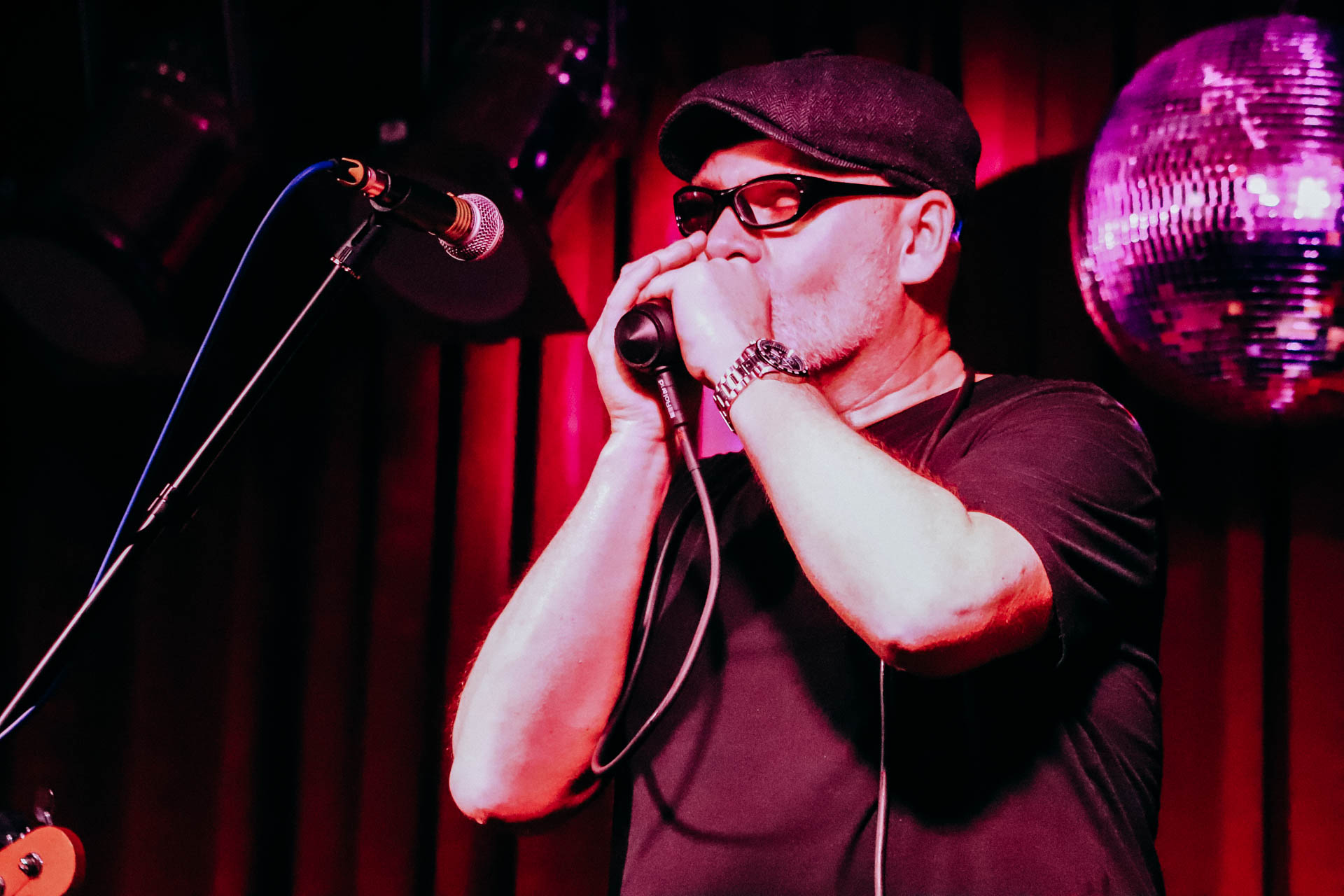 Today saw the Yorkshire outfit DC Blues start the musical shenanigans. Comprising of Paul Winn on harmonica and lead vocals, he plays off his bass man Ben Darwin, who is also a fellow presenter of the popular radio show Blues From The Ouse on Jorvic Radio on Wednesday nights. This adds to the camaraderie in the band and influences set numbers am sure.
They are joined by Lloyd Massingham on guitar and vocals, Paul Thompson on drums and adding keyboards was the wonderfully talented Stephen Brandon. They started with Tore Down and then moved a pace to Rolling And Tumbling. Paul is a wonderful frontman but quite self-deprecating he lets the music say its story. Bitter Man is a case in point, very poignant. They played a couple of JJ Grey tunes, the best being Georgia Warhorse with some pulsating sonics throughout. Great tunes, a great band… what's not to like?
A local band next; Daniel D'arcy And The Swear Downs a popular three-piece outfit fronted by singer and outstanding guitar player Daniel D'Arcy. They played some blues covers including an outstanding, I Can't Quit You Baby, Tore Down and mixing Texan boogie via ZZ Top's Thunderbird and the slow burner, Just Got Back To My Baby. They also did a great job of covering Creedence Clearwater Revival's Fortunate Son. The onstage energy was palpable, and they were later joined by M.C. Gary Grainger jamming to Dust My Broom. They even jammed with a trumpeter on Roadhouse, a bold move but it really worked. With masterful solos and steady craftsmanship, Daniel is a great guitar player.
Cosmic Trip Advisors next took to the stage. What a performance they put on. They played a set delivered with an almost punky, grunge blues-laden mix of songs. The lead singer, Lesley McGonnal has the spirit of Beth Heart and Sari Schorr, but her stage movements are reminiscent of fellow Scot Maggie Bell. Her vocal range is off the scale as is her demeanour onstage sometime, adrenalin sees her using industrial language sometimes, but this just adds to the entertainment.
This band are tight and take no prisoners. Sleazy Does It as they say, and this is apparent in a lot of their songs. It Hurts Me Too was the most mellow they played, and the highlight was Preaching Blues. Lovely Since I Met Ya was pure blues and the rhythm section was phenomenal as well as some tasty guitar solos on Going Down, where the band just rocked the crowd. They even mixed some reggae to the mix on Got To Have It. Then the showstopper, their version of the Beatles Come Together, exemplified what live music is all about. Lord Help Me was their encore, sensational.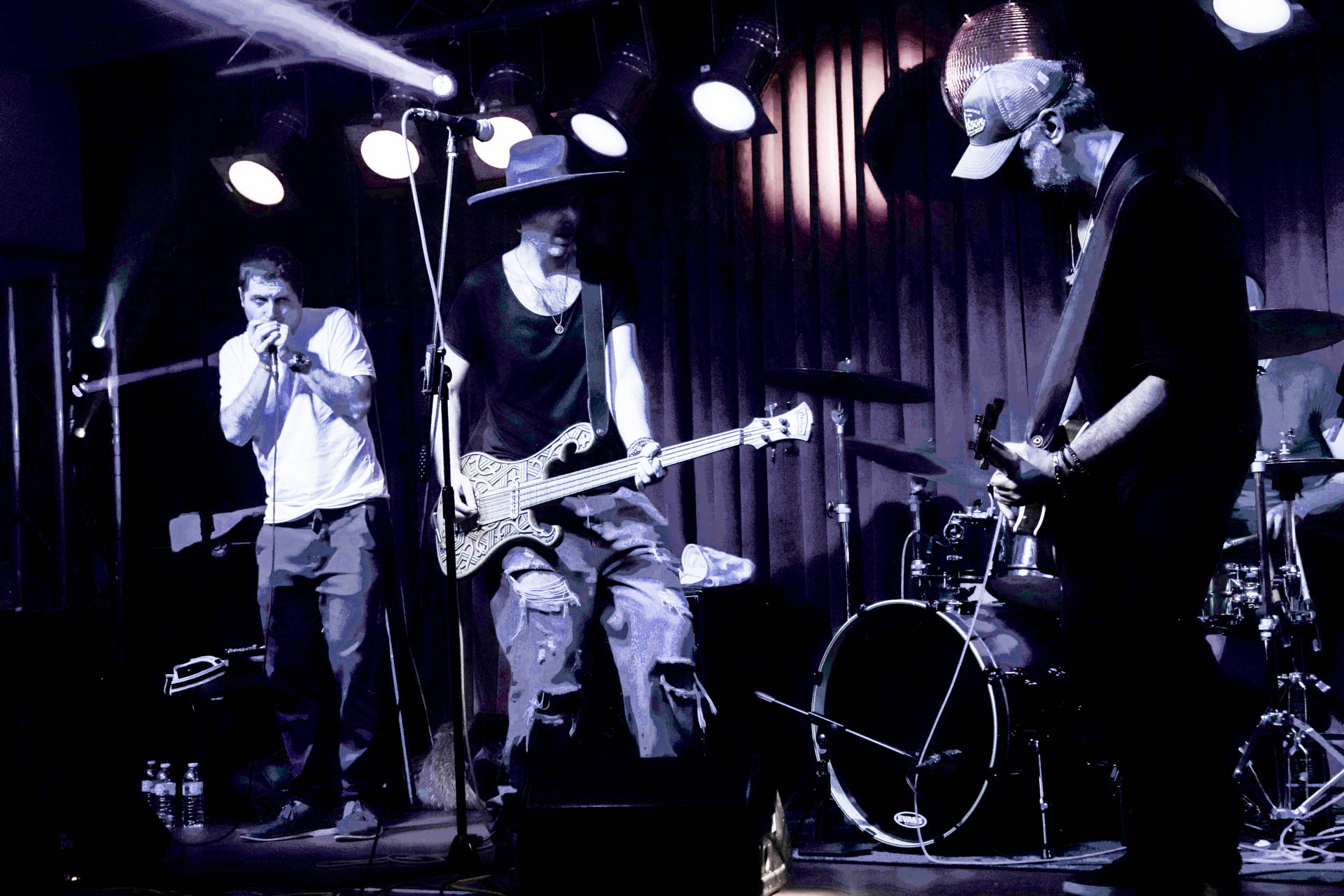 The Bad Day brought an eclectic gumbo of tunes, mixing rock and roll tunes like Whole Lotta Shaking to their own tunes like Hurricane which are full of pace and vigour and plugged-in fusion. This band delivers on so many levels. The lead singer is a bass guitarist leading the way and harmonica player Sam Spranger deserves highlighting especially on the track Jump which is energy laden. They played tracks from their newest release, a concept-type one. But it was the blues classic, Everyday I Get The Blues that highlighted the whole band. Finishing with Johnny B. Goode, they encored with Hoochie Coochie Man, a wonderful band.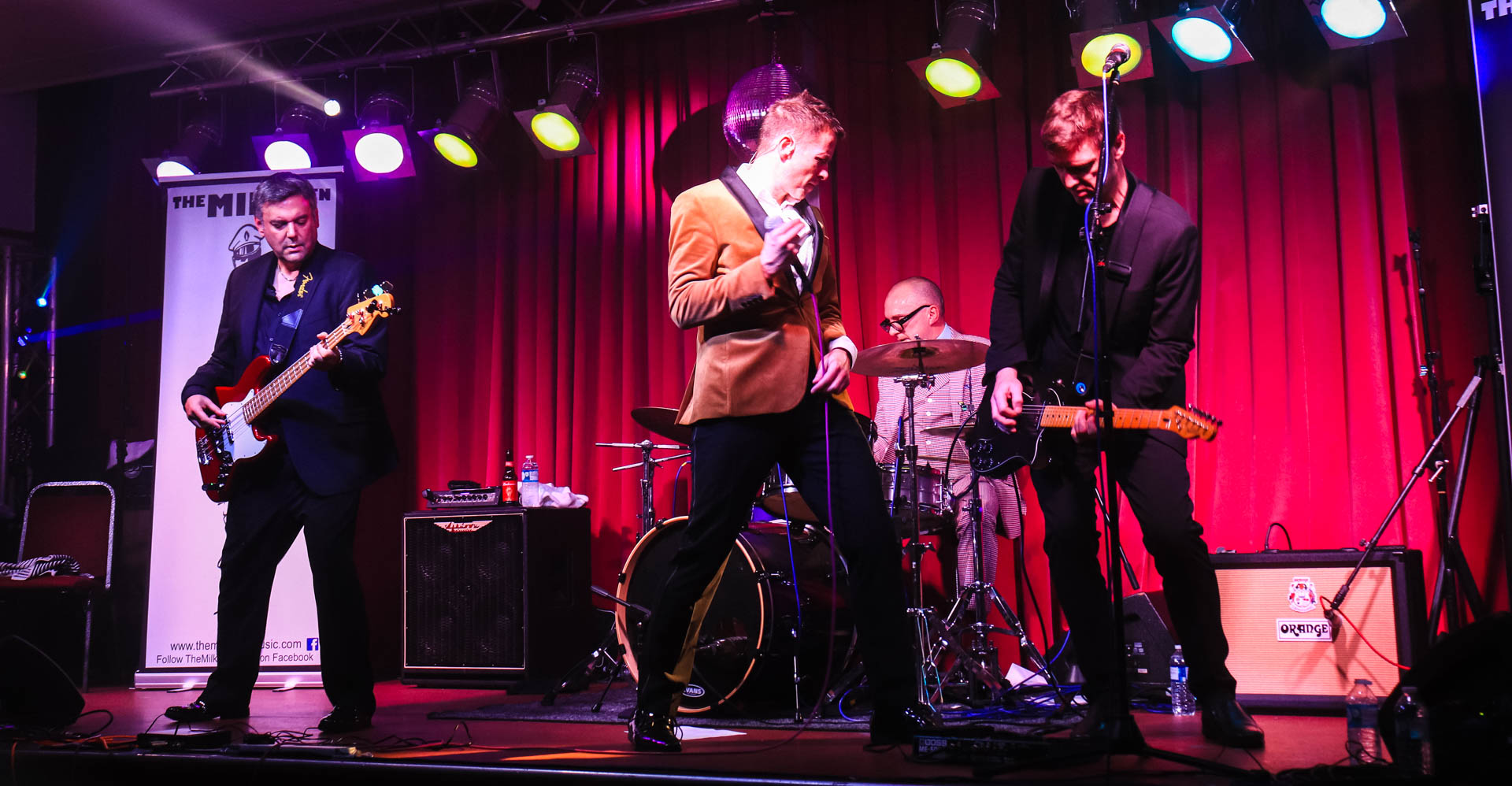 Sharp-dressed quartet The Milk Men up next. They wowed the audience with their brand of full-on maximum rhythm and blues tunes. The set was superb, short sharp burst of fun and a full-on groove. Jamie, the lead singer is the driving force vocally but Adam on guitar and Lloyd on bass add sustenance. Then on drums, Mike is the backbeat. Hooks, guitar riffs aplenty, 1005 effort and skill, this band played a wonderful set.
I Can Tell was peppered with quickfire guitar and classic vocal delivery. Then you get The Operator, just great songs. Cheap Seats from the new release was well received by a rapt audience and the dancefloor was full again. Going Back Home was a particular favourite. The star of the show had to be when they all lined up the front stage and gave their rendition of Fleetwood Mac's Oh Well. Then they mixed in The Who's Pinball Wizard to great applause. Go Go Baby was a jaunty new one. Then they closed with a fine version of, Bad Case of Loving You, excellent.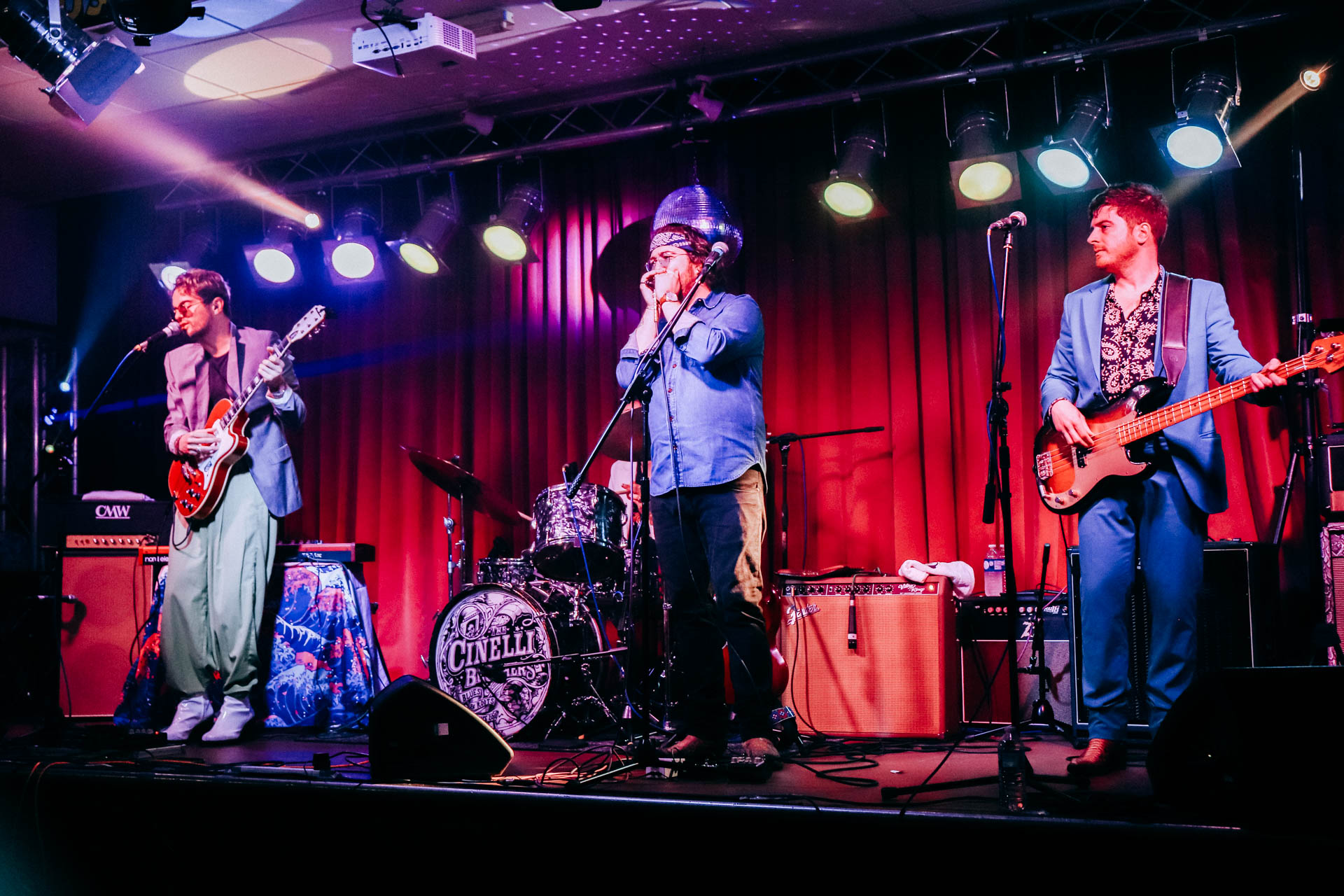 Headliners for the night were The Cinelli Brothers. They played the first Hallelujah Festival last year and blew the place apart with their set. Today they were even better, such great musicians, they just keep improving. Hartlepool today, and Memphis next year – they cannot be bad. They change their sets more than Marco Cinelli changes his trousers and instruments. He was sensational on keys, vocals and guitar. Similarly, his brother Alessandro sang and played drums with gusto and aplomb, even fitting in a solo at this event. Tom JJ Jones was on guitar, harmonica, and on bass guitar and vocals was the amazing Stephen Giry. Starting with the soulful Last Cigarette, they just launched into a mix of styles, swapping instruments. They are so entertaining and really enjoy themselves on stage.
No Place For Me brought gospel harmonies that were exquisite and well crafted. Call Me The Breeze was another highlight, with up-tempo grooves galore. Then they played Kenny Rogers' Just Dropped in, it was so good. A surprise was when Stephen came up to the main microphone and reinterpreted Rory Gallagher's Million Miles Away, just sublime tones and guitar playing. Together Is Better got the crowd up dancing more, with an upbeat and catchy chorus. The last tune, Choo Ma Gum, had so many layers of musicianship it was bafflingly good. Surely one of the best live bands on the circuit, phenomenal, standing ovation.
The perfect way to finish Saturday night.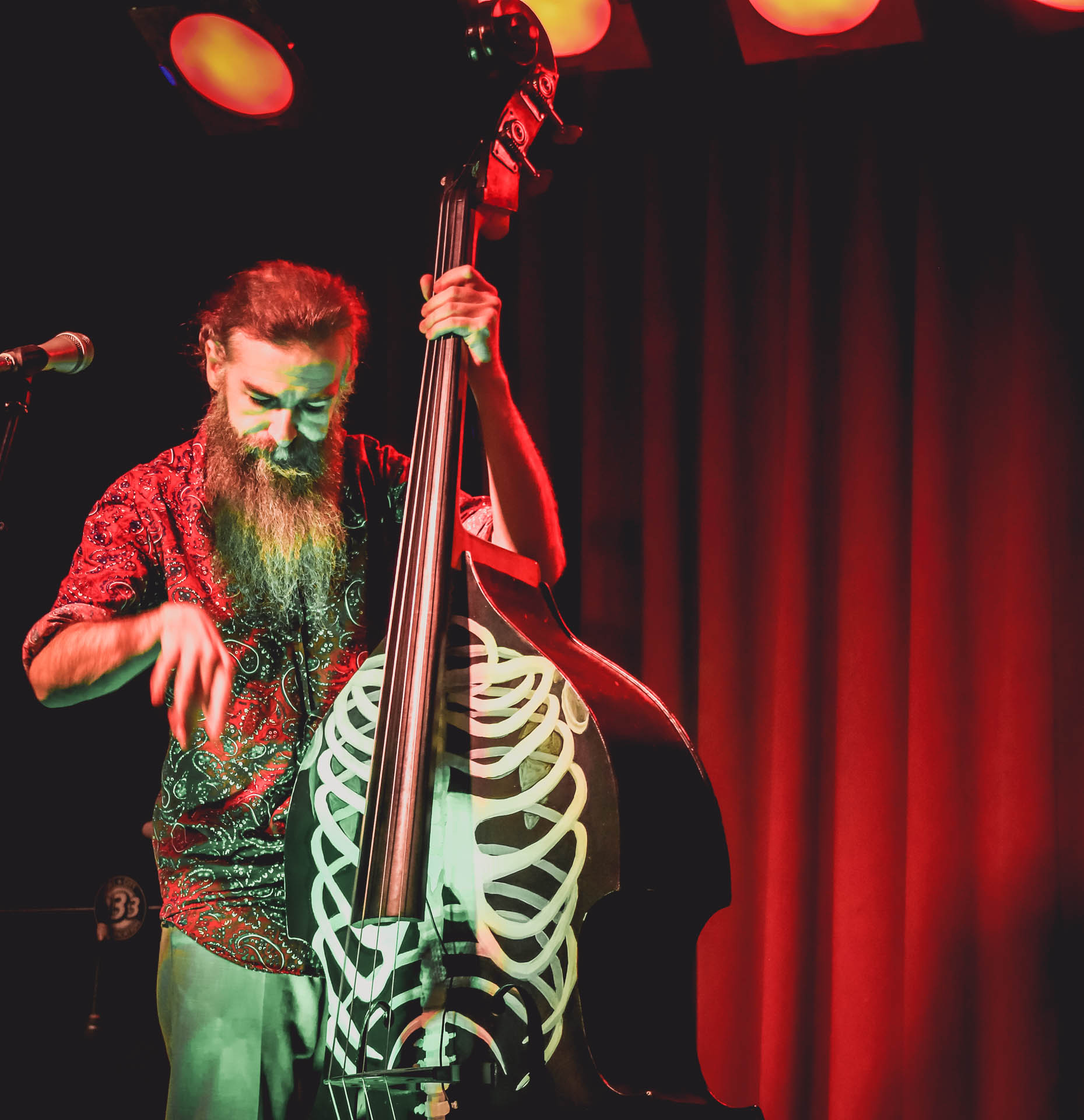 Last day and another six amazing bands. Trio Jo Carley and The Old Dry Skulls were first on. They brought their own style of voodoo vaudeville blues music. Lead singer Jo Carley plays percussion, mandolin and washboard. Tim Carley provides backing guitar and kicks rattling shoes. Jim Le Huray is on double bass, banjo and backing vocals.
They played an interesting set, comprising a lot of songs from their new release, I'll Put My Voodoo On You. Starting with Alligator Blood, they also did the title track. It's all about stage presence with this band, Jo looks amazing in black, very spooktacular. The music has a bluesy delta beat to it and they are a fun band to watch. Dance 'Til You're Dead was a romp, a real upbeat tune and full of innuendo about death. A great band to start the day and get the audience's bones moving and shaking.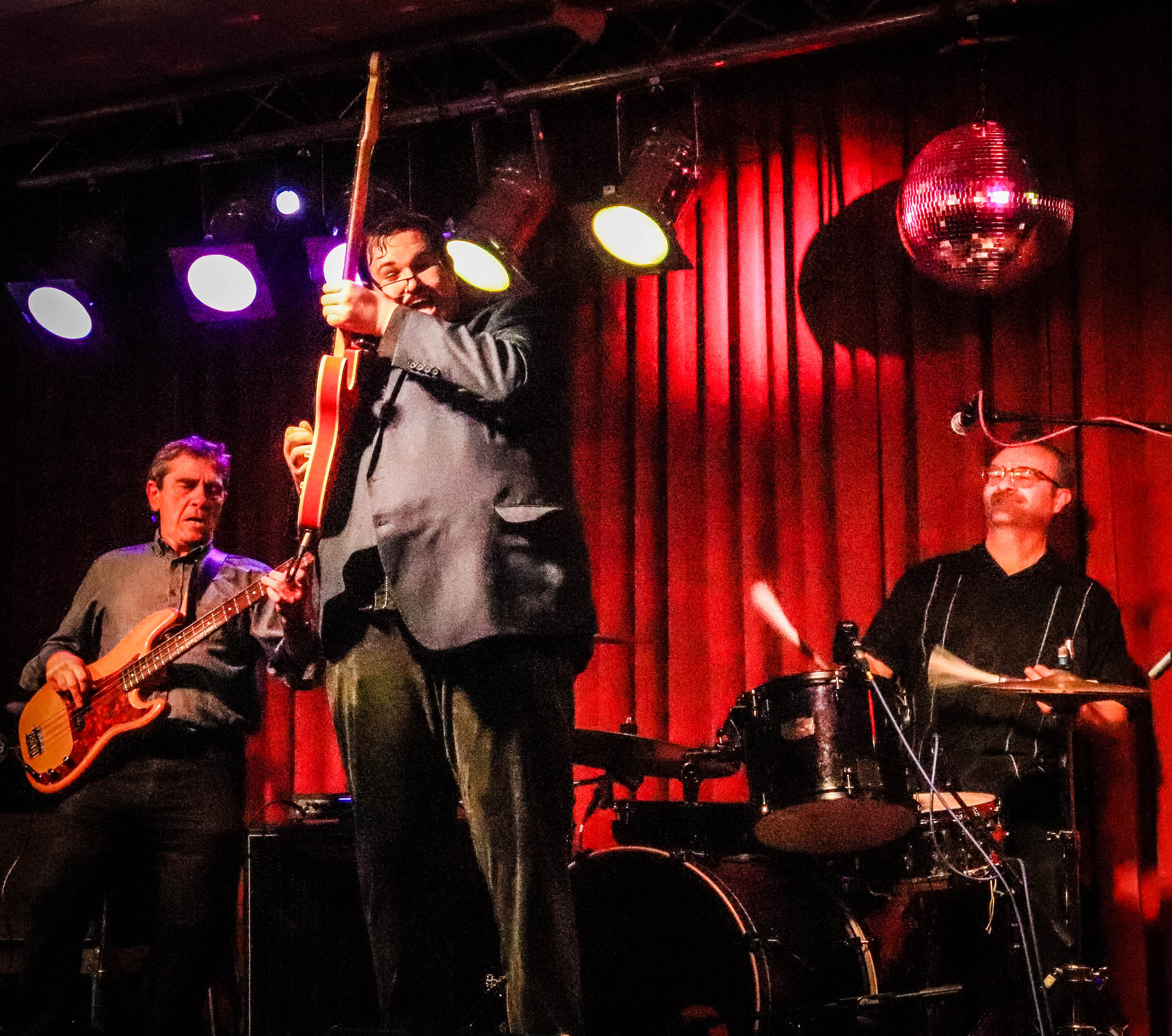 James Oliver Band were next on, and the Taffy Twanger gave a brilliant performance. What a guitar player this man is and an all-around entertainer. His quips about Working Men's Clubs were hilarious. Ably assisted by the rhythm section, Chris Bywater on drums and Mark Kemlo on drums. James is a truly unique guitarist and full of knowledge on the subject, he's just got another Telecaster, anyway he sounded brilliant as did the whole band. T. Bone Shuffle started the set, and they played lots of songs.
His original, American Cars, was full of comic lyrics, but it's his guitar playing that won the audience over. His version of Freddy King's Hideaway is a masterpiece. Then he goes on to play Fleetwood Mac's Albatross, just mind-blowing. Dancers enjoyed the beat of his song, Mean Little Mama. The instrumental, Sleepwalk was similarly a showstopper. Then followed Chuck Berry's Nadine, a slower version full of sonics. The highlight was the version of Lazy Lester's Sugar Coated Love. After the encore, another standing ovation.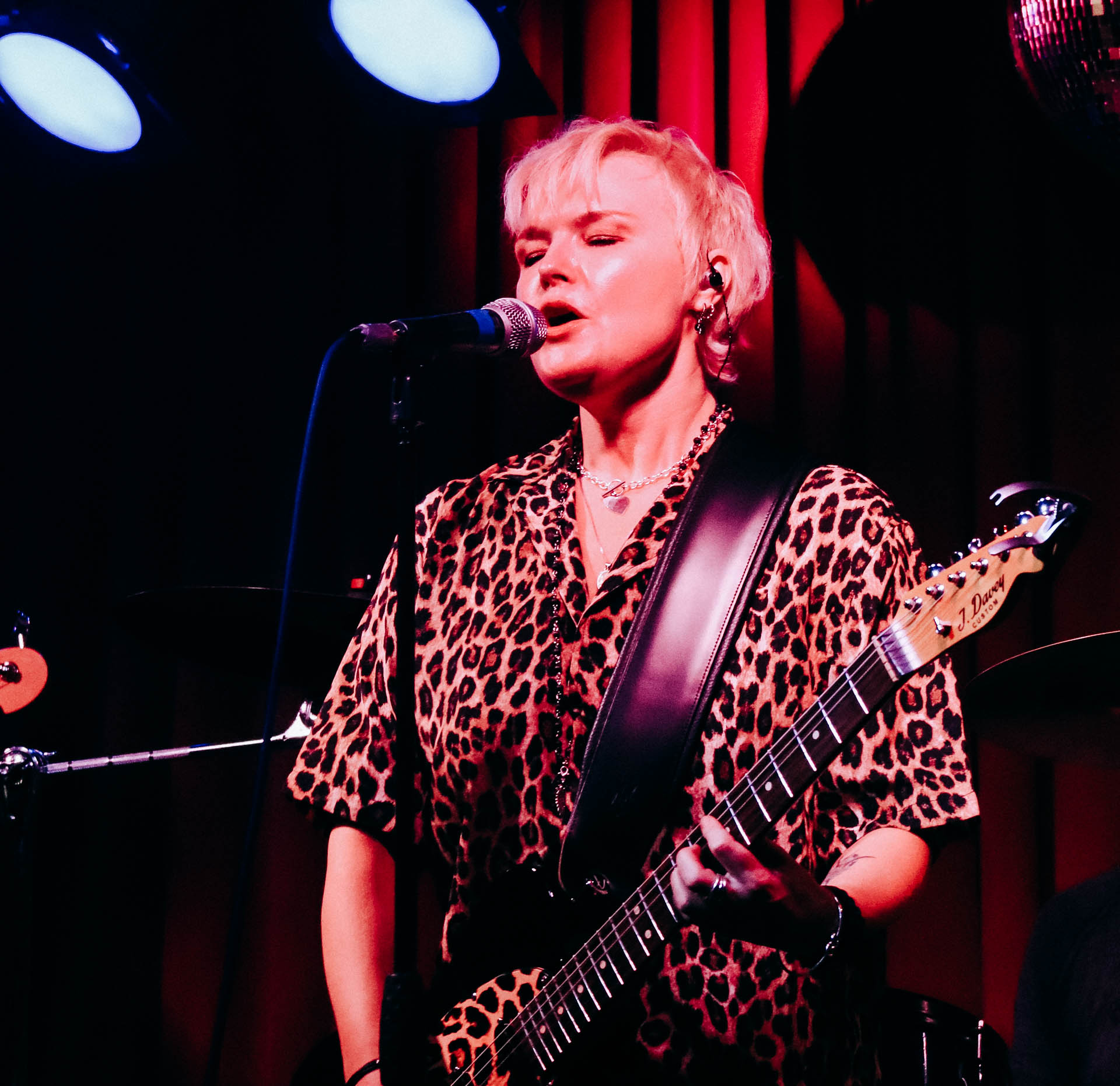 Rebecca Downes' Band were next on stage. They also provided a great set of songs based on a blues rock style. They showcased a few songs from their new release The Space Between Us. They started with Take Me Higher with its ethereal anthemic tones, and great organ merging through also, and Rebecca's vocals were spot on too. Wave Them Goodbye was next, another rocky number, some great slide guitar by Steve Birkett who duetted with Rebecca on this one. Next was the title track, The Space Between Us, driving bass guitar on this heavy hitter. Another new song, well interpreted was the free number, A Little Bit Of Love.
Another highlight was their interpretation of Led Zeppelin's Rock N' Roll, the crowd joining in with this at the right moments, a gem. A welcome mellow tune followed next, Breathe Out was beautifully delivered vocally and then the soaring guitar riff over this filled the room, a great tune. Sailing On A Sea Of tears was sublime, very emotional and connective with the listening audience, another classic. Rattle My Cage next, was full of power and energy. The last song for the band was Believe, finishing a very good set.
The Achievers put on a cracking set, full of upbeat tunes, and lots of tales from the road from lead singer and guitarist Steve Ferbrache. Their sound is more of a roots-based blues style but has a lot of musicality going on. Cuckoo was a highlight, an upbeat feel-good tune that had a lot of dancers up. Qualities is a slow mellow tune with fine harmonies and just drenched in soul. Another favourite was Careful Sabrina, with a very catchy chorus, and some Stroud Zydeco going on in this one. Run On saw the band harmonise well vocally then Rufus's harmonica tones add to the feelgood vibe. The timing and tempo of the song, Little Girl, are strange. Great tune though. Another fun tune was Don't Roll Those Bloodshot Eyes At Me. Another tempo change saw them cover the beautiful Eric Bibb tune, Just Keep Going On.
Another highlight was the wistful upbeat song No-one Remembers, which again was enjoyed by a rapt and happy audience. Next to take a bow onstage were The Hiding Magpies. They are a five-piece band from Colne, tonight they were six. They take their own slant to the term Americana and twist it to suit. They are Jake Dixon, on guitar and vocals, Jack Herbert on vocals and keyboards, Dan Arnold on guitar, Shug spencer on bass guitar and powerhouse drummer Mike Smith, also they had a new member Carl Francis on acoustic guitar. They raced through their set, starting with Forgotten Town.
Jake's vocal delivery seems influenced by Tom Petty, some fantastic guitar work throughout the set kept the audience whooping and hollering. Make It Alright was up-tempo, with keyboards coming through well. Real Love was delivered well, a lovely song, with some great harmonies. By Your Side was played loud and strong with a nod to Steve Earl with the vocal arrangement, powerful. It's All A Lie, mixed styles, the band showing their rocky side, well appreciated by the audience. Another highlight was Somewhere Down the Road, the full band sound was great, a poignant song. Another wonderful set by a band worth catching while you can.
The mood in the venue seemed lacklustre before the headline act took the stage, three days solid of wonderful music and the prospect of working the next day and transport problems saw a few more of the audience leave.
They missed a notable set from Yorkshire's Howlin' Ric and The Rocketeers. They presented a set of mainly original materials mixing Rock and Roll and heavy Rhythm and Blues tones. They are a five-piece band, tonight comprising double bass, lead guitar, saxophone, drummer, and rhythm guitarist. What a great sound, fresh, energetic, and full of pacy numbers and ballads, like their own I'm Coming Home, even a tune by Johnny Romance, She's A Pretty Thing. Mr Creep was full-on swing jazz even, a really tight band rocked the night away. Nice To Have A Drink epitomised their love for playing and seemed the essence of Rock and Roll, with great harmonies and guitar playing wonderful, sort of cutting heads with the saxophone player, superb. A great party band to finish a wonderful Festival.
Great organisation, fine sound, great lineup, all success to future events. This was brilliant, something for every music lover.