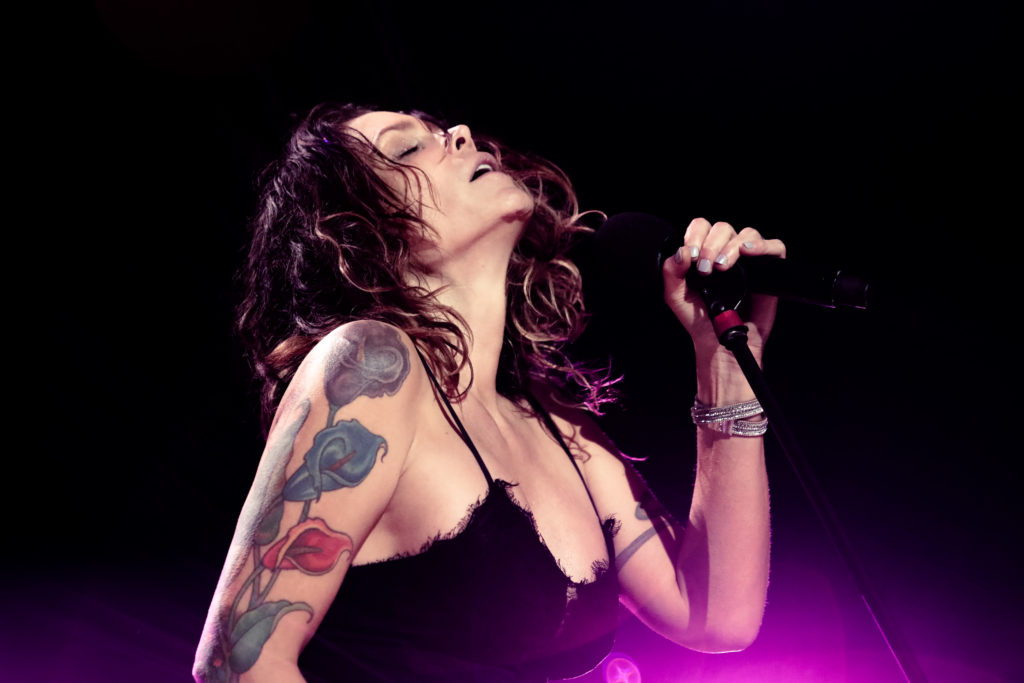 Beth Hart – Royal Albert Hall, London.
Friday 4th May 2018
American musician and torch singer Hart bares her soul, anxieties, hang-ups and dilemmas to her devoted fans.

Fronting a three-piece touring band, Beth switches from guitar to her candle-lit piano as she journeys through any number of small town and big city scenario's with heartbreak as ever in the wings.
With a number of albums available, the chance increases that Hart may not include your favourites.
The band comprises Jon Nichols (guitar), Bob Marinelli (bass) & Bill Ransom (drums) who walk onstage to cheers and applause in a darkened Albert Hall.
Then all you hear is Hart's crystal-clear vocal coming through the glorious sound system for the captivating As Long As I Have a Song. Walking through the stalls, Hart got up close and personal with the audience members by waving and giving them hugs.
Quite a special moment but I can imagine that it was possibly lost on the people further up in the circle.
Wearing a little black number, Hart turned to the band and they went straight into rock mode with For My Friend, thus showing London that she can mix jazz, rock and blues and not be pigeonholed into a specific genre.
Nichols changed his guitars throughout as the concept of a 'setlist' seemed to slowly fade away.
However, it was when Beth walked over to her candle-covered piano for the track, Take It Easy On Me, that we as a crowd could 'understand' her and what she has had to contend with in her life.
It is important not to overlook Beth Hart's skills as a multi-instrumentalist especially when her bass player went into the wings just as she was handed a beautiful acoustic bass courtesy of Ibanez Guitars for her original composition Boogie Man, (not the Freddie King number recently recorded by her label-mate Eric Gales and Gary Clark Jr.)  in which she questioned whether she was a possible serial killer having watched a television programme about what 'makes' a serial killer from a psychological point of view. Haunting material that probably won't make Cbeebies Book At Bedtime anytime soon!
Ugliest House On The Street, is a live favourite and it has a groovy percussive beat provided by Ransom that just works so well.
Hart then tried to find out where her mother was in the crowd and dedicated, Mama This One's For You, and you could hear a pin drop in the capacity hall.
I do think that Beth Hart could've opted for a three-set evening for this London gig given the versatility of her material by having a solo segment, a trio section and a finale with a Tower Of Power-esque horn section not dissimilar to John Mayer's 2008 'Where The Light Is: Live In Los Angeles' release or Joe Bonamassa's 2013 'Tour De Force' collection.
In conclusion, when you see Beth Hart live either for the first time or multiple times you don't just get a 'performance' but you also get a woman pouring her heart and soul out so much that you can't help but feel that you have snuck into a private therapy session. But then I imagine that this is a form of 'therapy' for her.
With the venue filled with cameras and recording equipment, a live recording of the night will be on the horizon even though she has only recently released Beth Hart Front and Centre: Live From New York.
Earlier, Davey Watson strolled on with his acoustic guitar and span us tales of Belfast and LA, easily alternating cleanly strummed chords and snappy single-note flurries.
The tunes are based in traditional three or four chord folk and country modes, with a touch of biting blues here and there.
One song is a very close cousin of Buddy Guy's Mary Had A Little Lamb, but no matter. His voice is gruff and never shrill, more suited to intimate venues perhaps, however deft engineering carries it through the hall and upwards.
An overall sense of positivity and belief in love harvests a good response from the crowd and he is polite enough to thank Beth and crew for the spot.
Gig Review by Glenn Sargeant, London.
For more info on tours etc and her new video release for Delicious, go to  – BETH HART