Tickets are available in the links provided at the bottom of the page. Dates include Southampton, The 1865 (Nov 7), Bilston, The Robin (Nov 8), London, The Grace (Nov 9) and Grimsby, Yardbirds (Nov 10). 
Dom's co-headline UK tour with Erja follows the release of his latest album A Savage Life which has received rave reviews including Classic Rock's 'Blues Album of the Month'. Dom recently won two UK Blues Awards including Blues Instrumentalist of the Year and Acoustic Blues Artist of the Year.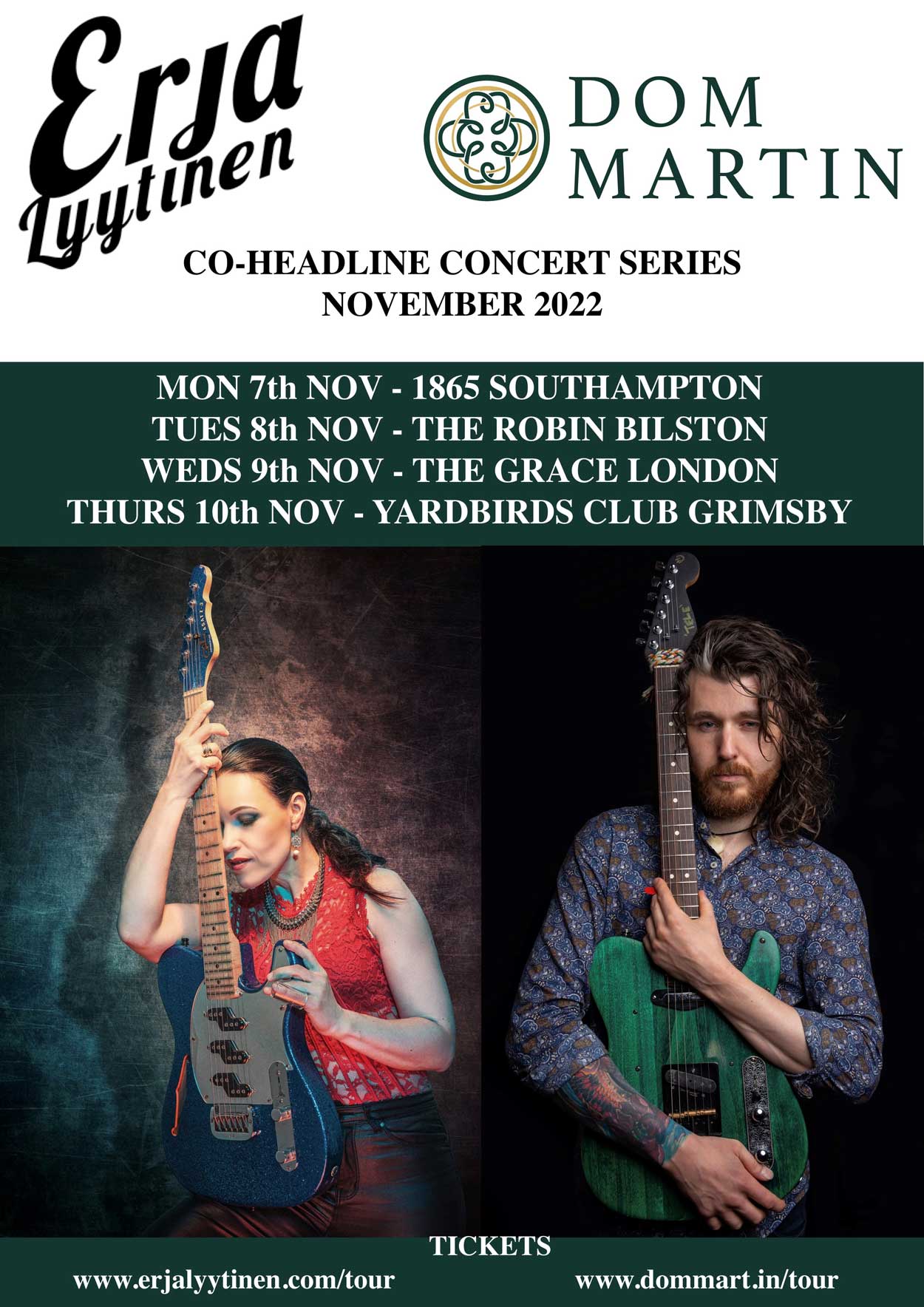 Finnish blues-rock slide guitarist and singer songwriter Erja Lyytinen will release her ninth studio album Waiting for the Daylight on Tuohi Records on Friday October 7th 2022. Featuring nine original songs, the highly anticipated new album is available to pre-order below.
For musicians, the last two years have been a period of reflection and soul searching. What to do with oneself in the absence of life on the road? And would live music ever be able to return to the way it was pre-pandemic? Artists and music fans alike waited for that glimmer of hope and the return of some semblance of normality. Written largely during the pandemic era Erja Lyytinen's new studio album Waiting For The Daylight encapsulates these emotions.
With time on her hands, Lyytinen was able to pause, dig deep and fully process her feelings. Some of which she had been carrying for a long time. This journey of self-exploration proved to be a source of inspiration for the artist's latest offering. Carrying on from the gifted guitarist's last two studio albums, Stolen Hearts, and Another World, respectively, Lyytinen continues to explore themes such as love, loss, heartbreak, and sometimes even revenge. Events transpiring around the world occasionally fed into the storyboard of Lyytinen's song writing.
The album was recorded during the first half of 2022, between Erja's hectic touring schedule, with the bulk of the sessions taking place at The Hollywood House in Helsinki, Finland. Lyytinen was joined in the studio by long-standing bass player Tatu Back and drummer Iiro Laitinen. Having played on every one of Lyytinen's albums since 2008, Harri Taittonen features once again on Hammond and keyboard.
Waiting For The Daylight illustrates a new chapter in Erja's musical and artistic trajectory. The album was proudly produced by Lyytinen herself. Subsequently, Erja simultaneously explored sounds on the periphery of the blues-rock genre. She fearlessly pushed herself and the band further than previously before.