They have braved all manner of logistical challenges to get to the UK, including rescheduled dates and covid restrictions but finally, a pair of Europe's hottest blues exports hit Tyneside for what promised to be an explosive evening of music.
Words and Images by Adam Kennedy
The Golden Girl of blues Eliana Cargnelutti released her latest album 'Aur' earlier this year. This is a release that saw the Italian guitarist record alongside esteemed peers such as Ana Popovic and Eric Steckel. Despite having conducted several tours in the UK previously, this is Eliana's eagerly anticipated debut appearance in the North-East of England.
This evening Cargnelutti performs as part of a four-piece band. Her engaging persona warms up tonight's venue – The Cluny on this chilly evening in Newcastle. The Stratocaster wielding guitarist gives the audience a taste of what she is all about, whilst also introducing songs from her recent release. Several tracks from 'Aur' feature including the incredibly catchy "I Don't Know", "Who Is The Monster" and "I Won't Change". None of which disappoint.
Eliana has great chemistry with the rest of her band and frequently plays off both her keyboard and bass players respectively. They are the perfect foil to her fiery fretwork. There is room in the set for a couple of covers in the shape of an up-tempo rocky rendition of Freddie King's "Going Down" and the beautiful "Soulshine" by The Allman Brothers Band. Whilst Eliana and her white Fender venture into the middle of the room for an up-close and personal airing of "Eliana's Boogie". One might say that it may have taken Eliana Cargnelutti a long time to arrive in Newcastle, but based upon tonight's show, it was certainly worth the wait.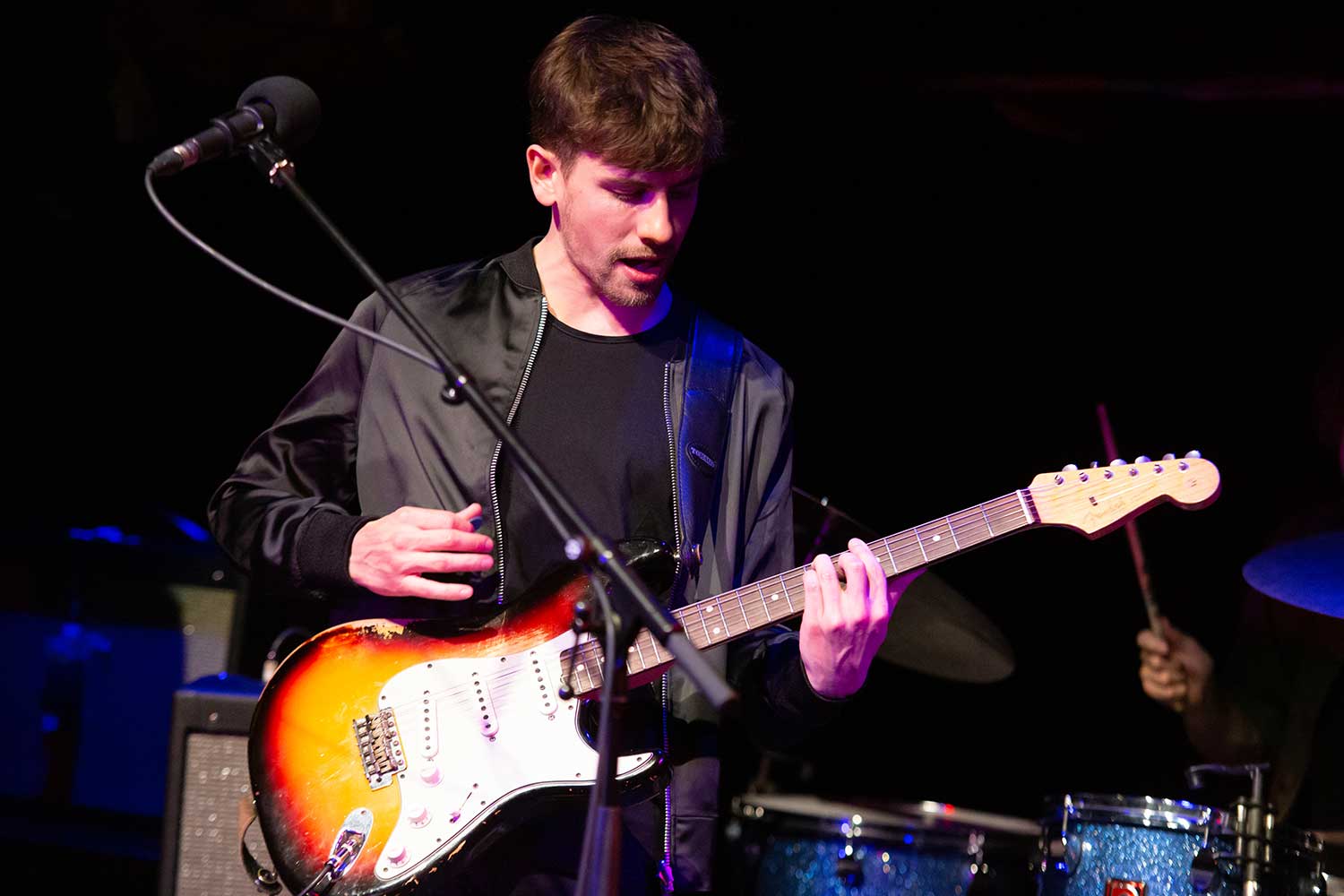 Hot on the pursuit of a pre-lockdown tour with Samantha Fish, French guitarist Felix Rabin makes a welcome return to the North East. The artist has performed in the area several times previously, including headline shows as well as a date with Chantel McGregor at the ARC in Stockton.
Rabin is a versatile performer who can seamlessly switch between hard rock and soulful blues with ease. Tracks in tonight's setlist, such as the thunderous "Walk" and the beautiful "Angels," are a testament to this. Each of the previous tracks is taken from Rabin's latest EP, "Pogboy", from which several tracks feature.
Felix Rabin is very quickly gaining a reputation as being one of the most exciting young blues artists in Europe. The guitarist has been compared to peers such as John Mayer amongst others and based upon tonight's performance it's very apparent why he receives such compliments. The artist has skill and flair in spades.
There are just a few opportunities left to see each of these artists over the coming week. Eliana Cargnelutti will make stops at Liverpool Phase 1 (Thurs 18th Nov), Sedgefield Rock and Blues Club (Fri 19th Nov) before wrapping up her UK run at Lincoln Blues Rhythm and Rock Festival (Sat 20th Nov).
Felix Rabin will be at Liverpool Phase 1 (Thurs 18th Nov), Keighley Studio 5 (Fri 19th Nov), Lincoln Blues Rhythm and Rock Festival (Sat 20th Nov), Kinross Green Hotel (Sun 21st Nov) and Edinburgh Bannermans (Mon 22nd Nov).