It's a Scottish summer, we're all allowed to go to an event outdoors so time to look out the waterproofs and get to the Scottish Borders. The setting for this event could not have been more beautiful. Borders Blues Club based in Innerleithen got the chance to pitch up some tents in the Walled Garden for a special blues music event in the grounds of Traquair House. Such is the demand for live music, this event was sold out in twenty-four hours and the people who attended were entertained by local act, Black Coffee Band and the cross-border headliners were the wonderful Redfish Blues Band, each putting on a great set.
WORDS & IMAGES: Colin Campbell
This was a great opening event, that was well organized, had a very appreciative audience, great sound, facilities excellent, the weather had been an issue but thankfully the thunder and lightning abated, bit drizzly but nothing to dampen an enthusiastic blues audience and the changing sky colour added to an ethereal feel and just a happy time had by all.
First up was the local band Black Coffee Band, apparently named after a local café in the region. This was a three-piece band, comprising of Craig Anderson on lead vocals and harmonica, Tam Anderson on lead guitar and James Jeffery on stompbox drum. They are old school pals from Edinburgh, now back in the area exploring blues and jazz venues in Scotland. They played a mix of covers and two self-penned tunes, Whisky Drinkin' Papa and Ain't We Just Fighting All The Time. Their sound was mellow and laid back, just right for a summer evening. They gel well together, great harmonica tones mixing with smooth guitar work, this understated at times, but intricate fretwork throughout the more popular blues standards like The Thrill Is Gone, a good reinterpretation and not your usual full-on approach. A highlight was their take on the William Clarke tune, Jelly Baby, really masterful sound and vocal delivery here, appreciated by a knowledgeable and listening audience. My Babe made famous by Little Walter was blasted out on harmonica by Craig Anderson and was a real foot-stomping version, this boy has rhythm. A strong trio, great song choices, good banter between songs, a joy to see and hear. Look forward to catching them live at a future date.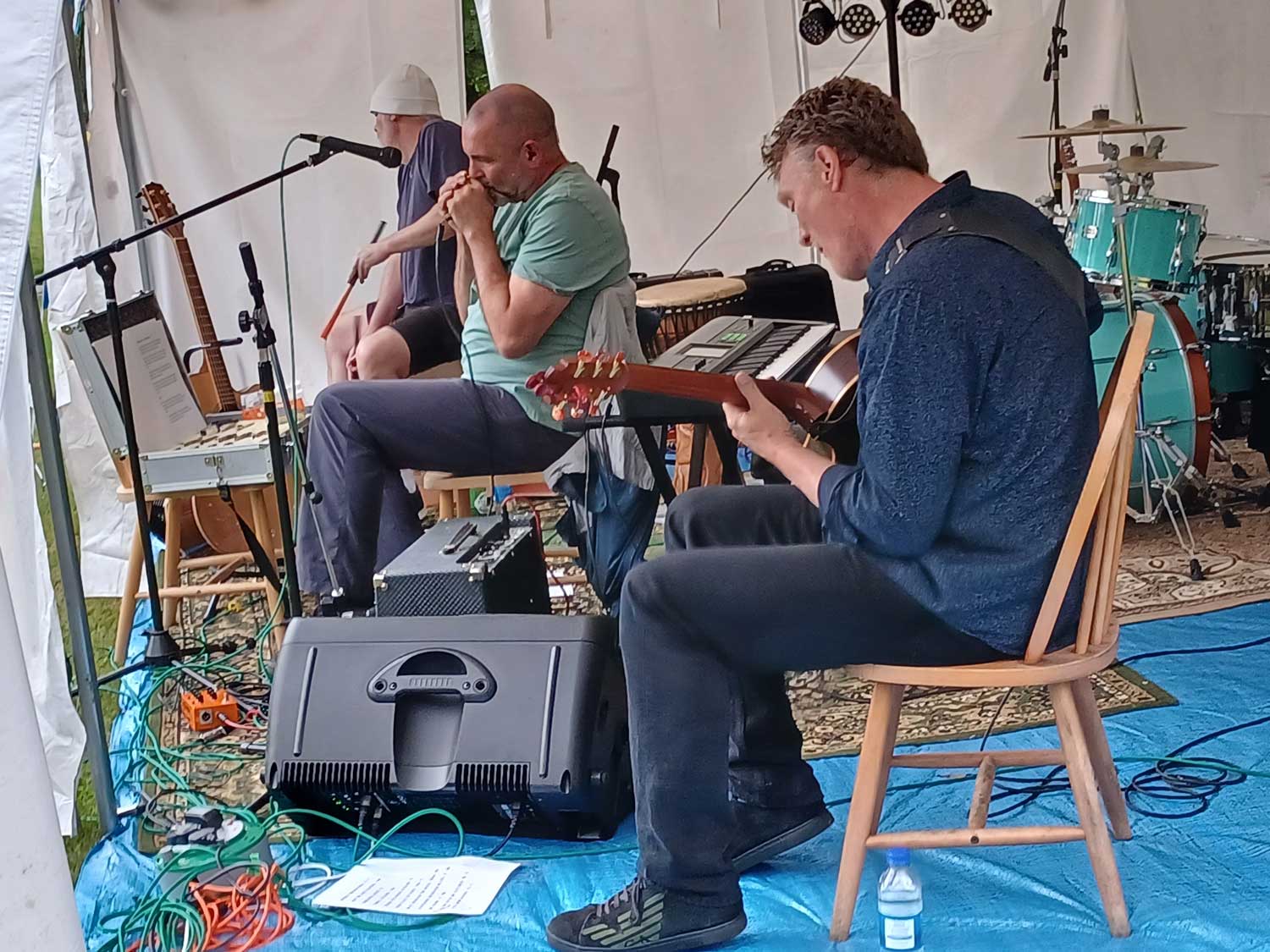 After some announcements by co-organiser, it was time for The Redfish Blues Band to perform. They comprise of Stumblin' Harris on lead vocals, Rod MacKay on bass, Martin McDonald on lead guitar, Fraser Clark on keyboards Sandy Sweetman on drums and guest percussionist Suzy Cargill.
From the start, this was a polished no holds barred mix of original and cover material with their inimitable musical chemistry shining through every tune. They mixed blues, jazz and made it into a Scottish Borders boogie gumbo which saw the audience hollering; dancing, stamping their feet and generally having a great time. The live feel and vibe was toxic, this is what everyone has missed during these uncertain times and the comradery was palpable adding to the overall live experience.
The band had to be good, as also in the audience was their new Manager, Melanie Buchanan who, like so many other fans, sees a bright future and further potential for this forward-looking band who can really mix something up with differing styles, and when they get their groove on like later in the set when they cover Stevie Wonder's Superstition and segway into Bill Withers Use Me, it just sends shivers down the listener's spines and just makes you want to dance and free the shackles of the pandemic. Music to cleanse your soul, the energy in this band could run a blues electric grid. They have feeling and depth and when the rhythm section gets going it just adds a different level. They play as a group there are no prima donnas here, all great musicians plying their trade and feeding off the enthusiastic audience. Give Me Back My Wig had a great rhythm and was a real crowd-pleaser. Rakehells, their own song, was played well and a crisp tone and good vocals, Fraser Clark underpinning the beat here on the keyboard.
Everybody's Crying Mercy was a highlight amongst many on a great setlist. Stumblin' Harris vocals on Tom Waits' Heart Attack And Vine had the right amount of gruffness and passion, as too was the delivery of Accustomed To The Darkness, a very powerful song allowing the band to really improvise here.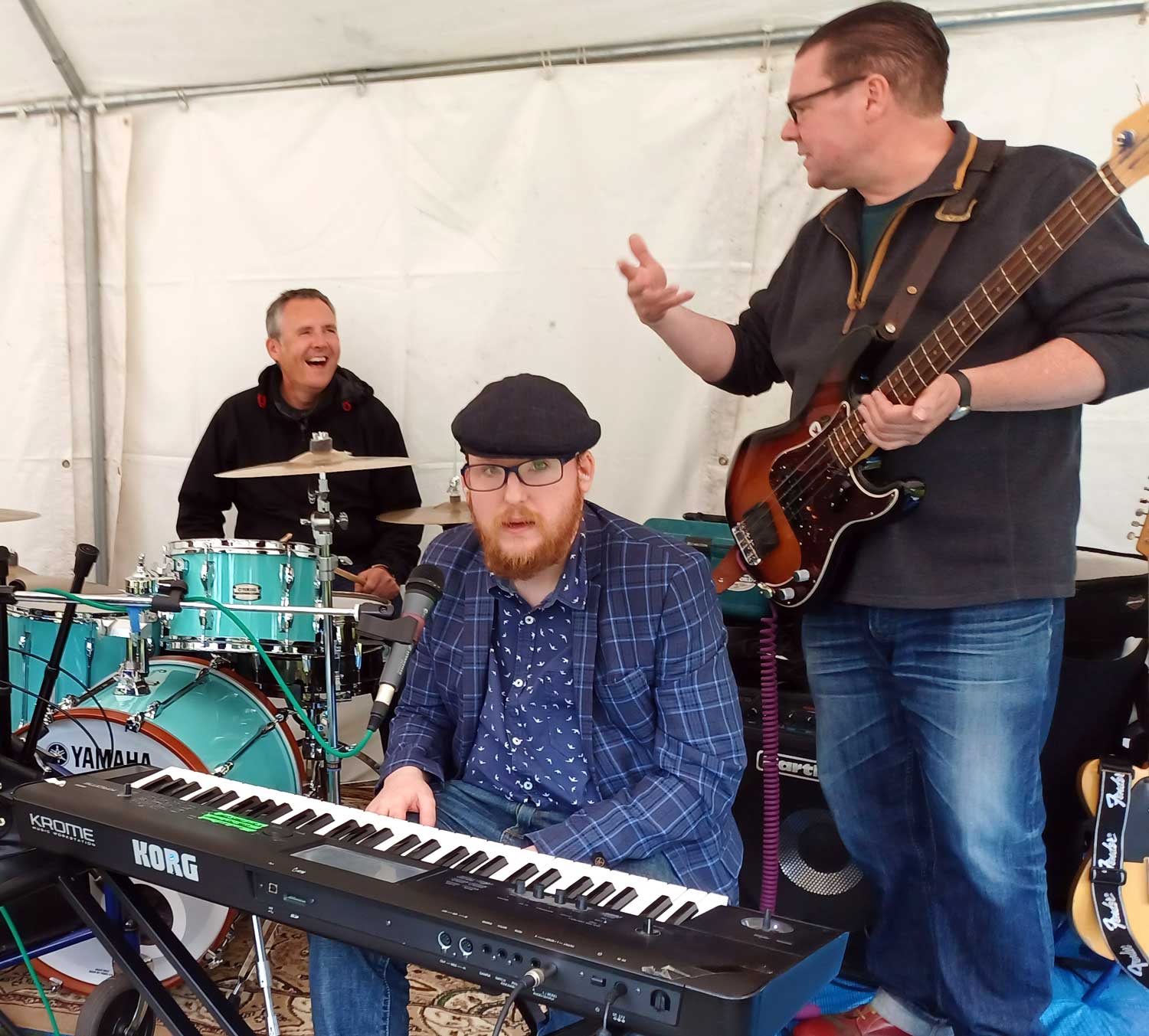 They put their talents to Robert Cray's Phone Booth as well, with sweet melodic tones and great guitar riffs. Their stage presence is workman like, especially noted in Messing With The Kid where there is a blues fusion style going on.
BB King's Sweet Little Angel saw the introduction of Robbie Reay guesting on electric guitar, he slotted in seamlessly, jamming with bass man Rod MacKay, adding another layer to this exquisite tune, very much appreciated by the audience.
There was a New Orleans take to Hallelujah Road, with Fraser again taking a lead on keyboards, a very uplifting tune with a subtle backbeat from Sandy and Suzy. The band throughout were very tight and methodical sounding off each other and just hitting those notes so well.
This was also a feature of the quieter tunes, in particular their version of the Charlie Rich song, Feel Like Going Home, just a stunning delivery of this ballad slowing things a pace. They brought Craig Anderson up to join on the last song Help Me, a cover of the Sonny Boy Williamson tune, an absolute jamming tune, Craig really taking centre stage underpinning Stumblin' Harris vocals, the band rocked the Walled garden a wonder it stayed still. A great set, by an amazingly talented band, just returning to doing events, but it felt like a homecoming.
A band to be reckoned with, look forward to hearing more from them in the future. The band left the stage with the crowd wanting more, can't get better than that, not able to praise this band highly enough, they are a class act, nothing surer. They should be headlining more events in the future, spread the word!