Advertisements

JACKSON, Miss. — On August 28th, 2020, Grammy-winning blues icon Bobby Rush will release Rawer Than Raw, a stripped-down, acoustic tribute to the rich blues history of Mississippi featuring songs from a handful of blues greats from his adopted home state.
The record, on the 86-year-old's own Deep Rush Records label in partnership with Thirty Tigers, is a follow-up to Rush's Grammy-nominated 2019 album Sitting on Top of the Blues, and his first project since his acclaimed cameo in last year's Golden Globe-nominated Eddie Murphy film hit Dolemite Is My Name.
Partly inspired by the popular series of intimate solo concerts Rush has made a mainstay of his concert calendar in the years since his first all-acoustic album (titled Raw), Rawer Than Raw casts a spotlight on five Mississippi Blues Hall of Famers: early acoustic blues greats Skip James and Robert Johnson, and Rush's contemporaries on the music scene of the '50s and '60s, Howlin' Wolf, Sonny Boy Williamson II, and Muddy Waters.
The record features a half dozen covers of some of their best-known songs rendered in Rush's own inimitable, acoustic style, characterized by wailing harmonica and a stomping foot to keep the rhythm. There are also five Rush originals — "Down in Mississippi," "Let Me in Your House," "Sometimes I Wonder," "Let's Make Love Again," and "Garbage Man," all credited under his given name, Emmett Ellis, Jr. – whose country vibe matches the songs that inspired the album.
Advertisements

"Although I was born in Louisiana, I'm proud to call Mississippi home," says Rush, who moved to Jackson, Mississippi, in the 1980s and traces his family connections to the Magnolia State back to his great grandparents. "I'm saluting Mississippi guys because they, to me, stayed truest to their roots.
If you want to get the real deal of the blues, get it from the bluesmen who are from Mississippi. Whether they migrated somewhere else like Chicago or Beverly Hills, if they are from Mississippi you can hear the deep roots of Mississippi in their stories."
Long considered one of the blues' preeminent raconteurs, Rush has always placed a premium on stories in his music. In the '70s, '80s, and '90s, his risqué, humour-filled chitlin' circuit shows often featured long, drawn-out narratives of romantic misadventures.
In the new century, as he made a bid for mainstream acceptance as one of the blues' last connections to its golden age past, Rush began to tell different stories. His tale-spinning of a life spent playing 200-plus shows a year, and appearances in documentaries like "The Road to Memphis" episode of Martin Scorsese's The Blues (2003), and Take Me to the River ( 2014), helped catapult his late-career star.
Also in 2014, Bobby joined Dan Aykroyd on The Tonight Show Starring Jimmy Fallon to perform two songs, marking his first late-night television appearance.
At the same time, Rush began to tell different stories on record. In 2001, he earned his first Grammy nomination for Best Contemporary Blues Album for Hoochie Man. In the years since he has been nominated for Grammys four more times, including last year for Sitting on Top of the Blues, to go along with 51 Blues Music Award nominations and 13 wins.
Rush won his first Grammy in 2017 for Best Traditional Blues Album for the Rounder Records/Concord Music release Porcupine Meat, produced by Scott Billington.
Rawer Than Raw is a spiritual sequel to Rush's 2007 all-original album Raw. That album was Rush's first acoustic effort and proved a gamechanger for him, showcasing a different artistic side and exposing him to new audiences. It also inspired the creation of a companion acoustic show, Bobby Rush: An Intimate Evening of Stories and Songs, that remains a popular draw today.
True to its name, Rawer Than Raw was made simply with performances recorded as unadorned as possible, just Rush's voice, guitar, harmonica, and feet. The album was recorded in Jackson over the span of several years with engineer and executive producer Randy Everett, himself a Mississippi native.
The two focused on some of Rush's favourite artists, selecting songs that were not only, representative of them but that also fit with Rush's own inimitable acoustic style.
"I could have done so many more people, but you can only put 10, 11 songs on a CD," says Rush, who has hinted at plans to honour other artists in a similar way, perhaps focusing on performers from the other Southern states where he has lived, Arkansas and Louisiana. "This doesn't mean these are the only people that I love or respect."
With every selection, Rush found himself covering artists to whom he had a strong personal connection.
---
THE SONGS

Rush describes Nehemiah Curtis "Skip" James, from Bentonia, Mississippi, the first artist covered on Rawer Than Raw, as a father figure. James was a contemporary of Son House and Robert Johnson but largely disappeared after one historic 1931 recording session. More than 30 years later, he was rediscovered by a new generation of blues enthusiasts and began performing around the country again when Rush met him shortly before his death in 1969 at age 67.
"I was always struck by the way Skip James played and sang," says Rush who performs a version of perhaps James' best-known song from the 1931 session, "Hard Time Killing Floor Blues," which he has retitled "Hard Times." "The song never knocked me down, but the direction he took it in did. And the subject matter: 'Times are harder now than they've ever been before.' That seems like a good song to sing today with everything that's going on."
Rush first met Howlin' Wolf – a.k.a. Chester Burnett, from tiny White Station, Miss. – in 1951 in Arkansas, and six-years later he introduced the gravelly-voiced singer to his second wife in Chicago. Wolf, who died in 1976 at age 65, still looms large for Rush as the model of a blues singer.
"He was one of those guys who just did what he did, and, however it came out, that's the way it was," recalls Rush. "He had that thing where he didn't care what other people thought. What you see is what you get. That's my attitude, too."
Rush holds Wolf in such high regard that he gave him the honour of being the only artist honoured with two tracks on Rawer Than Raw: The first is Rush's version of what may be Wolf's signature tune, the one-chord vamp "Smokestack Lightning," whose roots go all the way back to Wolf's time playing with another Mississippi great, Charley Patton.
For the second, Rush chose the relatively obscure 1961 B-side "Shake It for Me" (originally "Shake for Me," recorded by Howlin' Wolf and written by Willie Dixon), which is probably best known for inspiring some of the lyrics in Led Zeppelin's "Whole Lotta Love" eight years later.
In contrast to Wolf, Rush admired Muddy Waters for the airs he put on – his snappy clothes and attention to presentation. Rush met Waters (born McKinley Morganfield, probably in Rolling Fork, Miss.) about the same time he met Wolf, in Chicago during a memorable time, where he also got to know Jimmy Reed, Ike Turner, eventually Buddy Guy and Etta James.
One of Waters' big Chess hits that year was "Honey Bee, Sail On," which Rush interprets here, though his rendition owes something to an earlier, treatment of the song by the folk singer Leadbelly – titled "Sail On, Little Girl" – recorded by folklorist Alan Lomax in 1935.
The third covered artist from Rush's early days in the Mississippi Delta is harmonica player Sonny Boy Williamson II, – a.k.a. Alex Miller, from Tutwiler, Mississippi – who was a frequent collaborator of Rush's early mentor and sometime employee, slide-guitar great Elmore James. Rush performs Williamson's often-covered 1955 hit "Don't Start Me Talkin'," a favourite of rock acts like the New York Dolls, the Doobie Brothers, and Bob Dylan.
Elmore James, whom Rush first met in 1947 when he was an underage kid with a fake moustache trying to sneak into Arkansas juke joints to play, figures in the final Rawer Than Raw selection. "Dust My Broom," one of the most famous songs by one of the most famous of all bluesmen (and Mississippians), Hazelhurst-born Robert Johnson, would have been a no-brainer on an album honouring Mississippi blues artists.
But the song's inclusion is as much a tribute to the man who taught it to him – the Richland, Mississippi-born James, who played with Johnson before his death in 1938 and had his own hit with it in 1951 featuring Williamson on the harp.
---
ABOUT BOBBY RUSH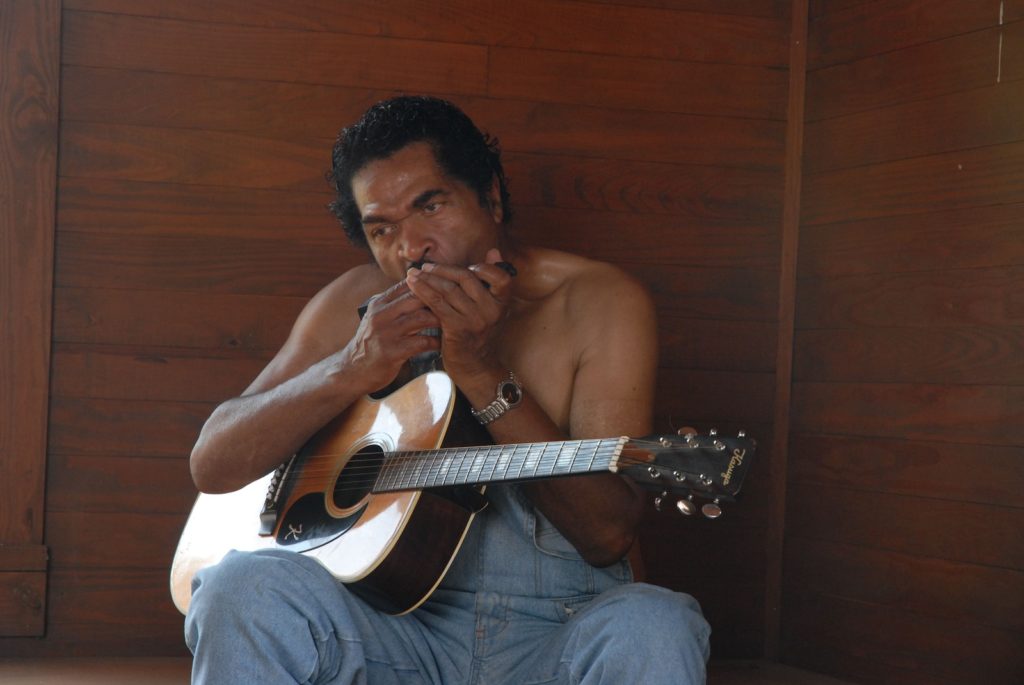 Bobby Rush was born Emmett Ellis, Jr. outside Homer, Louisiana, in 1933. He twanged a diddley bow before picking up a guitar around age 11, and his preacher father knew enough about a harmonica to pass along a few riffs to his progeny. The family relocated to Pine Bluff, Arkansas, in 1948.
While still a teenager, Rush became a professional blues musician, adopting his stage name so as to not disrespect his devout dad. He played with Elmore James in Arkansas. in the late '40s and early '50s before migrating to Chicago.
There he assembled a band with an equally young Freddie King on guitar (Luther Allison came into the combo later). Rush gigged around the West Side and in the southern suburbs of the Windy City, but it took until 1964 for him to make his recording debut on the small debut on the Jerry-O label.
In 1971, Rush broke through on the national charts with the lowdown funk grinder "Chicken Heads" for Galaxy Records. The song has since become one of Rush's signature tunes, lending its title to his 2015 career-spanning retrospective. In recent years the song has been featured in the Samuel L. Jackson film Black Snake Moan and the HBO series Ballers.
Rush Hour, an album for Kenny Gamble and Leon Huff's Philadelphia International Records in 1979, should have made Bobby a huge star but didn't receive its proper dues until the 2000s when Rolling Stone recognized it as one of the best blues albums of the '70s.
An encore LP was summarily shelved, and before long Rush moved back south to Jackson, Mississippi, which was fast becoming the last bastion of Southern soul-blues. In 1983, the lascivious "Sue" on the LaJam imprint sold over a million records.
During this period Rush cemented his reputation as a chitlin' circuit legend, playing a minimum of 200 shows a year. He cut a series of memorable albums for Urgent!, Waldoxy, and his own Deep Rush Records.
In the new millennium, Rush made a late-career grab for mainstream recognition. He earned his first Grammy nomination for his 2000 album Hoochie Man. He was nominated again in 2014 for Down in Louisiana and again in 2015 for Decisions before grabbing his first Grammy in 2017 for Porcupine Meat.
Also in 2015, Omnivore Recordings released the 4-CD, 74 song box set, Chicken Heads: A 50-Year History of Bobby Rush, which earned a Blues Music Award for Best Historical Release.
Bobby's performance itinerary has encompassed some of the biggest music festivals around the world, from Chaifetz Arena in St. Louis to Byron Bay Bluesfest in Australia, countless European engagements, the Fuji Rock Festival in Japan, and closer to home, Bonnaroo and the New Orleans Jazz & Heritage Festival. Rush was the first bluesman to perform at the Great Wall of China, attracting an audience of more than 40,000 and earning him the title of "China's Ambassador of the Blues."
For More Info – Bobby Rush
Bobby Rush is interviewed in the upcoming Issue 115 of Blues Matters!
---