Advertisements

Arena Nord, Frederikshavn, Denmark – Friday 1st – Saturday 2nd November 2019.
When the season starts to turn cold and gloomy, blues fans looking for warm and uplifting music turn to the festival that, over the last 14 years, has gained a reputation as one of the best in Europe.
Blues Heaven Festival is held in the northern Danish town of Frederikshavn and consistently provides a selection of high-quality international artists who satisfy the true blues lovers soul. The festival is now in its second year at Arena Nord which provides three stages of entertainment. This year also saw the launch of Gospel Heaven – featuring the more spiritual sibling of the blues.
Freddy's Bar in downtown Frederikshavn hosts the traditional pre-festival show the night before the official opening and it is often something really special. This year proved no exception as US singer Curtis Salgado threw down a powerful set full of soul. From the opening "Blues Stay Off My Shoulder" reinforced by the mighty horns of the Bender Brass, Curtis laid bare his heart and soul, sharing his feelings about being in love, and philosophising about ageing but yet avoiding being over melodramatic or morose. Undoubtedly the excellent support of his band, particularly guitarist Alan Hager, helped maintain the energy at a high level. (see video at end of the article).
Freddy's was also the venue for a matinee show on Friday, the first official day of the festival, with California-based Chris Cain providing the show. Guitarist Chris is on something of a roll recently, picking up a BMA and a brace of Blues Blast awards. With a sound reminiscent of two of the Kings of the blues, B.B. and Albert, Chris brings his own mischievous humour to the party and was warmly welcomed by the afternoon crowd.
Then onto the official opening act in Arena Nord where we once again had the pleasure of seeing Curtis Salgado and the Bender Brass work their magic on the big stage. There was no loss of energy in the bigger room, and if anything, the feedback from the larger audience uplifted and energised the performance even more. If you haven't given Curtis a listen yet, you really should!
It would take a class act to follow and we were not disappointed as Chicago's Queen of the Blues Shemekia Copeland took to the main stage. The recent double BMA-winning "America's Child" album featured in the set but there was also a fabulous interpretation of her father Johnny Copeland's "Ghetto Child", which felt as relevant today as it was when it was written in 1971. This is what has earned Shemekia the contemporary blues awards. Equally, however, Shemekia knows how to throw a party: crowd-pleasers You Got The Wrong Idea and Its 2AM (Do You Know Where Your Baby Is?) sent everyone away with a smile.
Time to grab some refreshments and onto the so-called "Buffet Stage" to catch some of Mike Sanchez tickling the ivories. Due to some airline mess-up, Mike was stranded without luggage, so the trademark suits were not in evidence, but the big smile and rocking keys were fully present. A nice surprise was to see UK harmonica master Paul Lamb lending Mike a hand, much to the delight of the audience.
Following Mike, a chance on the small stage to once again enjoy Curtis Salgado, this time in an acoustic duo format with guitarist Alan Hager. This time Curtis and Alan took us back down the blues heritage trail, spotlighting both Alan's excellent guitar work, but also Curtis's fine ability on the harmonica.
So, to the last act of the night, and in the customary Blues Heaven way, the heavier blues bands come out to play. Louisiana-born guitar slinger Kenny Wayne Shepherd fitted the bill to a tee and gave the late crowd plenty to enjoy. Tracks from his latest album "The Traveler" were swiftly followed by some older hits including "Shame, Shame, Shame" accompanied by Toby Lee, before wrapping up with a rousing cover of "Voodoo Child" to end a cracking opening day.
On to the second full festival day with some exciting acts promised. Bypassing Freddy's we head straight for the main stage and Joe Louis Walker. Joe has a prolific career as a guitarist, singer and songwriter but today he was accompanied on keys by veteran blues, boogie-woogie and jazz pianist Kenny "Blues Boss" Wayne. "Not Messing Around" was the opening number and indeed when it came time to deliver some good time boogie, they were absolutely spot on.
Then over to the other side of the arena in time for Tad Robinson. While Tad was born in New York City and has spent a good while in Chicago, working with Dave Specter among others, his spirit seems to be more in the Memphis style soul-blues tradition.
Again, with a little help from the Bender Brass, Tad showed off both his sweet, silky vocals and powerful harmonica chops, and gave the crowd a taste of new material from his current album "Real Street".
A real change of gear now from soulful Tad Robinson to big, bold Detroit diva Thornetta Davis.
Accompanied by the full band and her backing singers there was a whole lot of rousing songs from her most recent album "Honest Woman" as well as the old classics (it's been a while since I enjoyed hearing "Got My Mojo Working" for example!) Thornetta is well-known and respected around her native Detroit; it seems to me she is due some appreciation on a wider scale.
In yet another contrast, on the acoustic stage one of the UK's finest contemporary performers, Ian Siegal took the room by storm. Ian is a real blues fan and his love of the genre illuminates his performances and invests them with an integrity that is sometimes in short supply elsewhere. With these attributes, you can say as much with an old resonator as others with a whole stage full of equipment can do. Particularly touching was his tribute to the late Michael Ledbetter who made such an impression at Blues Heaven in 2018, in what was to be one of his last performances. Class act, Ian.
Ducking over to the main stage to take a quick look at headliners The Fabulous Thunderbirds, Kim Wilson could be seen in fine form blowing an absolute storm, clearly exhilarated by the Blues Heaven Hall of Fame award that was being bestowed on him.
Quickly getting back to the acoustic stage, there was time to see Kenny "Blues Boss" Wayne solo, although after being spotted in the audience by Kenny, the fabulous Paul Lamb was called up and sat in for several numbers, much to the delight of the crowd, who just would not let these two wonderful musicians go.
After finally tearing ourselves away from the acoustic stage, there was time for a little taste of Chicago's own Nick Moss to wind up the night. Featuring Dennis Gruenling on harp and additionally well-known Dutch harp Big Pete, the stage was set for a serious harmonica duel and they duly obliged. I give the points to Dennis, mostly based on his eye-catching outfit! And so, another Blues Heaven Festival passed into history.
Following the festival proper the Gospel Heaven show, held in Frederikshavn's beautifully renovated church, recognised the relationship between Gospel and Blues music. A traditional New Orleans brass arrangement of "Just A Closer Walk With Thee" played by the Bender Brass as they slowly marched into the church set exactly the right tone, and the most moving moments were the staggering acapella introduction to "He Did It All By Himself" from Curtis Salgado, a heartfelt "Same Old Blues" from Tad Robinson, and the beautifully arranged IDMC Choir from London on Sam Cooke's "A Change is Gonna Come". It's no surprise that the acoustic and vocal performances came out best with the natural acoustics of a church building, and the amplified instruments in the other performances suffered somewhat. However, it was a brave first attempt and can only improve in the future.
Blues Heaven's Peter Astrup also received recognition at this year's event for reaching the milestone of 30 years with his company Blues Productions DK. It is a testament to the hard work and the high-quality artist selection that has contributed to the longevity and expansion of this festival. In a world where live music is continually under pressure from other forms of entertainment and blues in particular often finds it hard to get a platform, it's this kind of event that helps keep the blues alive and is well worth supporting. Here's to the next 30 years!
Festival Review by Glenn Noble
Images by Jennifer Noble
For More Info – Blues Heaven Festival & Blues.dk
Peter Astrup has also received the Keeping the Blues Alive Award 2020 and will be presented with the award in January at the 40th International Blues Challenge in Memphis, TN.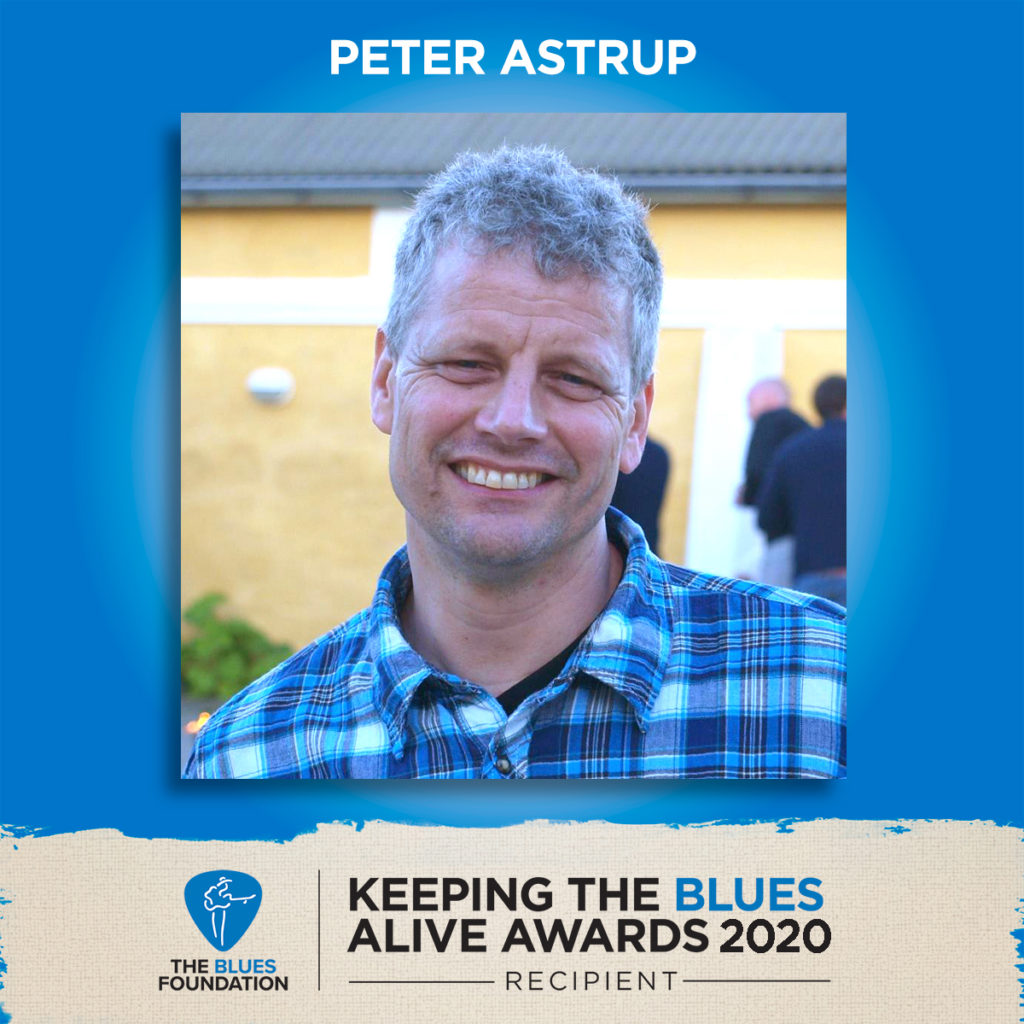 From The Blues Foundation's website – Well known to thousands of musicians in Europe and the United States, Peter Astrup has dedicated his life to establishing and expanding, the blues music scene in his native Denmark and throughout Europe. After two decades of producing and promoting blues events in Europe, he founded the Frederikshavn Blues Festival in that northern Danish port city in 2006. Recently renamed the Blues Heaven Festival, this premier blues event now attracts audiences from 17 countries to enjoy performances by 15 blues, soul, and gospel bands over two full days.
In 2018, Astrup launched a second festival, Blues Paradise, that is held the same weekend as the Frederikshavn event. His dedication to blues music has been widely recognized and he has been honoured with many awards and accolades, including the French website ZicaZic's International Festival of the Year in 2018 and the 2018 Danish Music Award as Hoochie Coochie Man of the Year for being a pioneer of blues music in Denmark.
For More Info – The Blues Foundation
Opening concert with Curtis Salgado at Freddy's Bar.