Advertisements

The Multi-Award-Winning Blues Heaven Festival in Frederikshavn, Denmark is now in its 14th year and will once again blow your blues away with this truly spectacular lineup.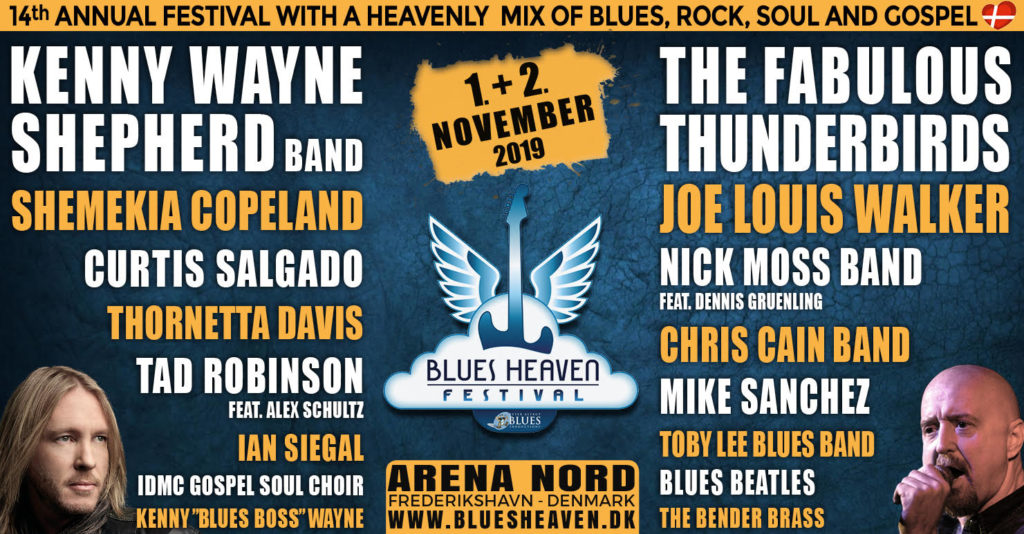 Held annually, and in the northern part of Denmark is this one of a kind, award-winning, blues and soul festival which is run by the sole organiser Peter Astrup, who has received many awards for his outstanding contributions to the blues throughout Scandinavia.
Peter Astrup began his agency Blues Productions on 1st November 1989, so the opening day of the festival will mark his 30 year anniversary of working internationally for blues artists. For more info on all of Blues Heaven's festival awards please go to – About BluesHeaven
Peter describes his festival as being the best 'winter medicine' for all blues fans and looking at this year's lineup he once again knows how to cure all that ails a blues fan. Last year music lovers travelled from 17 different countries to attend the festival in Frederikshavn, Denmark.
At Blues Heaven, there are 3 stages each with a convenient 15-minute break between concerts giving you ample time for topping up your drinks or chatting about the mind-blowing show that you've just witnessed.
This feels like an intimate festival but there is also a ton of unreserved seating here, plus a large dancefloor…or you can choose to stand right in front of the stage and watch your favourites up close. There is also food available and various bars all within the one building, Arena Nord.
Each year Peter pours his heart and soul into this festival and he works and travels long hours to see and bring us the best acts that he can. His love is the blues but his heart is always pulled towards American soul and Gospel music and his programs always feature the best that is currently touring.
His love of soul and Gospel music has seen him expand this year to include a Sunday afternoon of pure unadulterated Gospel music featuring artists from the festival who will be joined by the 15-piece IDMC Choir from London in the beautiful historic Frederikshavn Kirke. It's a guaranteed high for anyone coming to see this music and to hear it being done the way it should. Tickets for Gospel Heaven can be purchased here.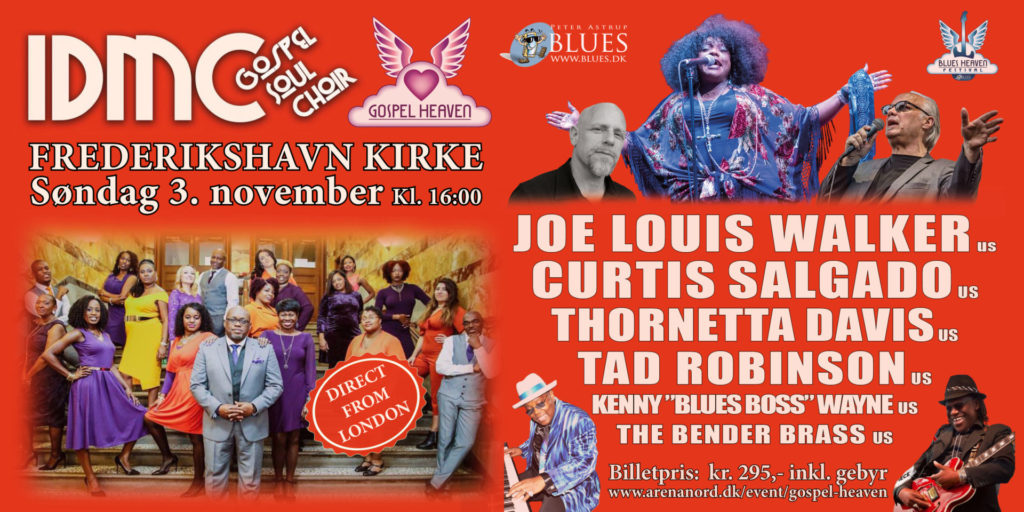 But, before all that kicks off, the weekend always begins on Thursday evening at the truly wonderful Freddy's Bar, in here you really do get to sit right up close to the big stars and literally feel the sweat from their brows as they blow you away with their outstanding and heartfelt performances. And, there's always time for a chat and a drink at the end! The atmosphere in this bar is always electric and the staff are super nice and friendly too. The festival launches here with the sensational soul legend and original Blues Brother Curtis Salgado. Over the weekend, you can also catch extra performances here with the Chris Cain Band and the Toby Lee Blues Band.
Freddy's bar…
Before we delve into the music, I just want to tell you all about the practical options available. Peter has arranged discounts with all of the hotels in the area and he has shuttle buses meeting most of the flights and provides returns to the airport. His contract with the national bus and train companies allows you to buy one ticket which will give you access to any bus going in any direction over the 4 days. Perfect for a bit of sight-seeing while you're there!
All transport information including ferry terminals is available here – Blues Heaven Transport (there is also a FREE shuttle bus provided each day from the afternoon – 8.30pm, and after each evening between Arena Nord and all hotels).
There are various food options available at Arena Nord, and new for this year is the Blues Carvery for €20 per day – it is available between 6pm – 9pm. There is also a cafe bar which serves quality whiskeys, cognac, rum etc all served in the main foyer.
A VIP 5* food option is also available with your ticket and this will provide you with restaurant food, beer and wine ad libitum. For VIP tickets click here
So, let's get down to the music! The stage times are as follows –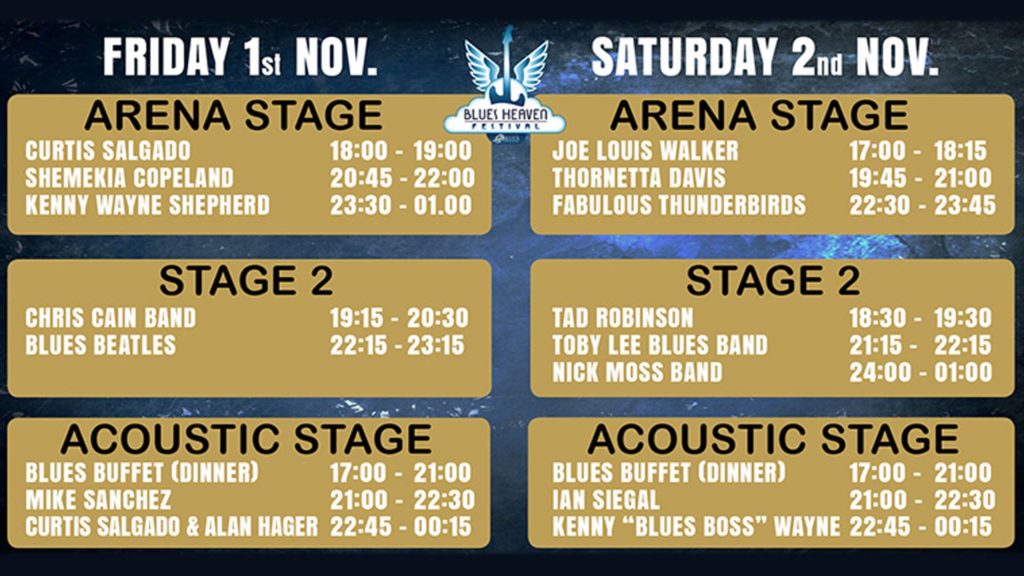 Friday 1st November
Friday night sees Curtis Salgado opening proceedings on the Arena Stage at 6pm. Curtis is a well-seasoned performer who has won a staggering total of 9 BMA's. He is followed by the Chris Cain Band over on Stage 2, Chris is best known for his B.B. & Albert King interpretations. Then it's back to the big Arena Stage for Chicago's 'Queen of the Blues' – Shemekia Copeland. Shemekia is another multi-award winner and has been nominated a staggering 31 times. Next up is Brazil's very own Blues Beatles, blues fans will be surprised by how much blues there is in the Beatles song catalogue. These are not copies, but interpretations. To round things off the pace is kicked up a notch or two, with Kenny Wayne Shepherd and his band.
And, if all of this is too much for you then there is the Acoustic Stage where things are a bit more laid back. Here you will find the delightful pianist and singer Mike Sanchez, followed by a more intimate performance from Curtis Salgado and Alan Hager, Alan will provide some nice acoustic or mellow electric guitar accompaniment for this show.
Saturday 2nd November
Saturday night will open on the Arena Stage with Joe Louis Walker, who has received 55 nominations in his lifetime and is regarded as being one of the most talented and prolific bluesmen out there. Then we move across to Stage 2 for some Southern soul-blues with Tad Robinson, who was schooled by Al Green and Sam Cooke, he is joined by heavyweight guitarist Alex Schultz. Next up on the Arena Stage is another multi-award winner and is known as Detroit's 'Queen of The Blues'. Thornetta Davis is a powerful and soulful blues and gospel singer/songwriter and she has the ability to caress you with her vocals or blow you away with the sheer power behind them. Then we head back to Stage 2 for the UK's Young Artist of the Year, Toby Lee who has been a guest guitarist here for the past 2 years. Toby has had an incredible journey since his first performance at Blues Heaven which saw him receive a staggering 350 million views on social media on one video, this year he brings his own band for the first time. Back to the Arena Stage next, and it's the aptly named Fabulous Thunderbirds with the King of blues harmonica Kim Wilson fronting them; they are regarded as one of the world's greatest and most respected blues bands. Then we round off the evening back on Stage 2 with some Chicago blues from the Nick Moss Band, featuring the outstanding harmonica player, Dennis Gruenling.
Again, if you prefer the pace to be a little calmer then you won't be disappointed by the lineup for Saturday's Acoustic Stage. The night here begins with one of the UK's most respected contemporary bluesman Ian Siegal who will entertain you with his beautiful folk-based blues style. Following this the pace is picked up a bit with the closing performance coming from Kenny 'Blues Boss' Wayne, no other boogie-woogie piano player hits the keys with the same feeling, and he is not called "Blues Boss" for nothing!
In the main foyer, there will be a spectacular 'Great Feelings and Meetings' photo exhibition from Blues Music Award winner 2019 – Hans Ekestang, Sweden  http://www.ekestang.se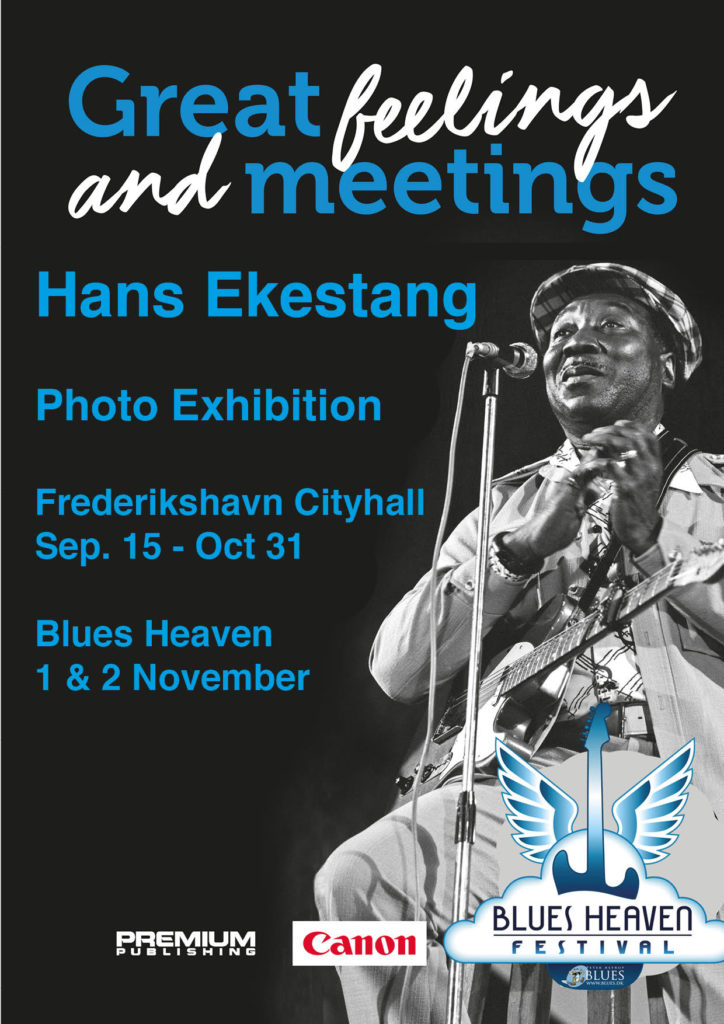 This is truly one of the greatest blues festivals you will find in Europe and nothing is too much trouble, the locals welcome visitors to the area with open arms and festival organiser Peter Astrup will take care of your every need. He is available pretty much 24/7 and welcomes communication from any prospective visitors.
More information and details about tickets, transport, hotels etc can be found by clicking here.
Peter can also be contacted on [email protected] or (+45) 4063 2400
Check out the awesome blues and sweet soul music playlist for Blues Heaven below!