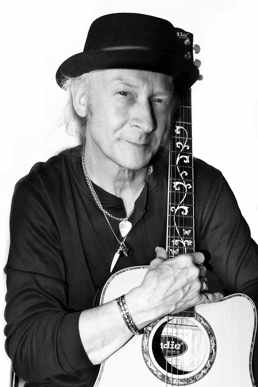 Not many Blues musicians can claim to have opened for KISS and RUSH. We were pleased to catch up with one, Del Bromham, also of Stray fame, even as he was collaborating on one album, and creating a new one of his own.
We asked Del a couple of questions.
Tell us about the album you've just contributed to and your part in it
"Leslie West, legendary guitarist of Mountain, has just released a new solo album entitled Unusual Suspects. The album features contributions from a hand picked line-up, all of which are guitar legends in their own right, including Steve Lukather, Billy Gibbons, Slash, Zakk Wilde, and Joe Bonamassa."
"I first met Leslie, I think it was back in 2002, when Stray were invited to tour with Mountain. I believe it was the first time they'd been to the UK in some years. He does have, shall we say, a reputation! But we must have got along fine because when they came back the following year we toured with them again and also played some shows in Europe. During 2003 he released a solo album 'Blues to Die For'. My tour manager, Paul Newcomb, suggested to Leslie that he came over to the UK to promote the album, but do it acoustically and tell some of his stories. If you've seen Leslie he is a great raconteur and has many stories to tell. So into 2004 the tour was set up and I joined on the tour and played an acoustic set and then I joined Leslie on stage to play along with him during his set.  I'd say we became pretty close at that time, which would surprise most people. So much so that on a day off at Paul's house, which he had up in Scotland, Leslie called me into the room to show me a song he'd been working on for a while. He said he was stuck, particularly with the lyrics. He wanted to express some of what his life had been about. So we sat around playing guitars and I came up with some lyrics and added a couple of chord sequences … the song was now finished and he was jumping up and down, really ecstatic that it was now complete The song is titled 'To the Moon'."
"So now go forward to 2011 and Leslie contacted me to say that he hadn't forgotten the song and was about to record 'To the Moon'  for his new album titled 'Unusual Suspects'.  I would loved to have gone over to the US at the time of recording the album, but it was not possible at that time. However I have ended up on an album full of guitar legends! As for Leslie West himself, the man is a legend and if you'd told me back all those years ago that I'd end up writing a song with him, I'd never have believed you!  I've been told that it has been nominated for a prestigious 'Grammy' in the USA."
What can you say about your own new album?
The title of the new album is "9 Yards". It's taken from the old saying, 'the full 9 yards', which apparently is how much material it takes to make a 3 piece suit … well that's what they used to say, but since I'm not a tailor I can't actually verify it, but it sounded right particularly in the musical context of this album. I wanted to show the variation in the songwriting and the playing on the album and hopefully the listener will get the full '9 Yards', musically that is. I hope that makes sense? I originally was going to make it a 10 song CD but while recording the juices were flowing and I wrote 4 more songs and I just could not keep them off. I want everyone to hear them. As always they must be songs. I've always been a verse and chorus man. I think that is why I can play just about any song live acoustically as well as with a full electric band.The songs have to stand up on their own.  I was looking for an overall sound which has feel, which has soul. I didn't want an over produced album and my intention was to keep things quite basic instrumentally. I play guitar, bass guitar, harmonica and keyboards and Karl Randall from Stray played drums and percussion.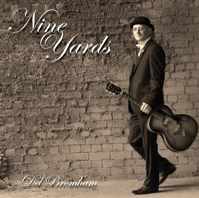 "I laid down the songs with just me and an acoustic guitar and then overdubbed the additional instrumentation. I wanted it to sound like it was a live band recorded. I am also joined by Cherry Lee Mewis and Robbie Stewart-Mathews who join me on backing vocals. Cherry sings a duet with me on a song called 'What goes around' and Robbie plays blues harp on this one. They are really talented people and it was a real joy working with them. It would be great to reproduce some of these songs live with them on stage."
"There are a couple of purely acoustic blues tracks and some big electric guitar tracks. The title track '9 Yards' is an acoustic song and tells the story of a fella coming into some money and goes to the tailor to buy a suit of clothes which makes him feel pretty special. Another acoustic track is called 'Bills' about another guy who ends up getting paranoid every time the letterbox rattles and drops a bill through the door. I'd like to think they have an authentic blues artist feel to them."
"The opening track is called 'The ballad of JD'. Not only do I like that particular tipple, but his was a fascinating story so I have put it into words and music. I have written two songs dedicated to my daughters. One song is called 'Father and daughter, mother and son'. It's about the special relationship between father and daughter and the joy it brings when the daughter gives birth to a child. In this case a son, so as you can guess I'm now a granddad and that really is something special! That is for Jodie and my grandson Liam."
"The song 'Smiling face' is dedicated to my other daughter Zoe who was diagnosed with cancer. As a father you always want to protect and care for your own, but when something like this happens, one feels so helpless and there is little you can do but sit on the sidelines and wait. It's a song of love, emotion and anger. That's all I can say about that one. I hope the song says it all?"
"I have a couple of labels who are listening to it at the moment and once I have decided which label to go with, I will have information about a release date. All 14 songs are stories, so maybe when the album is due for release I can give you a track by track low down on what the songs are about. I think there is something for everyone on this album. It is the 'full 9 yards'!!!"
Del's website: http://www.stray-the-band.co.uk/delbromham/index.html
Leslie West website: http://www.mountainrockband.com/leslie-west.html