The Traverse Theatre, Edinburgh – 18th January 2020.
Edinburgh Blues Club hosted a fantastic sold-out concert in the city's Traverse Theatre.
The evening was to be a tribute to Little Walter and it began with a stomping opening set from the UK's only Alligator Records recording artist Giles Robson with accompaniment from the Sons of Blues who consist of Aryio on keys, Andrew Blaze Thomas on drums, Marvin Little on bass, and Giles Corey on guitar.
Robson played a variety of Little Walter numbers such as Off The Wall, Mean Old World and You Better Watch Yourself.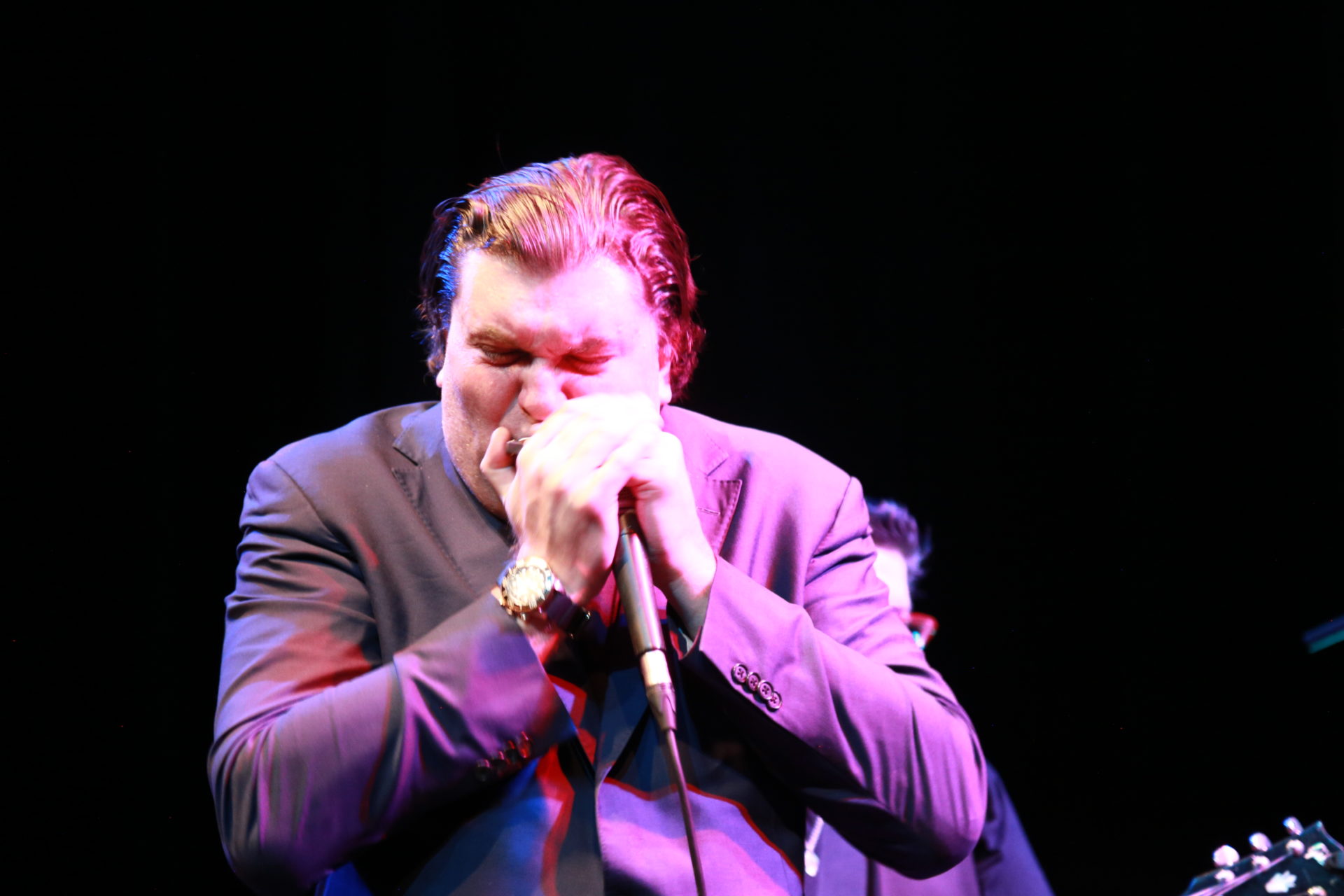 The next segment of the evening came from Little Walter's daughter Marion Diaz and Rosa Branch (Billy's wife) as they shared anecdotes from Marion's childhood. Billy Branch (harmonica) and Giles Corey (guitar) sat in on this too and played a stripped-down version of My Babe to accompany Marion's wonderful stories. We heard about things like her dad preferring the boot of his car to a bank for storing his cash. It would have been great to hear a little more about Little Walter himself at this stage but maybe that'll come as the show progresses and tours.
Following a short interlude, EBC called the raffle with the big prize of the evening being a book donated by Chicago born, photographer Jennifer Noble called 50 Women in the Blues.
Billy Branch and the Sons of Blues returned to the stage and opened with a belting rendition of Sons of Blues and played numbers from both his latest BMA nominated album Roots and Branches, and from the Blues Shock album.
Billy described the tracks from Roots and Branches as being his tribute to the world's most innovative harp player Little Walter, as being performed in his style, and with his spin on them.
He belted out tracks such as Roughly, My Babe, and Last Night all with the power and passion that you'd expect from a band of this calibre and the crowd certainly enjoyed it, especially when Billy went walk-about and got up close with some of the audience members.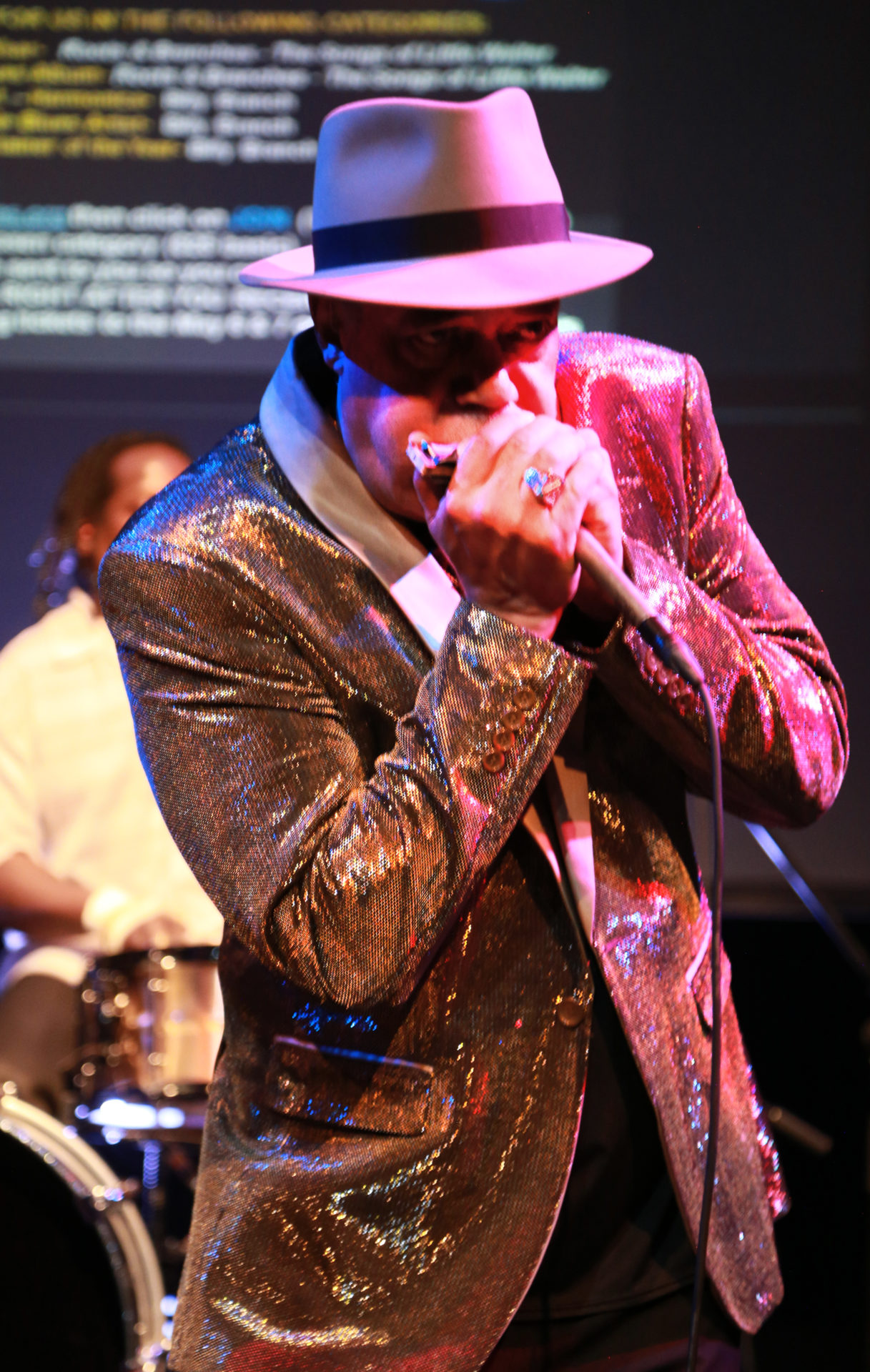 Billy unfortunately then encountered some technical difficulties with his mic, and he handed the reigns over to the talented guitarist Giles Corey who went on to sing a really beautiful and soulful version of Wilson Picket's Don't Let The Green Grass Fool You which we all absolutely loved.
Following this Billy and the band went on to give us an outstanding rendition of Sympathy for the Devil, with Billy doing his thang and strutting around belting out the harp, it was a real crowd pleaser!
Solos then came from each band member, beginning with drummer Andrew who played a tight and joyful set with a wrist cast on and I can tell you it did not hinder his playing in any way! Keys man and long-time band member Aryio also blew us away with his legendary keyboard wizardry and showed us exactly why he's played with some of the greats such as B.B. & Albert King, Otis Rush & Stevie Ray Vaughan. Marvin Little also joyfully interacted with the crowd during the show and kept everything tight with his excellent performance and funky bass lines.
There was also a young man called Matt Kay, aged 18 in the audience who had travelled all the way up from England on the off chance that he'd get to play and jam with one of his heroes. And wearing his Junior Wells t-shirt he got up and played several tunes. Giles Robson also joined in for a powerful and thrilling jam. We spoke to Matt after the show and he was blown away to have been given this opportunity. Keep an eye out for this young man in the future, I have a feeling he'll be popping up again on the British blues scene real soon.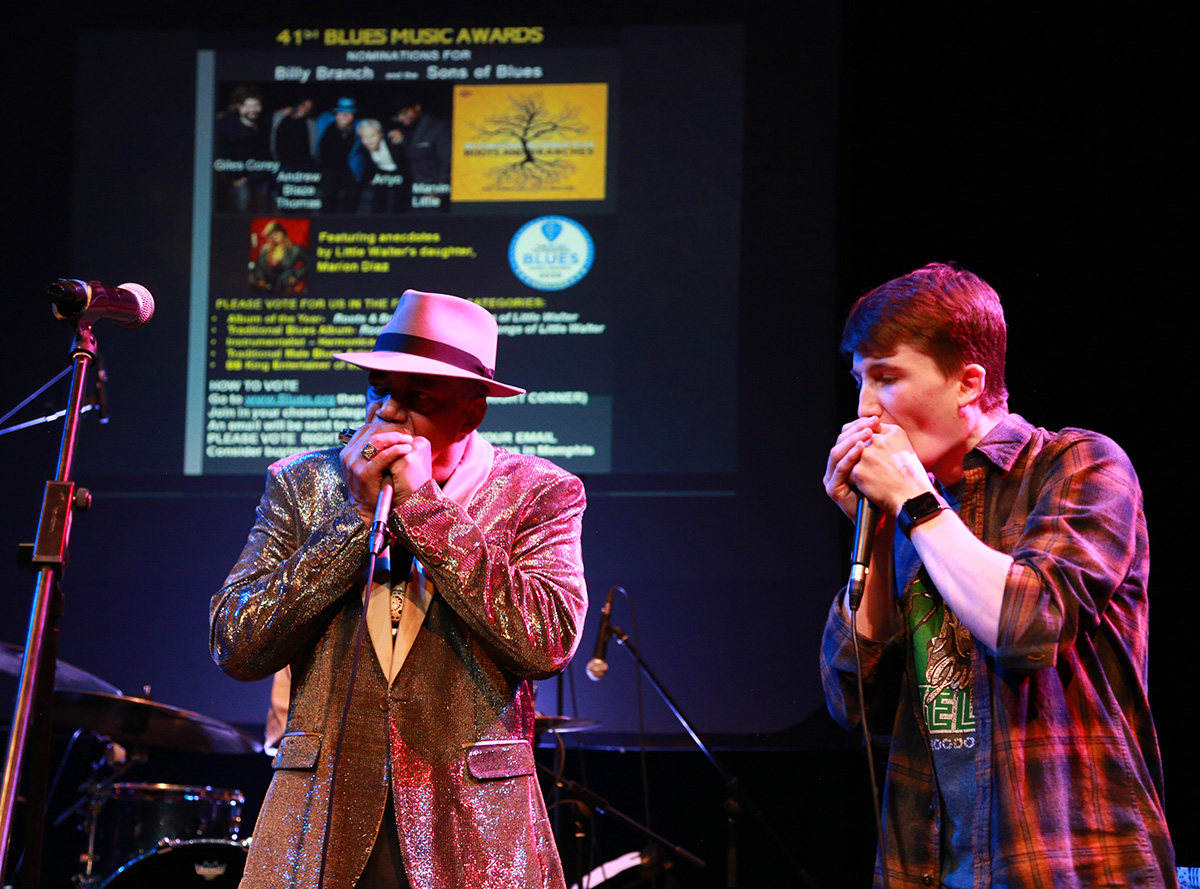 The band went on to do Blues Shock as the encore and this is where Billy really pulled out all the stops and showed us all exactly why he's a blues master! The crowd loved it and pleaded for more which they got with gusto. Billy then invited everyone to join him, the band and Marion Diaz at the merchandise table for photos and chat.
Marion was also promoting the Little Walter Foundation and had various items from there for sale and promotion. She also requested that if anyone had any little stories, they'd like to share with her about harmonica playing then she'd love to hear them. She wants to know how or if her dad impacted people and their love of harps. So, if you have a story then please go to her Facebook page and let her know.
Billy has been nominated for 5 music awards in the upcoming BMA's and was inducted into the official Blues Hall of Fame by The Blues Foundation on the 10th January 2020.
For More Information – Billy Branch Official
For Information on the Blues Music Awards & The Blues Foundation click here
For The Little Walter Foundation click here
For Edinburgh Blues Club click here
All photographs are by Jennifer Noble