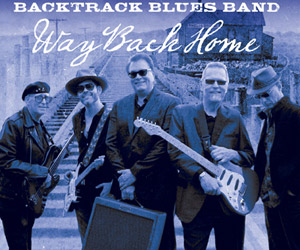 This is blues par excellence, raw essential blues and quintessentially this type of music is what the term was designed for! When a group have been together for as long as these guys have in their third decade, then you know you're on the right road to musical Shangri-La, if nothing else based on the fact that they have survived and played with and for, la creme de la creme.
This album is the very definition of Chicago blues with harmonica playing to die for. Originally the group covered the likes of Muddy Waters and Sonny Boy Williamson, but evolved their own style with roots very firmly planted in traditional blues.
They're also renowned for having worked with absolute legends, such as BB King, John Lee Hooker, Buddy Guy and Stevie Ray Vaughan. Now to be in support of such maestros of the blues takes a helluva lot of quality and confidence in your own ability.
This album is everything you would want in a blues CD. It has electrifying harmonica playing throughout by Sonny Charles allied to visceral vocals from him too. Kid Royal submits white hot lead guitar playing while the rhythm section holds it all together from "Little" Johnny Walter on rhythm guitar, Joe Bencomo on drums, and Stick Davis on bass.
It would be churlish to pick a favourite track from this absolute gem of an album, so I'm not going to. Every track on the CD is an absolute belter, each having something to commend them but in truth, this album is the best I've been fortunate enough to review.
Musically this disc is flawless, the arrangements and the vocals are superb and the instrumental renditions truly magnificent! It is a must for any aficionado of the blues genre, and even if it was twice the price it would be a bargain. The fact that it is not expensive at $20 makes it a real corker.
TOM WALKER