Nearly two years in the planning and many rescheduled dates made it seem this was not going ahead but for the perseverance of the Management team including organisers Paul Winn and Ben Darwin, ably assisted by Angie Howe and Emma Darwin, after 477 days planning the York Blues Festival got underway at 1pm.
Unfortunately, due to other circumstances re-accommodation and travelling issues, this reviewers experience was not of a rounded one but did manage to catch a lot of the sets by the assembled artists.
WORDS & IMAGES: Colin Campbell
The venue had a fantastic atmosphere throughout the day, a very enthusiastic crowd greeted all artists on stage and participated when necessary. Dark, dingy Club atmosphere added to the grittiness of this event. The room's acoustics adding to the ambience and sound was great throughout the day. This was an unqualified success, summed up by those attendees and artists.
Opening such an event is a daunting prospect for any artist and especially when there has been a dearth of live music. Enter Robbie Reay and Willie Cran who gave an excellent performance intermingling traditional blues songs from the Mississippi Delta and some originals. Barefoot Blues was the first tune, Robbie was inspired by a trip to Mississippi and even wrote a book about his experiences. This was an upbeat set peppered with audience participation numbers like, Grinning In Your Face and The Jeckyll Can't Hide, full of humour and a real feel for traditional blues values, they are a very entertaining duo. Robbie's expertise at using the cigar box guitar is most noticeable in the closing song Willie Brown, segueing this with Baby Please Don't Go, interplaying well with Willie Cran's powerful harmonica style, a feature of a few bands playing this Festival. A rousing start indeed enjoyed by an appreciative audience.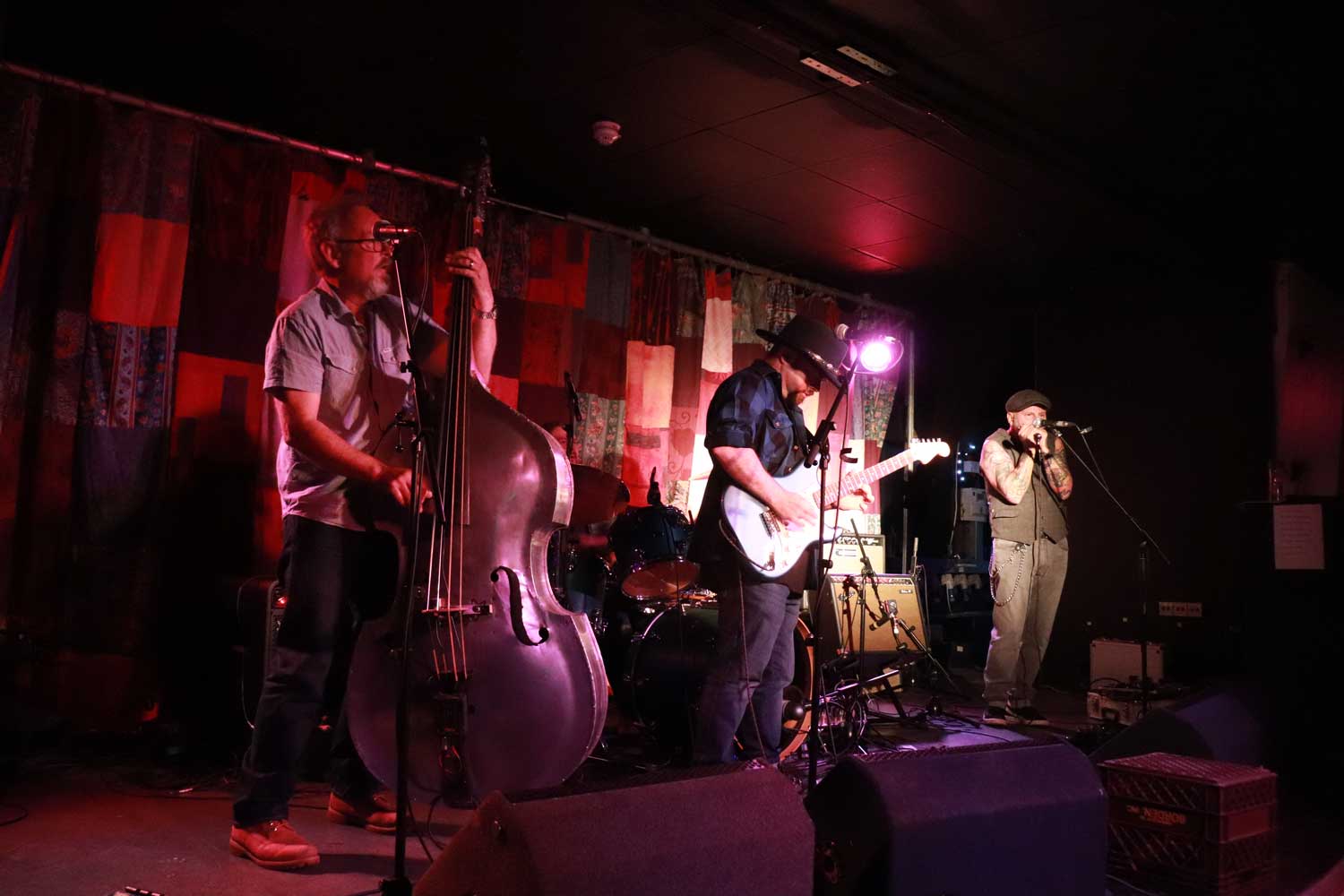 The Swamp Hoppers were next on stage after a quick turn-around. They are a four-piece band from the North East of England. They comprise of; Ronnie Semple on harmonica, Steve Martin on double bass, Den Fisher on lead guitar and vocals and Paul Thompson on drums. They rocked the house from the start with a very upbeat set including a reinterpretation of Jimmy Reed's, Shame Shame Shame, the band really getting their groove on this one. A very accomplished band saw harmonica vibes interplaying well with string section. They appeared very comfortable, and the sound was very good. I Smell A Rat was delivered well, full of punctuating bass line and clear vocals. Mercury Blues was a particular highlight with some fine rhythmic tones. Last song was a reinterpretation of Little Walter's My Babe with some phenomenal harmonica playing. A tight cohesive unit who thrived from the crowd's reaction a real crowd pleaser. Talking with Ronnie Semple later he felt great playing live again to such a friendly audience who appreciate blues music.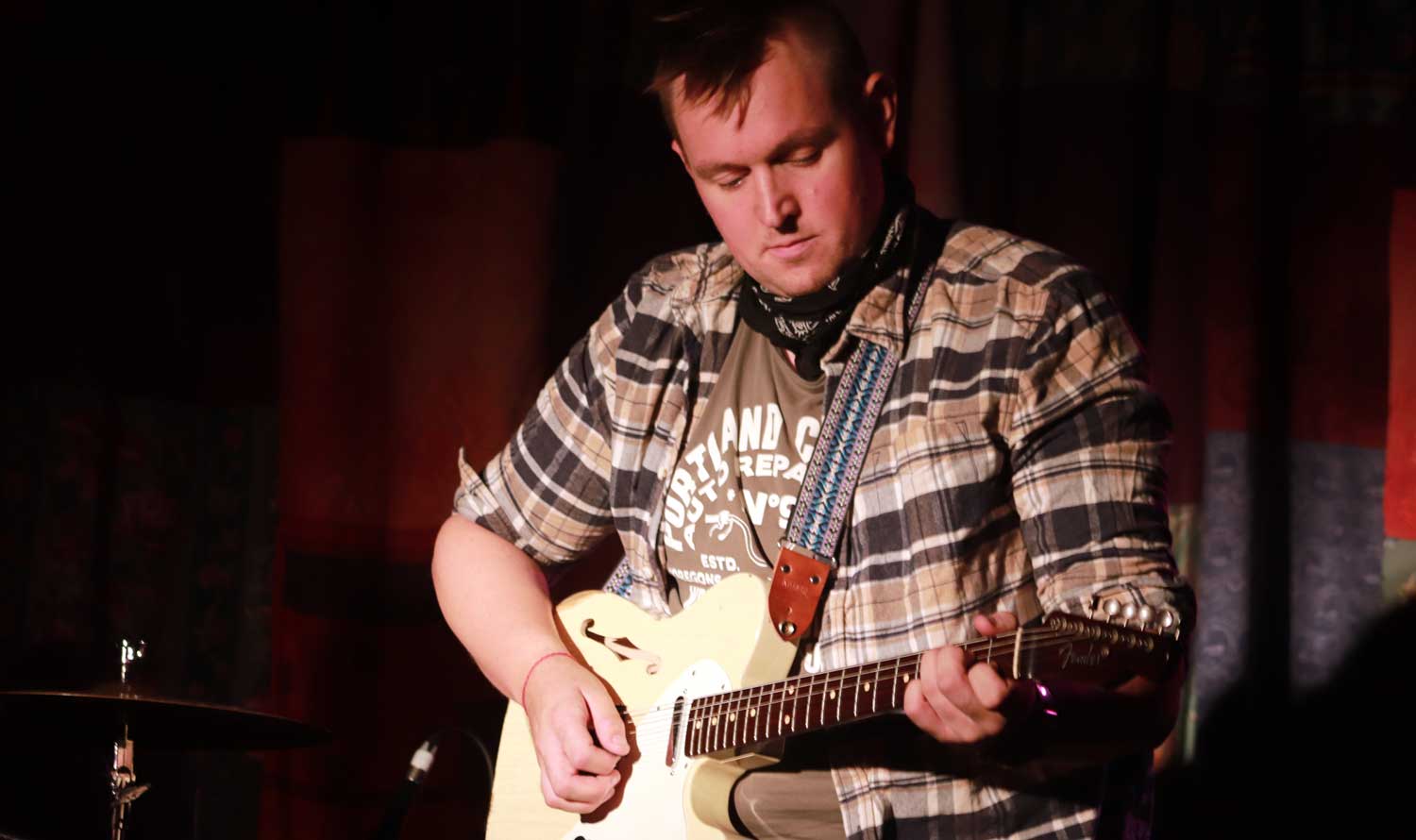 Dori & The Outlaws were up next. Their set was of a mostly countrified blues variety, mixing Americana, roots and blues with their own twist. They seemed a relaxed band, full of humour and seemed to really be enjoying themselves throughout the set. They got a few people dancing and overall, there was an upbeat feel. Dori is the effervescent lead singer, and guitarist. Jack Allen played guitar, even did a walkabout at one point that was very impressive and had the crowd in raptures. On drums is John keeping rhythm along with Jamie on bass guitar. Voodoo Working was first song with a swampy delivery from a confident band. There were quips from Dori throughout the set and It's Not You, It's Me seemed to be sung coyly with bittersweet tones. They played Frankie Miller's; The Rock in a rootsy country style also. Finishing off with a bang on Dusty Box Car Wall. A good performance from a well-balanced outfit.
Acoustic bluesman John Carroll was on next. A very competent guitarist and singer songwriter played a set of covers and originals. His version of Peter Green's Black Magic Woman was a highlight, great guitar tone and crisp vocals added sharpness to a well-tried out song. He can do slow blues, exemplified by his, Same Old Blues tune. He mixed an original ragtime instrumental as well called The Butterfly Rag, some intricate picking here. His tune, The Ugly Woman was full of bawdy references and a lot of humour. He even finished off the set with a mesmerizing version of Hey Joe, well received by an appreciative audience, a name to watch out for!
The Wilbur Project was next, who had drafted in Adrian Thomas on drums as stand in, but you would think he had been a stalwart of this band, kept great rhythm throughout a mixed set of maximum rhythm and blues favourites. They comprise, Paul Williams on vocals and harmonica, Rick Simpson on guitar and vocals and Paul Selby on bass. Monday (Gets To Me) and A- B+, were crowd-pleasers. Finishing off with Muddy water, this was a full-on in your face set from the boys from Rutland. Paul Williams lead singer said afterwards, "Our last gig was sixteen months ago. All things considered we really enjoyed playing such a well run and friendly festival and felt honoured to have been part of such a great bill". No other words needed!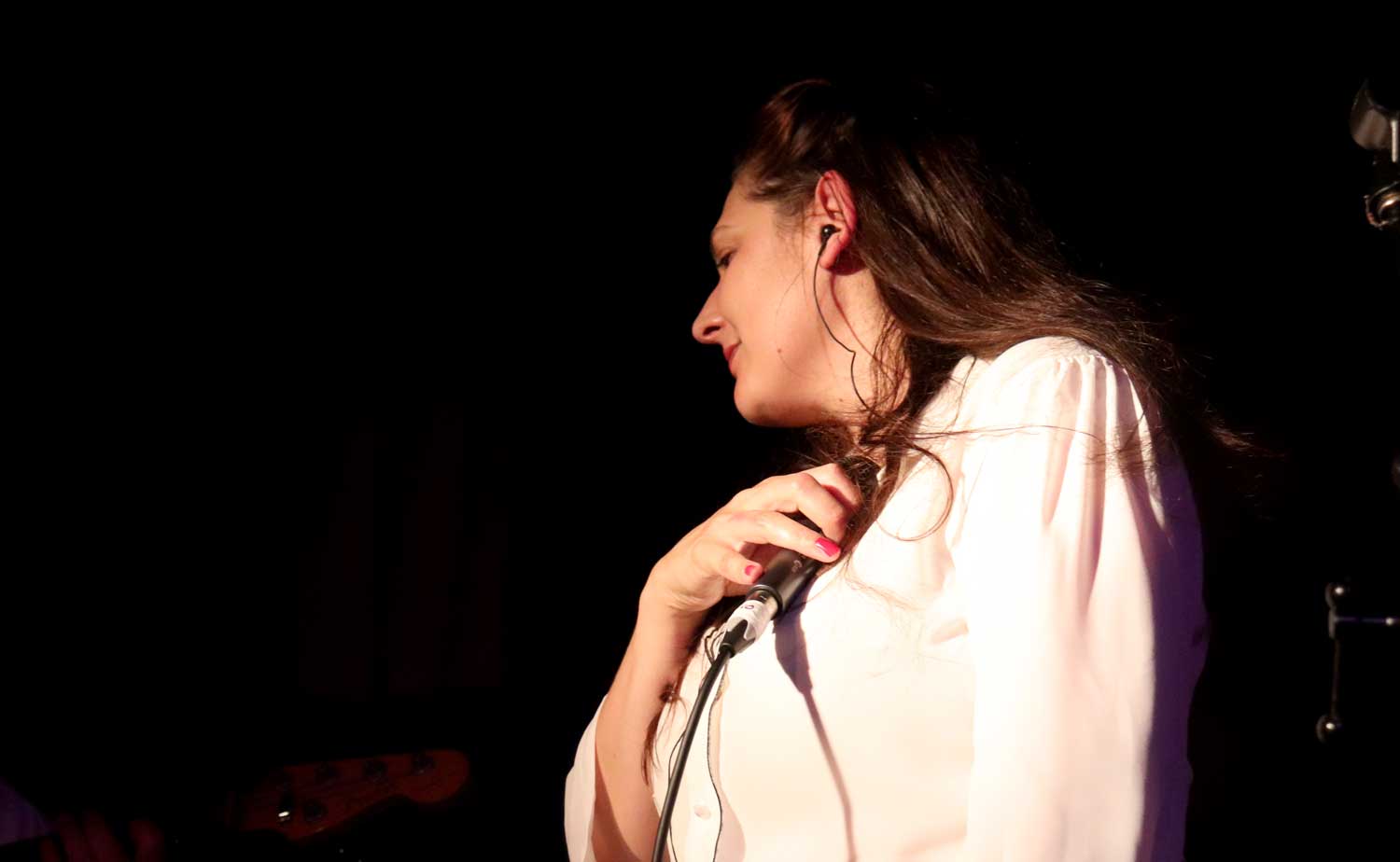 Dr Bob & The Bluesmakers on stage next, another Yorkshire band, this time based in Ilkley.They are a five-piece band with a big sound. Vocalist Rachel Kerrison commanded vocals along with guitarist Stuart Hey. They were joined by drummer, Kevin Leather, bass player Bob Charlton and the wonderful Charles Oxtoby on guitar and backing vocals. Their set was lively, bluesy with some soul. The sultry vocals on Chain Of Fools was nerve tingling, Maria carried the song with passion and feeling and the band just soared with the performance throughout. Last song was full of funky rhythm, Into your Eyes. Something very special and reminding what people have missed without that live music component and connection to audiences. Certainly, a performance to be reckoned with!
Not content with running the festival, Paul Winn has his own band. York's finest exponent of the blues genre, namely DC Blues Band, who gave one of the best performances of the day with a heavy rocking blues set with a major Yorkshire component. Comprising of Paul Winn on harmonica and lead vocals, he plays off his bass man Ben Darwin, who is also a fellow presenter of the popular radio show Blues From The Ouse on Jorvic Radio on Wednesday nights, had to get the plug in for that. This adds to the camaraderie in the band and influences set numbers am sure. They are joined by Lloyd Massingham on guitar and vocals, Paul Thompson on drums and adding keyboards was the wonderfully talented Stephen Brandon. Onto business and straight into a rocky version of Rollin' And Tumblin' to get the crowd dancing and hollering. You Mind My Business an original song was delivered with gusto. Interplay and rhythm on I Can't Quit You slowed the pace down. Poor Man's Son followed with a great back beat; the band was getting a groove on now. Another original, Bitter Man had great rhythm. Who Do You Love was an undoubted highlight, with the band bringing tempo down but still very pacy and gutsy vocal delivery. Boogie Chillin' followed and the tempo was electric. Another highlight of a tremendous set was Tore Down with an intoxicating rhythm. I Can Tell had the hallmarks of maximum rhythm and blues fervor; this band was really tearing the dancefloor. They finished off with another original; Nervous Fella topping up a masterful performance full of power, pace and depth of feeling. This is what live music is all about, magic moments that you can't get in any other musical medium. Tight band, great chemistry and just musicians having fun, what else do you need, tremendous quality that really couldn't be bettered for style and substance.
Billed as headliners, Nick Steed 5 did a small soundcheck on stage then it was full steam ahead with a set of fourteen songs all differing styles, but roots and branches fixed in the blues genre. Members were Nick Steed on vocals and keyboards, Neil Marshall on drums, John Sandham on bass. Peter Mason on guitar and vocals and the wonderful Kim Nishikawara on saxophone. There were so many elements to this set, it was intoxicating with blues, jazzy tones fusing things together. Electra Glide was the first tune with some mellow tones here, and the saxophone lifting the overall sound. Got The Same Old Blues, saw nick leading the band with some fine vocals and keyboards. Another highlight was Feels Like rain, with just excellent tone and quality of chords. Dangerous Mood was delivered well and Worse Is Yet To Come had very tongue in cheek lyrics. Great musicianship throughout, including a mention to the drummer who had just been drafted in as well. Cold Hearted Woman was certainly a highlight. Then the penultimate song just raised the musicianship on Freddie King's song; a stomping take to Big Legged Woman. Last song of the night and the festival was Feeling For The Blues, met with an ovation from the crowd.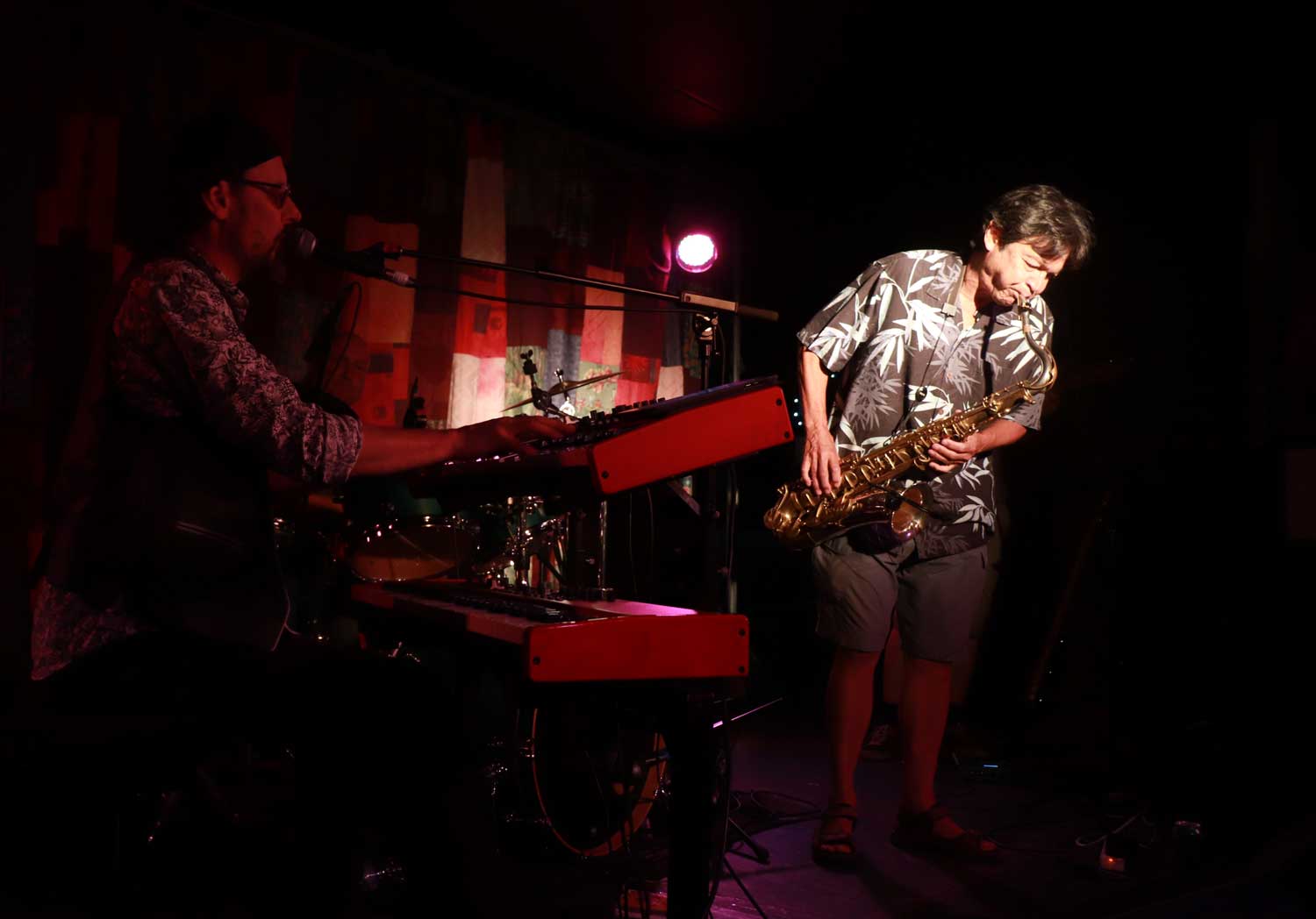 What a great day of music, all credit goes to the organisers and their faith in this venture. It felt so good to be there and just was like old times with live music. A very friendly festival, great venue, some class acts, highly commendable and extremely good value for a day's quality entertainment. Hopefully get to this next year but it will be in a different month. A big thank you to all artists and festival goers for such a good time.