Advertisements

VINCENT BUCHER Hometown
Continental Blue Heaven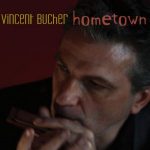 Vincent is a Grammy nominated harmonica player, has been involved with the Blues for over forty years and has played with the likes of Louisiana Red and Sonny Rhodes. This album is a wonderful collection of self-penned songs reflecting his Blues influences.
Spare Time has a great laidback feel to it with sensitive harmonica playing. The 14th Jump is a joyous jivey number that has your feet tapping. His African experiences come to the fore in Once In A While' and I'm Buying Time has a lovely Latin feel to it. He's stylishly supported on this record with amongst others Slim Batteux and Danny Montgomery.
If you like your Blues with a Charlie Musselwhite feel then this album is for you. Every track is a winner – not a filler in sight.
Advertisements

BOB BONSEY