THE SNYDERS Growing Pains.
Independent Release.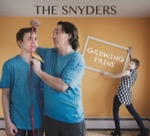 The Snyders are a family trio from Indiana comprising of father and lead bandsman previously having had several solo releases under name of Southside Denny Snyder this is their second release and comprises also on electric bass guitar and vocals his daughter Lorrie and finally brother Philip on drums there are also back up musicians namely trombonist Alex Desjardins on the title track Growing Pains an interesting groove showing Denny's undoubted guitar talents and this an ongoing feature of this release. It is a mixed bag of differing music genres mostly fusing a bit of bluesy tones and jazzy instrumentals namely Symphony and the band really shows off this talent on Funky G. A particular stand out song is Laundry Blues a fun easy going New Orleans type tone with trombone complementing slide guitar and fine vocals. Lorrie takes the front role on vocals on Poupee adding French lyrics to an organ inspired take by Robert Messier. Back to a bluesy feel on Two Left Feet with a gutsier guitar tone and good backing harmonies this a roller coaster of a song. Chili Jeff is another instrumental showing off the bands musical talent with each instrumentalist taking their share of a powerful though laid back sound. Final track titled Makes You Feel Like You've Got Something probably sums up the bands creativity and not awed by changing styles. This is a release filled with energy and vigour and experimentation a gem.
COLIN CAMPBELL