Advertisements

THE PRETTY THINGS Live At The 100 Club
LMS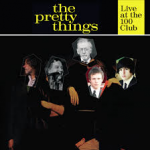 There are few people in the world that I look up to more than Pretty Things vocalist and songwriter Phil May and one of my proudest moments was opening for the Things at this very venue a few years ago. May calls me 'Sargeant Major', tongue in cheek, but he can call me anything he likes…. This splendid, inventive and fiery bunch have been entertaining blues/rock/psych lovers for 50 years – ever colourful, punchy and above all skilful. Their writing is streets ahead of most acts and Parachute has to be one of English Rock's finest ever achievements… even those mutts at Rolling Stone magazine had to concur, when it was released. But here, it's the roaring, smokin' R&B side of the Things that is celebrated as Paul Madden and Bobby Whelan in tandem with PT champion Mark St John capture May Taylor and co recreating their very first black cover Fontana album! Setting up in mere minutes on a cold December evening in 2010 after Paul McCarthorse decide to play a lunchtime show that very day, the crew manage to record these splendid musicians at full throttle….so from the opener Bo's RoadRunner we can enjoy new live renditions of songs that fired up the Things into what they became. Big City, Honey I Need, Oh Baby Doll. The gems tumble out of the speakers.
Find me a band outside The Strypes and Temples that have anything approaching this level of energy today… Taylor is still the stinging, melodic axemaster we loved back then, May is born to deliver these great numbers and the ensemble rocks the house.
This is a limited live vinyl album, the life therein knows no limits!
PETE SARGEANT