Advertisements

Well, it is the final, final Skegness blues spectacle and what a weekend it was. Saw loads of bands and the calibre of acts was brilliant. Situated predominantly in Hot Shots with Blues matters stage, still had time to at least catch other bands on other stages, namely Centre Stage and Reds. So, this will be an overview, not in-depth concert reviews of each act. Attendees I talked to overall thought that Hot Shots was the best stage, it was more intimate and sound balance was better in a smaller room especially compared to the massive main stage. A full house for this year's Festival something you can't say for many recently but hopefully people will return in their numbers to support live music wherever this may be. Anyway, onto the music…..
BONDED IN BLUES
The Great British Rock & Blues Festival
Butlins, Skegness
January 13th-15th
Various Stages
WORDS & IMAGES: Colin Campbell
Opening act on Blues Matters stage was Yorkshire band DC Blues (apparently full name is Dirty Cat Blues band, but jury is out on that one.) a hard hitting 5 piece band led by the mercurial frontman Paul Winn on harmonica, his vocal delivery throughout this set was very good and rhythm section of Ben Darwin and drummer Paul Thompson really shone through. Add to this the guitar artistry of Lloyd Massingham and the chemistry flows in this blues intoxicated laboratory. Steve Brandon on keys was the icing on this slick and enjoyable performance, mixing blues styles and reinterpreting such standards as Who Do You Love, Somebody Loan Me A Dime with a funky slow sexy feel. Tight band as opener this was a memorable performance.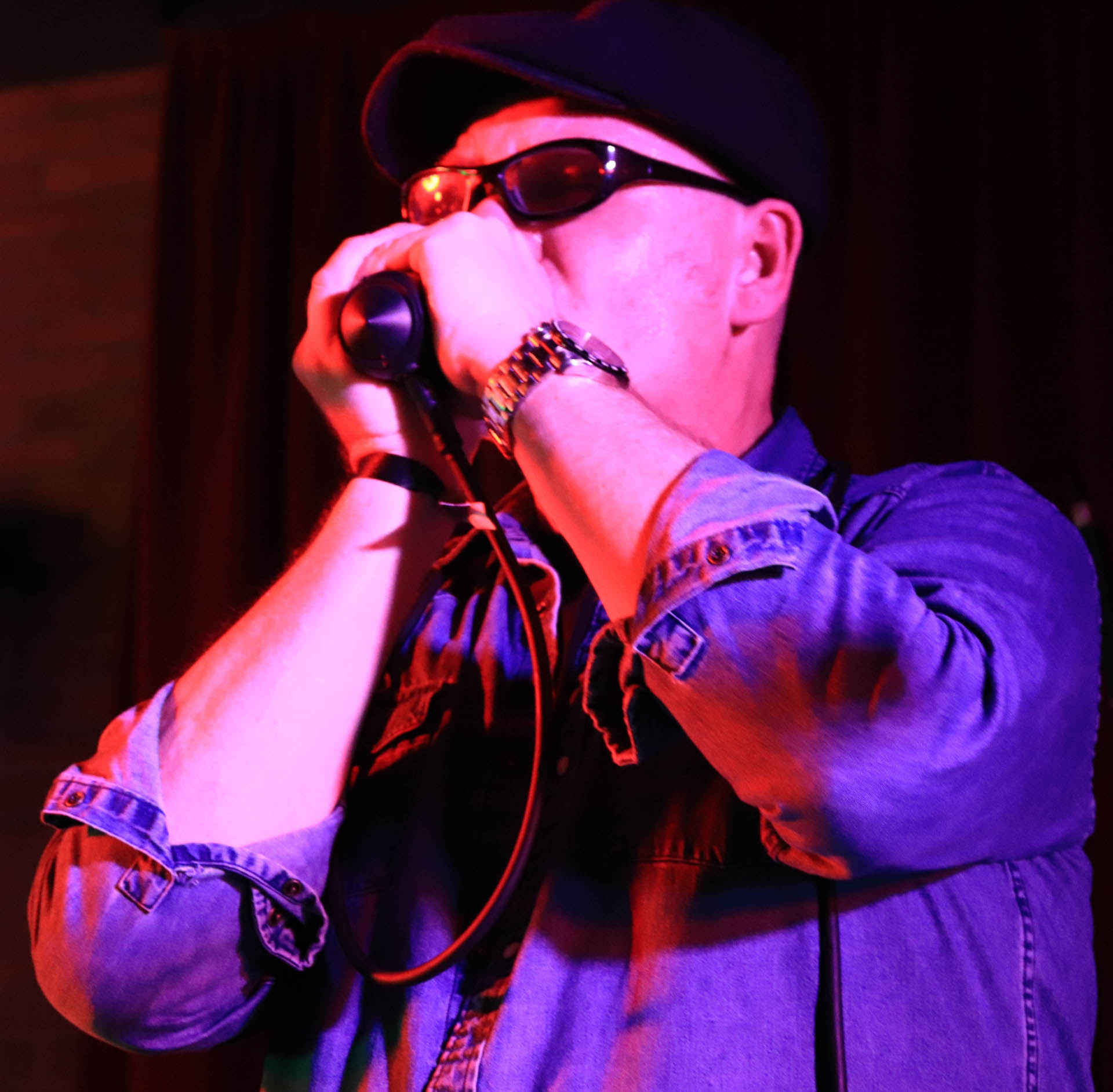 A mad dash along to Centre Stage to see Rebecca Downes and her band alas only caught one number such are the tight schedules involved with stage times at this Festival, a full house, this was enjoyed by most but overall, the sound balance could have been better.
Next on Blues Matters stage was The Mighty Bosscats who gave a more relaxed and mellow performance, mixing blues with an Americana aftertaste. Another top-quality band, led by lead singer songwriter and guitarist the multi-talented Richard Townend, Matt Gillam bass guitar, on keyboard Tony Sales and Mark Hall on drums. They played mostly originals with an eclectic mix of styles with a rocking drive from their vast back catalogue but also new songs. Got To Pay Your Dues started things off. Little Stevie, a tribute to Stevie Ray Vaughan was a wonderful Texas shuffle, great rhythm through this tune and the tone of Richard's guitar suited his vocal delivery. How's It All Come To This, had a Beatles feel to it. Well-crafted songs lapped up by an appreciative audience.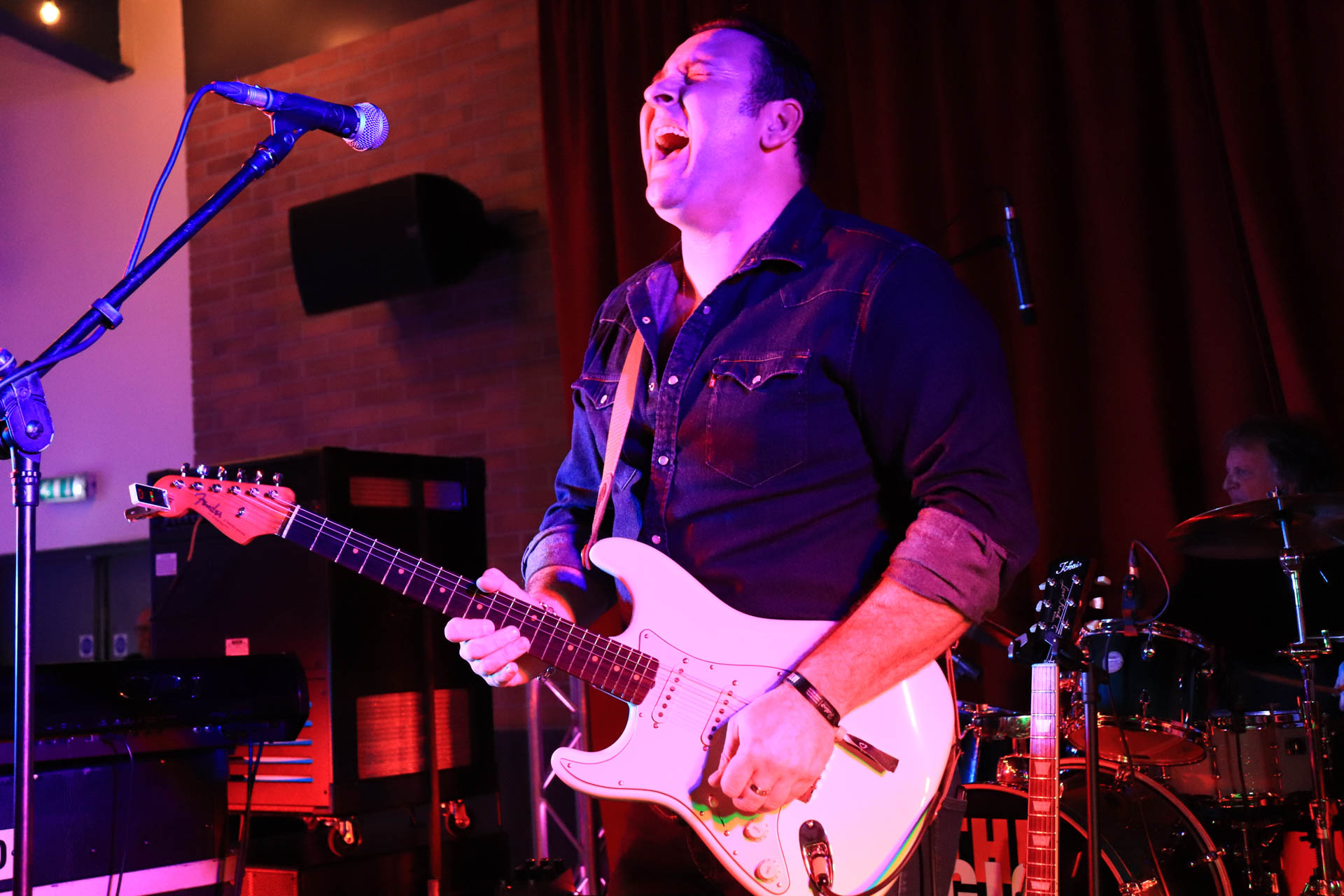 Unfortunately, the Bonham Bullick Band had to pull out of the line-up due to ill health in the band. This saw all other bands add time to their sets and make Redfish Blues Band headline act on Blues Matters stage on first night, no mean feat and a great accolade to this band's growing CV.
Their set was absolutely amazing, mixing blues, soul, jazzy tones, and funk, this is not your average blues band they offer more intricately balanced tunes to their repertoire. Led by vocalist and guitarist extraordinaire, Christian Sharp with a rhythm section of drummer Steve Gibson and bass man Rod McKay they stunned the rapt audience. Addition of Hammond organ with Steve McGuckin just accentuates a big sound.
They opened with a new instrumental a funky Hammond sound that introduced the talented band. Their version of Soulshine just gets the spine tingling and guitar solos throughout set were amazing, no more so than the tribute to Jeff Beck 'Cause We've Ended As Lovers and the quirky ending of Layla. Money Don't Make It Right another new tune is a stunning piece of work a modern ballad with punchy lyrics and superb keyboard work. Together Is Better saw audience members dancing and enjoying the feelgood tune. A brilliant set worthy of headline status, catch them when you can, superb.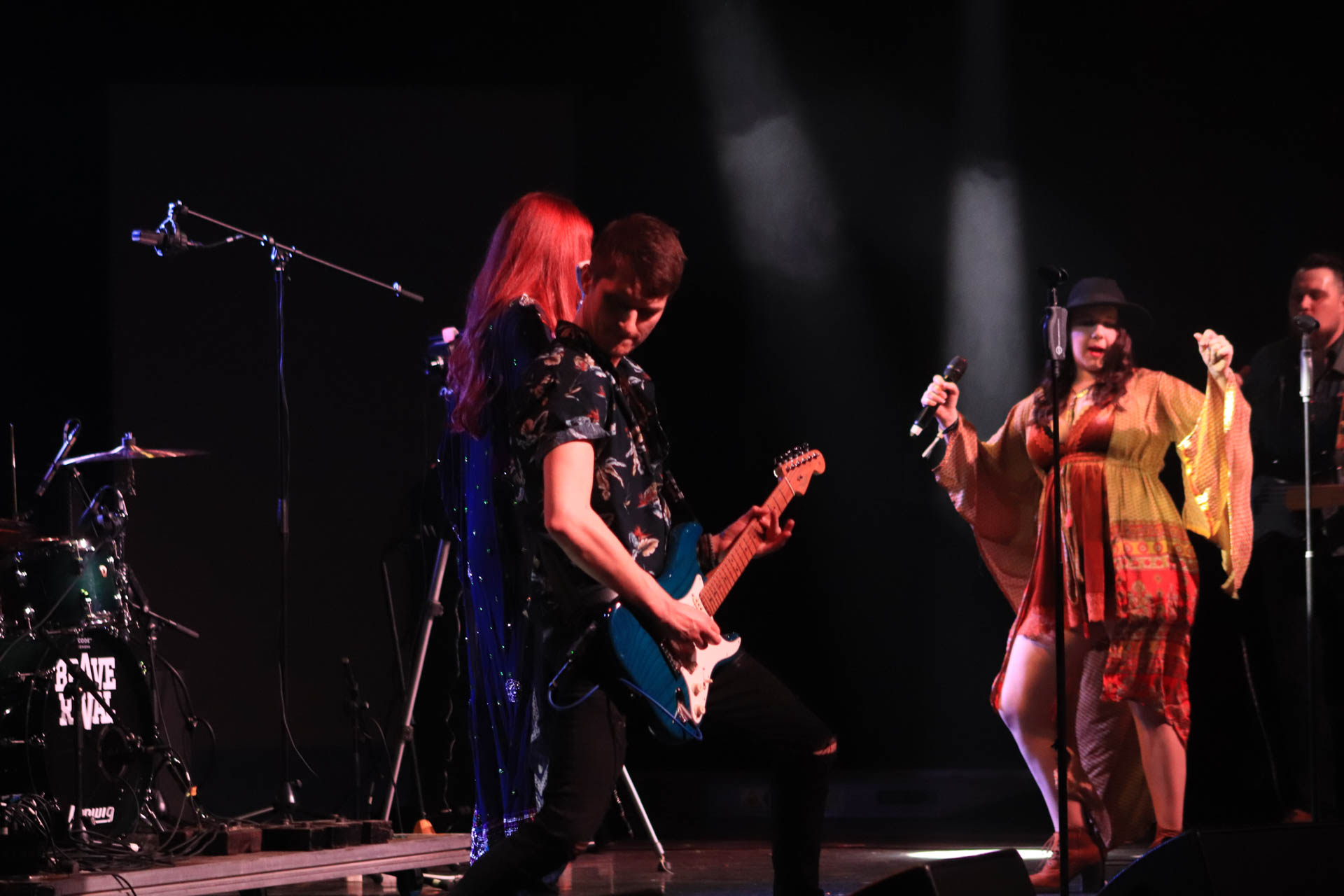 Saturday:
Wanted to get to the Hot Shots blues jam but first it was time to go to centre stage to see the winners of the Introductory Stage for 2022, Brave Rival, who put on a wonderfully professional performance. Two lead female singers took turns in singing: Chloe Josephine (Birthday girl) and Lindsey Bonnick bringing soul, rock, and blues through opening number What's Your Name Again to an adoring fan base. The set was peppered with guitar solos from Ed Clarke especially noted on Run & Hide. Rhythm section, Billy Dedman on bass looking ultra-cool and drummer Donna Peter were the glue in this rocky entertaining band, their stage image really was spectacular, and they finished with Heart attack which was classy. Definitely another band on the rise. Parts of this performance were recorded live apparently. Maybe another album in the pipeline.
It was back to Blues Matters stage for some interesting collaborations with the Blues Jam, introduced by John Angus. Some great musicians onstage here with a litany of blues classics played to an appreciative audience. Always a good afternoon, it gives other musicians a chance to shine.
Another dash and another band. This time back to Centre Stage to catch the talented Kyla Brox and her band also a very special guest star, her father Victor Brox who at the time was just starting to sing Another man done Gone acapella style. The vast audience was silenced in awe, his vocals filled the auditorium, sweet emotional tones, just amazing. He followed this with an acoustic version of Motherless Child, a real honour to hear him. Kyla sang with him and her band, it was her time to shine. She is just an amazing singer and bubbly personality abounds. In The Morning was fabulous and she got to play her flute. But it is her version of Leonard Cohen's Hallelujah that is always the highlight of any of her shows. She puts all her soul into this and with the band behind her they ramp this to a unique crescendo. Another outstanding performance.
Anticipation mounted before going to Blues matters stage again to see the North East England band Alex Fawcett Band. They comprise; Alex Fawcett on lead vocals and guitar, Ronnie Semple on harmonica, Jack Watson on keyboards, John Dawson on bass and Martin Bell on drums. Together they put on one of the best performances of the weekend high octane rhythm and blues as it should be but with their unique take. An original, Thrill Of The Chase set the tone for this pacy, full on no holds barred performance, great rhythm to this groove peppered with harmonica tones from the wonderful Ronnie Semple. Another highlight was Hangover Blues with a bass tone that shook the building, keyboards particularly goo here also. Vocals delivery also great, a solid performance. They slowed tempo with Eric Clapton's Old Love and reinterpreted the classic Hoochie Coochie Man. They finished with an original, Devil On Your Back with a backbeat and infectious groove punctuated with guitar and harmonica tones just playing off each other, outstanding band.
John Angus Blues Band took to the Blues Matters stage now. Six-piece band played a wonderful set to an appreciative audience. They blended blues rock tunes with traditional blues classics. They are; John Angus on lead vocals and bass guitar, Bram Duckworth on lead guitar, Adam Hutchins on keyboards, Andy Hurley on drums, Tim Hopkins on bass and harmonica player, Stewart Speirs. These boys know how to work an audience and have fun, the connection is palpable throughout the set. They did their version of Hoochie Coochie Man with female vocalist from the Blues Jam session earlier. Torture My Soul was a particular favourite, great tune, peppered with harmonica tones and groove laden sound. Mama's Blues was also exceptionally good, stomping slide notes. Great band, the real deal, mixing styles in a rocky groove.
The energy level in Hot Shots rose when The Terraplanes Blues Band took to the stage. Energy, electricity, and power were full on from start from this four-piece old school R&B band comprising, Nick Scrase on lead vocals and guitar, Eduardo Allen on harmonica, Tom Turner on drums and Pete Tyler on bass guitar. They played most songs from their much acclaimed debut Stepping Stones including the title track. This band is just a joy to watch, entertainment is their priority and you get this with the two front men. Nick's vocal delivery is sharp and toned and Eduardo, well when he went walkabout in the crowd it was just a joy to behold. Highway 61 was well received full on groove and rhythm was tight. Also, Midnight Train chugged along very well to the delight of the audience. Another superb choice for this intimate venue, go see them these boys are phenomenal, great characters and consummate musicians.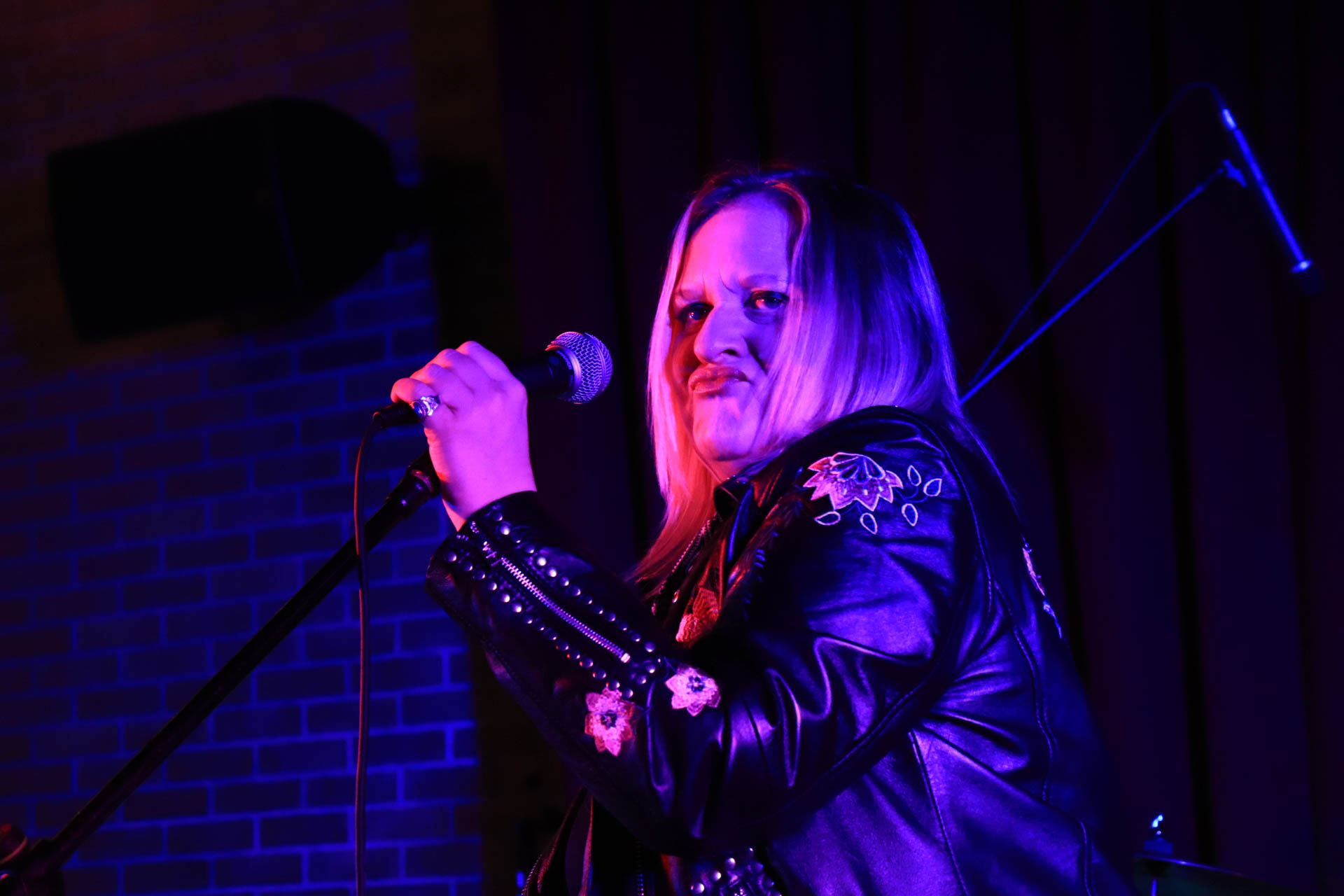 Just so much talent on show, the night got even better when Emma Wilson and her band took to the stage. What a performance she gave, great singer sings with passion and meaning and quite a lot of humour from this North East English lass and her band. Suppose that's why she got an award, Emerging Blues Artist at UK Blues Awards. This indeed was an award-winning performance. The band was awesome, and they played nearly all songs from their latest album, Wish Her Well. Title track was especially poignant, also Hoochie Coochie Woman, Not Paying and St Louis Woman. She flits from heart wrenching soul lyrics to powerful blues. Special mention to the rhythm section and lead guitarist, Dave Dryden. Mary Lou also a favourite song full of passion and swagger.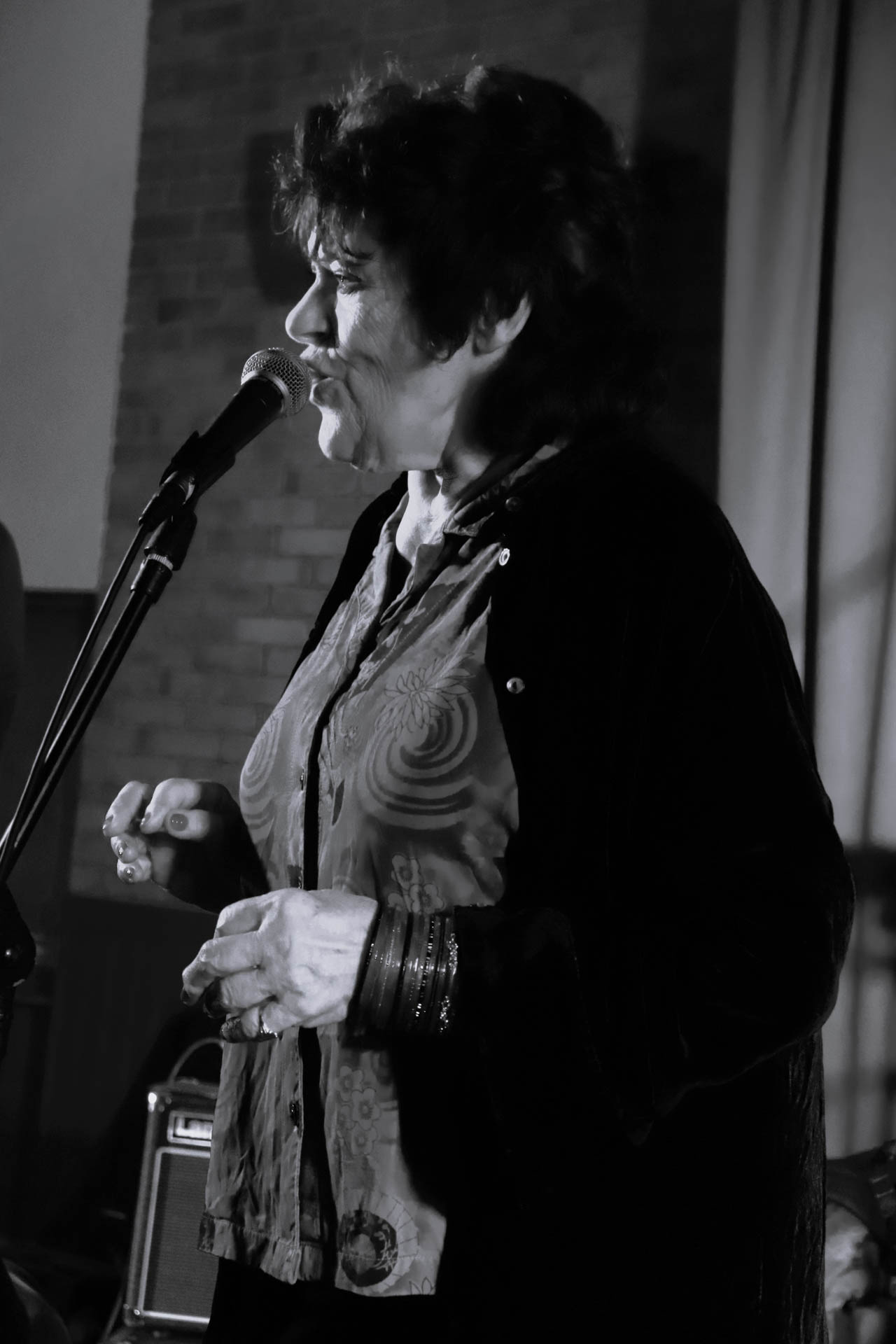 Headline act time! The amazing Dana Gillespie and her band, put on the performance of the night. Mixing styles and songs from her long repertoire of releases she matures in blues and some call her the British Bessie Smith, she is just unique. From the opening bars of Experienced she wowed the crowd with her sharp vocal delivery, introducing each song as she went along with a grin and double entered set, King Size Pack being a case in point. Jazzy beats meet blues with soul, a great set. The Empty Bed Blues slowed the tempo, then Funk Me It's Hot had the band going freestyle including wonderful piano from Dino Baptiste. This was entertainment of the highest quality no doubts. So many good songs and well-crafted tones from this first-rate band, Dana is the British Blues Queen, she has it all.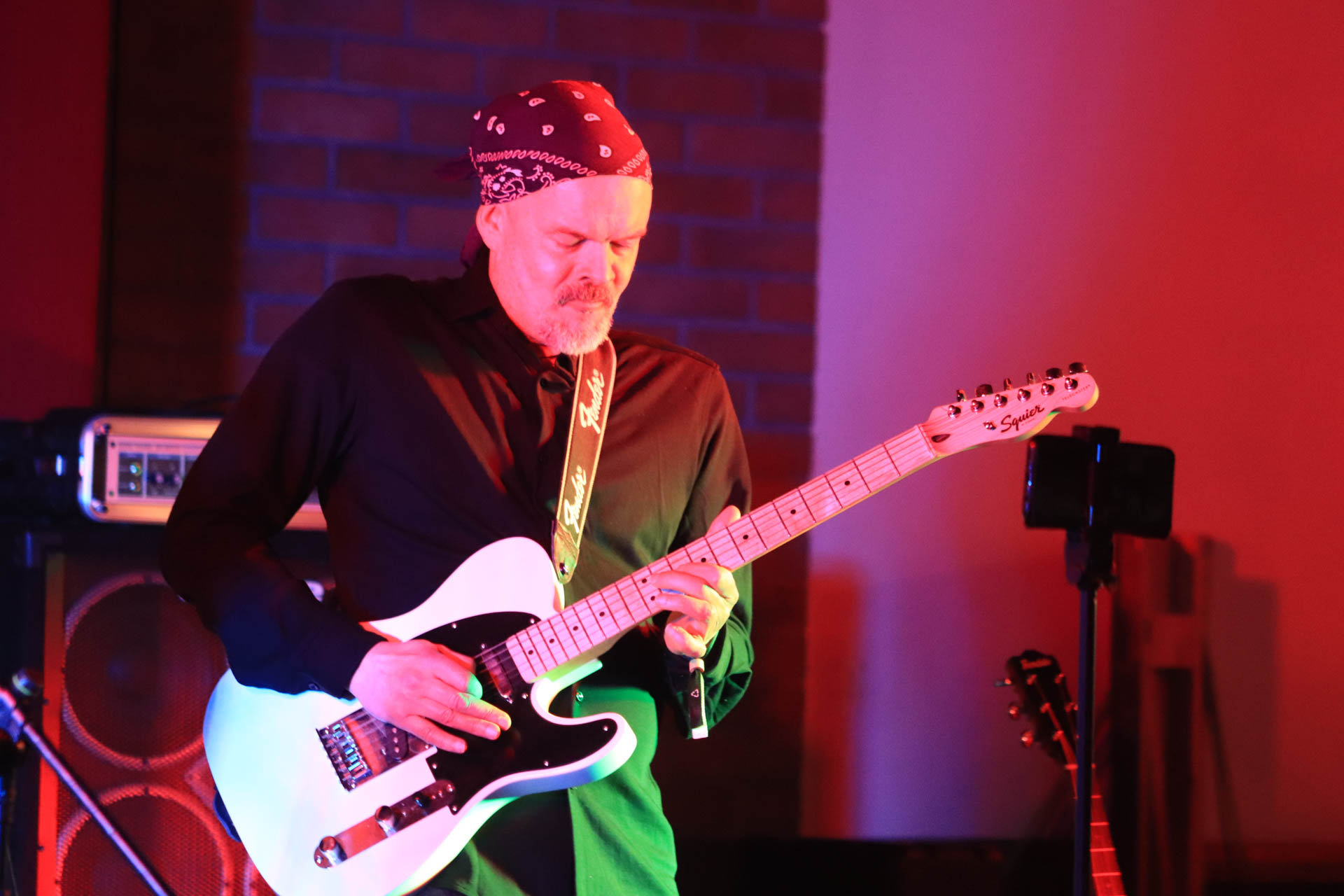 Sunday:
Another afternoon set, so where else but Hot Shots Blues Matters stage to see Ritchie Dave Porter and Debra Susan. A very relaxing duo for a third day's music, they mixed their own blend of tunes, Ritchie on electric and acoustic guitar and Debra singing. They play all originals and certainly entertained. Especially the track Sugar and Spice. A sparser than usual crowd were there to hear and watch this excellent performance bluesy tones throughout the set, very accomplished duo.
MISSED CONSUMMATE ROGUES!
Next stop was Reds Stage where it was purse blues all the way. Starting with Giles Robson and Dino Baptiste, they were joined by, bass player, and drummer. Giles just has a great charisma and is a brilliant harmonica player, his vocals are pretty tight as well on tunes like, Your Dirty Look. Particular favourite was Sara Lee, he was melancholic through this tune and relayed a story about his partner being in the pub and he was playing. Great crowd participation, brilliant atmosphere. He has been doing small intimate gigs of this Candlelight and Blues Show. In Reds there was a huge crowd but there was still an ambience. Butlins Boogie went down well. Then the trio was left to its own devices Don hitting the keys on Dust My Broom then Sea Cruise. A great performance, an aperitif to the next band onstage Chicago Blues Legends featuring Jemiah Rogers, Billy Branch and John Primer who each did a set of songs culminating in them all doing a jam session at the finale. Jemiah is part of the new generation of young blues guitarists reinterpreting the Chicago style and he has such charisma, his guitar playing is sensational, a large audience were rapt during this performance, many tricks and chord styles, shredding also and showboating at times but done in the best bluesman's fashion on opener Baby Please Don't Go. Then he had the confidence to cover The Rolling Stones, Miss You, taking a funky vibe on this one lapping up the crowd's reaction. John Primer played with Giles Robson in a very upbeat performance full of passion and indeed the real deal. His slide guitar playing was mesmerising and that Chicago blues rhythm noted throughout the set. He did a wonderful rendition of I Need You So Bad. Next it was the turn of harmonica ace Billy Branch to do his set of Chicago infused tunes, My Babe being a standout tune. His stage presence is immense and vocals superb. All three headliners were on stage thoroughly enjoying themselves. They did a tribute to Little Walter with a stunning version of Blues With A Feeling. Those not at this event missed out big time but with so many bands on other stages priorities are difficult, astounding musicians keeping the blues genre alive and handing its legacy to younger players like Jemiah. (Interview in next edition of Blues Matters).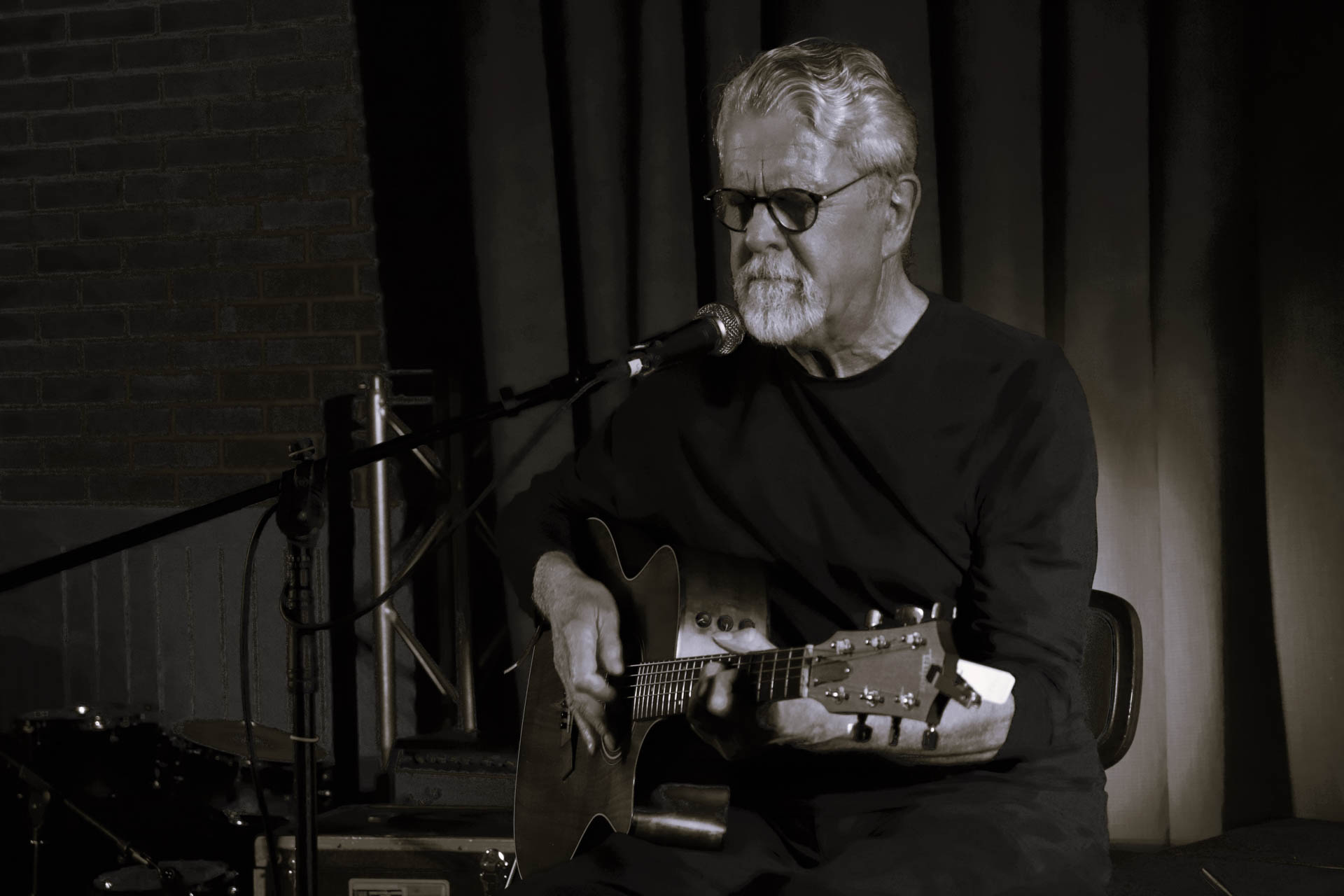 After a very emotional time it was back to Blues matters to catch Rowland Jones in action. He had been the MC on stage, now it was time to introduce him. Playing solo with an acoustic guitar is a daunting prospect but listening to the timbre of his vocals and guitar picking was just a joy. A smaller audience but a listening one enjoyed a full set of original songs and some covers, there's blues, Americana even jazzy tones to his palette of music. The opener Never Been To Memphis is particularly poignant. His version of John Hiatt's It Feels Like Rain was delivered with full emotion and feel for the song. Loved the laid-back notes to Squeeze Me Right and It's Still The Blues. Well crafted songs, this man can tell a story, a varied set of songs with his own stamp on them, exceptional talent.
Next was The Ash Wilson Band. Ash Wilson on lead guitar and vocals, Phil Wilson on drums and Roger Innis on bass guitar. They put on a superb show to a packed room mixing various genres based in blues, mostly originals and a poignant tribute to Jeff Beck.
Penultimate act was Jim Kirkpatrick who played solo and put on a blistering set he really is a gifted guitar player; he included a sector of songs that should not be played on an acoustic guitar. These included Fleetwood Mac's Oh Well Parts 1 and 2! Also, Rocky Mountain Way. Energy level was palpable audience really connecting with the great sound!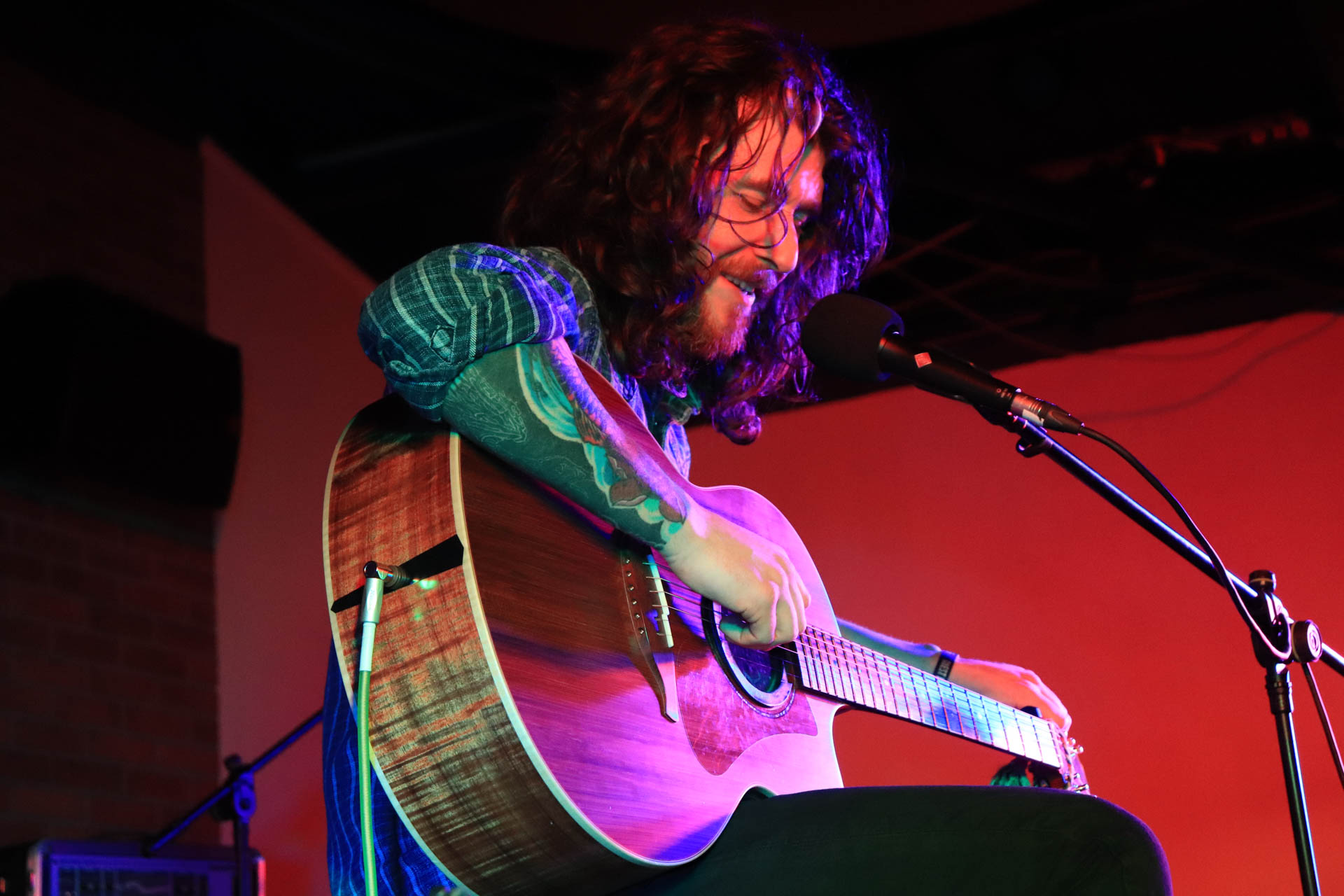 Last act on Blues Matters stage and the entire Festival for the last time, was Dom Martin. Even when not feeling well he put on the best performance of the night. Again, solo acoustic and some of his playing is just mesmerising. Have seen him a few times, mere words to describe his presence and musicality seem very difficult to write. This Belfast boy has it all in one emotional stripped back feel. This is what live music is about. Introduction, then medley of tunes, including, Easy Way Out, Belfast and Echoes. They all segued into one. So many highlights; mercy was sung with passion and finesse.
One of his influences is John Martyn and his version of May You Never just had the crowd stunned. As other stages were closing Hot Shots got very crowded and the audience was split between a listening one and those coming in for a look, but this did not in anyway detract from Dom's professional approach to his performance. He has been likened to another of his Irish roots, Rory Gallagher and he reinterpreted As The Crow Flies. Encore time, and not a dry eye in the house so to speak. Parting Glass was delivered with a passion rarely felt onstage, a very cathartic experience. Dom just seems to get better as he evolves his style, wonderful set.
Well after a closing speech from organiser Stephen Harrison that was the end of the Festival at Blues Matters stage and so too, the Festival itself. The future of this Festival is shrouded in doubt but hopefully something will be laid on. Oh there were rumours of moving this to a Greek island. Anyway, a brilliant weekend of music enjoyed by a full house at Butlins!