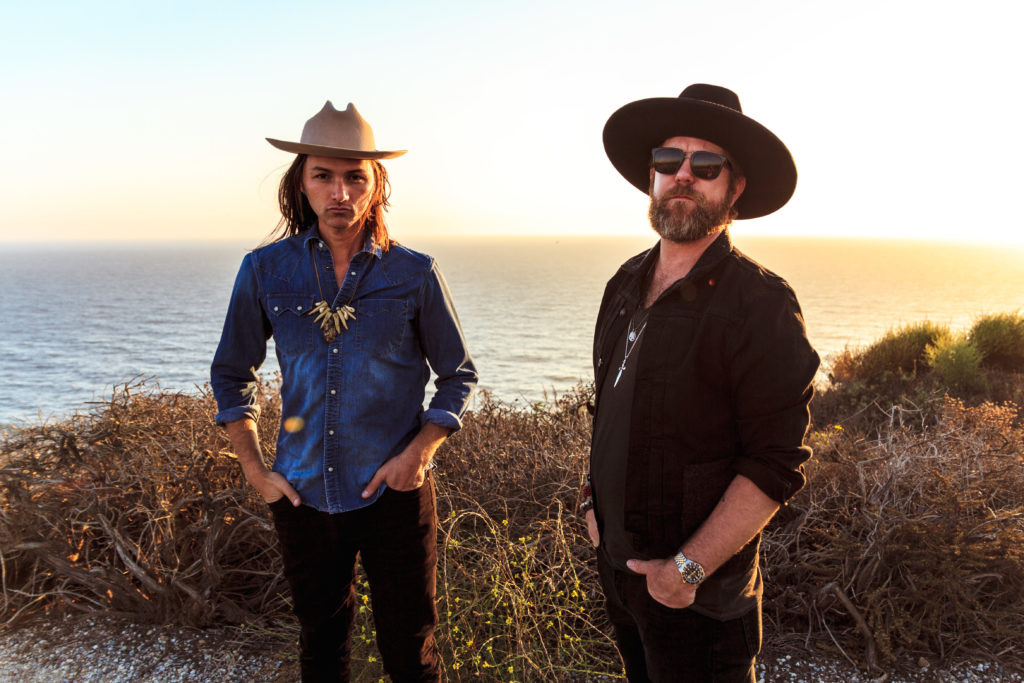 The Devon Allman Project with special guest Duane Betts will tour the UK in September 2018
The new six-piece band, The Devon Allman Project, will embark on a world tour with special guest Duane Betts, the son of Allman Brothers co-founder Dickey Betts.
The two men have known each other since 1989 when Devon was 17 and Duane was 12. "We've had this enduring friendship ever since we were kids," Devon muses. "We've always talked about going out on tour together, and now the time seems right. He'll start the show, then I'll do my portion and finally, the two of us will share the stage for the encore."
It will, he says, be about comfort, remembrance and a special bond between musical brothers, sentiments that are especially meaningful at this particular time.
On August 12, 2017 after spending much of the summer off the road, Devon Allman, former leader of Royal Southern Brotherhood and Devon Allman's Honeytribe, reignited his career with an appearance at an all-star tribute to his father Gregg Allman and Butch Trucks at Peachfest (an Allman Bros. curated festival in the Northeast U.S.). Chuck Leavell, Jaimoe, Duane Betts, Marc Quinones, Peter Levin, Oteil Burbridge, Dave Schools and many others participated in the special tribute.
The Devon Allman Project with special guest Duane Betts (son of Dickey – former member of Dawes and Great Southern) first kicked off their 2018 World Tour with a very special show at the Fillmore in San Francisco on December 8, 2017.
The Fillmore show featured guest appearances by Luther and Cody Dickinson (North Mississippi All-Stars), Samantha Fish, Jimmy Hall (Wet Willie, Jeff Beck, Hank Williams Jr.), Bobby Whitlock (Derek & The Dominos, Dr John, Rolling Stones ) and long-time Gregg Allman keyboardist, Peter Levin, was the musical director.
"It was a magical evening," Devon recalls. "It was like a family gathering. There was so much great music, so many musicians who had such respect for my father, all of whom felt such a personal connection to both the man and his music.
And when my manager told me that we could do the concert at the Fillmore, a place that obviously had such profound ties to my dad's career, I couldn't have been happier."
On the forthcoming UK tour, The Devon Allman Project welcomes special guest Duane Betts.
Each night will feature a set of Duane's originals, Devon Allman originals, Royal Southern Brotherhood and Honeytribe songs along with an encore set including Allman Brothers songs with Devon, Duane and special guests participating.
On September 7, 2017, ahead of kicking off the 2018 World Tour, Devon participated in an event at the Grammy Museum in Los Angeles with multiple Grammy-winning producer Don Was, Scott Sharrard (Gregg's Musical Director) and Gregg's long-time manager, Michael Lehman.
Just two days later, on September 9, Devon accepted the key to the city of Macon at the historic Big House Museum on his father's behalf. The Mayor proclaimed December 8th Gregg Allman Day.
Additionally, Devon joined The Gregg Allman Band at the Laid Back Festival (Gregg Allman estate curated event) in Atlanta on October 14.
The band performed songs from Gregg's final album, Southern Blood, followed by a handful of Allman hits led by Devon.
A series of lengthy accomplishments have entitled Devon to take his own place in the Southern Rock pantheon.
His remarkable resume spans almost two decades, from his post-millennial breakout with Honeytribe, and the widely revered supergroup Royal Southern Brotherhood.
Devon has also had occasion to jam with the greats such as Billy Gibbons of ZZ Top, Mr Les Paul, Keith Urban, Gov't Mule and Lynyrd Skynyrd just to name a few.
Through his run of successful solo albums, Turquoise was highly regarded by USA Today: "Turquoise is reflective and soulful"; while Ride or Die hit #1 on the Billboard Blues Charts.
Devon is also a contributing writer to Guitar Player Magazine as well as serving on the Board of Directors for the National Blues Museum in St. Louis, Missouri.
Devon Allman – Q&A
What's the best gig that you've been to in the last five years, or has inspired you the most?
David Gilmour in Chicago …holy s**t. How the hell he got his tone to sound just like the records in a basketball arena is beyond me. It was quite literally a master class in feel. His tone was liquid, ethereal, velvety… I was mystified from the first note.
2. What is your favourite part of touring and what is your least favourite part of it?
I love making people happy for 2 hours a night. I get to lead them through a break from the world and that feeds my soul ….that is why I do it. Least favourite is I miss my son, siblings and loved ones and it's hard to find fresh veg juice.
3. What's your favourite UK venue so far, and why do you like it so much? Can you share some memories about this venue?
Royal Albert Hall because it's the bollocks. It was an honour to play there a few years ago with Royal Southern Brotherhood.
4. Do you have a pre-show ritual? If so what is it?
I have my cats make a circle. We give to thanks to the universe, we ask for the groovies to align, to watch over our families. I slap my ribs to get the adrenaline going and I usually tell the cats to "take your pisses and text your bitches" …and that's tongue and cheek and said lovingly….so pipe down feminists.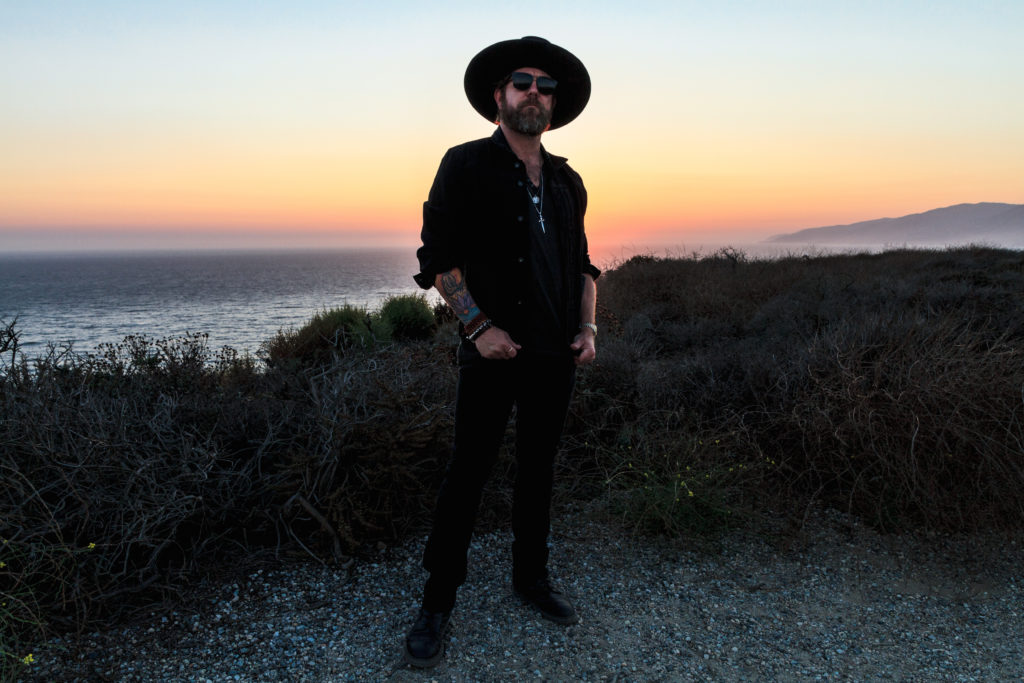 5. How do like to relax on a day off during a tour?
That's for me to know and you to wonder about.
6.  Are there any up-and-coming bands out there that you really like? If so who are they?
F**k yes I love Caroline Rose, Jason Isbell, The Record Company …so many more …There's great, great s**t out there if you dig.
7. How do you prepare yourself for a tour?
Smoothies, hang with my son, play lots of heavy metal on vinyl.
8. What can we look forward to on the tour?
It's a great show. We have tweaked it and it's got great flow. I love every member of my band and every song we play. It's a trip down my career and we play at least a song off of every record of mine and then Duane Betts comes out and we tip our hat to our dads' catalogue and even some tributes to the heroes we have lost recently like Tom Petty and Prince.
9. Your special guest is Duane Betts. Are there going to be any more special guests?
Stay tuned …because you know that s**t is happening.
10. You have been touring the Devon Allman Project all over the world. Any favourite places so far and any stories you can share with us?
I love Italy, Australia, Norway, really anywhere that has people ready to throw down and good electricity. As for the stories ….wait for my book, it's gonna be a good book.
Tour Dates & Ticket Links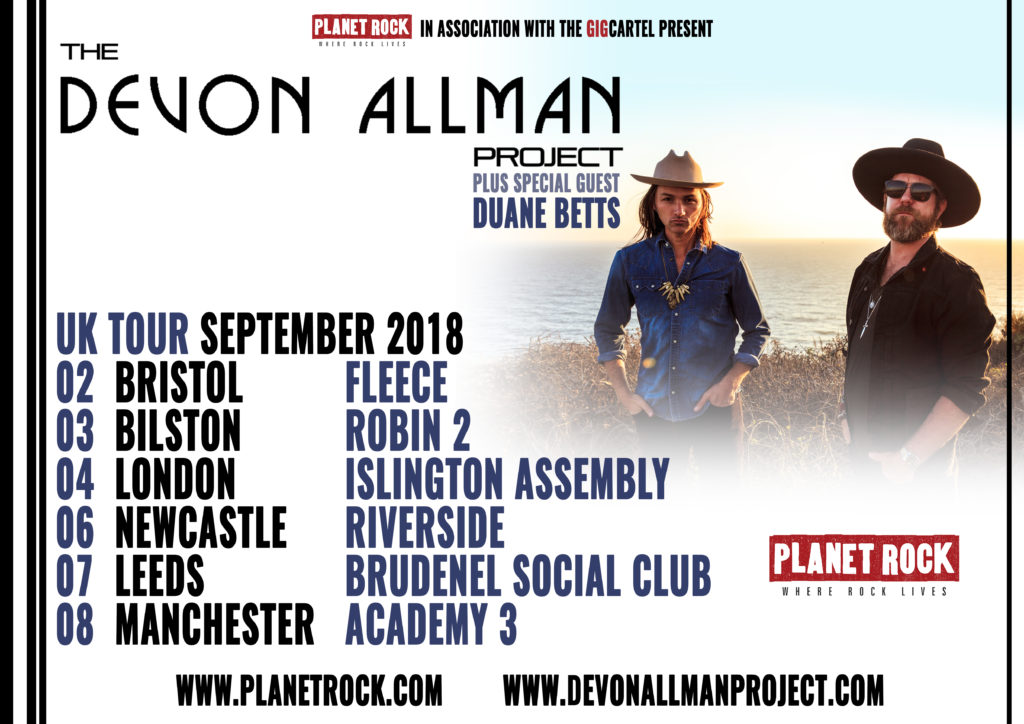 Tickets for all shows can be purchased through the Gig Cartel 
Next…
Naturally, Allman also has a new record in the works for 2018 titled Full Speed Ahead, he describes it as an album that is steeped in classic Americana tradition, the type of music made by Tom Petty, Jackson Browne and other harbingers of California's fabled Laurel Canyon scene of the '70s.
While details and the release date will be announced in the coming months, Devon does promise that the music will reflect the sound of timeless classics of that vintage pedigree.
"The vibe fits the songs," he promises.
Another upcoming project that he's especially proud of is the launch of his new record label, Create Records.
The first new release slated for November 2018 will be by a new band dubbed The Slays, a project featuring Devon and Cody Dickinson of the North Mississippi Allstars.
In addition, the company will actively seek out new talent that can be nurtured and ultimately offered the opportunity to develop their craft and creativity. Devon himself will sit in the producer's chair, with new releases scheduled approximately every 18 months.
"It's always been my dream to start a label," Allman insists. "As the name implies, this will be an artist-run, artist-friendly company which will foster an environment where musicians will be free to create, develop productive careers and make the best records they're capable of making."
Specific details about the label's initial signings will follow in the coming months.
Devon Allman is a staunch proponent of authentic Southern Blues. It's a legacy that's always weighed heavy on his musical mantra.
He's chalked up a lengthy list of accomplishments that have entitled him to take his own place in the Southern Rock pantheon. His remarkable resume spans two decades, from his post-millennial breakout with Devon Allman's Honeytribe through to chart-topping collaborations with Jack Bruce, Javier Vargas, and the widely revered super group, Royal Southern Brotherhood.
Nevertheless, the stature he's achieved on his own via his three highly regarded solo albums — 2013's Turquoise, 2014's Ragged & Dirty (praised by UK's Blues Matters Magazine as "reminding you why the blues can be, quite simply, the best thing in the world") and his most recent effort, the critically acclaimed Ride Or Die – have proven his prowess as a singer, guitarist and provocateur worthy of being reckoned with based on his talent and tenacity alone.
For More Info – Devon Allman Project