THE CITY BOYS ALLSTARS Blinded By The Night
Independent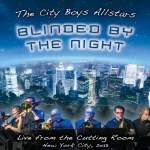 Allstars is a bit of a claim for any band, but if anyone can justify it, then it's The City Boys Allstars. After all, any blues fan with even a cursory knowledge of the genre will recognise the names "Blue Lou" Marini and Tom "Bones" Malone. Yes, it's the Blues Brothers!
Blinded By The Night was recorded live at the Cutting Room in New York City, in August last year, and sees the big band firing away on all cylinders. With three vocalists and up to ten musicians (a horn section of Tony Kadleck, Andy Snitzer, Lew Soloff, the aforementioned Blue Lou and Bones Malone, guitarist Mike Merola, Al MacDowell (bass), Rob Clores (keyboards), drummer Nick Saya and percussionist Daniel Sadownick), this is a high octane show. There are five songs from their previous release, When You Needed Me alongside some covers including the Robbie Robertson song Testimony as well as a take on God Bless The Child and two songs from the pen of David Bennett Cohen, one time piano player with Country Joe and the Fish.
It's more a jazz blues southern soul fusion than anything else, but with faultless playing, this was a real highlight. Even better with a vinyl release and even a 7" single, it's music the way it's supposed to be.
Stuart Hamilton