In conversation with Ruthie Foster by Colin Campbell.
Three times Grammy Nominee Ruthie Foster brings her Big Band – and her Glam – to go Live At The Paramount, out on 15th May 2020 on Blue Corn Music.
Austin, Texas – For her latest album, Ruthie Foster decided she wanted to change things up, to step out, and on the night of Jan. 26th, 2019 she did, right onto the 105-year-old stage of Austin's grand-dame Paramount Theatre, where she fronted a guitarist, keyboardist, bassist and drummer, plus 10 horn players, three backing vocalists and one conductor. And one adorable daughter handling the introduction. The recorded result is Live at the Paramount, featuring Ms Ruthie Foster and the Ruthie Foster Big Band.
How are you coping with the lockdown through COVID-19?
Coping alright, it's nice to be home (Texas) with my daughter and my family and check in with my friends. I'm able to do a bit of writing and making sure people are keeping healthy.
How do you keep your vocals sharp, do you do exercises?
I'm doing a lot of demoing songs. There are a lot of fundraisers I'm doing. I'm in my home studio putting the vocals down to another fundraiser. That's keeping me busy.
Yes, I managed to see you on the Houston Radio live stream KPFC, you did a great acoustic version of Brand New Day.
I've lost track how many I've done it but if I can help out I will.
What's the thing you miss most about being on lockdown?
Getting out, going out to the park. I enjoy my front yard. There's a nice area to walk around in my neighbourhood. I miss being with friends, having a drink and just being with each other.
Let's go back a bit, can you tell me when did you first think that you wanted to be a musician?
Early on in the church, watching my relatives sing. My Uncle played the piano; it changed the energy in the room. I loved that. I had to figure out a way to get that magic. I was probably ten years old. I was in the church choir growing up. That has everything to do with the style I sing in now. No matter what I sing, it could be folk music, blues but it always has a Gospel feel. I change genres, but, Gospel is where it comes from. I had about twenty cousins around me. I never really wanted to sing because I had so many good singers around me! I wanted to play guitar or piano, singing didn't feel natural to me, but it was a rite of passage, in the church, it was expected. My Grandmother would lean forward when I was singing. Pass Me Not Oh Gentle Saviour was the first song I sang, solo. I remember being so nervous, I was lifted!
Did singing come first then or playing the guitar?
Singing came first; I learned the guitar about the same age, ten. I didn't sing in front of anyone until my teenage years. There's something about feeling validated, for my voice to be heard. It was a great thing to find out; yes I could maybe do this thing called "music".
Did you go to Music College?
I went to college in Waco Texas for three years at the Commercial Music Department. I was the first woman and first black woman to graduate from that class. I was surprised that I actually graduated! It was a lot harder than I thought it would be. Everything's a shock when you leave school, from learning how to study to actually trying to perform. I was in a blues band at the same time as I was going through this programme, it made it hard to get up in the morning to do music theory! I learned a lot about different kinds of genres. I learned different instruments; I played the drums for one band, keys for another. I tried saxophone but that didn't work out! You had free range of what you wanted to try. My voice is my most important instrument though. Your instrument is your body, it's a muscle, you have to take care of your body. I try to look after myself even on the road; it's so easy not to do that when moving from town to town. It's about taking care of yourself. Once in a while, I will do what we call vocal exercises to keep myself warmed up. I try to play every day.
Do you feel you've got the balance right between being a mother and your touring life?
Yes, I think it's possible. I've had a lot of help over the years, between my family and my ex-partner's family and friends. I adjust my schedule so I do have time for my kids. It's not easy!
What's the best advice musically you have had, and from whom?
The first person that comes to mind is Janis Ian. I met her twenty years ago. She was giving a masterclass at a music conference. One of the things she said was "When you are on stage, be present". This is important because people know when you're not, you have to be in the zone. It's easy to get up on stage when you're tired and think, "did I leave the iron on or about what we're eating after this". I've learned a lot about being more disciplined on stage, this lets me open the gates and just sing!
What advice would you give to up and coming young musicians?
I would get them to be true to themselves because that's what I am. I'm present because I leave all the other stuff behind. I let the song and the music come through me and those make the best concerts. When I leave everything behind me, whatever needs to happen will happen, that's what makes a good concert. Including missing out words to my own songs, when this is done its history. That gives me a chance to get into the concert and play with the audience and connect. You end up feeling so full after a concert this way.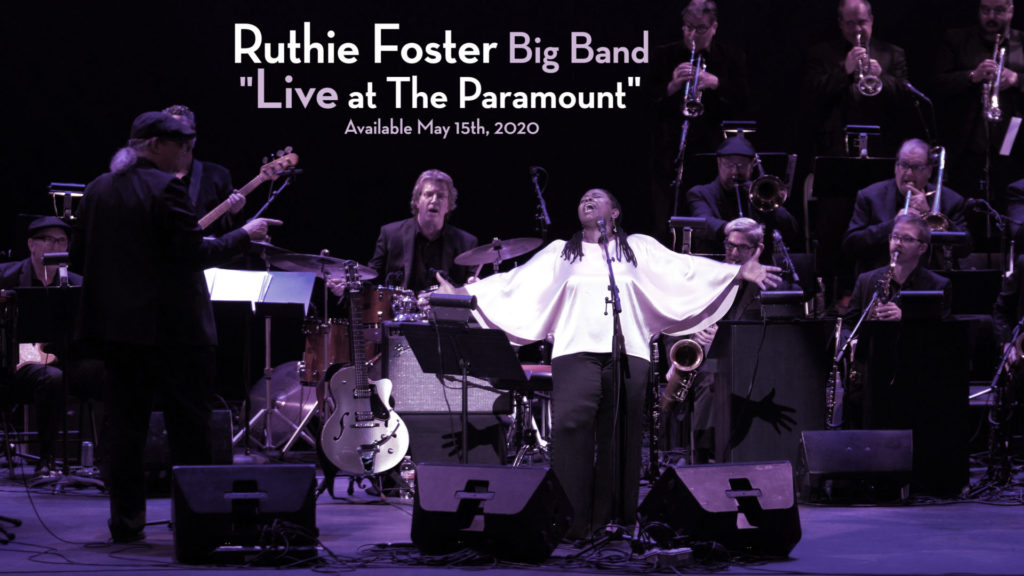 You're bringing out a Live At The Paramount album, what's the back story to this, you're not really known for doing the Big Band sounds?
I was a Big Band front singer for the Navy band I was in, in Charleston, North Carolina for three years. So I got the chance to front not only a seven-piece but also a sixteen-piece band. This was not a music genre I got into until I went to Military Music School. There's a vault they keep at the School. I got to listen to Ella Fitzgerald, Frank Sinatra, Eydie Gorme, and Nancy Wilson on reel to reel tapes. I sat and listened to them and fell in love with the music. When I got the chance to sing with the Big Band, I learned a lot stylistically when it came to vocals and coping with singing with a brass section. You're not going to out sing a brass section! You learn to change your style of singing. I'm known as a blues singer but that's not my background. I wanted to show that off on a concept album that gives my fans a chance to see another side of me. It was just fun to do! The Paramount was where I did my last three CD releases; it made sense to do it there and the stage was big enough!
How did you get in touch with John Beasley and John Mills, did you know them anyway?
I knew a lot of the band and have played with some members of the rhythm section around town. Getting the band together wasn't hard to do. It was organising it because there were a lot of people, some were Professors at Texas University, a few were travelling musicians. It was a great time when we did all get together. We had a great night!
How does singing with a Big Band compare with your solo shows?
There was great camaraderie backstage and that gave me confidence that we were going to have a good time on stage. It was really about letting what will happen, happen! With this album, I'm also doing my own tunes. This is putting these songs to a different texture, giving them a little lift. That was what made it fun too.
Who chose the songs for the album?
I chose the songs. I like the way, Singing The Blues, turned out. I loved doing it all. But I loved doing the truly big band music tunes, and my version of Mack The Knife! It was good to do a few tunes and get into another costume to do the big band numbers. I'm just so excited for folks to hear it!
Do you have any pre-show rituals?
For me, I try to get as relaxed as I can. I just want to go out there and have a good show. Being as prepared as I can, that's a big one!
Would you say your persona off stage is similar to how you are off-stage?
Pretty much, you get what I am. That's what makes it fun, you being yourself. With this quarantine on and watching live shows from home, you see people as they are now!
What's your songwriting process?
A song can come from anywhere, a title, some have started with a riff. Playing a piano and guitar for a while it could be the chords first. Sometimes I write the first line and it starts from there. These days I try and write a song a week or two weeks. I find this is a challenge; it's been a while since I put such a timeline on myself. I try to find different ways to write.
How long did the new album take to make?
About eight months. We had cameras, there's a video version. It's a long show. We had a good after-party it was a hoot.
What type of venues do you enjoy playing?
The smaller intimate venues have more freedom in the room for connecting to the audience. It's more personal. I like big festivals too, they give you different room to move. Reaching that many people at one time, I like that!
Do you usually have a setlist?
For the most part, I will follow a setlist, but I tend to let the audience let me know how the concert will go. My guys are good when I am known to change the setlist. I give the band free range to do solos on stage. I feel when the band is in sync! That's what we try to achieve 24/7! We're sharing demos for the next album. We come together as a family, our band. That's important to me. I'm very grateful to have my "brothers" on stage with me, they are very professional. We spend a lot of time waiting to play, we spread out then come together, and we're pretty harmonious!
Who were your musical influences growing up?
Phoebe Snow was an early influence. Also, Mahalia Jackson was an influence on the Gospel side. Aretha Franklin, of course, Ella Fitzgerald. Stevie Wonder for his songwriting. Sam Cooke was a prolific songwriter. He was one of the few solely black singers who owned his publishing company. When I read that, this got me more into the business side of music.
Is there anyone you have not sung with that you would like to?
I have never had the chance to sing with Mavis Staples. I would love that. I like singing with Bonnie Raitt, she feels like family to me. Austin Texas is a nurturing environment for musicians, it means a lot being here and helping out.
What's the blues scene like in Texas?
My experience is that it is here but not recognised as it should be. We have pre-war blues here from across the track. But if you go across the track that's where you hear the downtown blues, it's still here. Everyone's doing their own version and I say "more power to them".
How do you keep the blues genre relevant to today's society?
Everything that comes out of my mouth keeps it relevant. Am bummed that we can't get together for the Blues Awards this year. That gave me an opportunity to touch base with artists who have been out here for upwards to sixty years playing the blues. We're talking versions of the blues that are like Latimore, things my mom would have listened to. Gary Clark Junior started out doing his version of that. He's young and morphing into his own style which is necessary as an artist. He has a way of tapping into that. I would like to sing with him. He's young blood we're old school!
What are the demographics of your audiences?
Definitely older, about my age, I'm alright with that. My daughter's nine, I go to her school to make new fans! She loved introducing me on to the stage on the new album. She likes my music.
What would you have done if you were not a musician?
Excellent question! I did work behind the camera, at, television. I'd probably be into something to do with TV production.
Is there anything that people don't know about Ruthie Foster and you could share here?
Gosh, let's see. I got my personal trainer certificate recently. I enjoy reading. I like being outside and being quiet, I love cooking! I want to get better at cooking fish!
What are your plans for the future?
Do a few recordings for the next original album, maybe even record a Gospel album. You have to keep things fresh. When I wake up in the morning I say my prayer and I'm thankful that I am here! I start from there. My faith is ever-present.
Well, it's been a pleasure talking. Good luck with the new album.
Thanks, great talking to you.
For further info – www.ruthiefoster.com
For Album Review please go to the next page –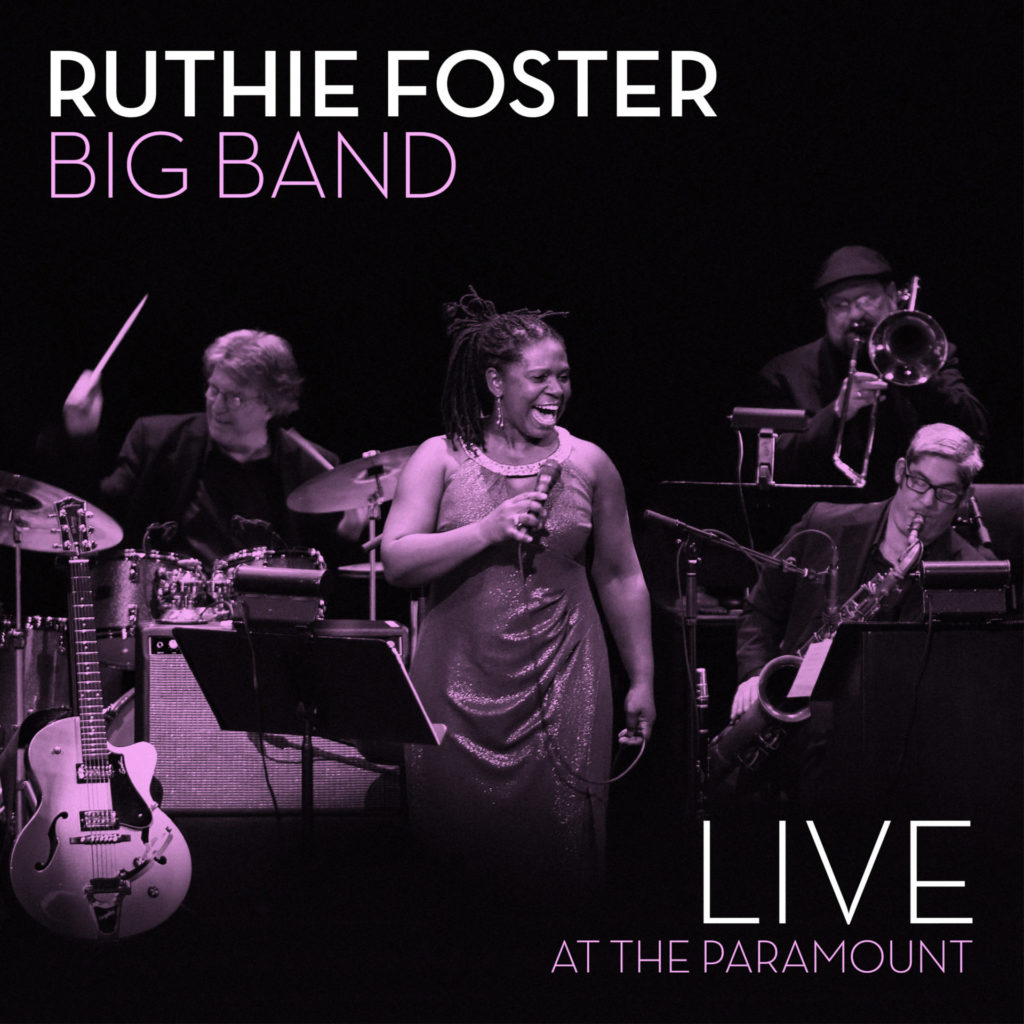 For many years Ruthie Foster has been mixing up her musical genres but has mostly stuck to rootsy, blues and gospel tunes. But previously she was known for being a front singer for a sixteen-piece Big Band, admittedly this was when she was in Naval College and learned her trade at Charleston, North Carolina.
There she searched the vaults and was influenced by listening to Edyie Gorme,  Ella Fitzgerald, Nancy Wilson and Frank Sinatra. For this release, she fronts a drummer, guitarist, keyboard player, bass player and a ten-piece horn section. There are also three backing singers and the great John Mills as Musical Conductor.
Recorded in January 2019 at Austin's Paramount Theatre. This is a spectacular album full of reinterpretations of her own songs, like Phenomenal Woman and, Joy Comes Back on this thirteen track album. She is even introduced by her daughter, and the audience that night were given a real treat.
Ruthie chose all the songs and opens with a stunning rendition of Brand New Day, which builds to a New Orleans street party style. It Might Not Be Right has a full-on Memphis style. Next is a soulful slow rendition of Ring Of Fire.
But it's the last two numbers that are standouts. Fly Me To The Moon is a brilliantly arranged big band tune which Ruthie has great fun with. The grand finale is the murder ballad cover, Mack The Knife which is astounding. Ever-evolving her style suits her on this fine album, a very different sound and will attract more fans to her eclectic music style, exquisite sound and arrangements throughout.
Album Review by Colin Campbell.
Ruthie Foster will be part of the Shut In & Sing live stream festival on StageIt featuring 150+ artists and, currently running through May 10th.
Ruthie will also appear on Facebook Live Q&A and Listening Party of Joy Comes Back at 2 pm CT (7 pm GMT) on April 25th. She will take fan questions ahead of time and just playing the audio of the new release over the Livestream. Available here.
Recently, upon the passing of John Prine, Ruthie videotaped a tribute in which she performs Prine's "Angel From Montgomery." The video is posted on Facebook: https://bit.ly/2xjqM1c
"John Prine was one of the most introspective songwriters of our time. I was introduced to his songs while on Navy leave in a small club in Charleston, SC. many years ago. Songs like 'Dear Abby' and 'Sam Stone' drew me in as a fan of great lyrics. But 'Hello In There' and 'Angel From Montgomery' stole my heart and became my favourites. He not only inspired me to be a songwriter but to want to be a better songwriter. I'm still working on that…Rest In Peace John." – Ruthie Foster
She also posted a message to her fans, urging them to hang in there while times are rough: https://bit.ly/2JZhpGw
Ruthie added: "Living life in quarantine has brought on more vinyl listening time and virtual happy hours! It's 5:00 somewhere folks! Getting ready and excited about my new big band CD coming out next month!"
"Every now and then I'm reminded that rough times are just going to be part of life, but to not give up hope. This song reminds me to stay prepared for better times. 'Set a place at the table' for JOY!"
For more info – Ruthie Foster