Like the rhythm that is the blues risen up from the muddy Mississisip' in the spirit of Robert Johnson, pickin up some slide with Son House, electrified by the Wolf and Elmo James, breaking down racial barriers with B's and Otis's music and gender barriers by the likes of Sister Rosetta, lighting a fire under soul music like the Stax horn section, taken over the top by Stevie Ray and gone zero gravity with Bruno Mars. 
WORDS: Tim Arnold
IMAGES: Jayne Doogan, St. Petersburg, Fl. 
It's still that Mississippi water, and it runs deep. But it don't look like it used to, those many miles and eons ago, springing up from Lake Itasca, picking up depth, and mud, flowing by St. Louis and Memphis and past Clarksdale, on its way down to New Orleans.
Neither does rhythm or blues..
Ronnie Dee and The Superstars are among the latest outgrowths of R&B, embracing the traditional genre of that rhythm that is the blues, firing it up and bringing it on home. Where that heart is.
I discovered these guys recently at a retro night club in downtown St. Petersburg, the Floridian Social Club, converted from an historic movie theater to a nighttime mecca for good times, socializing, cocktailing and dancin'. Fine-dressed bar tenders in constant motion, serving everything from their Black Gold and Naked & Famous cocktails to Budweiser and Stella Artois. The view from the second bar upstairs in the balcony down to the stage takes you back to New York City, circa 1920's. Round black-top cocktail tables, Art-Deco décor, pin point over head lights mounted on a ceiling some 50' above the floor.
All cool.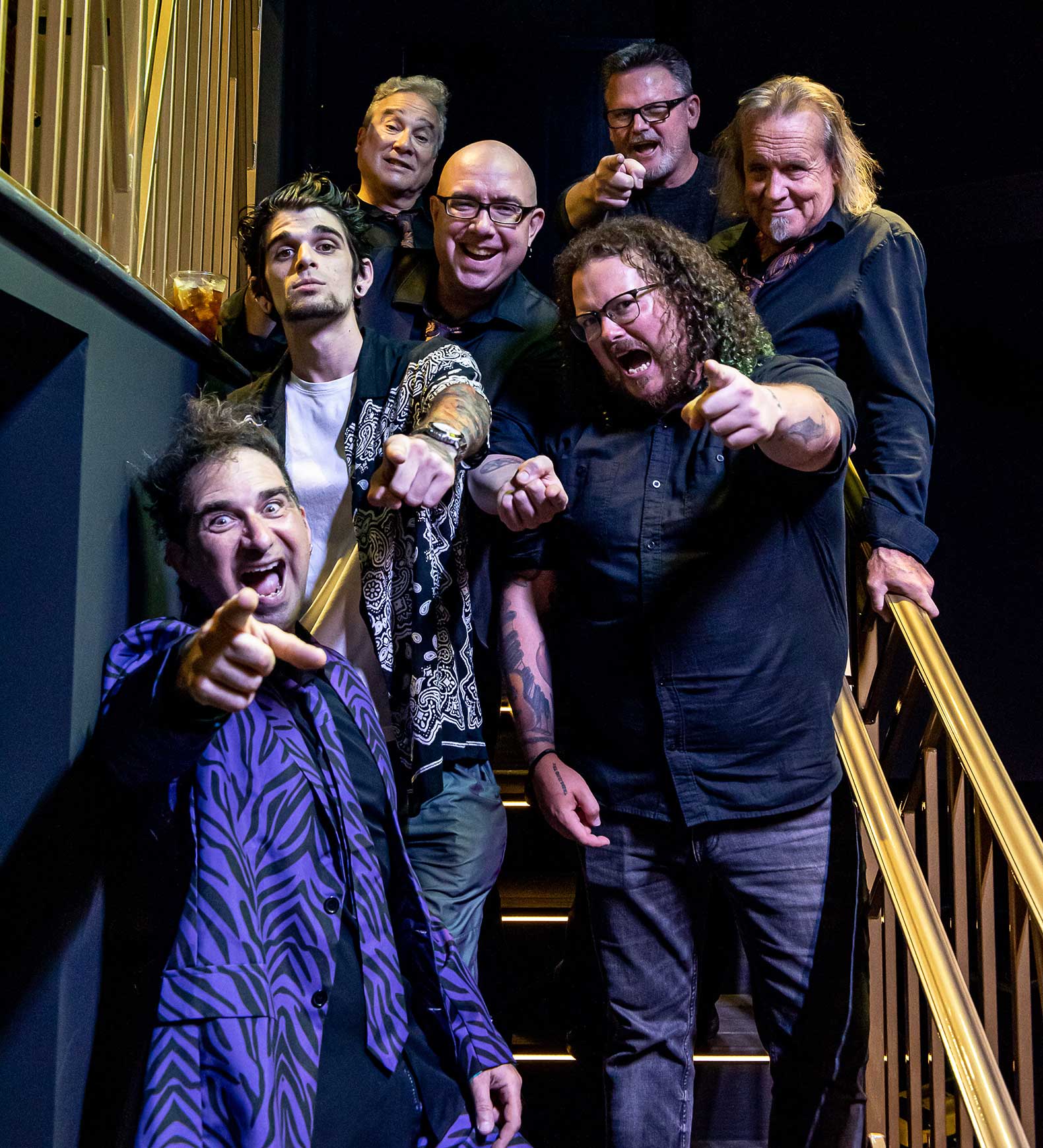 First impression is here's this guy outfitted like, who, Little Richard? And this band of guys damned near my age, energized by Ronnie Dee, his character, his stage presence and outlandish wardrobe, and his wailin' vocals – playin' a kick-ass tenor sax: there's a horn section behind him including, on any given night a bari and trumpet, plus two guitar jammers, bass, keys, drummer – and back up singers.
With a vibe that takes me right back to Muscle Shoals, or the Stax studio in Memphis, over on McLemore Avenue.
Most of their stuff is original, and you'll find their first CD under "rock." But it's way more than that.
I hooked up with Ronnie after the first break. Had to. Who is this guy? He takes me up to the dressing room, a classic multi-closet with enough chairs for about six of us, in a spare, lounge atmosphere. Perfect.
"Where the hell did you come from?" I ask him. "Long Island," is his answer. "No," I'm saying, "I mean – where the hell did you find your mojo, your music, that stuff you're blowing me and the rest of the audience away with?"
"Oh, yeah, that," he gets it. "Well, our major inspirations go back to Stax, and Motown … my mother gave me early Sam & Dave records, and there were those amazing horn arrangements."
Ronnie's genes run deep. His father, Joey, yeah, Joey Dee and the Starliters, had one of the first integrated bands to play in New York City, at the Peppermint Lounge on West 45th St. His mother, Lois Lee, sang gigs on Aretha and Janis stuff, and was the first white woman to win amateur night at the Apollo Theater up in Harlem, 80 blocks north on 125th St. This is in the late '50's, early '60's. Back when Stax was still Satellite Records and stumbled into R&B with early recordings by the Veltones ("Fool in Love") and Rufus and Carla Thomas.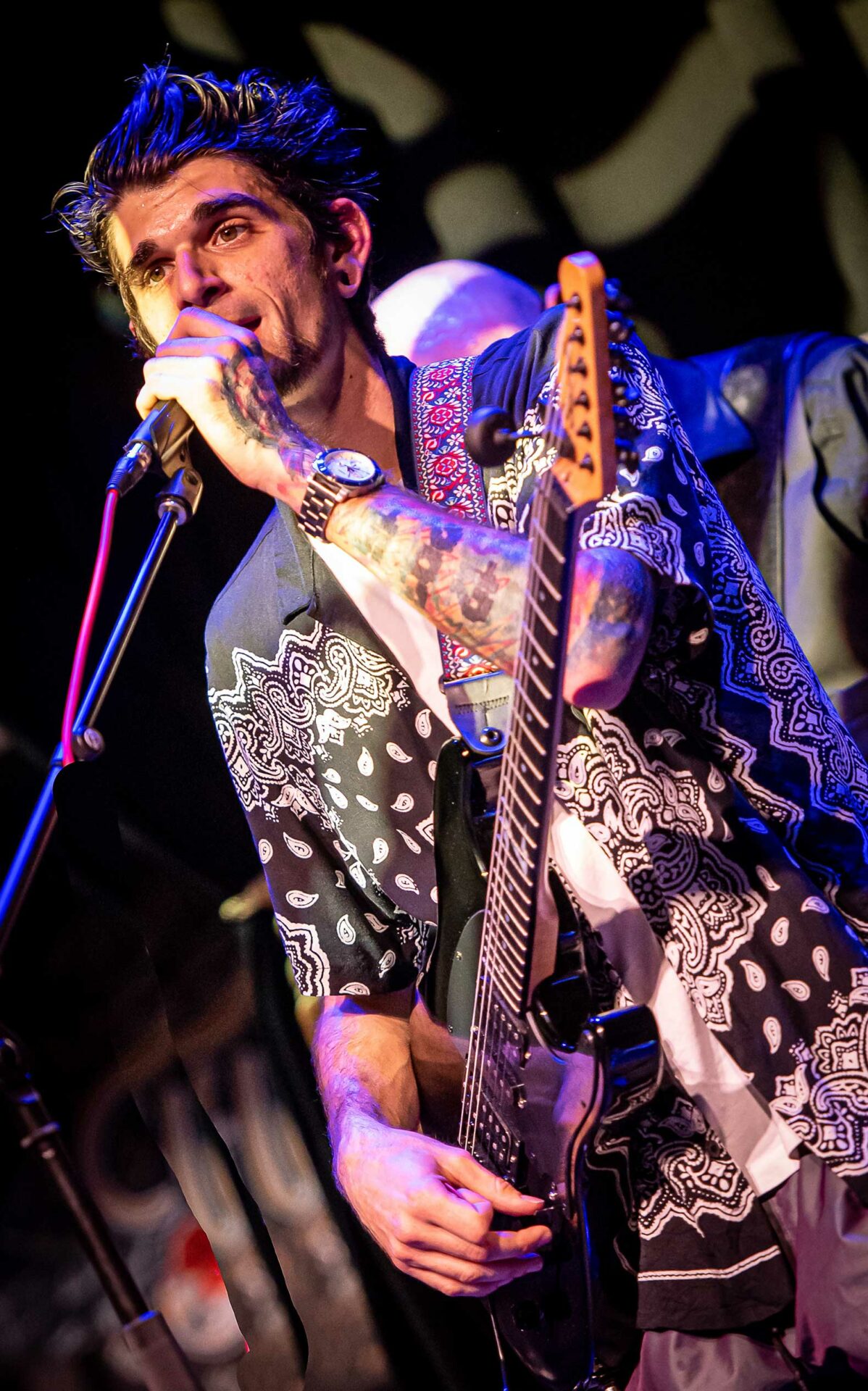 Joey grew up in a poor Italian neighborhood over in Passaic, New Jersey. "My father had no knowledge of color, all he knew was who his friends were and the kind of music he liked," Ronnie tells me.
Soon enough Booker T and the MG's were the Stax house band – two white guys and two Black guys. And that's exactly what Steve Cropper told me, too: "We never thought about race. We just played the music.
"Color never came through our doors."
"Soon," from Ronnie, "Dad hits the road, the Jim Crow southern circuits, playing in front of segregated audiences and staying on the black side of town with his brothers, 'cause no white hotel would take them in. 'Fuck 'em, we're staying together'," he remembers his father telling him.
"Back then, they would damn-near make me listen to the soul and R&B records they had." So he's hearing King Curtis, Jr. Walker, stuff like that, and soon enough he picks up a tenor sax,
same as his father, and gets into his 5th grade school band.
He's got it in him, and he's half way down that river, on his way to the blues that will be his rhythm. Growing up in a household full of instruments, and a garage set up for Joey's rehearsals, Ronnie takes the ride. Soon enough he picks up on the keys. He can play some guitar, too.
They've got a second album set for release, "Dirty Rockers" (private label). "I call it a pandemic record. Prince meets Queen. You know, you're stuck in the studio, doing lots of overdubs and feeling like those weekend artists, and not the real artists we are," Ronnie's saying.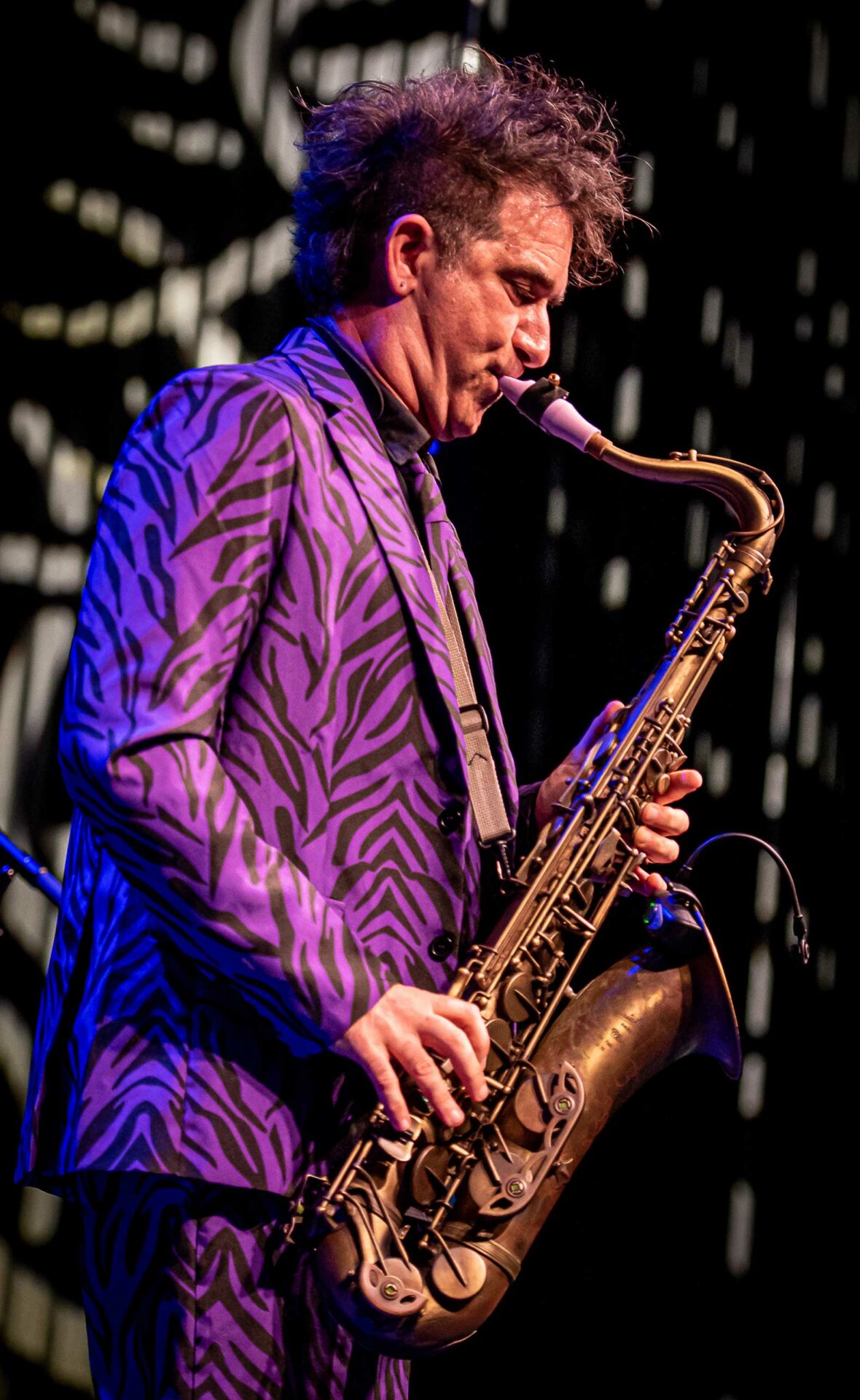 Ronnie produces and records all their stuff at a studio he co-owns, All-Access Recording, in Clearwater. Top end gear in a rollin' atmosphere.
"But now we're working on a new one. A real record, like just a week of tracking and a week of mixing. We wanna get back into the blues festivals we used to play in. We'll re-record it this summer. Live, like a Stax session." He plays a second take of one of them: It's called "Point."
The opening rings right back to "Hold On, I'm Comin," there's a Rufus/Carla give and take in the middle, and the ending, well, it's taking R&B on down that river somewhere.
(www.allaccessrecording.com)
"You heard some of our new stuff at our Floridian gig. Couple of them we were playing out for the first time ever."
It worked
The Superstars band is Stax personified: the tenor and bari sax's, couple of back-up girl singers, drums, keys, bass and two guitars, trading off on lead and back up. Horn solos, jammin' breaks, vocal harmonies, call backs, shuffle kicks, hitting the back beats.
And Ronnie Dee wails with the best of them.
Their first album (#THANKYOUMUSIC, private label) hinted at what was coming: "I'm Depending on Love," with its call-and-shout ending; "Take What I Can Get," that opens on Ronnie's sax and includes a wincing solo; "The Ballad of the Bad Seed" even has some rap in it.
"Calling Your Name" is pure funk.
And there's this: The Floridian is this drop-dead-cool converted movie theater. So is the Stax
Studio and Museum. Kindred spirits. The Floridian was built as a bank in 1925. Soon it was a movie theater, then a concert hall and before its financial and physical decline closed it down in 2018 it was designated a Local Historic Landmark. Kevin Chadwick, the new owner who turned
his dreams into a fantastical escape haven, tells me, with a smile, "everybody wants to be a musician. But if you can't be a musician, buy a club." He did and now "this is a music house first and foremost!" They book live music six nights a week and after being open less than three months it has already established itself as the go-to night life joint in downtown St. Pete.
In the second set at the Floridian Social Club Ronnie Dee gives me a shout out, "Tim Arnold, if you're still here, this one's for you!" I am. And here comes "Sweet Home Chicago," way back from Robert Johnson up through Buddy Guy, Stevie Ray and Eric. Killer. At least as good as some of these other guys. Who's playing lead on this one? AJ. AJ Dee. Yeah, Joey's grandson, Ronnie's son. KIllin' it.
That river's runnin' wide, and deep. And with guys like Ronnie Dee and his Superstars, R&B just keeps on keepin' on being muddy waters. Just like McKinley Morganfield did.