RON DAVIES The Kitchen Tapes.
Little Chickadee Records.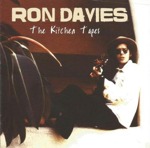 Let me say at the outset, I found this so very, very easy to listen to! Ron Davies gave us a gentle form of music with lyrics that were both perceptive and poetical at one and the same time. This disc is a compendium of his work put together as a tribute to his life and his musical contribution. On track 7 Nice And Easy, he sounds so like Bob Dylan as to be disconcerting. It is to his eternal credit that amongst his legion of fans, the inimitable Joan Baez was such an adherent of this complete song-writing musician, likening him to a cross between Dylan and Lennon, high praise indeed from the diva of American folk music! This album has a folksy flavour but has an undertone of the blues throughout to cross between the genres. This album has clarity of vocals and guitar playing throughout that is diamond like they are so clear. Track 14 Home From The Sea, was particularly poignant in that like myself, the singer is for settling down at home after year's of chasing the money. It is very hard to pick out favourites in this complete musical gem, they are all 24 carat and indeed there are no fewer than twenty two tracks for your enjoyment. It is truly a gem and his sister Gail is to be thanked for contributing with Rob Price to the presentation of this unmissable compendium. Do your inner soul a favour and get this to treasure.
TOM WALKER