ROBIN TROWER launches his first-ever music video
Robin Trower has launched his first-ever music video for the title track of his new album "Something's About To Change"
UK TOUR STARTS MARCH 26 WITH SPECIAL GUEST JOANNE SHAW TAYLOR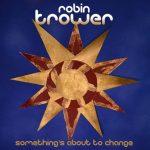 Something's About To Change was released by Manhaton/V12 Records on March 9th 2015 – the same day as Robin's 70th birthday. It marks Trower's first album since 2013's critically acclaimed "Roots And Branches", and dovetails his 17-date UK tour with special guest Joanne Shaw Taylor starting March 26.
Robin Trower March/April 2015 UK Tour
[table id=16 /]
Blues Matters have an interview with Robin in Issue 83 (available soon!) plus reviews of the new CD on Manhaton and his Rock Goes To College release via Repertoire.