Advertisements

This was my first live blues music event since March 2020 and what a great one to start off with! It had been cancelled from day before due to the great British weather, but the blues gods were shining outside The Mule On Rouge Café at Berwick Upon Tweed. A lovely day and appreciative audience made this very memorable and enjoyable. These two Scottish Borders based blues troubadours had not played live for two years and throughout appeared to be loving the experience. Robbie is the singer songwriter, guitarist and singer. Willie is a harmonica specialist, their chemistry together is a sound to behold, with Robbie putting in a few comical asides as well as explaining his songs and giving a potted history of Delta blues.
27th June 2021
Words and Pictures: Colin Campbell
They put on a mixed set of songs, a lot from Robbie's recent albums and showcasing some new material. It was the old blues standards that had the audience whooping hollering and dancing. One of the opening songs was from Robbie's recent album, Up And Down, a song entitled Ain't Got no Biscuit, this is for the guitar geeks as the guitar he uses for this has no resonator. Sound was clear vocals distinct throughout the set and Willie's harmonica tones were superb. Barefoot Blues was inspired by a visit to Mississippi and coincidentally a book of Robbie's travels there is still available. The Devil took his shoes hence the title, a real Delta blues feel to this tune. Robbie changed guitar to a cigar box style for the title track Up And Down and audience participated with this. The pace and tone were electric through Freight Train, Willie taking centre with his chugging sounding harmonica tones. Matchbox was next and a great laid-back feel. The musical pace was brought down by the haunting refrains on Just The Same, Robbie's vocals so poignant on this: perfect tune for a warm sunny day.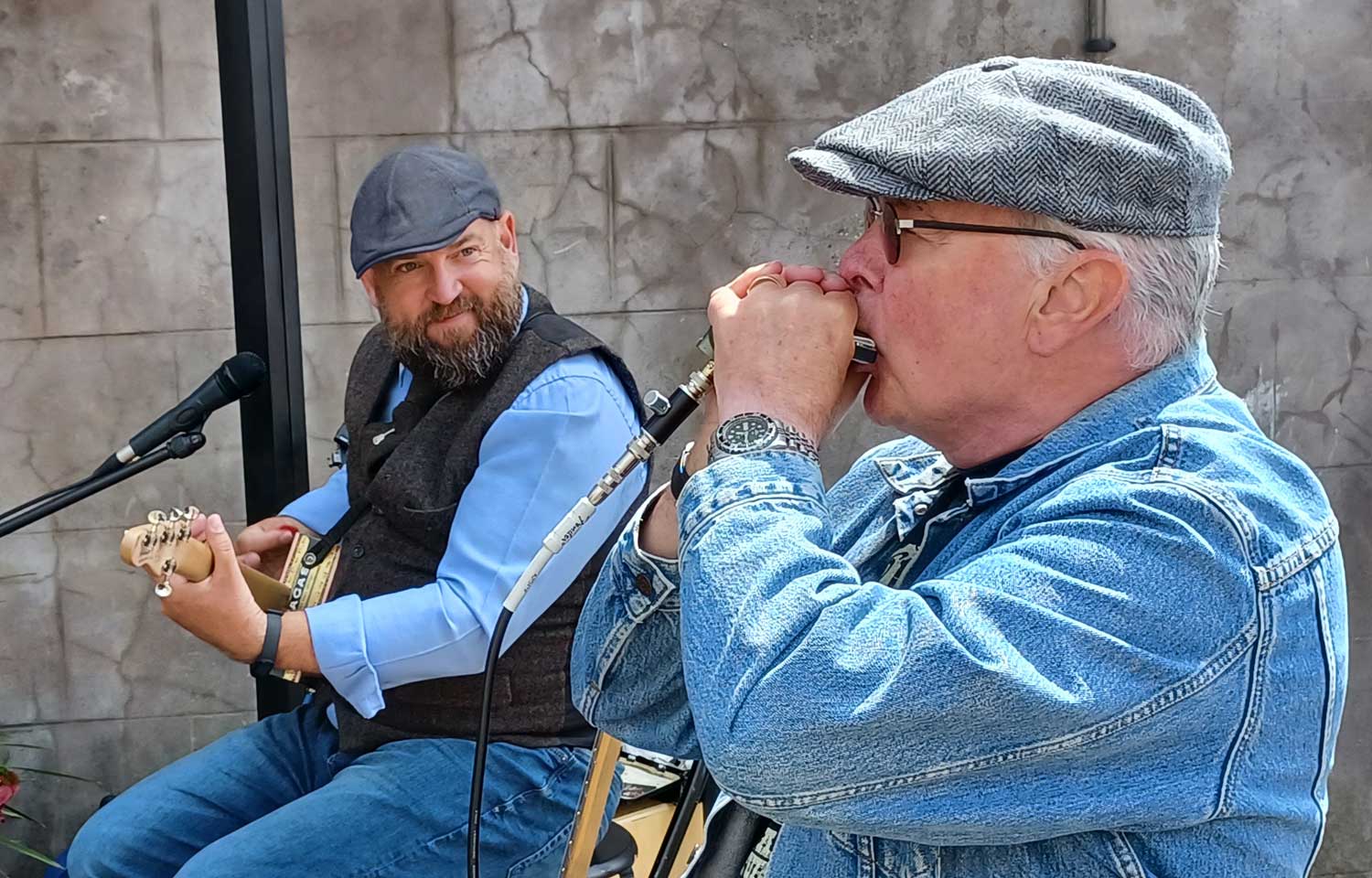 Blues Itch, from his album Barefoot Blues is a quirky blues tune full of intended inuendo. Then into a stomping version of the Devil Can't Hide, a crowd favourite, got people dancing and dogs barking, perfect. Robbie started singing Don't you Mind people grinning, an acapella take on this did have a call and response feel. Willie Dixon's Little Red Rooster was given a new lease of life a great vibe, just natural blues. Spiritual blues came in the form of Is This Fate, an emotional song ad some great chord stretching here. Robbie calls his blues style contemporary positive blues. Here he is selling his soul to the public and getting a great response, ever evolving the traditional blues feel. Upbeat tune next from his 2018 album, Airsick Reay, it was time to boogie again on Juke Joint Boogie, a crowd pleaser. The same applied to the song Willie Brown which even had a Bo Diddley type riff. Another call and response tune which segued into some Chicago blues, Please Don't Go and Shake Your Money Maker given the treatment. Then there was a break just when people were getting into the rhythm.
Advertisements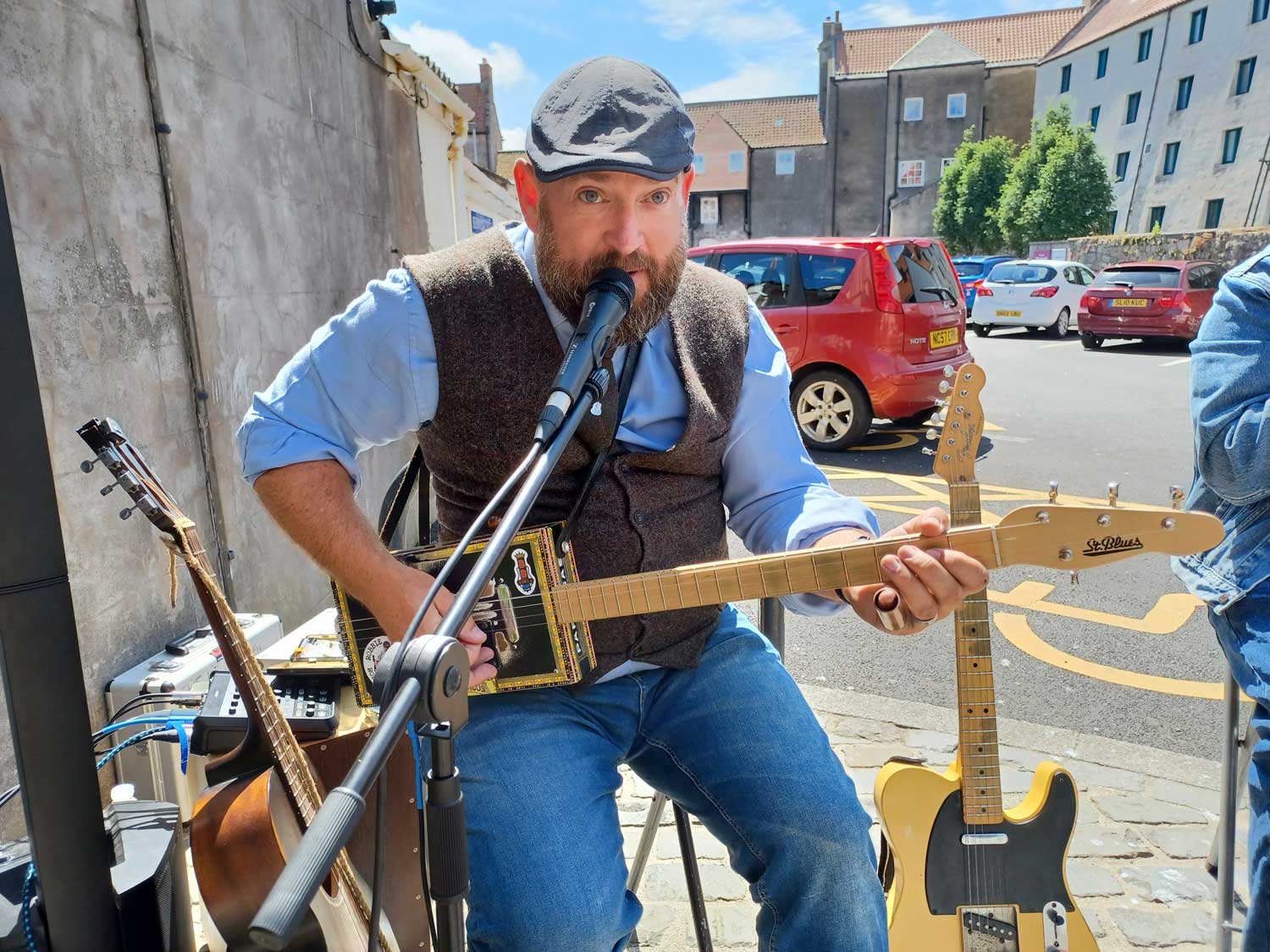 Next set highlights included J.D. Whiskey Blues, a real emotional feel for the genre here, with a twist. Sweet Home Chicago saw Willie do a walk about, dangerous stuff as he was playing in the car park and yes, the traffic stopped to appreciate his soaring tones. Hoochie Coochie man next had a great rhythm and groove. The tempo continued with a take of John Lee Hooker's Boom Boom. Then another original by Robbie apparently number eight on the next album, Going Nowhere, a song about the pandemic, with a great line "Running round in circles", this was the first time he had played this to a live audience. It has a great groove and feel, bit of Hill Country blues vibe going on, a work in progress as he called it, but sounded very good. Last song was a reprise of Willie Brown and The Devil Can't Hide, this time sounding more sinister in depth but with a tongue in cheek approach. It was just great to go out to live music, it wasn't socially distant as this was outdoors, great atmosphere. Two quality musicians doing what they do so well, connecting with people and seeing children dancing and audience participating is the essence of live music. These two have a feel for their music and that's as honest as any artist can deliver. Many thanks, here's to the next time!
For further information see website: www.robbiereay.co.uk