The day Larry Miller roared in: Gravesend's first Bluesfest, 2013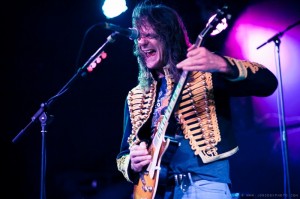 What do you do on a rainy Bank Holiday weekend in Gravesend? According to Paul Jones on BBC Radio 2, when he played Larry Miller's magnificent rendition of Messin' With The Kid, you get down to the Bluesfest at the Red Lion.
For on Saturday 24th August 2013, the inaugural Wrinkly Rockers Bluesfest and Real Ale Festival (the real ale is important too) took place.
The pub is a stronghold of live music, with a succession of Rock and Heavy Rock acts muscling through its doors for 30 years, including Iron Maiden.
Blues has been a more minor part of the repertoire, but the Bluesfest fixed that, for a day. Given the local preference for powerful 'in yer face' music, Larry Miller was booked as headliner to show that the Blues has its own share of high octane, hard Rockin', performers.
Larry was the final act of a powerful, high quality and varied supporting line up, which was a musical education, showcasing a touch of the sheer variety that the Blues has to offer.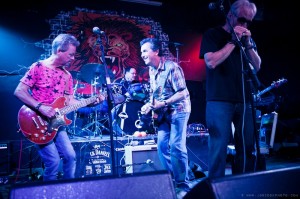 Fittingly, the Blues Brothers soundtrack album played before the early arriving clientele got down to listening to the opening act, Blues Business. They proved instantly that the Red Lion likes its music loud in the 300 capacity hall. Blues Business are a good, solid – and that doesn't mean boring – RnB band.  Soulful vocals, welcome Blues harp, and with the first song, Too tired proving they weren't. Most of the songs were straight out of the Chicago songbook, the kind of stuff that is great to dance to. They're a bangin' Blues band, for sure. A fine version of the exciting Riding on the L & N closed their set. Interviewed afterwards, lead guitarist Paul Burris shared his pleasure that the day had been put on by the Wrinkly Rockers Club in association with Blues Matters magazine. Thinking about the schedule, he also described a later performer, Andy Twyman, as great, which was timely as he met Andy coming in shortly afterwards!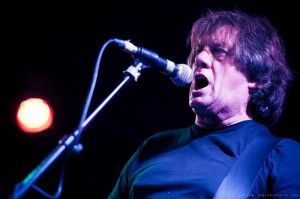 The Sharpees were the next act on. Their drum kit proclaims them a Maximum RnB band, which is a good description. An album cover of theirs refers to them as a "Punk Blues Band" too, but sadly no coloured spiky hair or gobbing or anarchy in the UK (or anywhere else) formed part of the act. In fact, The Sharpees played a melodic brand of rhythm and blues, often played fast, and featuring well-constructed original songs. The song "Dr Feelgood" stood out in a set which had a bit of sharpness (sorry) about the vocals. The band left to go to two more gigs the same day.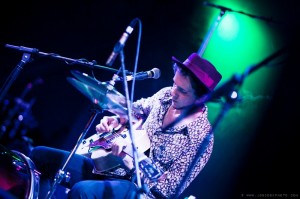 The aforementioned Andy Twyman was next and after two pretty rocky Blues acts, one man with drums and guitar and harmonica looked like small stuff. However, appearances were deceptive. A full band would have done to capture the excitement and freshness of Andy's cover of Good Golly Miss Molly and would have given up completely if faced with covering Andy's I Eat Pot Noodle With A Plastic Fork and his other self-penned, light-hearted, but seriously entertaining, songs. The audience realised that they were in the presence of a real entertainer, a provider of a refreshing blast of new Blues. Andy produced his one-string Boogie Machine guitar to close with the deep-toned, foot-tapping Sharkey's Bar, a song he closed with a machine-gun rattle of guitar and percussion to plentiful clapping and yells from the audience. Then off Andy went to a radio interview.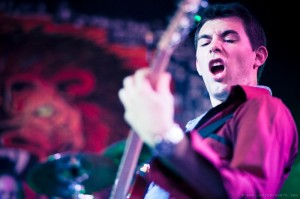 A relatively new but already critically acclaimed trio, Absolution, brought some Blues from Suffolk to the Red Lion. Train Ride was a suitable start with ominous drums, a liquid guitar solo, and that thrilling train whistle. Broken Man also showcased their brisk playing and some real talent in the guitar work of Joe Fawcett. There was an exquisite cover of Born Under A Bad Sign, plus a Hendrix medley – far better than a single track would have been. A new song – 16 Tons (once a big hit for Tennessee Ernie Ford) – had a real retro Rock and Roll feel to it. A far more chilled out song followed, Slipping Away, which had a couple of quality, complex guitar solos. Another new song, Blue Situation, had Absolution opening the tune with a groove out of ZZ Top. Why not? New material should show growth and this it did. Interesting remarks from the audience, too – from a fellow guitarist present, "I loved Absolution. Wasn't Joe a great player?" And, from one of the event sponsors, known as Sharp Dressed Man, "I've not heard a new band like that in years… they're something completely different."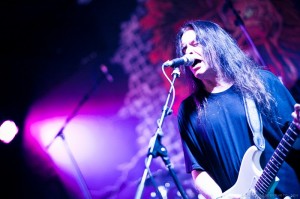 The organisers – and the Sharp Dressed Man – had really been looking forward to letting the next act, The Dave Jackson Band, loose on the Red Lion's superlative sound system. Dave opened with Backdoor Man. Their treatment of the song conveyed all the sleazy sexual vibe the lyrics demanded. Then the band produced the should-have-been-award-winning Born Again Bluesman (hitherto nominated for the British Blues Awards). By then Dave realised he was in own sonic heaven, and remarked, smiling, "This sounds good. I think I'll take this rig with me wherever I go". The rig certainly inspired the band to excellence rather than grand theft and Dave's meaty vocals flowed over the deep river of sound from his and Jan's guitars and Reg's drums. A big sound Blues band in a big sound Blues place? Perfect. They also treated the audience to a few songs from "Seven", their forthcoming second album, to be released on October 24th and with a launch gig at the Beaverwood Club in Chislehurst that day. The title track is destined to be a modern classic. You heard it here first.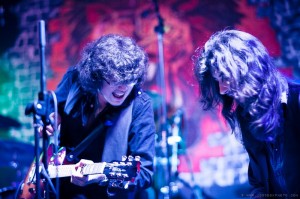 Next came The Mentulls. They later also said how they loved the still-present sound system, the band's manager later commenting, "Fantastic 'up for it crowd' and one of the very best sounds we have had – big thanks to the sound guy." Guitarist Andrew Pipe had a touch of Brian May about him – a comparison that has not been made before about anyone by this reviewer. Given The Mentulls unusual combo of guitar, organ and drums, they had a memorable deep sound. A cover of Red House was terrific. This band – which is still very young – started even younger, and their efforts are paying off. They are becoming an act worth going many miles to see, though, coming from Yorkshire, they did most of the travelling on this occasion. A lady in the audience (named Nikki) was asked by the person with her, "What do you think of the band?"  "I love them," came the reply. She want on to use the classic line, "Wow, that boy can play!" A helpful bit of unsolicited praise, there. It is great to see young musicians making the Blues their own.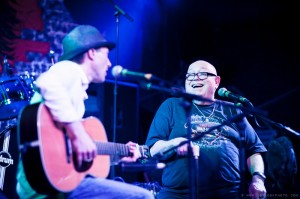 On the face of it, the next act, Nicky Moore and Danny Kyle had been unfairly placed between power Rock Blues acts. One steel guitar and one voice versus all that Blues Rock? No contest, you might think. An open invitation for the audience to drain away. Not a chance of that with the voice of Nicky Moore, a voice of ten normal mortals, and Danny Kyle's intricate guitar work. From the opening number, Fruitpickers' Blues, through the title track on their unparalleled new album, The Whale And The Wa'ah, the pair won over the crowd. Nicky's voice is a beast in Blues terms, a finely honed power tool that once fronted metal acts Samson and Mammoth. It can still cut through steel. Encore calls came thick and fast and Nicky played favourites from his fine band, Nicky Moore's Blues Corporation, to great applause.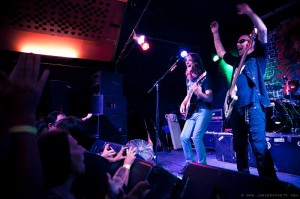 What about the closing act, Larry Miller? Larry had a whole series of hard acts to follow. From the first fierce drums before he even took to the stage, he  filled the room with his rare stage presence, charisma, and the vibrancy and attack of his show. Launching into the set with the opener from his superlative album "Live And Outlawed", he had the crowd on their feet. Hairs stood on heads, adrenalin (and alcohol) flowed, and eyes widened as Larry unleashed his band. The Girl That Got Away appeared to slow things down, but even there more heayweight drums (on a fine debut with the band for Darby Todd) and guitar kicked in alongside the (for a change) mellow organ. It is a real song of light and shade, superior Rock Blues. Our advice? Buy Larry's album, which as a live show has been uncommonly well produced, and see what we mean. Messin' With The Kid was a reminder of just why the song was on the radio. It was long, played hard, but again with elements of plucked guitar strings for variety and at times a wall of sound constructed by that organ, Darby's drums ("Good, isn't he?" Larry beamed at one point), and those two fierce guitars. Larry strutted and punched the air and gee'd up the audience, concentrating on his solos, and with his long hair wrapping round his face. Episodes of humorous dialogue with the crowd just added to the show, and songs like Gambler's Hill just added to the excitement. The landlord Terry remarked on Facebook later that Larry had been "F***ing awesome." Not a bad description of the day, either, and one of the audience, Daryn, said, "Thank you for today. Loved it."
Larry Miller can be seen, supported by The Dave Jackson Band, at the 02 Academy in Islington on 12 December – www.o2academyislington.co.uk/event/53990/larry-miller-tickets.
A last question comes from the organisers, "Who do you want to see at next year's BluesFest?" Interesting….
Links
Video and photography: Jon Cook – www.joncookphoto.com
Wrinkly Rockers Club: www.wrinklyrockersclub.co.uk
Larry Miller: www.larrymiller.co.uk/index.htm
Kyle and Moore: www.kyleandmoore.com/Kyle_And_Moore/Home.html
The Mentulls: https://sites.google.com/site/thementulls
The Dave Jackson Band: http://davejacksonband.wix.com/djblues
Absolution: http://absolution.wix.com/absolution
Andy Twyman: www.andytwyman.com
The Sharpees: www.thesharpees.com/home.cfm
Blues Business: www.blues-business.co.uk