Well, after all the problems with putting live music on and the sheer frustration of not having live music Festivals in United Kingdom for almost eighteen months, at last Blues Matters can report on the best Festival around. This year, thanks to the superhuman efforts of his one-man team, all the praise goes to Organiser Nick Westgarth. On the weekend his back-room helpers and amazing stage crew did a particularly fantastic job at putting this event together. Possibly this has been the best Festival in the history of this event. Top quality acts, sold out concerts, adoring and positive comments from attendees, it was just so good to get back to seeing and hearing live music in a wonderful setting and connecting with people, the acoustics in the Hall are excellent and that also is a testament to the Sound Engineers. Anyway, onto the music:
Words and Pictures: Colin Campbell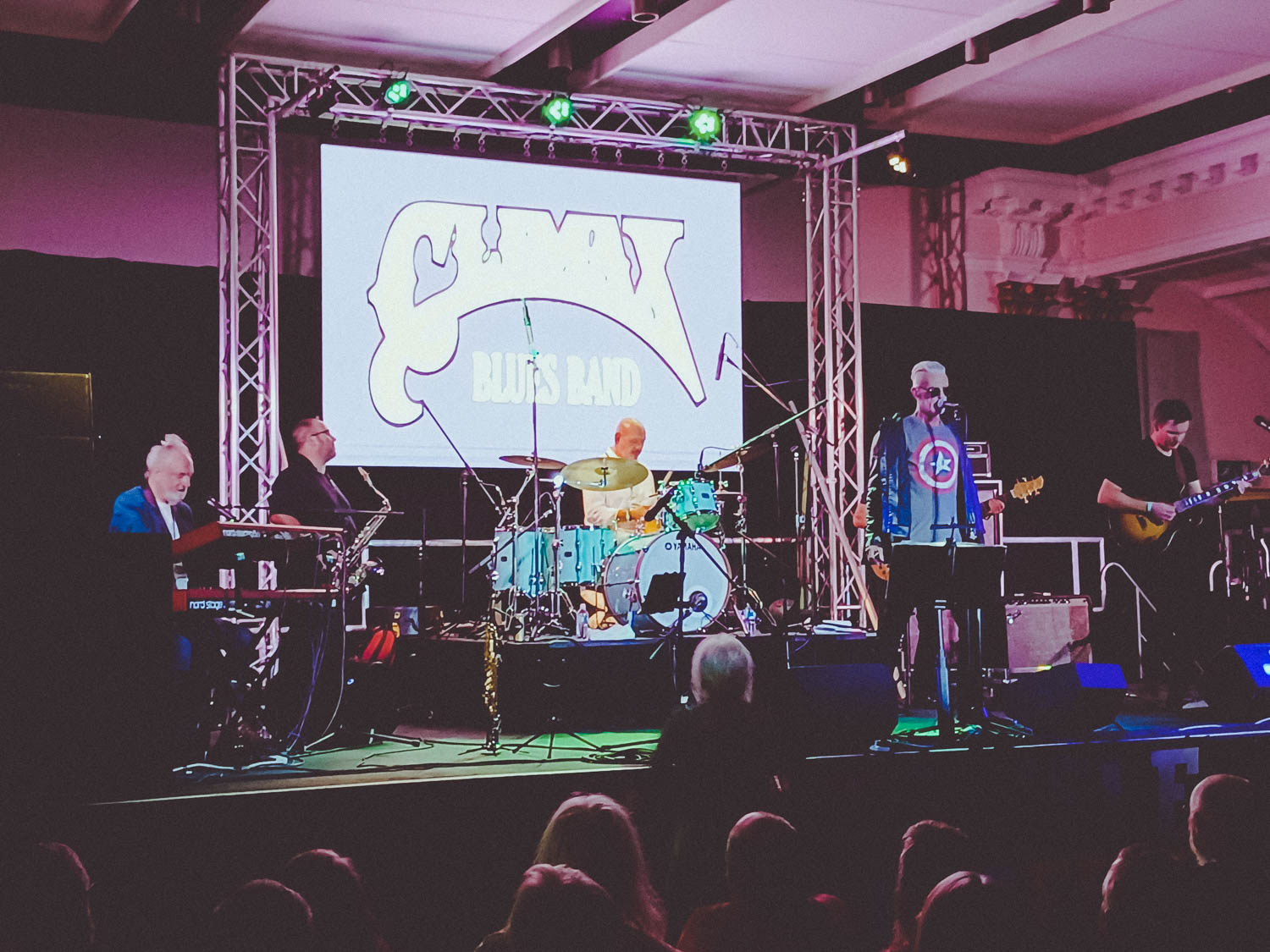 There was such a happy atmosphere in the Hall, everyone seemed really excited about the prospect of live music in such a good venue. There was really a vibe of expectation and hope, people were here to have a good time. Artists alike were full of expectation, none more so than when Starlite Campbell Band appeared on stage as the first act. This was their second event in twenty months, just take that in, losing your livelihood and the reason for being a professional artist, it's just mind-blowing, but what a show they put on. This four-piece band soon got into their stride and Suzy Starlite resplendent in white space-age trouser suit, red spectacles matching her guitar was so entertaining.
With Simon Campbell on lead guitar, they came to have a party and rocked the joint with tunes from their debut album and new release Language Of Curiosity. They mixed styles and grooves on such tunes as the rocky Guilty to the mellow tones of Gaslight, even some progressive rock tones noted on Setting Sun proving a killer of a final tune reminiscent of The Who, late 70s. They had the audience dancing with the new tune Stone Cold Feeling. There was intricate guitar playing especially Simon's solo on I Didn't Know What I Was Doing. The onstage Chemistry is palpable, and their songwriting is very meaningful and sharp. The rhythm section of drummer, Steve Gibson and keyboard player Christian Madden was particularly outstanding, a skillful set by a band on the rise, sound was excellent and a real crowd pleaser, an electrifying blues aperitif for the weekend to follow.
Tommy Allen and his band were next to grace the stage after a very quick change around by the backstage crew. He must be one of the UK's top-rated blues guitarists. His improvisation through this set was a delight and he has such a soulful vocal range, just stunning. His music is rooted in the blues and here with his band he played originals and a breathtaking cover of Voodoo Child that kept a rapt audience in wonder. This tune was a showcase for the band, tommy on vocals and lead guitar, Robin Lowrey on drums, bass guitarist Emil Engstrom and keyboards player Ray Drury. Opening with Rock and Roll Superstar, full on blues rock and didn't let go through other highlights like the soulful Read Me my Rights. A Woman So Good was delivered well and full of emotion. He reinterpreted Walking Blues which was loud and rocky. Tommy even managed to do a walkabout round the hall which was very entertaining. Final song Memphis Nights just encapsulated a brilliant set by a proficient and entertaining band. The craftsmanship is second to none a very stylish performance. Another quick change of stage then it was time for the amazing Climax Blues Band.
They always give a full-on professional set and tonight's was something incredibly special indeed from this six-piece band. The mercurial lead singer and frontman Graham Dee is just such a focus, and his vocal range is formidable, especially on songs like Kick in the Head, Spoonful and Hard Luck, not to mention the band's anthemic evergreen rhythm laden version of Couldn't Get It Right. They burst onto the stage and got the party started with, Straight Down The Middle. The rhythm section of Roy Adams on drums and bass player Geoff Ockenden are the souls of the band. Add to this George Glover's keyboard skills, saxophonist Chris Aldridge, they came, and they gave a statement of intent to a listening audience who gave them a great ovation. The final tune, Wrong Time Wrong Place was an exhibition of full force energy and class musicianship blending energy into this anthemic and memorable tune. A testament to their longevity and keeping their music fresh for a new generation of blues lovers, what more could you ask for, amazing musicians and a superb set.
The last band on tonight was Giles Robson & Band who gave a scintillating performance of a mixture of original and traditional blues classics. Giles is just quite an extraordinary harmonica player and a great raconteur; he made the place feel like a small intimate venue at times and his rapport with the audience was just wonderful. Stylish in clothing he was the dapper frontman. Tonight, he had to call on the services of lead guitarist Sandy Tweeddale (Ex Blues N' Trouble) whose riffs and side-line solo guitar licks were phenomenal. This was an impressive set and a masterclass in harmonica driven top notch musicianship. Ably assisted by a great rhythm section comprising drummer and bass guitarist, Start A War, was a particular favourite, some mellow tones but intricate harmonica playing. Sarah Lee was a fun tune, this got the crowd doing a call and response about Giles partner being in a nearby pub and neglecting her duties, a real tonic of a song. He even made up a tune, Carlisle Boogie, which had a hypnotic beat. Hoochie Coochie Man was delivered stylishly full of Chicago tones.
This was a headline act to be proud of, full on entertainment leaving the audience satisfied and ready for more, a flawless upbeat performance, Giles even got off the stage to join in with the dancers at the front, such was his enthusiasm to give a top rate performance! Giles said "Carlisle Blues Rock Festival was an incredible experience for me. Everything was perfect – from the beautiful venue, the wonderful friendly and helpful staff to the great audience. It all melded together to be a knockout experience for me and one I will not forget. Well done to Nick Westgarth and all those involved. Long may the festival continue!" A great testament indeed!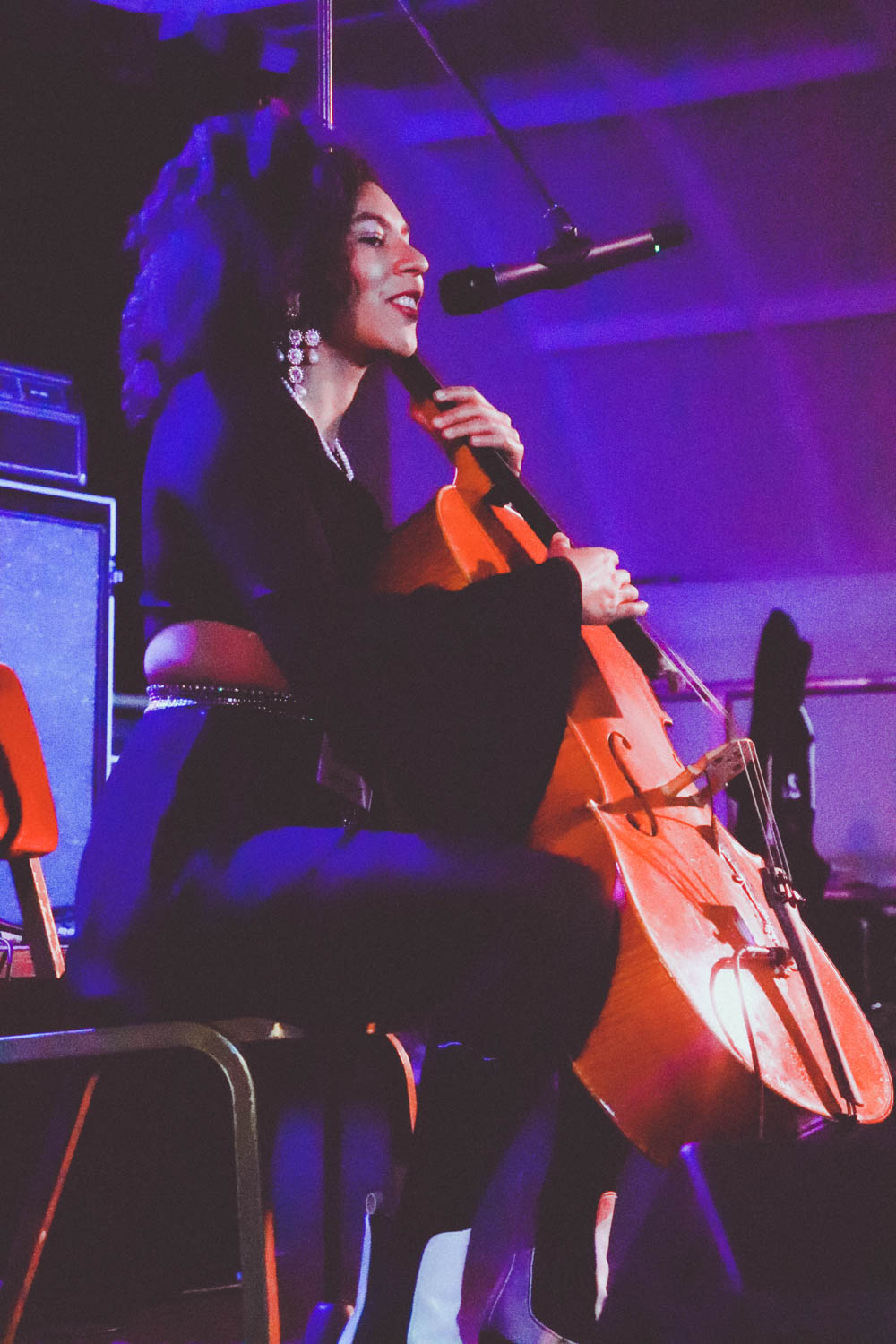 After last night the buzz of anticipation for today's performers was even more palpable. Also, today there was that bonus that there would be the famous Jam Session tonight, this was going to be a long and pleasurable day of mixes of music styles. A Carlisle gumbo of flavours from all around the UK. Opening slot went to the fabulous talent that is Essex born singer songwriter, cellist, songwriter, and guitarist Satin Beige.
Playing first slot in afternoon solo is a challenging thing to do but she was full of confidence, great stage presence and raspy, jazzy blues vocals. The tones of the tune, Summertime were played and filled the Hall with a sweet resonation. There were jazzy tones to Addicted, which made for a very enjoyable lazy afternoon session. She can belt out the blues, such as her rendition of Love Me Like A Man, an amazing tune to hear on the cello, so versatile. She played acoustic guitar on Waste My Time an original tune. A listening audience really appreciated her sassy version of Why Don't You Do Right. Made the Hall seem like a smoky Jazz Club, an astonishing talent.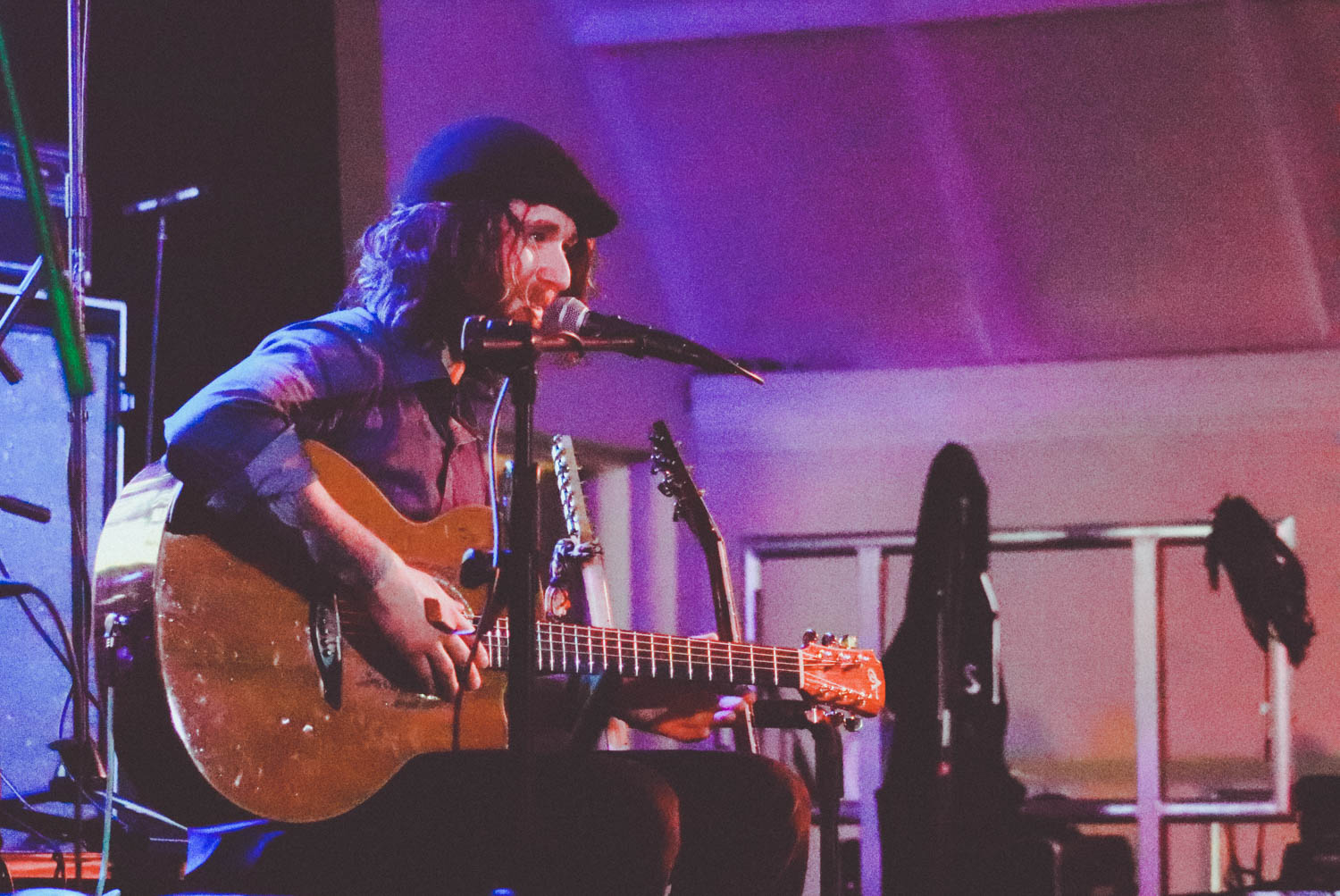 Talking about musical talent, next on stage was the multi-talented singer songwriter, guitarist, Belfast man Dom Martin. For this reviewer, he was one of the highlight acts of the weekend. He is doing a solo tour, but also plays with a band. Today he gave a masterclass in guitar playing, storytelling and connecting with each audience member through various emotive tunes, such as Spain To Italy and Luca. Such is his stage charisma he draws the audience into the song and makes them feel the songs are about them. Topics of addiction, lost relationships and losing loved ones are prominent in his repertoire and the sound he gets from his guitar is mesmerising. He deserves the adulations of recent Blues Awards but is so grateful just to be playing. Easy Way Out was another undoubted highlight for a rapt audience holding onto every note and his vocal delivery has so many tones. Railway And Gun paid homage to Taste and Rory Gallagher. It was just a sublime set! Reflecting on this Festival, Dom had this to say: "Great people! Great music! Great Festival! Treated like royalty, an absolute privilege to play at, thanks."
Next, it was time for The Achievers to play. This five-piece Gloucester band are highly acclaimed and mix up straight early R& B with some peppering of Americana and roots-based music styles. They are a party band, they love to entertain, which they did with gusto here, getting the crowd to dance and holler. From the opening strains of Little Girl, Steve Ferbrache, lead singer and guitarist just hit the right notes.
The astounding harmonica tones from Rufus fry added weight to this infectious song. Rhythm section hit the right groove, Aron Attwood's drumming on Careful Sabrina and bass tones from Jack Thomas keeping time, so tight a band. Oh, and Robert Holmes guitar playing was understated but rhythmic. The Cuckoo exemplified the fun side of this band and some great harmonies another one for the dancers. No One Remembers has a country hoedown feel, it just makes this band stand out from others. A notable set well appreciated. Steve commented on Festival "It was a pleasure to be part of such a positive, well organised Festival."
Change in style by next band Rhino's Revenge who added the Rock component to the festival. This powerful trio just let rip from the start with the amp output set to eleven! This is a project led by bass guitarist John "Rhino" Edwards, bass player with rock band Status Quo. With Jim Kirkpatrick on lead guitar and Richard Newman on drums this is an exciting explosive band, certain to cure the post pandemic blues away.no holds barred, straight into first song Secretary with sublime bass playing and rock vocal from John. They called up Rufus from The Achievers for, Before You Accuse me, a great rendition, and a real surprise. Never Too Old To Rock And Roll, got the crowd responding, this had an Eddie Cochrane type vibe. Paying homage to the recent death of Status Quo guitarist Alan Lancaster, they added a fantastic version of Paper Plane, filling the dancefloor. Encore, Back In The USSR was likewise a crowd pleaser!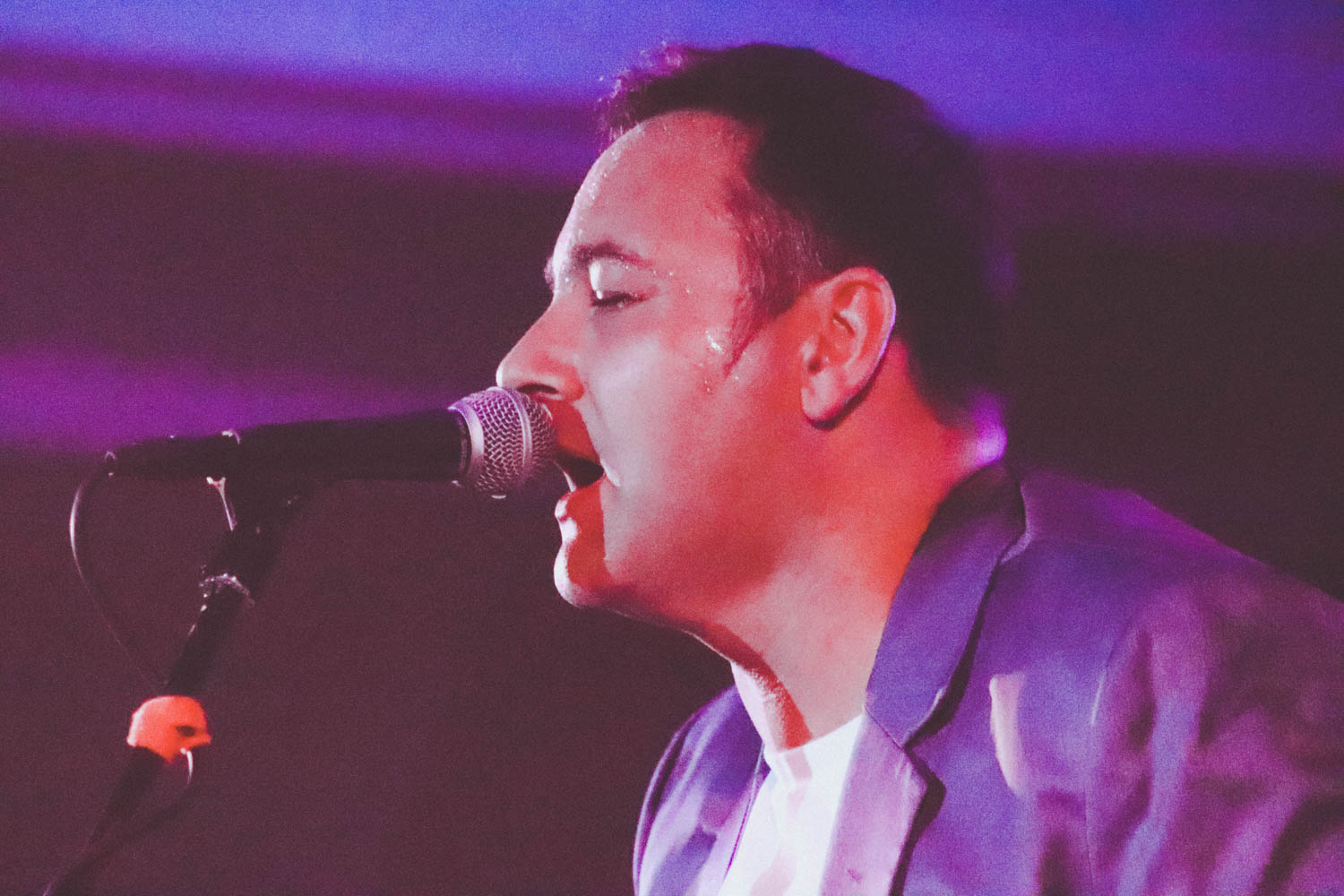 Well, there was a need to have some more rhythm and blues music with an emphasis on the latter. Enter Redfish Blues Band to the stage. Wait a minute, the lead singer and guitarist looks familiar – Christian Sharpe, who has also worked tirelessly behind the scenes with the backstage crew at this very festival! He also organised tonight's jamming session. He is now lead singer with the band, replacing stalwart Brian 'Stumblin' Harris. With this change, the band has gone back to playing a more blues infused set, the chemistry however between these great musicians is still strong.
The rhythm section of Rod MacKay and Sandy Sweetman are the band's beating soul and keyboards impresario Fraser Clark is a sublime player. Martin McDonald guitarist keeps rhythm going but also was joining Christian in a guitar dual at one point. The set was mainly blues tinged covers. The Things That I Used To Do was delivered well, Christian's vocals soaring to the backbeat.
Their eight-song set included a hauntingly beautiful version of Feels Like Rain and finishing off with the toe tapping You Never Can Tell. Christian adds that wow factor to the band, gives so much scope and his guitar playing is just a joy, he facilitates every other musician in the band, no faint praise, his talent is amazing. An impressive set, look forward to hearing new material from this band. Bassist Rod had this to say, "Being on home turf was just fantastic. We do a great deal to promote blues in Carlisle and this felt like coming home. Nick and his team consistently deliver one of the very finest music festivals in the UK." This was an outstanding set, and the crowd showed their appreciation.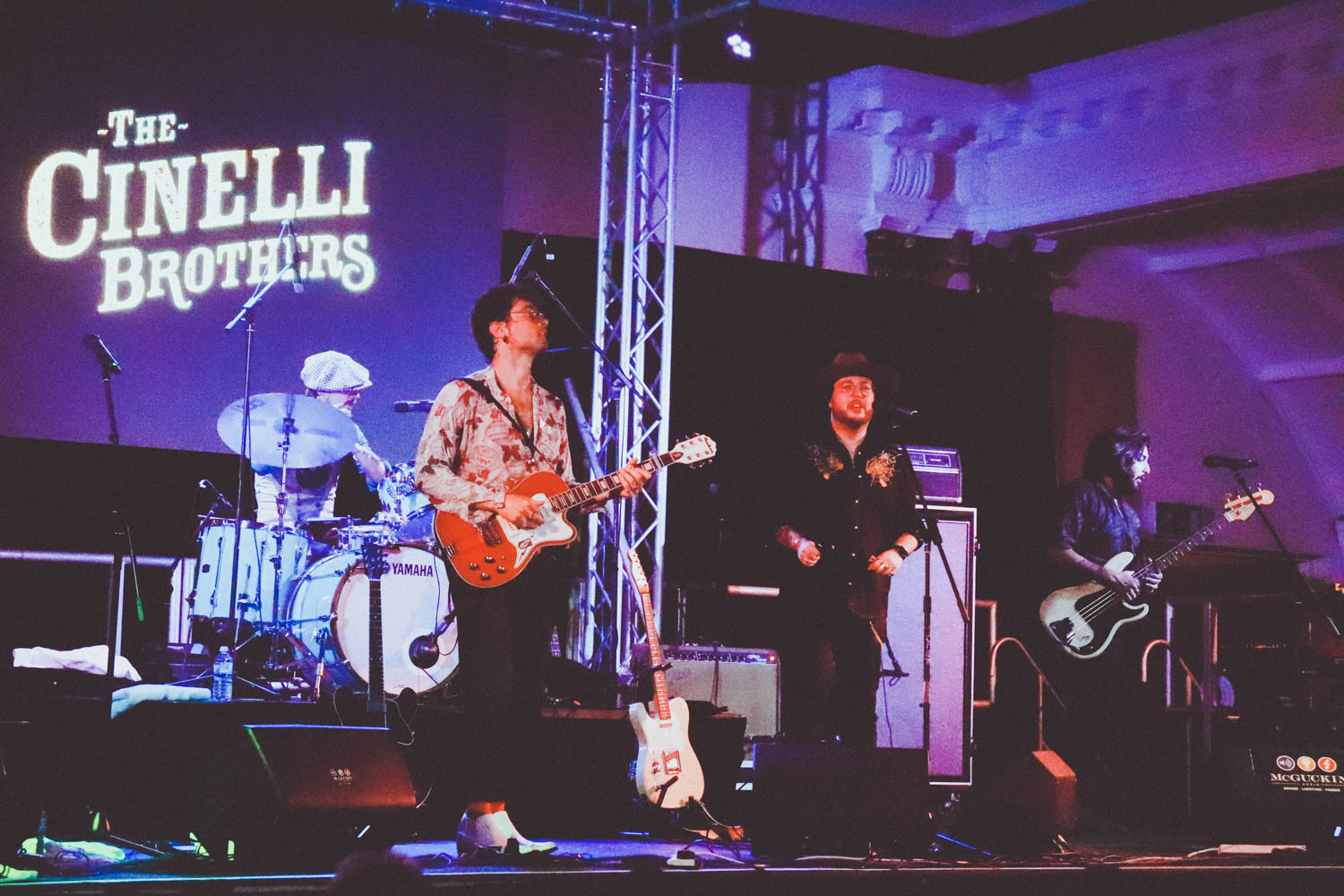 The buzz of expectation continued through the weekend and the eagerly awaited band The Cinelli Brothers took to the stage next. Like other bands they have an infectious groove and style that is rooted in electric Chicago and Texas blues from previous decades. A four-piece band of multi-instrumentalists who are just as adept playing each other's instruments which makes for a great spectacle.
Marco Cinelli is lead guitarist and vocalist; his brother Alessandro is on drums. With them, keeping bass tones is Enzo Strano and on harmonica and guitar is the wonderful Tom Julian Jones. They played a blistering set of tunes to an eager and responsive audience. They mixed funky blues riffs and even a bit of country blues. Last Cigarette was a slow blues burner with a thick drum beat. Choo Ma Gum, from their new album Villa Juke Joint was a fun tune where they got their groove on and every member got a solo including a great one from Alessandro on drums. Precise, pacy and consummate musicians this is a band to watch out for, Italians can play the blues no filter. Later Marc said of his experience "Top notch quality of music and organisation at the CRBF."
Deborah Bonham and her band next, who gave a very professional and intensified set of tunes, all blues rooted and delivered with the powerful vocals of a brilliant rock singer Deborah. The opener See You Again from the Bonham-Bullick e.p. started things off. I Need Love set the tone for another set of differing styles, this blended a slow rendition of soul blues delivered with sultry vocals throughout. Fly was a particular stand out tune, with lovely mandolin playing which made for an eerie ethereal feel to this one. This was followed by Bleeding Muddy Waters with melting keyboards. Grace, from her Duchess album saw Deborah high kicking and really letting her soul into the song, guitar solo from Pete Bullick was just outstanding. It was the final song that really grabbed the audience and put them in a frenzy, The Hunter.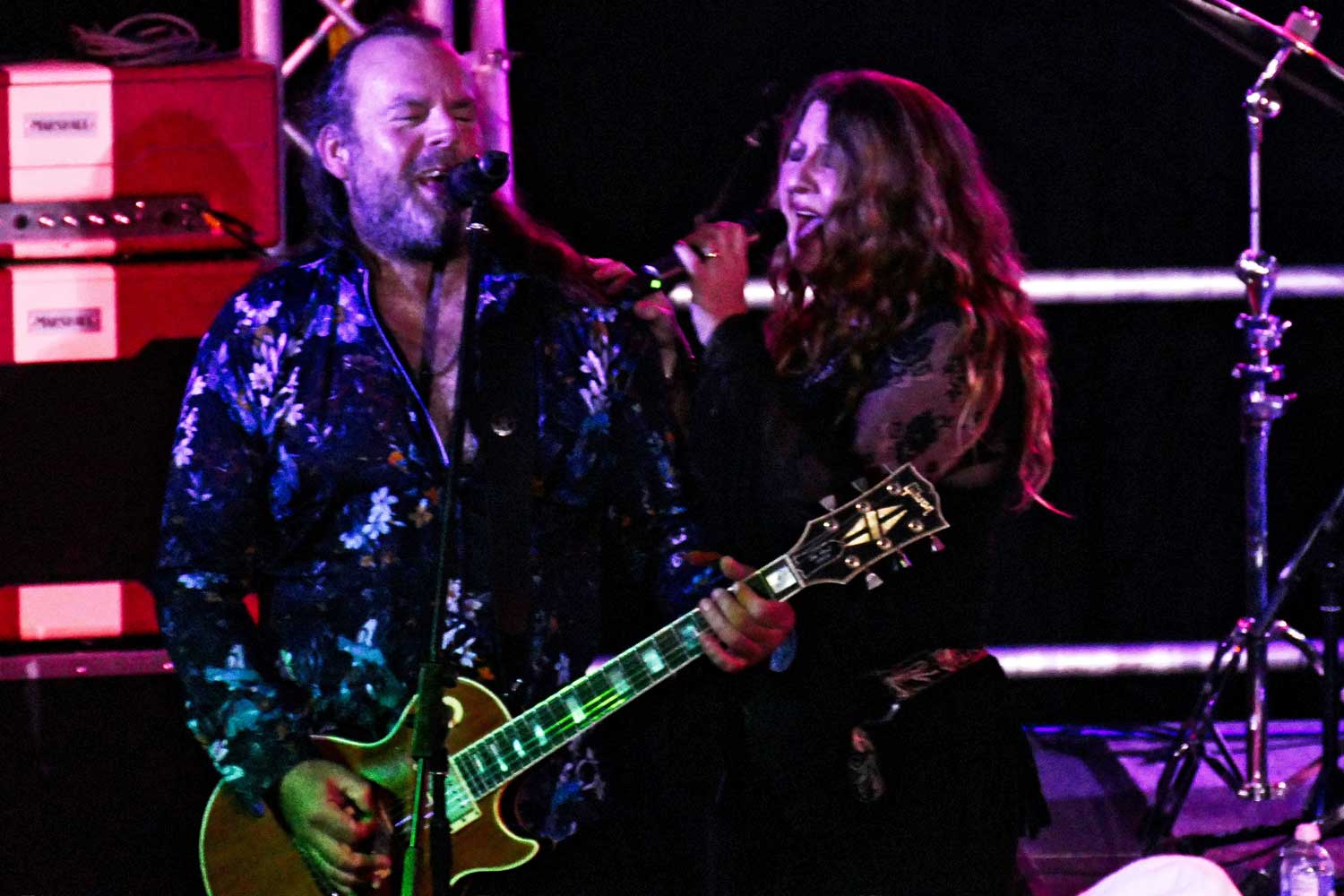 Deborah Bonham by David Cunningham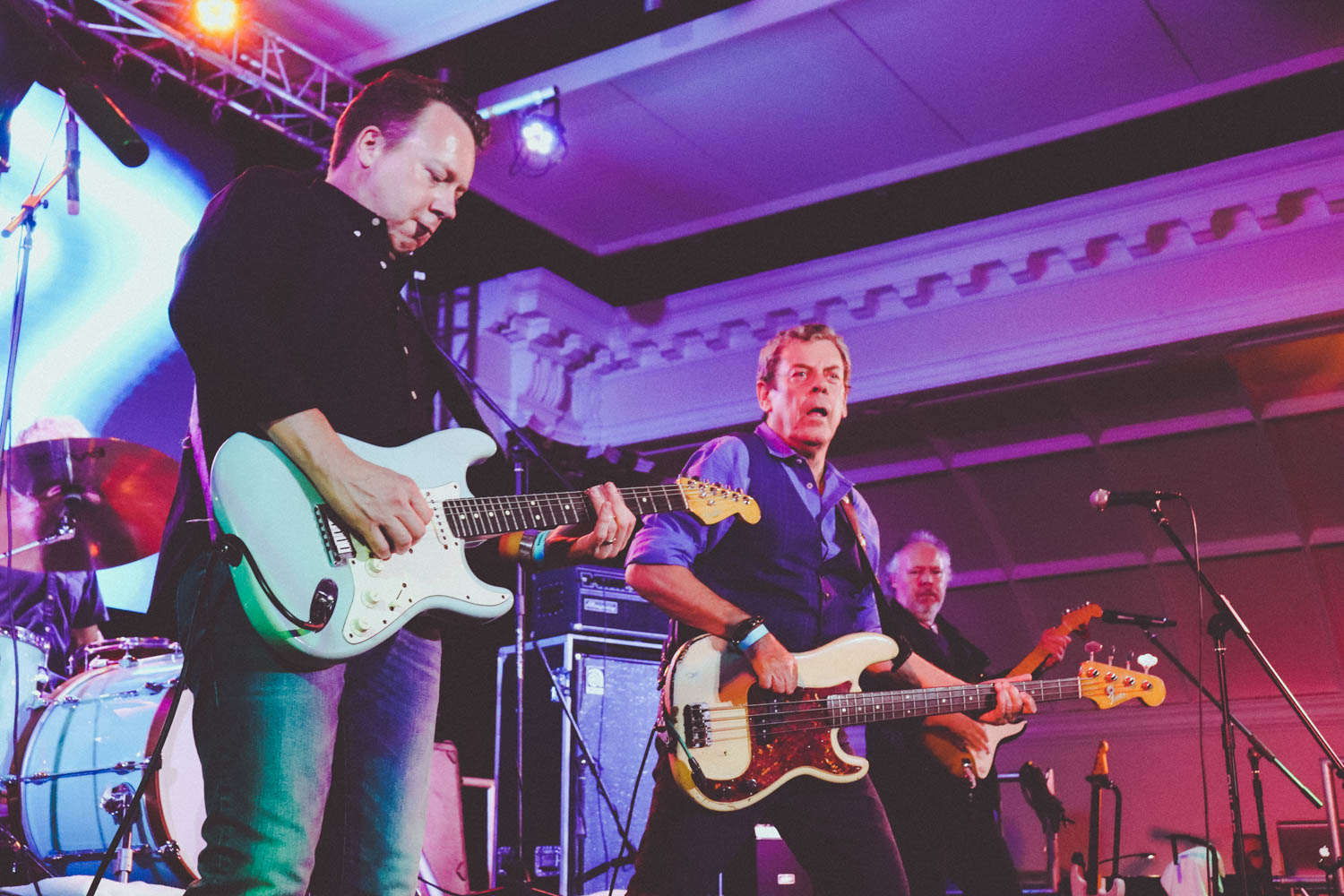 Last act for the Saturday night was Band Of Friends led by the outstanding blues rock legend Gerry McAvoy of Rory Gallagher Band fame. This was seamless and timeless blues rock as it should be played.
He had Brendan O'Neill on drums, Paul Rose on guitar and Jim Kirkpatrick on vocals and guitar, his performance was superb, you shut your eyes and Rory was in the room, he is that good but full band just gave it their all throughout this blistering set. Messing with The Kid started proceedings and the professionalism kept on pouring out of a sweat laden band by the finish of the set. The three guitarists strutted duelled and just loved playing to the audience. Shadow Play was a highlight amongst many, and the dancefloor was heaving with excitement to the tones of Bad Penny which had a reggae twist at one point. Million Miles Away was just mesmerising and final track Bullfrog Blues, was just phenomenal, leaving the crowd wanting more. Gerry played his heart out and the musicianship was just first class, perfect ending to a Saturday night.
Only it wasn't as there was a jam session after midnight in the Hotel. This was orchestrated by Christian Sharpe and the backing band was Redfish with a little help from The Cinelli Brothers they played until the wee hours of the morning to a small and appreciative audience, a chance for the artists to let their hair down and party on.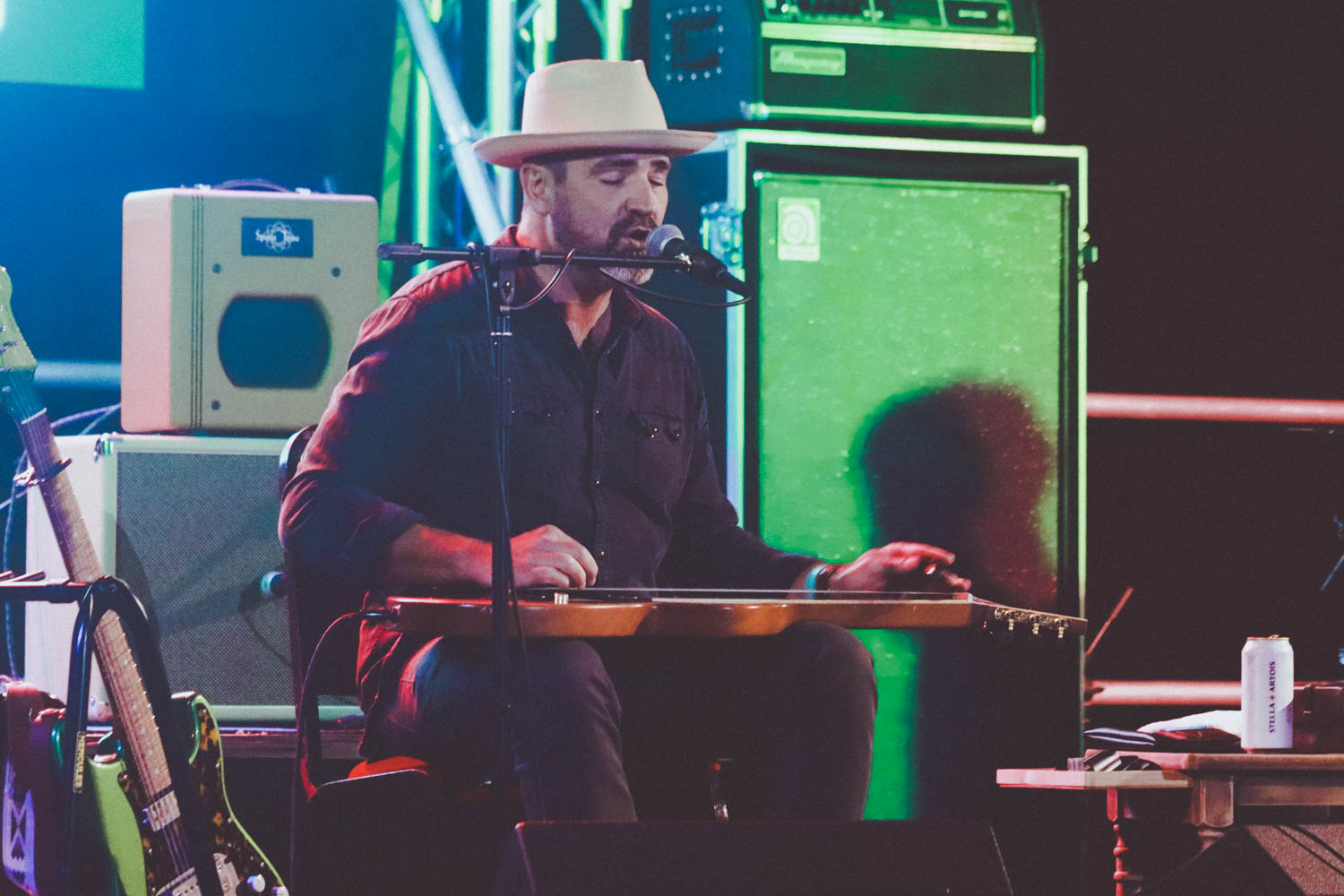 After a late night it was time to get along to the Crown and Mitre for the third and final day of this excellent Festival and what a line up there was!
The Dusk Brothers started things off and what a start. They let rip into Rum River from their e.p. Storms, Rum, Liars and Guns. They have a weird dark swampy blues tone and hail from the Bristol Delta. Gray and Iain Moncrieff are a two-man band playing all types of instruments including oil drum percussion with cowbell keeping a loud stomping motion throughout the set and various guitars all self-built apparently a real DIY blues outfit who raced through the set list. The Damage done being a particular highlight along with This Is Hell and final song I Became King. Rough deep vocals meet dirty slide blues, a great duo with fine harmonies, they gave a wonderful gritty honest performance, a wonderful opening act.
Martin Harley & Band were next on stage. Hard to believe but Martin has been writing and performing music for two decades. He delves into roots music that is steeped in the blues tradition and his slide playing on lap steel guitar is just jaw dropping at times. He had a three piece with him, Molly on guitar and keyboards, Harry on drums, Martin on lead vocals and guitar. Bass guitarist Mike later joined them. Together they played some fine tunes, mostly from Martin's newest release Roll With The Punches. The opener was, Feet Don't Fail Me Now, a mellow bluesy start. One Horse Town was well received by the audience. There was a countrified ballad, Margurite. Then the stunning sweet tune Blues At My Window which grew to a crescendo. Similar tones noted on Nobody's Fault but Mine, the vocals here were particularly well delivered. Roll With The Punches was played with vigour and expertise, great beat and rhythm, another superb set of tunes.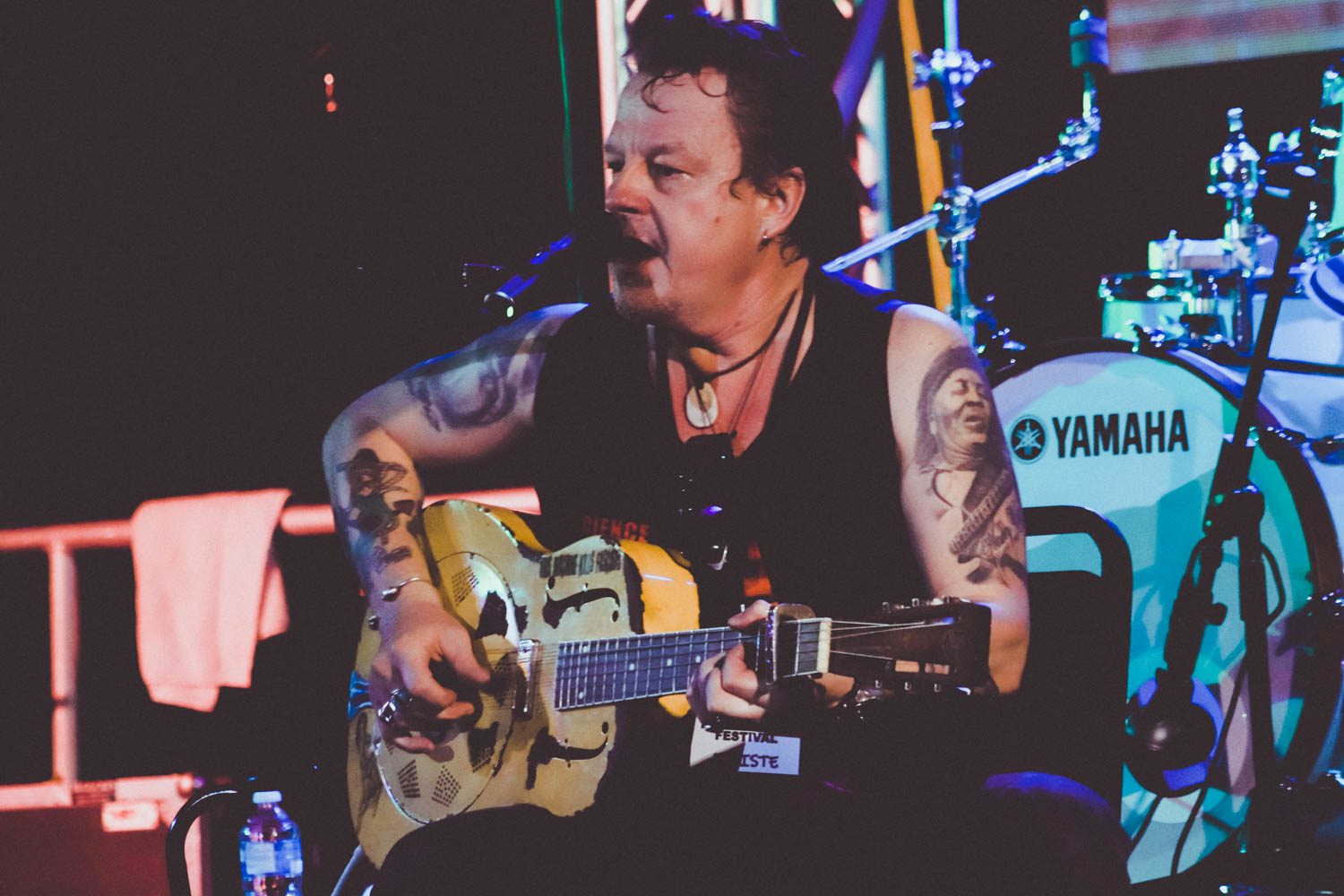 Well, it would not be a blues festival without the wonderful Ian Siegal who came on stage with his guitars and a glass of red wine. Like that beverage his stage presence and musical range matures with every year that passes, he remains a true UK blues legend. His vocal range and guitar style change with every song and here he showcased some new ones he has been working on with his friend Jimbo Mathus.
He took it to the Church with the opener Hand In Hand one of the new collaborative tunes. I Am the Train just flowed well and is so suited for his vocal range. Another new song followed, The Shit, then a cover of Charlie Patton's Pony Blues. Mary Don't You Weep kept the audience rapt. Then it was into an acapella type rendering of John The Revelator. Preaching' Blues followed. Then the wry tones of Talkin' Overseas Pirate Blues. Then KKs Blues another new one. The Fear was delivered with great emotion. Gallo Del Cielo is always a favourite.
Then there was an Eagles song which he introduced with humour. He stripped this to its bones, it was mesmeric. I'll Fly Away was beautifully played and sung. Then it was last song time, Honky Tonk Woman dedicated to Charlie Watts, played acoustically this took the song to a different level. Superb set praiseworthy, standing ovation, wonderful entertainer.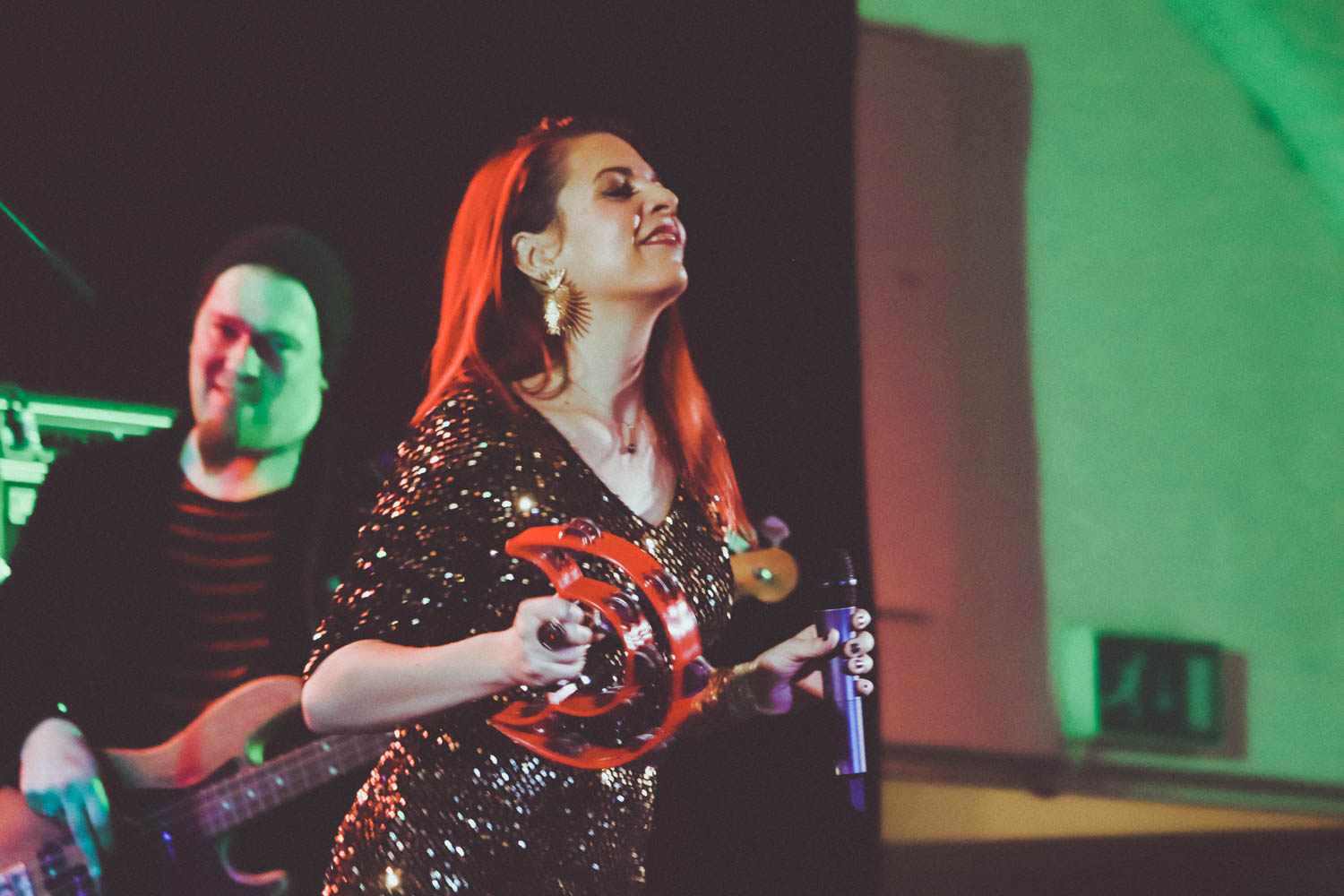 After a short break it was time for The Blues Caravan to park on stage. This is the fifteenth year of this collaboration introducing acts from the Ruf record label. Tonight, saw Whitney Shay vocalist, Jeremiah Johnson guitarist and Ryan Perry guitarist exhibit their collective blues infused brand of musical styles. Also, on stage was To Meeh on bass guitar and the amazing drummer, Denis Palatin. This was a brilliant show by three headline people on top of their game.
They played in Switzerland the night before and they were extremely tired on arrival at the venue but WOW when they hit the stage it was just electrifying. The first number was an introduction, Let's Work Together, a rousing number to get things started. Ryan Perry took the front stage with three songs next, Oh No, Evil Is going On and the ode to an old flame of his, High Risk, Low Reward.
His vocals were smooth and resonating just like his powerful sweet guitar playing, some of the guitar licks were phenomenal and full of emotion. Whitney just sprang onto the stage with vigour and excitement and a stunning sequined mini-skirt and tambourine. She belted out the title track of her newest album Stand Up which she managed to get most people in the assembled audience to do! Love's Creeping Up On You gave her a time to breath before another upbeat tune, Boy sit Down. Then she let loose again with Get down With It, she spreads love everywhere she goes, just an incredibly positive person who loves singing and the stage is her environment. Jeremiah rocked out with three stunning tunes, Daddy's Going out Tonight, Ecstasy and the rocky blues tune, Muddy black Water, vocally superb and what a guitar slinger. They all joined forces for the last few tunes with a funky take on Serve Somebody, they also played Cherry red Wine. A tonic for these uncertain times, this band just nailed an impressive performance which will stay in the attendee's memory banks for years, blues music punctuated throughout, just sublime.
Well, it comes to the last act to close what was a terrific weekend of music. Jimmy Carpenter, the world famous "Soul Doctor" award-winning saxophone player and organiser of The Blues Bender at Las Vegas took to the stage with UK based backing group Blues Move, comprising Mike Hellier on drums, Stephen Wright on lead guitar, Jools Grudgings on keyboards and Sam Skirrow on bass guitar.
They served up an up-tempo set full of rhythm, blues, and soul tunes of the highest standard of calibre. Wild Streak was the opener and Jimmy had the Hall bouncing to a groove that is so infectious you must move to the beat. Soul Doctor the title track from his newest album followed this. A highlight truly was, I Need Your Love So Bad with such wonderful guitar tones. Jimmy got to grips with a classic Otis clay tune next, Trying To Live My Life. Wrong Turn was a great tune raising the tempo. Jimmy played guitar as well on a couple of tracks, but it was his saxophone playing and interplay with Stephen on guitar that really got the crowd going, especially on Homework. Last song saw everyone in the band and audience joining on the rolling Stones number Shine A Light which was amazing and a song full of hope and community feel, something this Festival keeps exuding year after year. A great weekend let us hope we can all do it again next year!
The last words come from Jimmy Carpenter "I cannot think of a better way to wrap up my UK tour than playing Carlisle Blues Festival! A mighty crowd for the last set of the weekend, all up dancing and smiles all around. Great sound, lights and hospitality, thank you Carlisle."