BAD TOUCH LOCKDOWN THE GROOVES by STEVE YOURGLIVCH
Most of the world might be surviving in lockdown but Norfolk based rock revivalists Bad Touch are flourishing. They have just released Kiss The Sky, an album full of high energy, feel-good tunes designed to lift the spirits and get everyone into party mode.
Not content with that, a punchy new radio remix version of the old Kiki Dee classic I've Got The Music In Me is shaking its way across the airwaves. Produced by Grammy-nominated Romesh Dodangoda it's destined to be at the top of the rock radio playlists. Extensive tour dates have been rearranged for April 2021 and the band remain positive and upbeat as I found out from lead singer Stevie Westwood.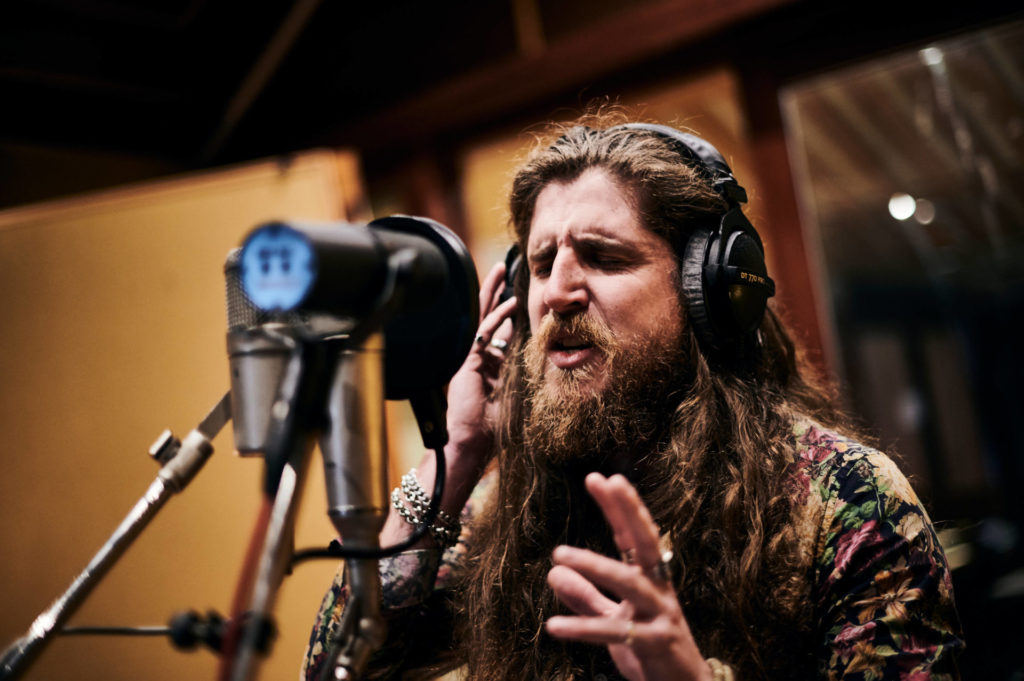 Hiya Stevie, how are doing?
OK, thanks. Good to catch up again.
I've been listening to the new album, Kiss The Sky. It's really good, really rocky and a feel-good party vibe going on.
Thanks, man. We think so, you know that's what this band is all about. That's what we wanted to get across.
And you got to record it at Rockfield Studios, how cool is that?
It was amazing, such a feeling and sense of history. To be honest, before we got there I hadn't fully appreciated how much great music had been recorded there but the longer we were there the more we absorbed the energy of the place. And we felt comfortable there with it being remote, you know we all live in rural areas anyway.
That energy certainly comes across, I think this time you've captured the live power the band has on stage.
I hope so, that's what we were after. Nick Brine the producer did a great job getting the best out of us and Pete Mahar mastered it brilliantly.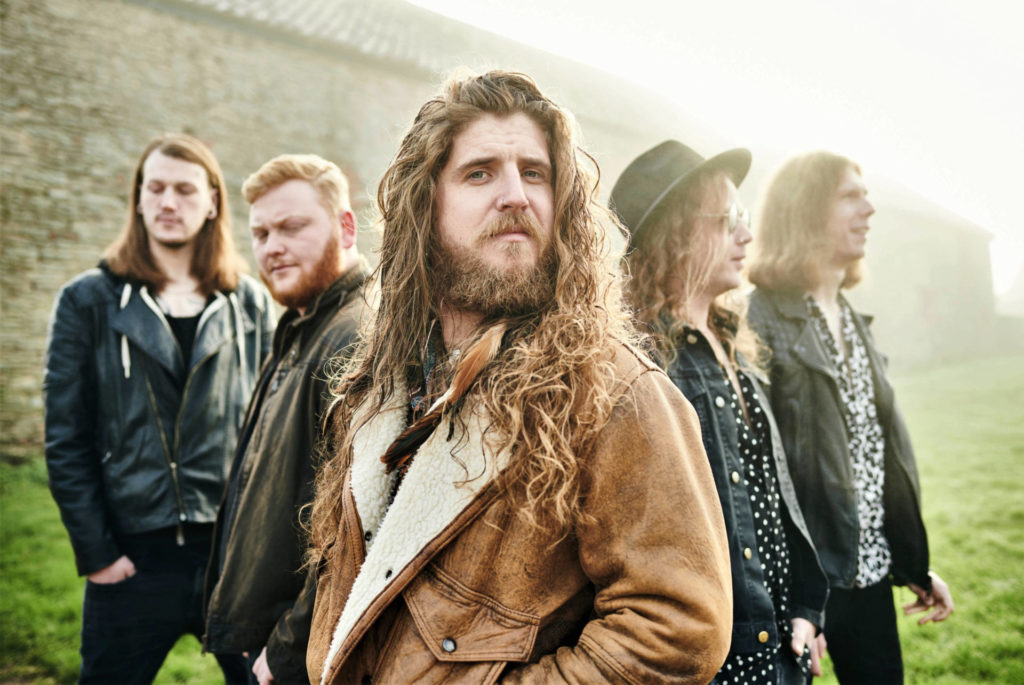 Let's talk about some of the tracks. Opener 'Come A Little Closer' puts down a marker for the whole album, it's bluesy, rootsy with a 70's rock vibe and a big sing-a-long chorus.
You know it's us from the get-go. It sorta pays homage to our blues-rock roots. We all love those bands like Zeppelin and Bad Company.
The second track 'I Get High' is quite Bad Co I thought.
Yeah, definitely and the guitar solos really take it someplace else.
I love that you've covered 'I Got The Music In Me'.
It's a banging track, we all love it. We wanted to take it to new levels of energy and dirty it up a little. And we have a remix version coming out that rocks it even more!
Although there is a lot of instantly recognisable Bad Touch music here there are also some beautiful tracks that show how the band is gaining maturity and confidence, I'm thinking of tracks like 'Can You Save Me and Before I Die'.
You're right, and we want to continue to push forwards without losing what we will always be about. 'Can You Save Me' is about feeling unfulfilled, and is a bit retrospective in feeling. 'Before I Die' came about because we were messing around with a loop pedal. It's inspired a bit by bands like Temperance Movement, you know a heavy dirtier groove and lyrics.
One of my favourite tracks is 'Sun And The Moon'.
We all love that one too, it's one of the band's favourites to play. We love bands like Magpie Salute and Black Crowes and we wanted that bluesy countryish feel. We don't really do politics but it is a call to arms for the young people of today to pull together and make the world better.
I'm glad you are putting the album out regardless of the present pandemic situation. It must feel strange not to go out and be promoting it live. Was it a hard decision to make?
Not really, it was a decision based on the fact that the album was recorded and the momentum was there. Of course, we miss playing live, that's really where we are most at home, on stage. But the good news is that we will be back out there when we can and we can't wait to play these tunes for everyone. The new dates have just been confirmed and we hit the road on 7th April 2021 kicking off with a home show at Norwich Waterfront and then we're all over the country up until the 23rd with only a one-day break.
Good luck with it all Stevie, give my regards to the other guys and I'll certainly be there for that first gig.
I will do, thanks for the call.
For More Info – Bad Touch
Bad Touch's new album "Kiss The Sky" is released by Marshall Records and is available to order from https://fanlink.to/badtouch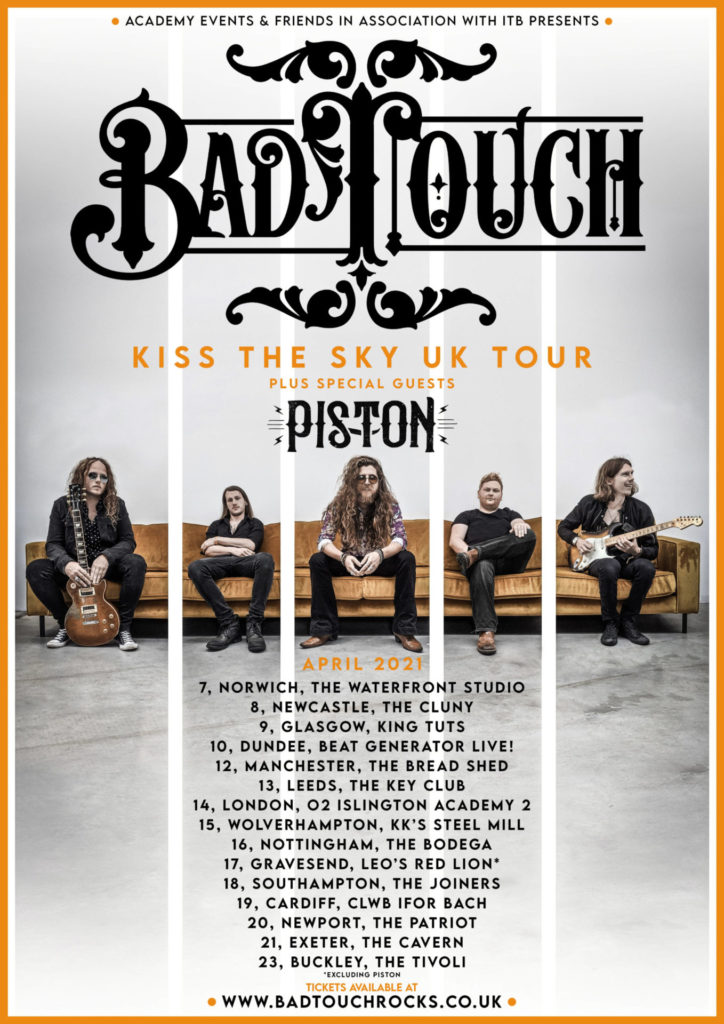 ---