Podcast: "Blues In The Night" stars interviewed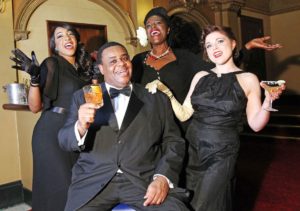 The Hackney Empire is a beautiful theatre. Blues in the Night is a beautiful show. The musical draws on a songbook of classic songs to reflect the life experiences of a group of people in Chicago when the Blues was as hot as the band on the stage with the players. There is a shedload of great songs. The witty choreography is built around a couple of dancers adding to the already entertaining visuals of the show. Like stage musicals? Go and see this one. Like a night of great music? Go and enjoy the night.
Now In Focus speaks with two of the stars of the show, in the wings of the very stage they had only just left. First, Clive Rowe. Clive, "the man", talks about the what the musical and the Hackney Empire mean to him. He also provides a delightful taste of one of the songs from the show. Clive is followed by Sharon D. Clarke, whose "woman" is a big, sassy, sexy and strident character. Your intrepid interviewer attempts to woo "the woman" and you can find out how he got on. Sharon refers to 'Kitchen Man', one of the very best songs you could ever hear.
Find more information about "Blues in the Night" at the Hackney Empire here:
www.hackneyempire.co.uk/3451/shows/blues-in-the-night.html
The equipment for this podcast is sponsored by Chelsfield Motor Works.