Advertisements

Singer, songwriter, guitarist, and Gibson brand ambassador Jared James Nichols has announced a rare one-off concert in London at The Black Heart on Wednesday 22 February 2023.
Jared's special guests are Bad Luck Friday featuring vocalist and the UK's leading harp player, Will Wilde.
"The one aspect that really excites me about music is live performance," says Nichols. "I live to be in the moment on stage, playing music and connecting with the listener. When it was time to make my latest record, that was the biggest goal for me. I wanted to BE the music, take the listener on a sonic journey, and ultimately put my stamp as an artist to record. I cannot wait to tour this album, what you hear on record is exactly what you'll get in the flesh. These songs were made to be played live and played loud!"
The London concert follows hot on the heels of Jared's forthcoming third full-length album, the self-titled Jared James Nichols, released January 13th via Black Hill Records. The album features the singles Down The Drain and Hard Wired.
Advertisements

The new album showcases every side of the Nashville-based multi-talent and the various genres he grew up listening to, whether it was grunge or blues, that have influenced his authentic sound.
"I made a record to serve as the menu for the live show," Nichols shares. "There's an element of excitement and danger. It's my version of rock 'n' roll with a little more humanity. The album is a day in the life with the ups and downs, but it musically rings true to who I am as an artist. I'm not trying to be anybody but myself and play the music I love for today. I'm giving you loud ass guitars and no fucks given rock 'n' roll, and I'm loving it."
Nichols released the lead single "Down The Drain" in late October 2022. The hard-hitting track has already been praised by Guitar World, Total Guitar, Guitar Player, Guitarist, Fireworks, Powerplayand Classic Rock, among others, and has been featured across DSP playlists with placements on Tidal's Guitar Gods (as the cover artist) and Rising: Indie/Rock, Spotify's Modern Blues Rock, and Apple Music's New In Rock and Breaking Hard Rock.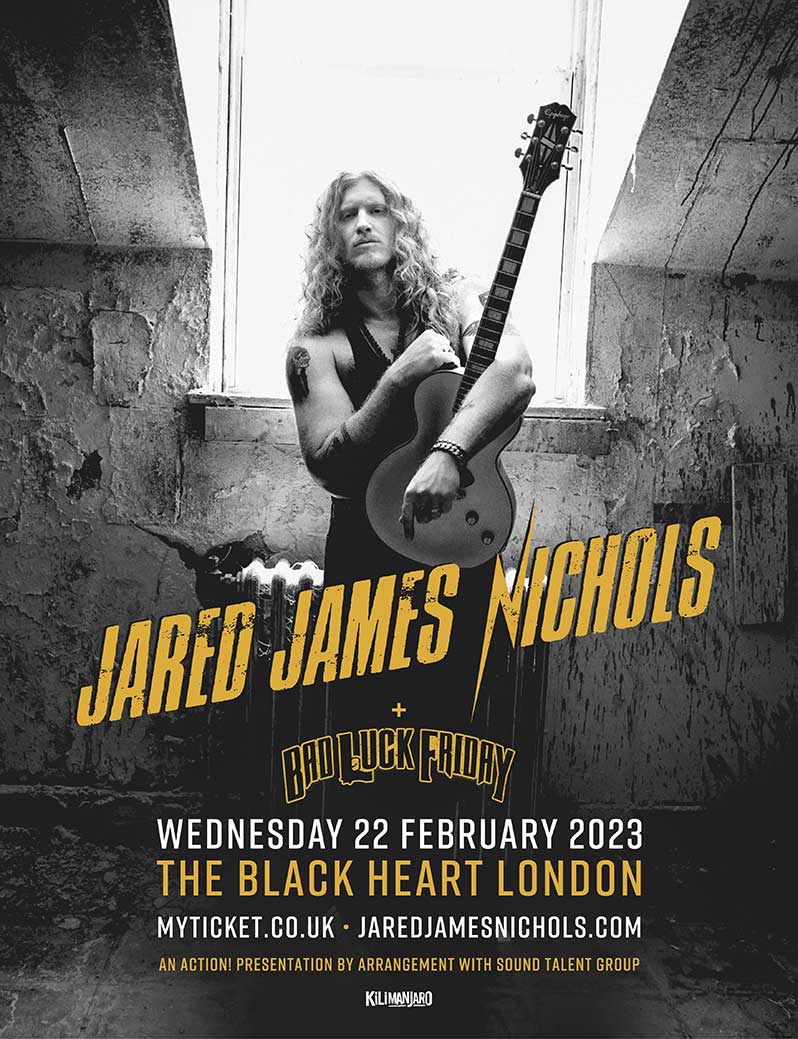 LIVE AT LONDON'S THE BLACK HEART
WEDNESDAY 22ND FEBRUARY 2023