Managing The Mentulls – July 2013
You'd think that managing a band called The Mentulls might be pretty demanding. Keith Pipe is that manager and he is also the father of two of the trio in the band. Keith has been masterminding the rise of this Blues teenage rampage since they started out and has had the band share stages with many highly respected acts. The twice British Blues Awards-nominated band is at it again in the next few weeks with slots including at the Wrinkly Rockers Club Bluesfest and Real Ale Festival in Gravesend on 24th August – see www.wrinklyrockersclub.co.uk/Bluesfest-2013.html. There they will be supporting Blues blaster Larry Miller and alongside other impressive acts including vocal giant Nicky Moore with Danny Kyle, Absolution, The Dave Jackson Band, and Blues Boogie Machine Andy Twyman. Yes, that is the Larry Miller who has been described by Guitar World as "sensational" and as "A Blues Rock Powerhouse" by The Guardian.
Now, over to Keith….
Progress!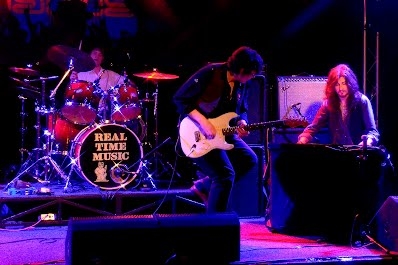 "Time Flies is not only the name of the latest studio album by The Mentulls, but it is something that describes the last couple of years since the band entered onto the blues rock club scene. It's been a very exciting period since The Mentulls supported Chantel McGregor at The Guisborough R & B Club in March 2011. Since that milestone the band have shared the same stage with the likes of Wishbone Ash, Focus, Dr. Feelgood, Oil Brown, King King and others."
"In terms of a geographical coverage the band has played from Scotland down to London and into The Netherlands, playing to new venues and audiences. Festivals played include Hebden Bridge Blues, Skegness Rock & Blues, Newark Blues and Maryport Blues."
"September 2012 saw the band's 3rd studio album released which received rave reviews including a 5 out of 5 star rating from top London music promoter, Pete Feenstra. In January this year the band travelled to The Netherlands for a short tour with classic rock giants Wishbone Ash certainly the highlight so far in the bands short career. As a result of this success, guitarist Andrew Pipe has been nominated in the 'Young Artist' category by the British Blues Awards in 2012 and 2013."
Learned along the way
"Don't judge a book by it's cover is an old saying. We have found that when we least expect a gig to be great it sometime works out to be of the best, and vice versa."
"We have found that people generally judge us differently once they have seen us play live and that we are not just a band full of young kids."
"Supporting big bands has enabled us to listen, watch and learn from what they are doing and to see how professional they are."
Latest News:
"For those who have seen the band play recently they will have listened to some new songs which will feature on the new studio album. The recording studios in Clitheroe have been booked for next April and release is due in the Autumn of 2014. There about 10 dates for the Autumn tour already confirmed with a few more to be announced. These are mainly supports to named bands in either large sized venues or in parts of the UK not played before. Plans are in place to do some more dates in Europe for 2014."
And finally, we asked for a few anecdotes from a band that has already supported so many classy acts:
"To start with, I will obey the old saying that 'what is said in the dressing room, stays in the dressing room'!! Having said that, The Mentulls have had some great times supporting big names such as Focus and Wishbone Ash both in the UK and Europe. The guys in these bands are stars in their own right but there are no egos and they are all very approachable and friendly and are happy to give advice and even the odd story."
"A couple of interesting things come to mind, we shared the same dressing room with Focus in London recently and their bass guitarist had his sleep disturbed every time we opened or closed the squeaky dressing room door, but he saw the funny side to it thankfully. A Scottish venue had, by mistake, put The Mentulls as headline and Wishbone Ash as support on the posters outside the venue, which was nothing to do with us!!"
"One thing we have noticed behind the stage and in the dressing rooms is that it's fairly quiet and sedate with no raging parties, so sex and drugs and rock and roll it ain't!!"
Keith Pipe
Manager, The Mentulls
Links:
The Mentulls https://sites.google.com/site/thementulls/home
Larry Miller www.larrymiller.co.uk/index.htm
Kyle & Moore www.kyleandmoore.com/Kyle_And_Moore/Home.html
Absolution http://absolution.wix.com/absolution
The Dave Jackson Band http://davejacksonband.wix.com/djblues
Andy Twyman http://andytwyman.com
Wrinkly Rockers Club Bluesfest www.wrinklyrockersclub.co.uk/Bluesfest-2013.html
Pete Feenstra www.feenstra.co.uk
British Blues Awards http://britishbluesawards.com