Krossborder Rekords Kompilation VOL 1 is to be the Independent Blues Broadcasters' Association Album of The Month for January 2014!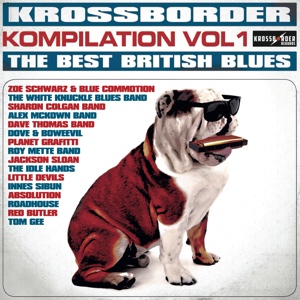 Released via Proper Distribution, this is the first release from a new label formed by Blues Matters magazine founder Alan Pearce, along with Jenny Hughes, James Soars and Dave Thomas and the four of us are thrilled that our first release has achieved such an accolade. Volume 1 showkases just some of the outstanding British Blues acts that are kurrently plying their wares up and down the UK. There will be further volumes released; in fact Vol 2 is very close to being full already.
Krossborder as a label believe in quality as being the main priority. All the artists that they feature on the label will be expected to produce good quality original material. The sixteen acts on Kompilation Vol.1 inklude artists such as Roadhouse, Planet Graffiti, The White Knuckle Blues Band, Red Butler, Little Devils and many more.
We are all looking forward to 2014 and to the release of Kompilation Vol 2 along with new releases from more of the UK's eclectic Blues/roots artists.