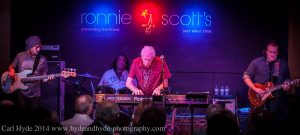 On 26th November 2014, John Mayall played Ronnie Scott's Jazz Club, part of  a two night, four show residency. The famous venue has been rolling out some great Blues this year, with the regular band, Ronnie Scott's Blues Explosion, and appearances by Mud Morganfield and The Original Blues Brothers Band. John brought with him as stellar a past and as strong a performance on the night as any of his predecessors.
This, though, was only John Mayall's second set of dates at Ronnie's, having appeared there for the first time just in 2013.
It is easy to summarise the set that John and his band served up for the first house of the night, in two words: most excellent. John Mayall's brand of Anglicized Chicago Blues, his weaving of a long song to a tremendous crescendo, his ability to play the organ while with the other hand making great harmonica music, is undimmed. So, too, is his evident pleasure in playing and pleasing an audience, nearly sixty years into his career. The audience were pleased, a diner noticeably tapping out time during 'You Know That You Love Me' with his knife and fork, and ignoring his salmon to do so. Tracks like 'Dirty Water' and 'Parchman Farm' were so good they too endangered the dining experience.
Jay Davenport's drumming was just right, showing a rare feathery lightness of touch, Greg Rzab on bass showed why he has performed with a long procession of legends, and Rocky Athas held his own as the latest in the succession of guitar maestros to appear with John Mayall.
We managed a brief chat with Greg Rzab between sittings, which can be listened to here.
The band played a real fast blast of a song in 'Speak Of The Devil' from the well-named new album, 'A Special Life' and the title track was nothing short of beautiful. Tracks such as 'Mail Order Mystics' were played with aplomb, but one that really stood out was, as John said, "dedicated to anyone who can remember the Flamingo Club."  'Blues For The Lost Days' is a remarkable slower Blues. 'Not At Home' featured a particularly fine, dreamy guitar solo by Rocky.
A word of praise for the support that led off the night, The Nigel Price Trio. The trio rolled out some well-judged Jazz, at times showing clearly the links between Jazz and Blues, especially when, on one number, Nigel announced, "We're going to do a good old-fashioned Blues on this one." Their rendition of Sister Sadie was particularly entertaining.
Even so, this was a night that belonged to a Bluesbreaker, and his latest line-up.