Advertisements

Well; three years since Joe Bonamassa and his band played Scotland and yes, a lot has happened since then, as touring musicians know by now. This band are no different and even being "Jetlagged to fuck" (Joe's words onstage) they put on a phenomenal concert peppered with tunes from his recent two releases, Time Clocks and Royal Tea and some well road-tested tunes along the way.
Words: Colin Campbell    Pictures: Gary Cooper
Simply this was a jaw-droppingly slick performance by one of the world's best guitarists and backed by an astoundingly talented band who all got the chance to highlight their talents. Whether it was Reese Wynans wonderful keyboard playing especially on songs like, Just Cos You Can or Josh Smith scintillating rhythm guitar licks on Ballad Of John Henry or the continued backbeat of Greg Morrow on drums on I Didn't Think She Would Do It ably assisted on bass guitar Steve Mackey. Special mention should also go to the backing singers; Jade MacRae who raised the roof with a primal scream on Ballad Of John Henry, one of the highlight tunes, with Dani De Andrea duetting through many other songs.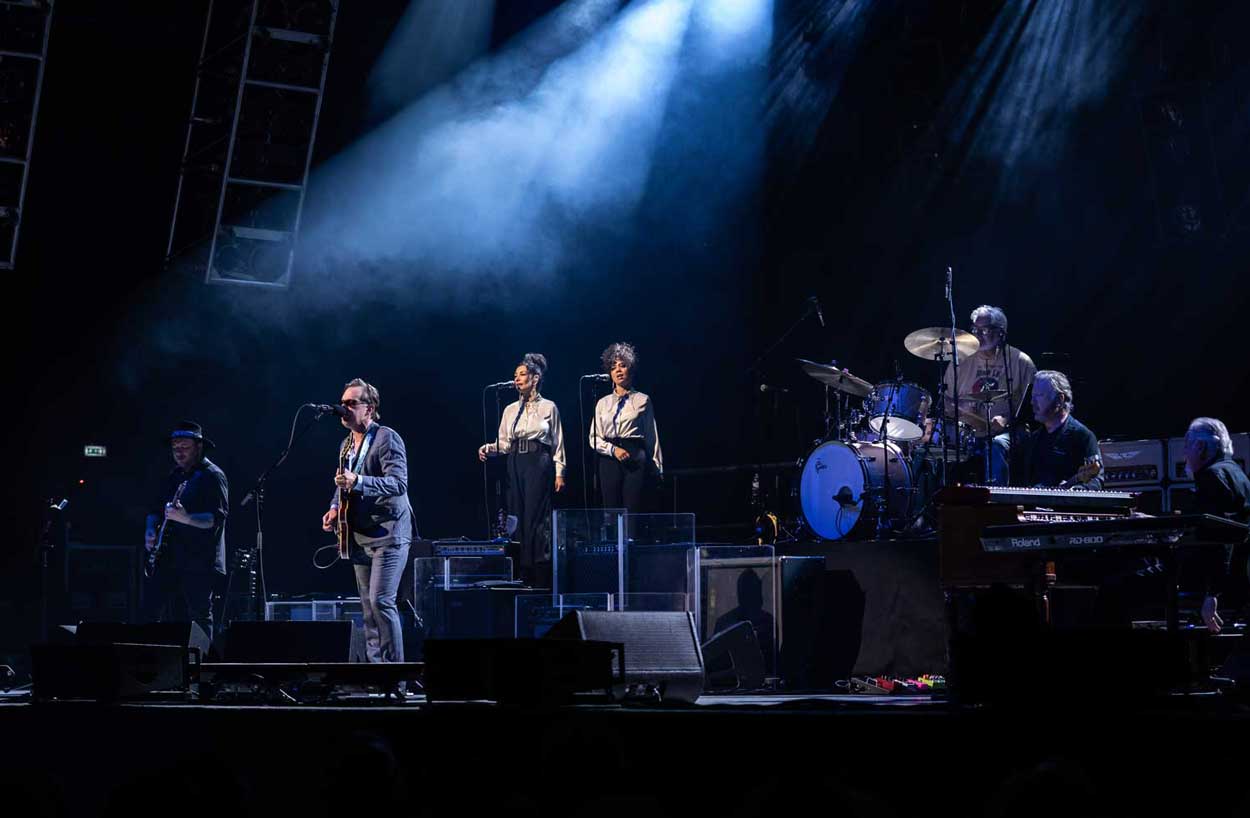 The stage was in darkness before the band took their places, the underture to this amazing event was the tune Welcome Back by John Sebastian. Then as soon as that finished, the band exploded with force on the opener from his Redemption release, Evil Mama which just set the tone for an entertaining night of blistering music, this really focused on all musicians taking their part. The sound throughout was crisp and loud, the acoustics in this venue are second to none. Joe Bonamassa wore a grey sharp suit and sunglasses throughout performance, he filled the stage, moving to all sides during the night, his guitar playing, and phrasing was excellent. There were a lot of times when a tune would develop into a jamming session on stage, sucking the rapt audience into listening to every note. Dustbowl had a mellow feel and accentuated the fact that Joe's vocal range have improved with the passing years also. His guitar solos soared and filled the auditorium throughout the set even in the quietest moments, this crowd were a listening audience and the connection with the band was palpable and really gave a feeling of togetherness, this is what live music is all about.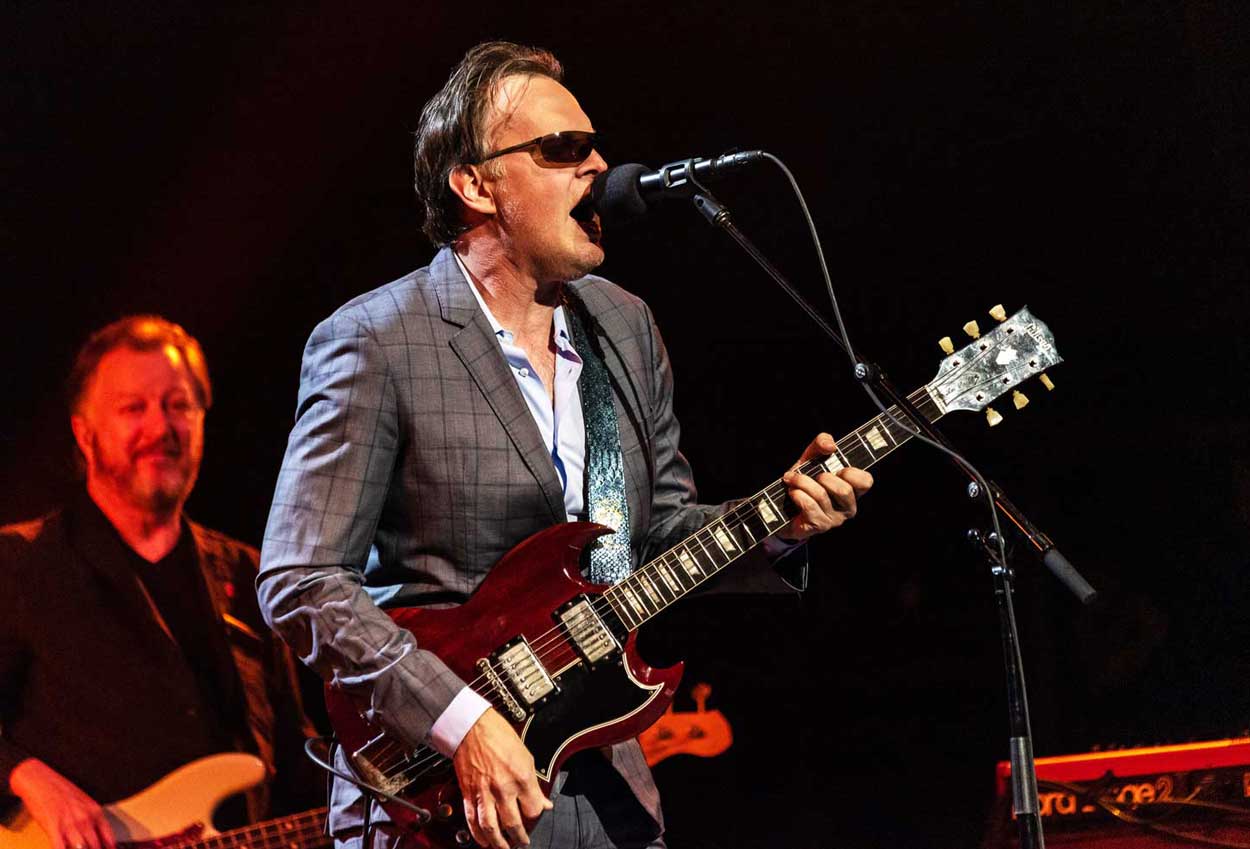 The songs just segued into each other as the band got into their stride with Love Ain't A Love Song, the rhythm section taking this to another level. Tempo changed to pure melodic blues tones on Midnight Blues, a homage to Gary Moore full of emotion, Joe can work an audience and make his guitar sing as noted on the howling effect to the finishing chords, who says Joe does not have a feel for the blues, this is a raw as it gets. First offering from Time Clocks was The Heart That Never Waits, pulsating beat meets well delivered vocals here in a stunning rendition and the ending saw Joe shredding great style, a masterpiece.
I Didn't Think She Would Do It was the first offering from Royal Tea, and it was phenomenal, full of power, pace, and panache areal crowd pleaser. Just Cos You Can Don't Mean You Should showed a band in full focus, especially the interplay between Joe and Josh's guitar work and Reese's keyboard, a stunning version. Pain And Sorrow had a wonderful bass line really powerful interpretation, at one point Joe was attacking his guitar in a frenzy of notes, mesmerising the rapt audience.
At this point Joe introduced the band and each got a rousing ovation, despite their jetlag!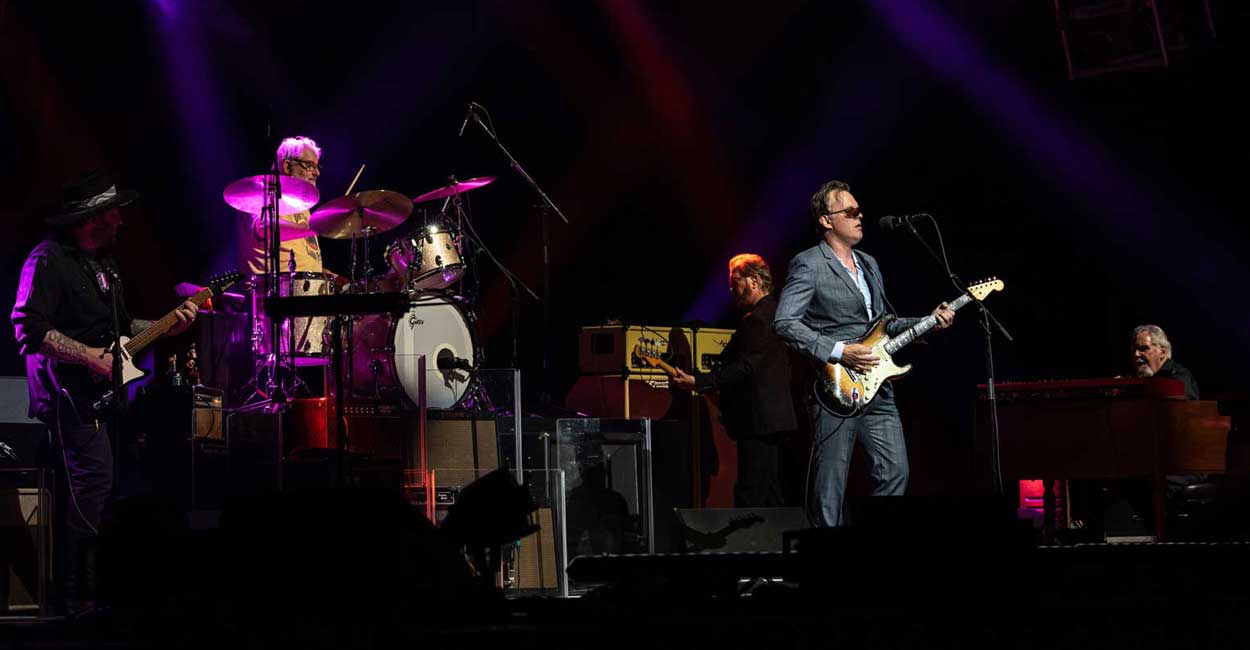 A particular favourite from Royal Tea was served next and what a delivery, A Conversation With Alice was just sensational, a soundscape of appreciation to blues rock with various other music styles intermixed. There is a definite homage to Pete Townsend during this song in this reviewer's humble opinion, but then there's even Southern rock twist also, just an amazing song played to perfection. Just when you thought the band may have peaked, they raised the roof with an outstanding delivery on Ballad Of John Henry, spine chilling moments through this triumphant song, so many layers to this, what a finale and the crowd went wild for this one. The sunglasses were off, indicating this was the final song, but there were more highlights to follow. The first encore saw Joe in the shadows playing acoustic guitar, his fretwork and technique throughout Woke Up Dreaming was just magical, these musical moments do not come round that often at any live event, but Joe just raised the bar with his outstanding guitar showcase, mere words are superfluous to describe how good this man's playing is. During the quiet phrases you could hear a pin drop in the audience, so transfixed they were. Always the complete performer Joe just loves a stage, he is the complete entertainer, no doubting.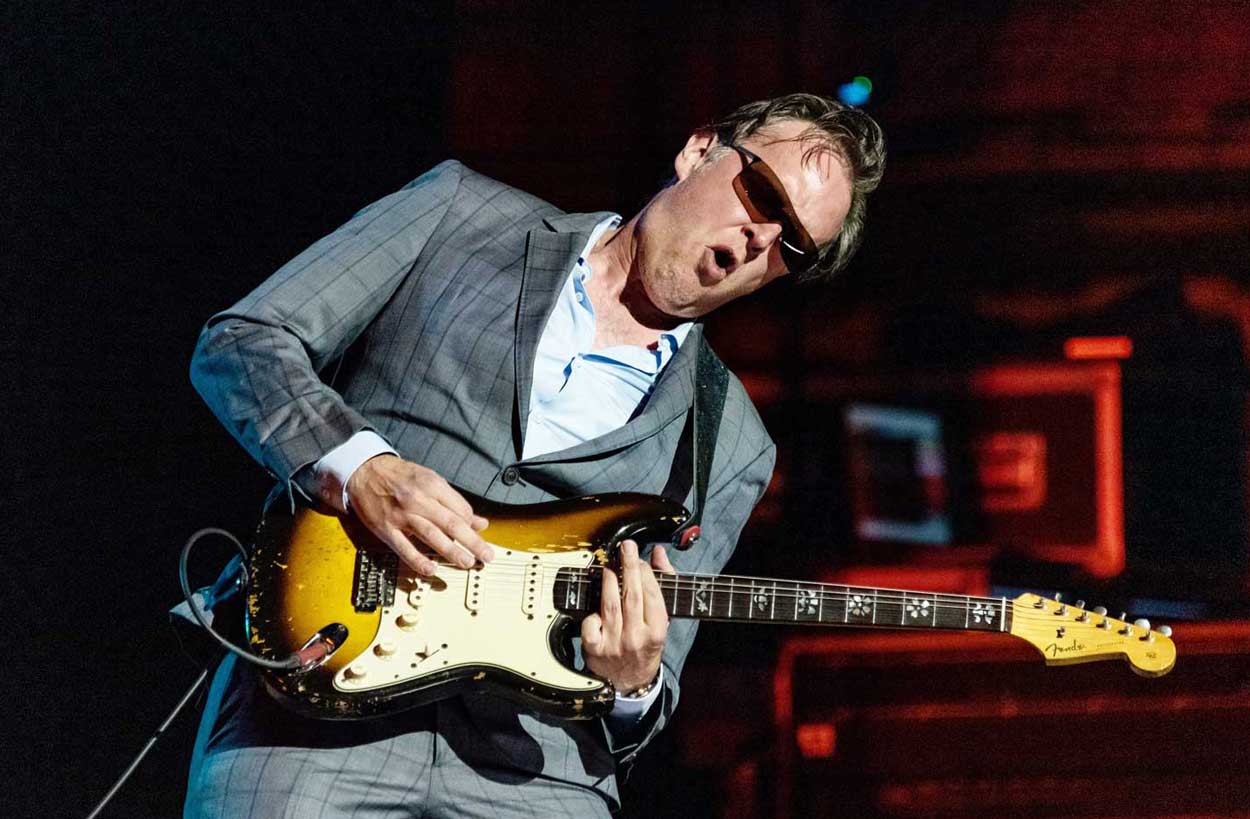 The band came back on, and Joe talked to the audience about what song do people most want to hear, well it had to be Sloe Gin. The lighting went purple adding to the ambiance on this extraordinary tune full of rhythm, emotion, and drive. A roller coaster of musical notation and a band that is the sum of all its parts, hard working yet enjoying every moment and every note they play. The crowd stood up as one at the end of this astounding performance. For a first show on this UK tour by a seriously jetlagged band this was amazing.
Set List:
Evil Mama
Dust Bowl
Love Ain't A Love Song
Midnight Blues
The Heart That Never Waits
I Didn't Think She Would Do It
Just Cuz You Can
Pain And Sorrow
A Conversation With Alice Lonely Boy
Ballad of John Henry
Encore:
Woke Up Dreaming
Sloe Gin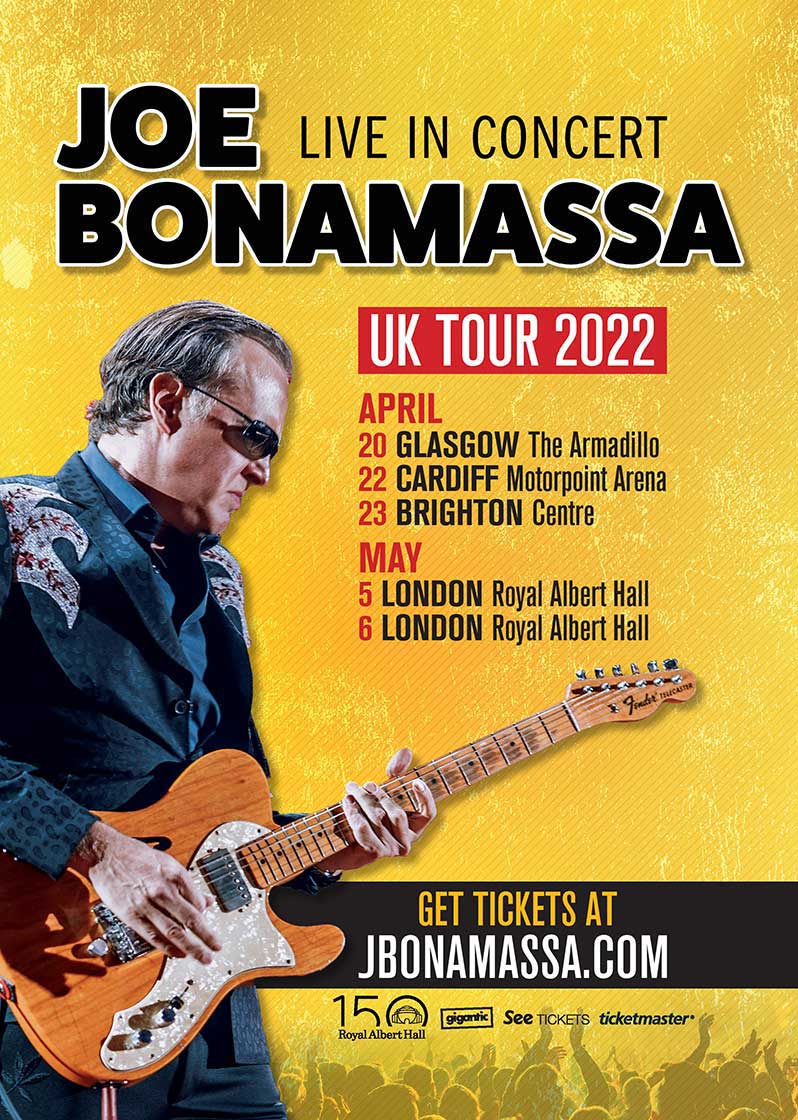 JOE BONAMASSA
April & MAY 2022 UK TOUR 
Glasgow Armadillo
Wednesday 20 April 2022
Cardiff Motorpoint Arena
Friday 22 April 2022
Brighton Centre
Saturday 23 April 2022
Royal Albert Hall, London
Thursday 5 May 2022
Royal Albert Hall, London
Friday 6 May 2022