Jared James Nichols is performing 3 intimate UK concerts this month. The first was at the
The Black Heart in Camden, North London, last night (Tuesday June 23) – see photos below. The others are Leeds Duck & Drake on Wednesday 24 June, and The Hobbit, Southampton on Thursday 25 June.
At the ripe age of 25, Nichols is fast coming a force to be reckoned with in the blues rock arena for his unique blues grit and gusto and bombastic arena-size rock 'n' roll. His guitar playing has been described by many as "raw, raucous and real". Nichols has opened for everyone from ZZ Top to Lynyrd Skynyrd.
Lynyrd Skynyrd's guitarist Gary Rossington was so impressed with Nichol's guitar playing, he invited him on stage to play lead guitar during Sweet Home Alabama, something they have never done before.
As soon as he got his first guitar at 14-years-old, the stage immediately called to Nichols. Maybe it had something to do with the fact that he grew up minutes away from The Alpine Valley Resort – where Stevie Ray Vaughan performed his last show. Nothing could predict just how adept at the six-string he would eventually become. He personally traces the beginning of his story back to a blues jam that his mother brought him to.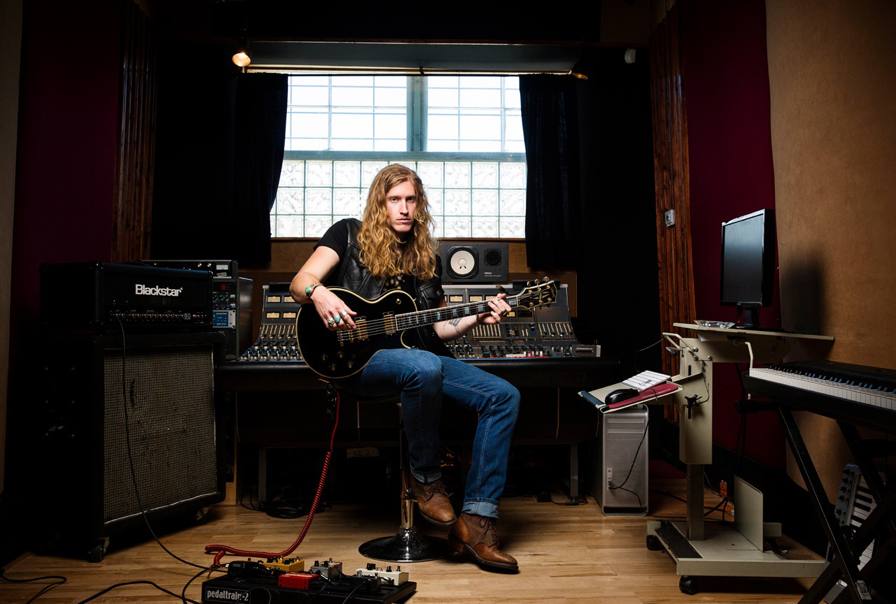 "Two weeks after I got an electric guitar, I was on stage with all of these old cats from Chicago playing the blues," he recalls with a smile. "The music immediately resonated with me. It was all about the feeling and the soul behind it. None of these guys were music nerds. They were true blues guys playing what they felt. That power and reality struck a chord in me."
Soon, he found himself practicing for twelve hours every day. Hitting up the local jams, he ended up sharing the stage with legends including Buddy Guy, "Honeyboy" Edwards, and "Big Jim" Johnson as well as opening for Kenny Wayne Shepherd and Derek Trucks.
2012 saw him release his debut EP, Live at the Viper Room, gaining the notice of both Guitar World and Guitar Player magazines and inking a deal with Sony/MTV's Hype Music Publishing. The groundwork was laid for what would become his debut album, Old Glory & The Wild Revival.
Teaming up with Aerosmith engineer Warren Huart, Jared began working on the tunes in early 2013. Honing his voice as a guitarist and songwriter, tracks like Let You Go radiates delta-style soul with the right amount of rock bravado, while Can You Feel It? is classic uptempo boogie that recently caught the attention of the UK's Planet Rock Radio.
In addition to Huart, the legendary record producer, Eddie Kramer (Jimi Hendrix, Led Zeppelin, Humble Pie) came aboard expanding the albums direction with explosive guitars and multi-layered vocals on Crazy and Haywire reminiscent of the best 70's Classic rock alumni. Jared explains, "Eddie helped me take my vocals to a new level, I didn't realize I could reach. He also taught me the importance of groove and how the rhythm section is critical to the sound."
Elsewhere on the album, Blackfoot charges forward with a riff as sharp as a tomahawk and a whole lot of spirit punctuated by Jessica Childress of The Voice's backing harmonies.
"In Wisconsin, I was surrounded by Indian reservations and culture," says Jared. "I'd do casino and reservation tours as a kid. When I wrote the song, I was reading about all of these badass tribes. I love that spirit and vibe inherent in Native American culture. The Blackfoot were truly bad motherfuckers. That lick is what I feel their culture represented."
On stage, it truly comes to life with his power trio rounded out by the Swedish born Rhythm Section of Erik Sandin (bass) and Dennis Holm (drums). Jared's presence becomes amplified with guitar in hand.
Audiences have experienced that everywhere from his performances at NAMM and SXSW to the iconic Sturgis Buffalo Chip Festival where he's played twice alongside ZZ Top, Lynyrd Skynyrd and Kid Rock and the Harley-Davidson 110th Anniversary in Milwaukee to his first venture across Europe and the UK this past summer.
Ultimately, Jared lives up to that idea of Revival in the album's title. "I want people to get excited," he concludes. "I want them to feel like anything is possible in this music. I want them to know great blues rock exists. If I can give someone the same inspiration I was blessed with, then I have done something right."
Jared is also special guest on Glenn Hughes' UK tour in October – dates below
LIVE IN CONCERT JUNE 2015
London, The Blackheart
Tuesday 23rd June 2015
Tel: 0207 428 9730
3 Greenland Place, Camden Town, London, NW1 OAP
www.ourblackheart.com
Leeds, Duck & Drake
Wednesday 24th June 2015
Tel. 0113 245 5432
43 Kirkgate, Leeds, West Yorkshire, LS2 7DR
www.duckndrake.co.uk
Southampton, The Hobbit
Thursday 25th June 2015
Tel: 023 8023 2591
134 Bevois Valley Road, Southampton, Hampshire, SO14 0JZ
GLENN HUGHES – 2015 UK TOUR DATES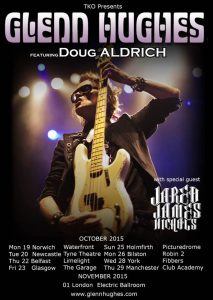 with special guest Jared James Nichols
OCTOBER
Monday 19th – Norwich, ENGLAND – Waterfront
Tuesday 20th – Newcastle, ENGLAND – Tyne Theatre
Thursday 22nd – Belfast, NORTHERN IRELAND – Limelight
Friday 23rd – Glasgow, SCOTLAND – The Garage
Sunday 25th – Holmfirth, ENGLAND – Picturedrome
Monday 26th – Bilston, ENGLAND – Robin 2
Wednesday 28th – York, ENGLAND – Fibbers
Thursday 29th – Manchester, ENGLAND – Club Academy
NOVEMBER
Sunday 1st – London, ENGLAND – Electric Ballroom