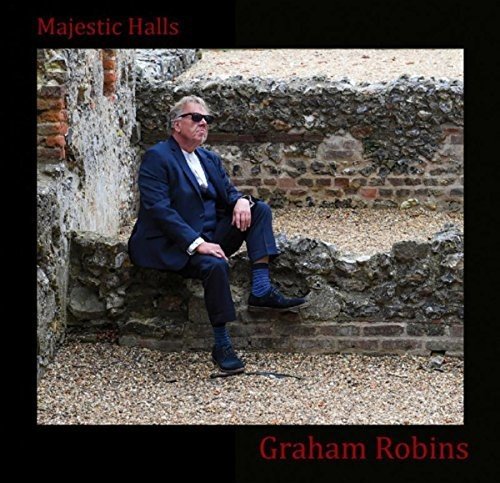 This fifth release from English born musician Graham, previously unknown to this broadcaster, is rather pleasing to the ear.
Falling somewhere in the middle ground where Blues, Jazz, Country and Gospel meet might be an easy copout to describe what fayre is on offer here on Majestic Halls but truly that is what you get for your hard-earned money.
Hall Of Faith opens up this collection of ten new songs.
I am immediately reminded vocally of Jerry Lawson of The Persuasions with touches of latter-day Al Green on this Gospel-infused cut where the undoubted fragility of the delivery completely enhances the song beautifully.
It's rather tasty as is Three Foot Spoon which has a real old-fashioned Juke-Box jive vibe that sets the feet a tapping.
My only complaint about that song is that it is all too short but I guess that's what Juke Boxes were like in the old days.
Now I think of it that is almost the perfect way to describe Majestic Halls.
It has, and I say this with all respect, an old-fashioned feel throughout.
There's nothing fancy just well-written songs presented in settings which compliment and support, never overpowering Graham's lived in vocals.
Blues roots are acknowledged in a salute to BB King in Indianola Mississippi where you can have fun spotting the integrated references to BB's own lyrics.
I liked this song a lot however the real standout track for me is the mighty nine minute The Great Awakening.
Infused with a lovely soprano sax, simple drums and aching vocals it paints an aural picture of a man looking back over a past relationship.
The title track closes out back in Gospel territory which is heartfelt and fitting. Lovely stuff
ALBUM REVIEW by GRAEME SCOTT
For More Info – GRAHAM ROBINS
On this album of his original blues, soul and jazz compositions, he is joined by the following musicians: Stuart Lynas (piano, Hammond organ), Olly Dowlen (acoustic upright bass), Paul Devonshire (saxophones), Chris Newman (electric guitar), Ellie Hill (violin), Sam Kers (drums, percussion), Stuart Buckle (acoustic guitar), Graham Wright (electric bass), Sallyanne Scarbrow (backing vocals).