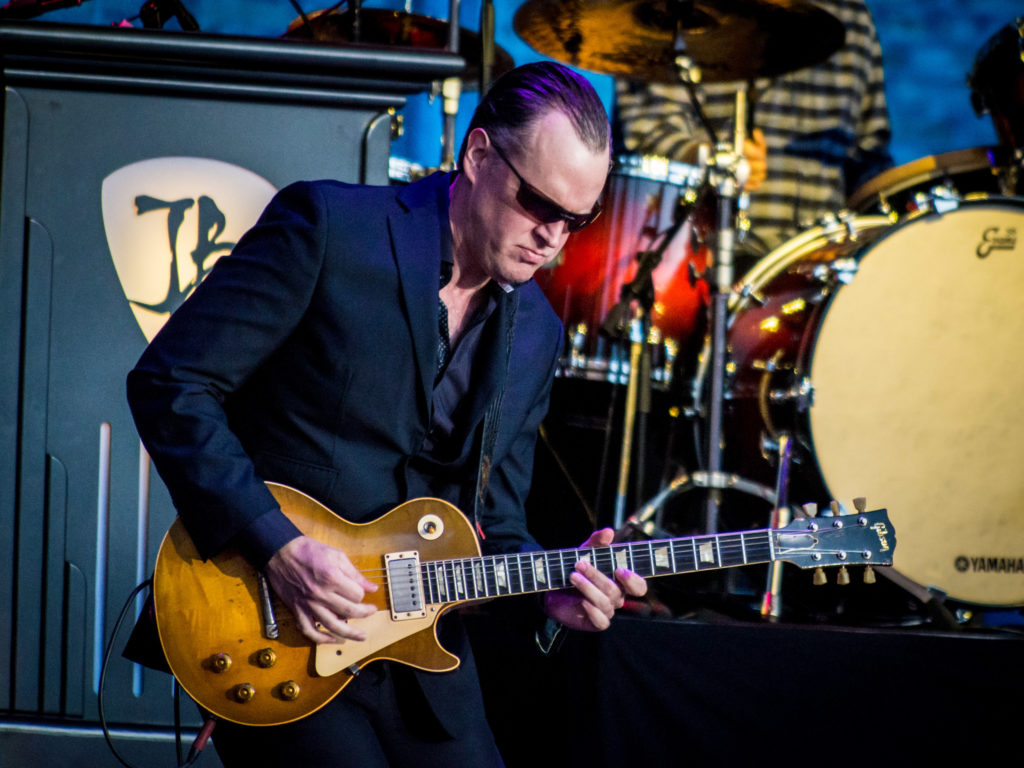 Gig Review by Pete Sargeant
Joe Bonamassa, Hampton Court Palace, London.
12th June 2018

There was quite a buzz of expectation at the Royal Palace as the sunshine made an effort to break through whilst the stage was readied for the band's performance.
Joe's shows bring the cream of players and singers to the boards and it would be hard to pick a better crew.
The tough-nut core trio of Bonamassa, drumming ace Anton Fig and bassmeister Michael Rhodes keep things in motion, adding Double Trouble keyboard king Reese Wynans and his sparkling skills, and then the sax and trumpet forays of Paulie Cerra and Lee Thornburg.
Backing vocals and featured vocals came from Mahalia Barnes and Jade MacRae.
The opening burst of numbers come from a pending JB album release due out in September, which, from a couple of advanced listens, is a treasure trove of new songs and it must be said, some fine singing.
Tonight, the music explodes out of the ensemble and the eagerness to deliver ups the adrenalin level.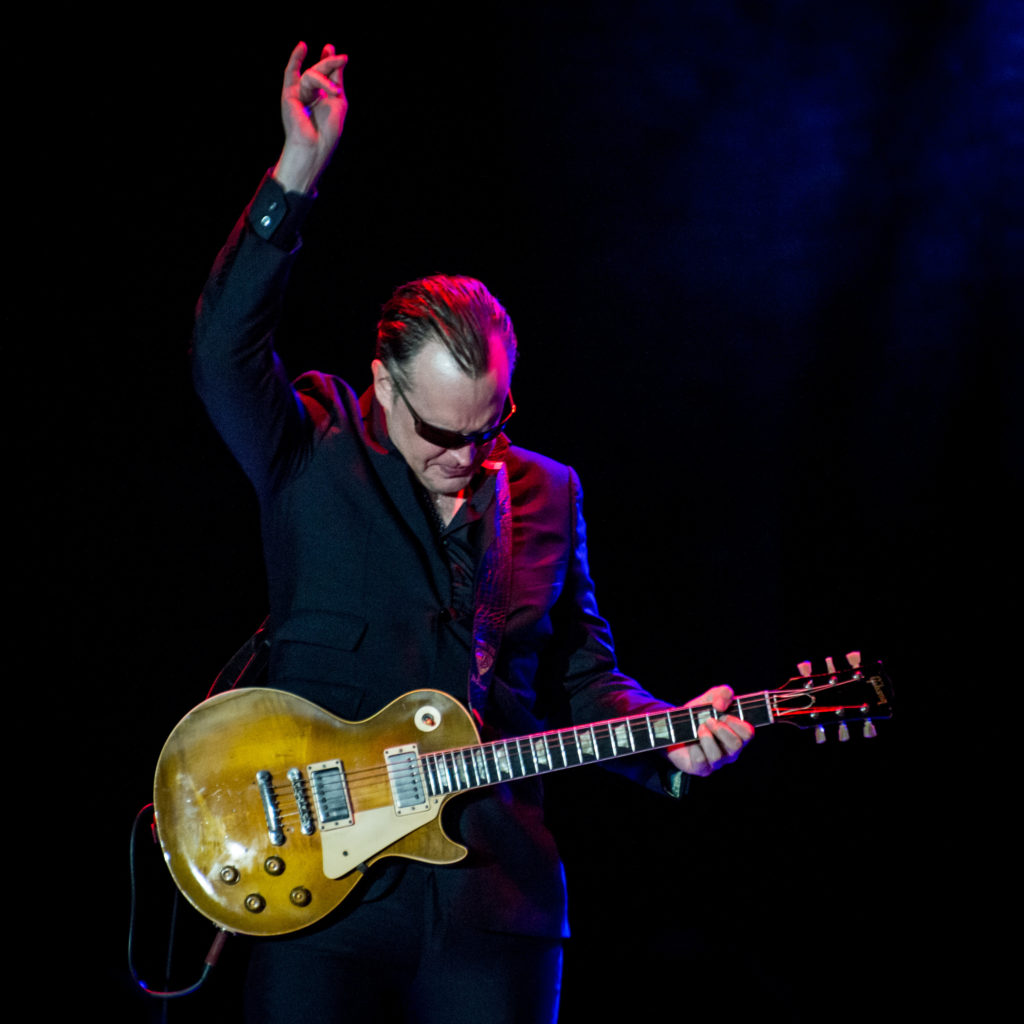 Joe is at the stage where he could roll out his most popular tunes and pretty much coast along in the company of stellar players.
On the contrary to this, however, Bonamassa is brave enough to perform a lot of brand new material, inspiring freshness from his group and the result tonight is the most exciting show I have ever seen him deliver.
"Too many notes! Too loud!" he yells a couple of times, knowing that some will knock his approach. Joe knows what some people say about him, but as he and I have discussed in a light-hearted manner a few times, let the dissers come up with their efforts and see how that goes.
A swift taped intro from Paul Jones and we are off into King Bee Shakedown being a zippy starter with Rory Gallagher pacing, tumbling piano and a few slide runs on the Strat.
Evil Mama has a Les Paul through a UniVibe effect over a staccato beat with the horns hitting a distinct Tower Of Power groove and a delicious Hammond break.
The guitar and bv's motif works well. On to Just Cause You Can Don't Mean You Should and its stomping Albert King-tinged tempo. A strong vocal and aching guitar solo is chased down by the churning Hammond.
A change of Les Paul and Self Inflicted Wounds stalks the voodoo down. It's eerie, the tempo ponderous as the muted trumpet floats over the grind and a solo female wordless vocal takes over.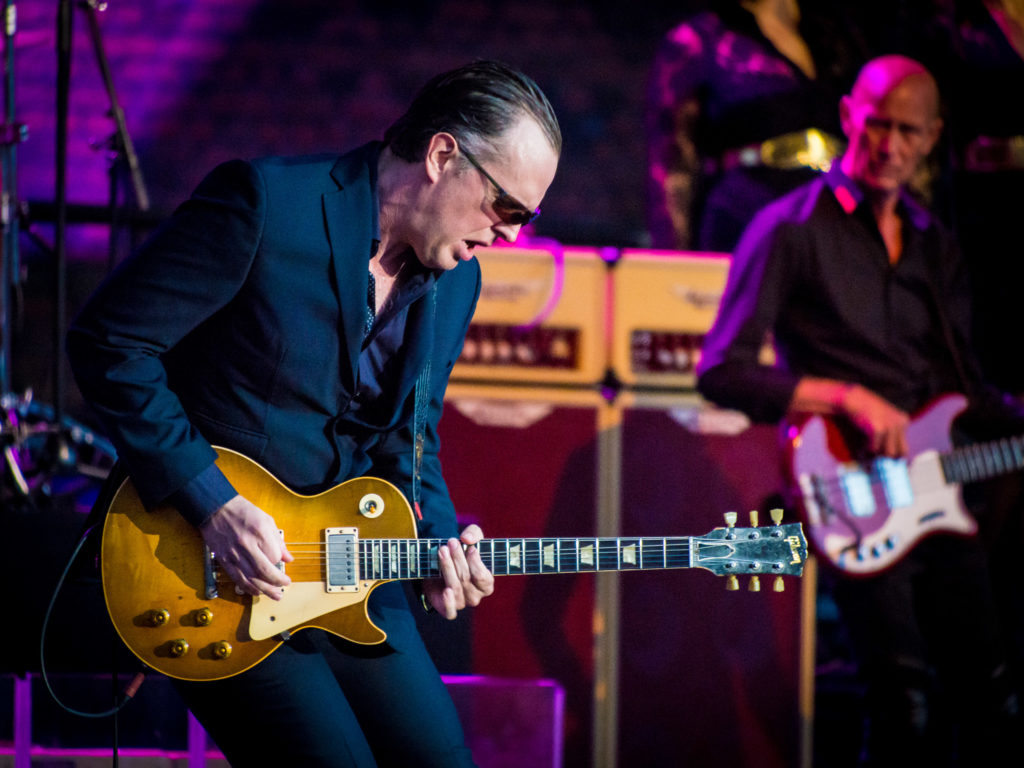 In complete contrast, the New Orleans roller Some Other Day lightens the mood in a Fats Domino style, trumpet break, barrelhouse piano and all.
No Good Place For The Lonely uses a loping pace as a gold top Les Paul spits out fluid licks. This show is shedding sparks. Ominous bass runs from Rhodes, underpin the dark vibe of How Deep This River Runs. Kirk Fletcher is featured on guitar – another LP – sounding very Freddy King in phrasing, on Breaking Up Somebody's Home.
Slow Train features all of the singers including Paulie, a very talented cat as Joe remarks.
The linear guitar run is breath-taking, its wah coda sounding snappy and tart. Boogie With Stu treats us all to Wynans' inspired piano styling, energy to the fore.
Last Kiss maintains the tension. The encore is an audience favourite Sloe Gin – "give the people what they ****ing want!" cries Bonamassa.
Instrumentally and vocally this was all top-notch and the set-list brave and satisfying. The crowd melts into the green surrounds and over the bridge, buzzing with praise and comparing favourites.