Geraint Watkins – Keys To The Highway.
Geraint Watkins – 'Geraint Watkins & the Dominators' (1979), 'Watkins Bold As Love'(1997) – the first two, quite different albums of his lengthy career have been reissued.
Geraint Watkins, singer, songwriter, sideman is for most an undiscovered treasure.  Recently known for idiosyncratic live Facebook sessions, he's however often heard on the radio and already features in most people's record collections.
Geraint Watkins was born in South Wales in the 50's, and after art school in Portsmouth, he moved to London, gaining an apprenticeship in the 70's pub rock scene.
Hearing a radio session, Andy Fairweather Low tracked Geraint down to produce an album. 'Geraint Watkins & the Dominators' was released on Vertigo in 1979, launching Geraint and the band as an accomplished group of intense rockin' rollers.  All bar one track, were covers, although the one Geraint composition 'Deep in the Heart of Texas' swiftly became a favourite and was itself often covered.
More tracks with original songs were then cut with an unrealised plan of a second album.  Later, famed producer Glyn Johns heard the band, and also decided to champion them, and recorded 'The Dominators' for three weeks of sessions.
These comprise eight bonus tracks on the CD reissue, now heard for the first time.  The back-story to the album is told by Andy Fairweather Low in the sleeve-notes and narrated in a video below.
Geraint and the Dominators were soon poached by producer Stuart Colman to back his new protégé, Shakin' Stevens, resulting in the biggest string of hit singles of the 80's.
They backed Dave Edmunds on a few albums and Geraint become the rock'n'roll piano and accordion player of choice.  Over the years, he's played with leading artists such as Van Morrison, Rory Gallagher, Mark Knopfler, Nick Lowe, Status Quo, Eric Clapton, Bill Wyman's Rhythm Kings, Paul McCartney (and another two Beatles).  One highlight was when four of Geraint & the Dominators became Willy and the Poor Boys alongside three of the Rolling Stones and other luminaries.
Being in such high demand meant there was little time or opportunity for Geraint to pursue his own career, but all the while he was honing his craft.  Consequently, his second album was not until 1997 when Nick Lowe's producer, Neil Brockbank heard some bedroom recordings.
Together with drummer Bob Irwin, and with Nick on bass, they put together the 'Watkins Bold As Love' album on their Bluefive label to showcase original Geraint compositions.  Upbeat and joyful – despite some songs coming from moments of despair – it was warmly welcomed and rewarded with a number of film soundtrack slots.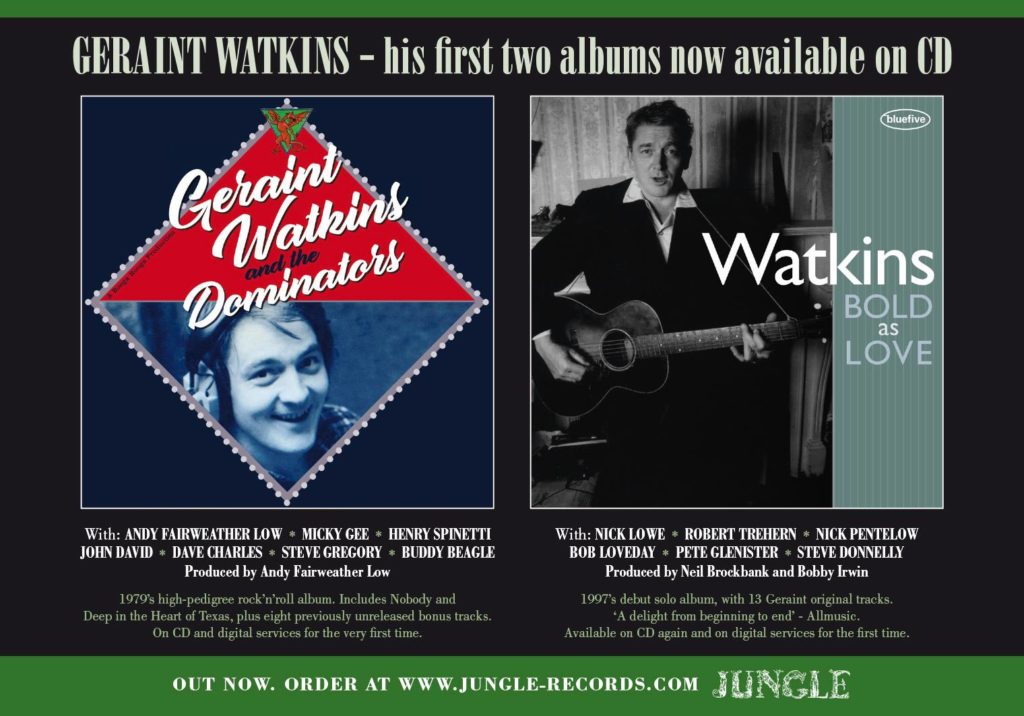 Q&A session with Geraint Watkins and writer Pete Sargeant.
Whether on acoustic piano, electric piano or Hammond, you could not pick a more adept keyboard colleague than Geraint. Here, our writer Pete pitches some questions to Geraint, as two of his solo albums are at last rereleased.
Let's start with a personal question, I MC'd a show at the Boom Boom Club in Sutton starring Robbie McIntosh the guitar demon and you! I recall joshing bassist Pino Paladino over his saving The Who's butts in the US, do you recall that particular performance? I recall a scorching Use Me.
Oh yes, that was a really good gig, yes, Use Me, we had Beavis drumming, the excellent Pino and the genius Robbie on guitar, magical. All I had to do was muck about with the clavinet which does sound pretty good on the Nord.
For current live performances, what are your preferred stage keyboards and gear?
The Nord Electro 3 HP is pretty good all round – it's got all the keyboards that were on the back of that classic Billy Preston record and its light, so I use that a lot, so much I bought an Electro 5, but I prefer the organ on the 3 – don't get me started on gear, if I want a proper piano though it's the Roland RD. I like using a fender guitar amp on stage, I really don't like depending on the monitors. Or maybe I like the look of it!
In a recent interview with another keyboard star I detected the influence of George Shearing, how would you describe his style, and does it appeal to you?
For years I just thought he was the blind piano player from Battersea that tinkled beautifully on that Nat King Cole record and then a few years back I heard a load of his own records, he is a monster on accordion, too.
What was the first music album you bought and where did you purchase it? Any favourite tracks?
Please Please Me, the Beatles, all the tracks are favourites, I bought it in Caerphilly.
Which are your three favourite songs in the Slim Chance setlist, and where did you first play with the much-missed Ronnie Lane?
Loads of good songs, Ladz, Debris, Annie, ask me tomorrow and it could well be a different three. I never played with him, I knew Charlie back in the day and I guess in the absence of Ian Stewart, I got roped in and very glad I am.
I love live albums for keyboard playing it would be Donny Hathaway, Live on Atlantic, are you familiar with that release?
I'm actually not that keen on live records but I do make an exception with this one, it's one of my favourites.
We really enjoyed Ronnie Wood's live show celebrating the Chess music label at Hammersmith, you looked as though you were enjoying the whole shebang, any memories?
It was a bit chaotic, I like chaotic, though. Hamish Stuart, great to work with and rehearsals were very good.
How do you look after your voice?  If you do?
Good question, I did rather take the Bob Dylan – Joni Mitchell approach and just not care, and whatever comes out, comes out, but less and less came out so I did pack in smoking over a year ago. I noticed Tom Waits even packed it in, who knows?
For a younger listener, could you suggest a recording (album or individual track) by each of the following artists, 1. Blossom Dearie, 2. Georgie Fame, 3. Herbie Hancock, 4. Nina Simone?
For years I've been learning the piano solo in My Baby Just Cares For Me, and I nearly got it but she (Nina Simone) was just mucking about, genius. Love Me Or Leave Me, I like too, it's a similar kind of piano. Georgie Fame, Rhythm & Blues – Live At The Flamingo, is one of my faves. I know I said I wasn't that keen on live records but that's the other exception and you could argue it's not strictly live because the recorder didn't work the first time, so they had to do the whole gig again, that's semi-live. There's still loads of Herbie Hancock I haven't heard so can't say, my favourite is still Watermelon Man! Same with Blossom too, it's all great except for that dippy dippy do scat thing, that would put anybody off together with the name Blossom Dearie, I like the name now I know how great she is, but I do wonder what might have been.
Which of your own recordings finds you at your most romantic, and which is your most lively?
They're all romantic and all lively, I don't know why.
I saw Muddy Waters when I was very young and was stunned by the liveliness of Otis Spann, did you ever see him?
I never saw him, unfortunately, but he was great, he's on some Chuck Berry too.
Surprise us by naming a pop chart hit that you played on and did you make Top of the Pops?
Green Door, This Ole House by Shakin' Stevens. We did TOTP once and after that, they decided he looked better on his own!
Gershwin or Cole Porter, any favourites from either?
Gershwin, no contest. I mean he wrote Summertime and Rhapsody In Blue for a start.
On which of your own albums are you most pleased with the recorded keyboard sounds?
I don't know, there's always something. Funny thing, the other day I had the radio on and a record started with organ and I thought what a great organ sound why can't I get a sound like that? Of course, it was me, it was a Nick Lowe record. It just goes to show.
Best piano intro to a recording, any artist, and why?  I love New Dope In Town by Spirit (John Locke).
Got to be Mess Around by Ray Charles, when I first heard it, it knocked my socks off and still does.
Which musical hero were you most pleased to meet, in person?
I did share a dressing room with Professor Longhair once, though I was too awestruck to talk to him.
Any Fats Domino cuts we should hear or revisit?
Any one? They're all great. My most recent favourite is What's The Reason I'm Not Pleasin' You. La La Don't Lie To Me, they're all great!
Jungle Records are re-releasing two Geraint Watkins albums, 1979's Geraint Watkins & The Dominators, first time on CD with exclusive new songs AND 1997's Watkins Bold As Love. 
For the full Andy Fairweather Low story, watch the video below.