Nicole Smit, a regular chanteuse on the Edinburgh music scene with previous performances at this Festival notably her Queens Of The Blues shows in 2019 came together for the first time with Irish blues singer songwriter and guitarist Grainne Duffy to showcase their musical talents with a set combining original material, some especially commissioned for the Festival this year.
EDINBURGH JAZZ & BLUES FESTIVAL 2021
Assembly Roxy
Wednesday 21st July 2021
Words and Pictures: Colin Campbell
This was a very special set, unfortunately not with an audience but a spectacular hour's worth of differing styles of blues and jazz. The band comprised of Nicole on lead vocals, Luke Cunningham on keyboards, Charlotte Pulcino on bass and Toni McVey on drums and commenced proceedings. Red Hot Mama was the first song, introduced with a sweet piano refrain. Then Nicole fills the stage with great presence and her vocal delivery is sultry and her storytelling about "telephoning the Devil" adds to the wit and charm of this stripped-down version. Nicole describes this as an "arrogant song".
After introducing the band, they went straight into a tune called Coffee Cup, a song arranged strictly for the festival. A slow laid back sultry jazzy feel to this one. The rhythm to this is the key and bassline tones made this a real highlight. The band getting a groove on halfway and a sharp finish to the song, just added to the mystique. Next song was a reinterpretation of a Jack White tune, Love Interruption with Charlotte sharing vocals and on acoustic guitar this time. It showed the flexibility of the band showing they explore different genres and musical styles. Soaring harmonies and a searing backbeat really added to the sound. How In The Devil was next, a Sean Costello tune with a full-on blues vibe, some fine keyboards from Luke adding to the flavouring of the song, very upbeat.
Another original tune Lockdown Blues next, with Nicole and Luke opening the song. Then the band joins in and the song blooms, with a fine bassline and a mellow feel takes over, there's great feeling to this tune, a song for our age. Another new original song, Gospel Of The Butterflies continued the mellow feel. Nicole's dreamy vocals soaring as the song progressed an absolute delight.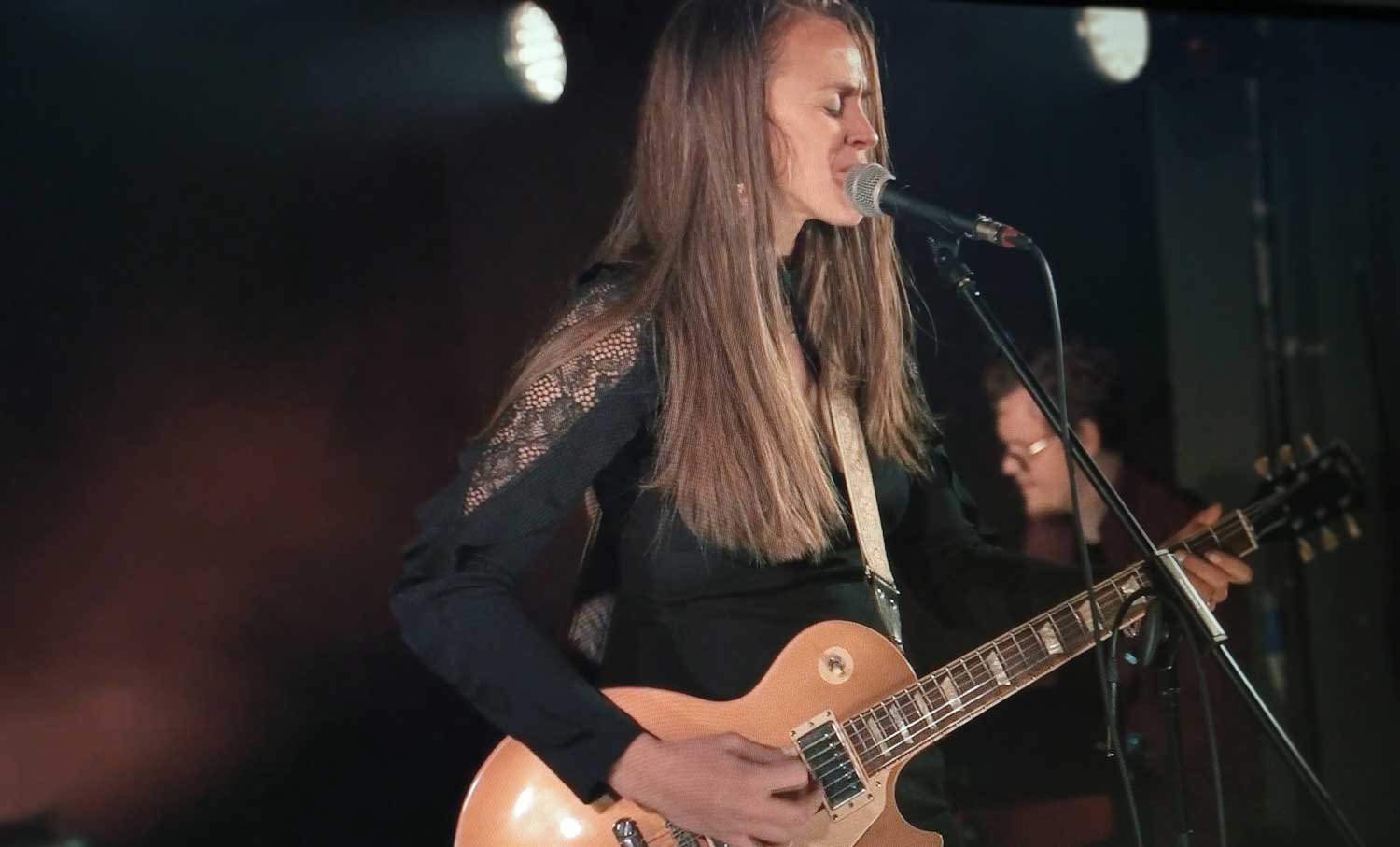 Grainne Duffy was introduced, and she got down to business on the slow infectious blues toned; Good Love Had To Die. This also showcased a sultry guitar solo by her adding to the essence of this ballad. Vocals were crisp and sharp, just very special. Nicole joined on vocals for the title song of Grainne's latest album called Voodoo Blues. This had a haunting sound, very swampy take to this one with a rocky tempo.
Grainne played acoustic on the next tune, giving a mention to Gerry Rafferty on the rootsy Roll It. Both singers took lead and there was a real connection between them, a catchy chorus. Again, they shared vocals on Love Me Like A Man, a song made famous by Bonnie Raitt. This ebbed and flowed so well with Grainne putting in a sweet guitar riff that underpinned Nicole's vocal delivery, a fantastic tune. Gospel time next with the wonderful; Don't Cry For Me. Grainne taking the lead vocal with Nicole adding harmony then sharing the vocal. The vocals were so well balanced, this made for a passionate deep and meaningful delivery, they took this one to the church, spine tingling!
Upbeat funky blues was the feel to Voodoo Woman. This gumbo saw the band get a real groove on. They certainly were enjoying this one, up-tempo and a superb guitar solo just sublime. Nicole took lead again with the excellent delivery on Come Clean. This exhibited a great vocal range, very powerful tune. The final song for the set was from Grainne's newest album, the track is called Hard Rain and was a rocky blues number, a good way to end a fabulous set. All very good musicians, a very tight and accomplished band offering up a mixed bag of blues gems. Will try and be at the front for a ticket at next year's festival.
Later, Nicole said about this project" I wanted to expand what I knew about the blues and change it up a bit. I wanted to work with more women in the band and wanted to add keys and drums. There was a great opportunity to collaborate with Grainne Duffy who has had an illustrious career already. It was great to work with her and sing on her songs. I am working on a solo record and am busy writing that at the moment".