Award-winning South African singer-songwriter and guitarist, Dan Patlansky, is pleased to announce that he will embark on a 10-date UK tour in March and April 2022 to support the release of his forthcoming 10th studio album. Special guest on all shows (except Manchester) is American singer songwriter and Brian May guitar protege "Arielle".
Tickets go on sale via www.thegigcartel.com and www.danpatlansky.com/shows on Monday 7th June at 10am.
Special guest Arielle is a 21st century classic rock artist, having opened for Joe Bonamassa, Vince Gill, Eric Johnson, and Greg Allman. Arielle released her own signature guitar with Brian May Guitars in March 2021. Her ninth studio album, Analog Girl in a Digital World is out now.

This is the first tour Patlansky will undertake since his Perfection Kills UK tour in March 2018.  Since the release of his Perfection Kills, Patlansky has been constantly writing new songs for his forthcoming album released in early 2022.
"I recorded the new record mid 2019 in my hometown of Pretoria, South Africa," says Patlansky. "I was unhappy with the result and recorded most of the album end of 2019. Covid 19 put the brakes on any touring and release options for 2020. This gave me the opportunity to really refine the album, with a rewrite of a few songs, and re-record of a few tracks in early 2021."
Continues Patlansky, "I've spent the last year building up a following on my Patreon page, which is a subscription-based platform where I release weekly guitar tuition material and content."
The massive break from normal touring life gave Patlansky the rare opportunity to work on many aspects of his music and craft, which before lockdown he would normally not have time to look at.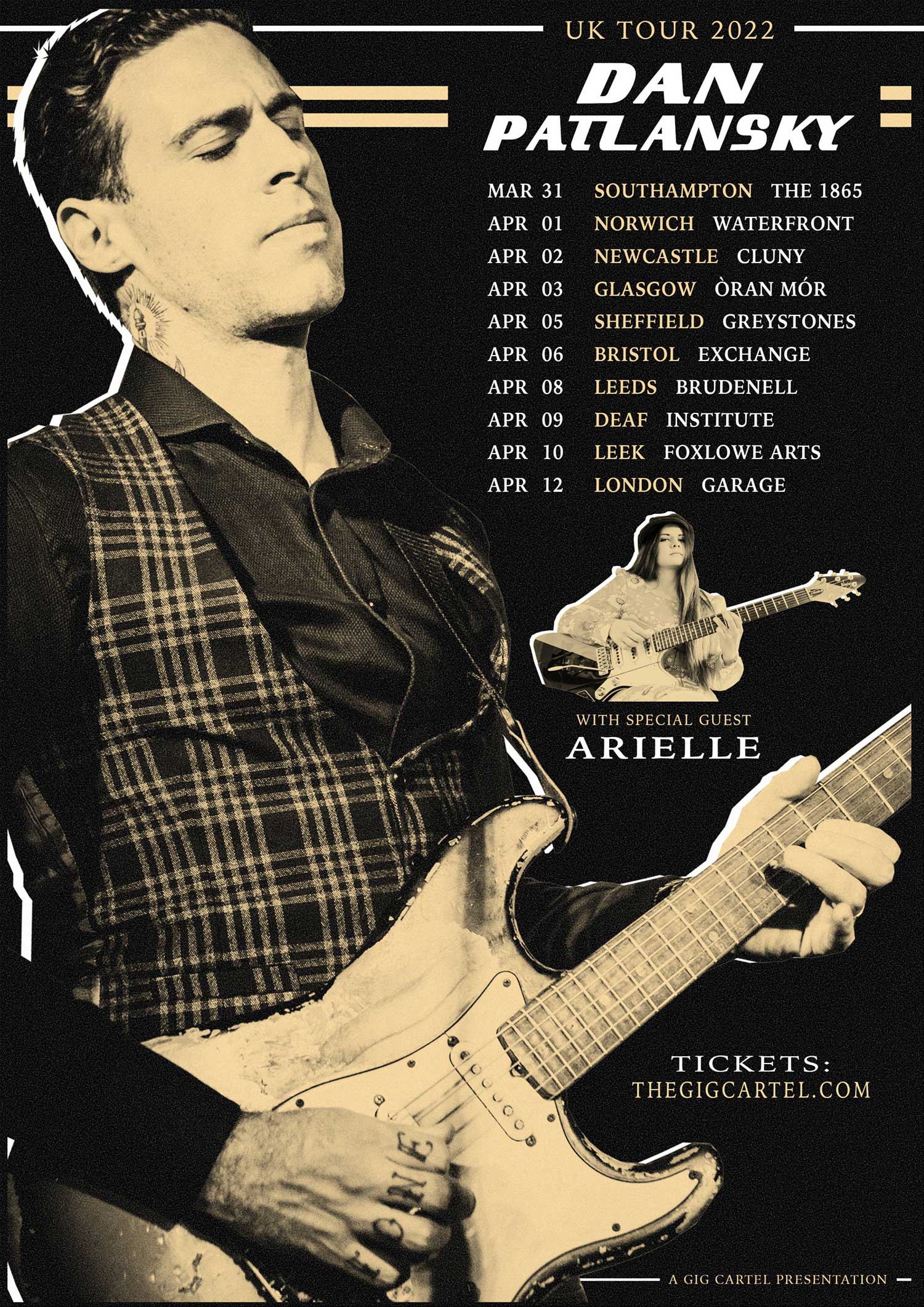 DAN PATLANSKY
MARCH/APRIL 2022 UK TOUR
WITH SPECIAL GUEST *ARIELLE
*ON ALL DATES EXCEPT MANCHESTER
Southampton, 1865
Thursday 31 March 2022
Norwich, Waterfront Arts
Friday 1 April 2022
Newcastle, The Cluny
Saturday 2 April 2022
Glasgow, Òran Mór    
Sunday 3 April 2022
Sheffield, Greystones
Tuesday 5 April 2022
Bristol, Exchange
Wednesday 6 April 2022
Leeds, Brudenell
Friday 8 April 2022
*Manchester,  Deaf Institute
Saturday 9 April 2022
Leek, Foxlowe Arts
Sunday 10 April 2022
London, Garage
Tuesday 12 April 2022