Was nearly at my first live event since March 2020 which was the wonderful Dumfries Rock Rhythm and Blues Festival at Dumfries, South West Scotland. Ironically had been asked as a guest to attend a test event at Dumfries out of the blue, at the Crichton Central, alas logistics got in the way and was unable to attend. But thanks to sources way above this contributors' ability, this event was sent to me via a link to YouTube Channel.
Wednesday 16th June 2021
Words: Colin Campbell
Pictures : ©Mike Bolam for The Crichton Trust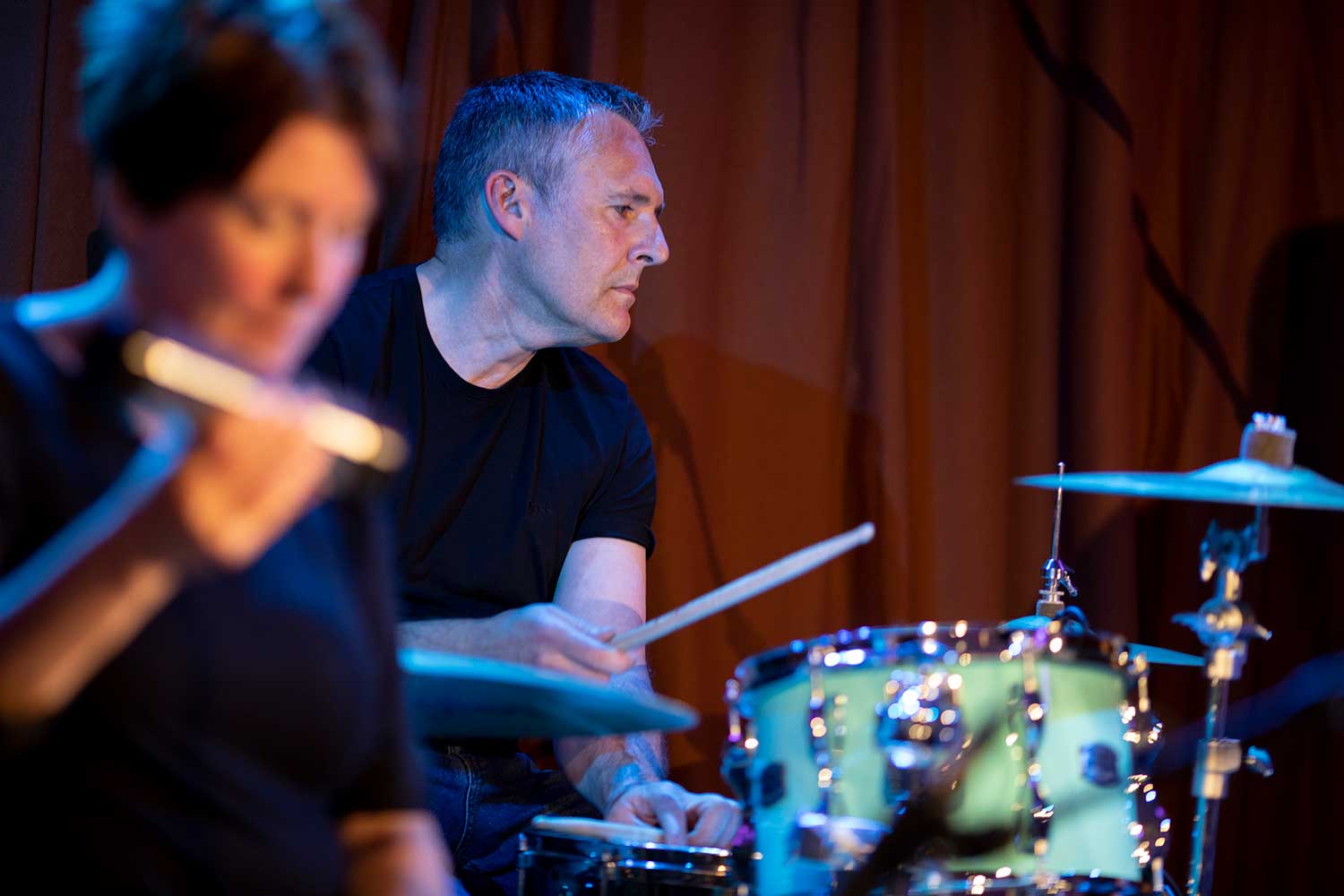 The whole event was beamed live via DGR Radio who also have a new studio there. The Hall has been recently revamped and to christen the event two stunning acts were chosen. The support act was a duo from a local band The Meanies, introducing themselves as Dave and Chazz. Dave Bass is guitar player with this band and recently has been spending time doing live streams as Dobro Dave ( @bassdavidslide) and Chazz has been helping him out on vocals.
So Dave and Chazz opened up the event with an unplugged acoustic set. Both sitting on stools on stage in front of an enthusiastic socially distanced audience it was time for live music again. What a great set they performed, a mixture of covers and original works fitted in well. Smoky vocals blended well with excellent finger picking on a very shiny Dobro guitar. Gutteral, gravelly vocals made Midnight Hour a treat, Chazz meaning business. Another highlight was Little Richard unplugged version of Long Tall Sally, this man has soul at his core. Going Up the Country was similarly impressively delivered.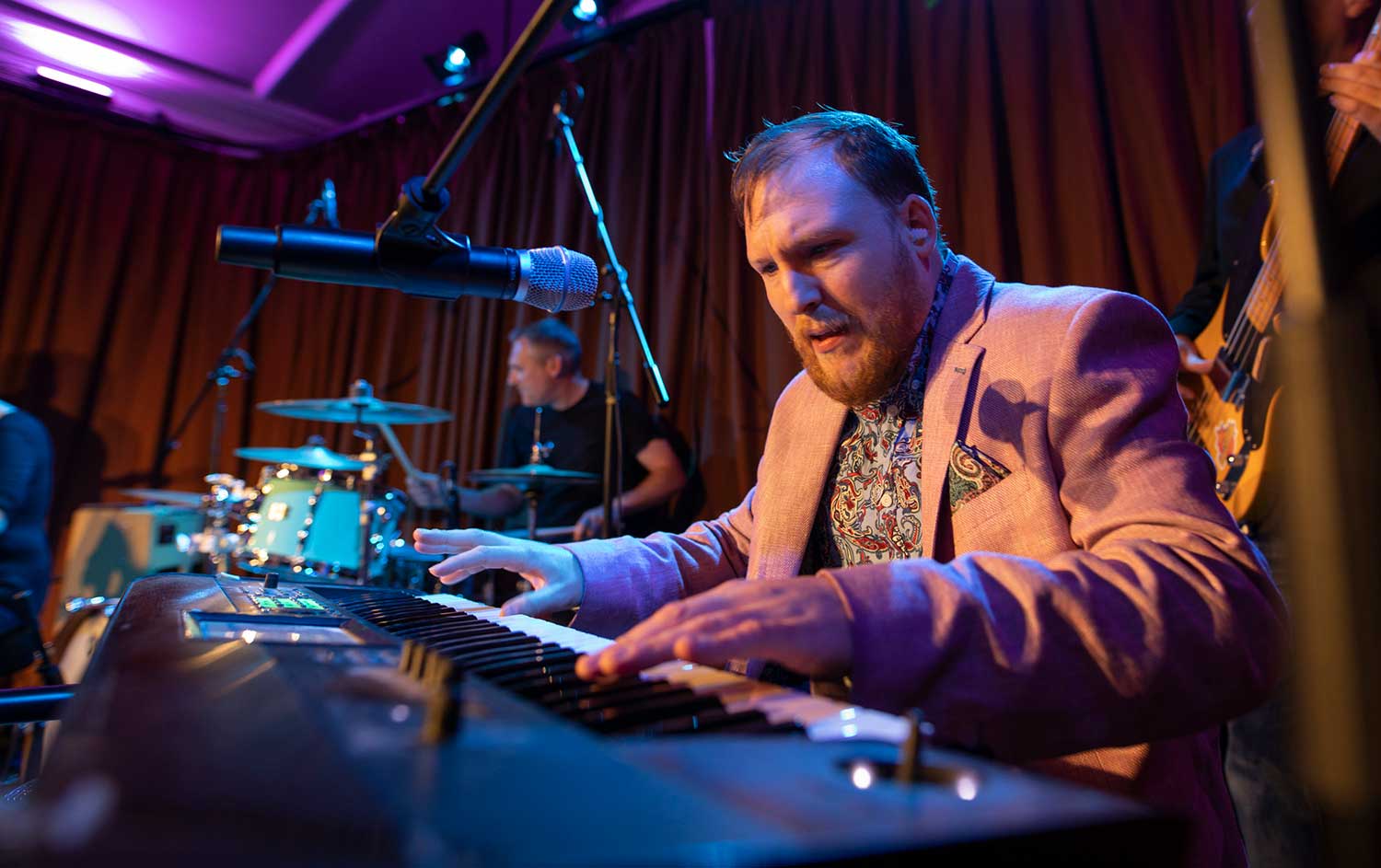 Really good interplay between artists here. A highlight was Otis Redding's Mr. Pitiful, Chazz was lost in the moment with this one, he gave the song 100% exhibiting a great vocal range. How Do You Like Me Now a cover of The Heavy tune was a reminder just what live music means to audience and artist, the feel of this song unplugged brought it to a different level. The acoustics in the Hall were superb, a real testament to the engineering crew. Nick Cave's Red Right Hand, apparently used in the series Peaky Blinders had a haunting feel, rasping vocals married the dark lyrics, really suited the moment. Dave's accompaniment throughout was uplifting, some of his solos looked effortless and he kept the rhythm going. Final track was an INXS number, Never Tear Us Apart ending a great set. Always hard being an opening act but these lads really got their groove on and got a great ovation from the audience. Raw, stripped down vignettes of emotion and verve, a treat.
So to the main event, the return to live music for Redfish Blues Band. They have not played a live event for the past fifteen months and like any band were missing that connection that can only be gathered at a live event. They introduced themselves then got down to business, what a show they put on, the chemistry in this band is like no other, consummate professionals they gave their all into a mixed set of originals and classic rhythm and blues tunes, done in their unique way.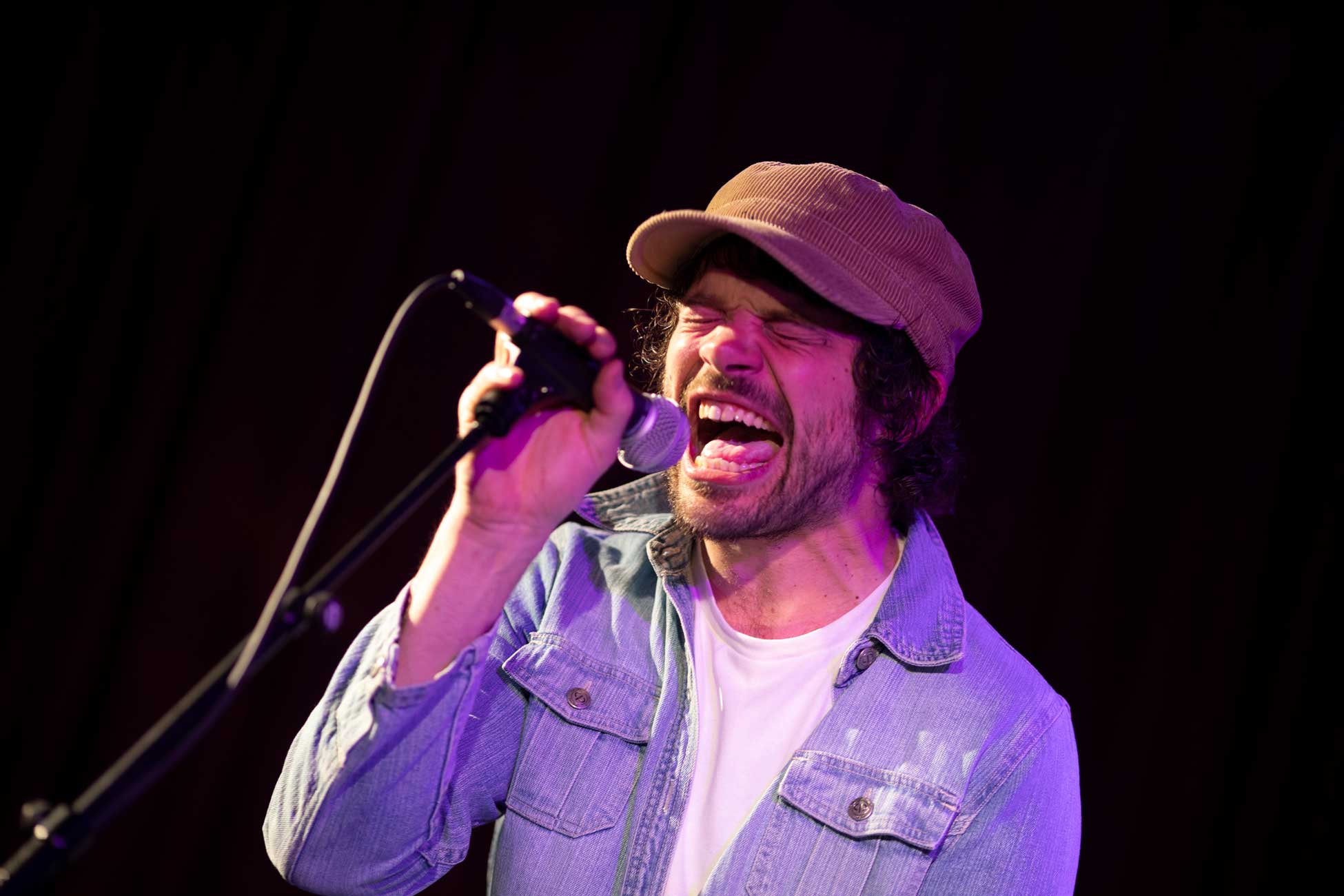 To "see" a band like this perform it just brings out that feeling of hope and positivity and a feeling their music is a healing force and source of joy and an emotional roller coaster. Stumblin' Harris the lead singer got his mojo working from the start belting out the opening track Give Me Back My Wig, a great warm up tune, where the band took turns in exhibiting their musical skills. Martin McDonald excelled with his slide guitar style here, melting with Fraser Clark's keyboards. Mention throughout the set goes to the rhythm section of Sandy Sweetman on drums and the mercurial Rod MacKay on bass guitar.
Also tonight, Suzy Cargill joined on percussion throughout adding to the musical mix. Rakehells from their debut album "Souls" next up, Fraser opening this tune with some jazzy chords, he is such a phenomenal player, when he gets into a groove he looks possessed by the music it is that intense. This is a more laid back number but what a great delivery, the band is so tight, they make it look effortless. The energy on stage throughout was electrifying, this is a band who came out of the traps and just hits the audience with all kinds of tones, riffs and a cohesiveness that's hard to beat.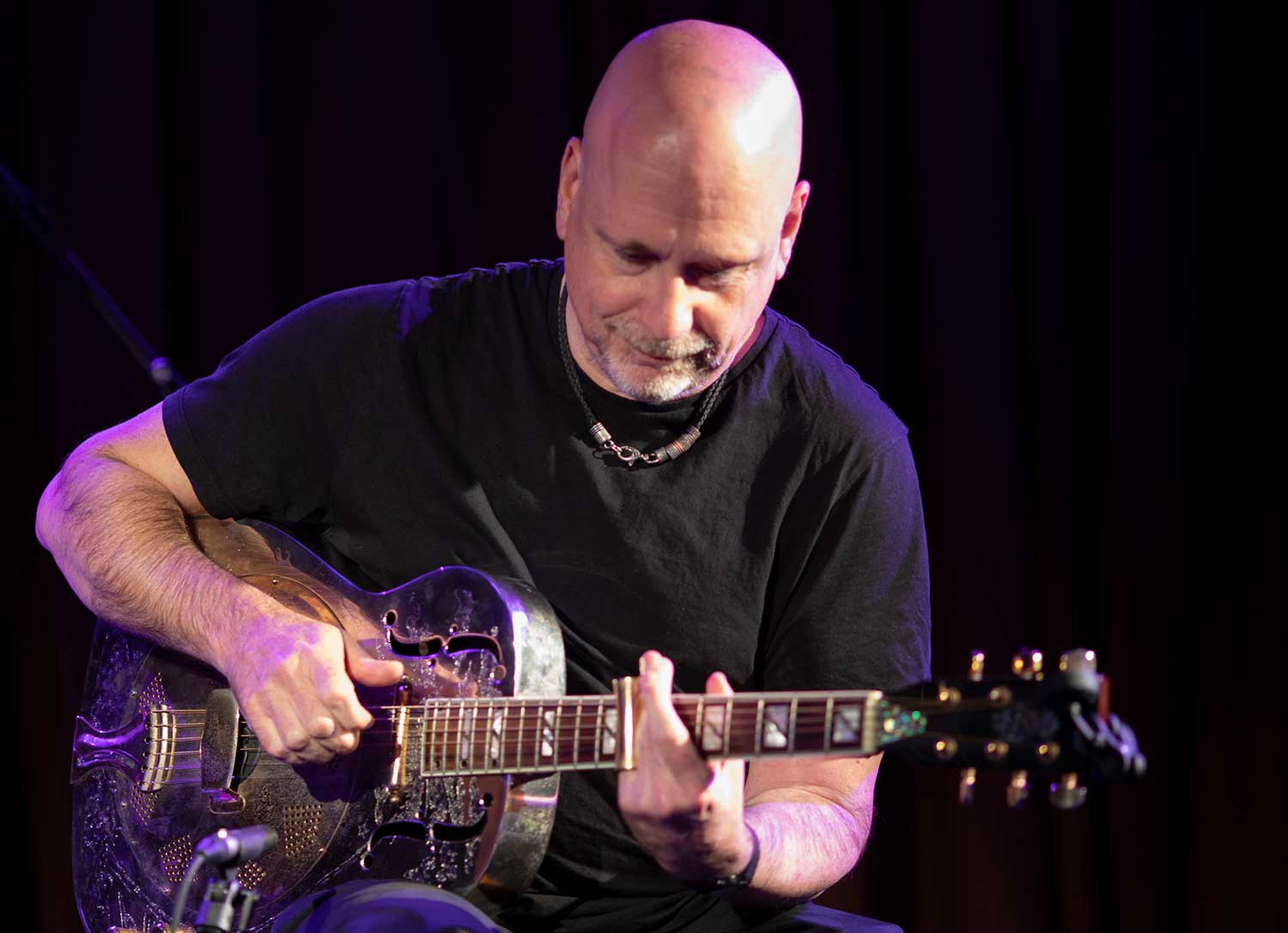 Even covering a Bob Dylan song, Meet Me In The Morning, they put their own mark on, with soul abounding. Hypnotic vocals soar with a wonderful backbeat. I Put A Spell On You is covered by so many artists and some can be hackneyed, but certainly not in this band's hands. The levels of musicianship here were phenomenal, the rhythm flowed and vocals soared, at one point the lead singer sang without backing, a pivotal moment, then bang, the band joined in and raised the melody. Use Me, the Bill Withers tune exhibited the whole band's quality. A different slant turned this into a hypnotic gumbo of sound. A heavy grooved introduction fan fared the Robert Cray reinterpretation of Phone Booth.
Again the energy of the band changed the refrain and made it a big sound full of soul and depth of meaning. Hallelujah Road is where the chemistry works best. New Orleans meets the Galloway Hills here on a very upbeat tune, tempo changing all the time, this version was sublime and uplifting, a real tonic. Next was a track from their first E.P. 5×5, called Accustomed To The Darkness. This particularly noted what a talented guitarist Martin McDonald is his solos were both searing and melodic. He also had a call and response thing going on with Fraser at one point. But again when the band got into that groove they excel.
This seems to squeeze the essence of Redfish Blues band with every note, just excellent. Traditional blues next, Sonny Boy Williamson's Help Me. The band just have such a feel for the music. The lyrics "Give Me Back My Nightshirt" was delivered by Stumblin' Harris in such a powerful way, then a freestyle ending just topped this tune up. For the encore they jammed with Dave and Chazz on a Gil Scott Heron number,Lady Day And John Coltrane. Duetting lead vocals with differing styles added to the overall flow and interpretation of the song, a great number to finish with. Ran out of superlatives, such a great performance, audience enjoyed the experience, that connection with live artists is a blessing. A great night, fantastic acoustics, a wonderful opening night, test event passed with much distinction. Will leave the last words to their bass player Rod MacKay, "We sweated passion".