CHRISTIAN BLEIMING Boogie-Woogie With A Touch Of Blues.
Acoustic Music Records.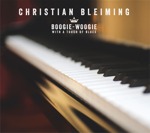 This is the ninth release by acclaimed German pianist hailing from the back street down town honky tonk area of Cologne and is affectionately known as the Westfaila boogie king. This is a seventeen track release of old classic blues numbers such as the surprising take on Going Up The Country mixed in with self written tunes such as the first exuberant taster track Boogie Woogie On A Riff the riff in particular being played in combination with his guitarist Amandus Grund who also co-wrote Blues At Night a laid back number and also the up-tempo instrumental TNT Swing with a noted interplay between piano and guitar. The other band member is lead singer Romani Drombrowski and at times it is hard to think the band is a trio as the overall sound has great depth in it. The energy and enthusiasm of such a talented piano player is quite astounding at times. No more so than on his own composition Rocking For Jimmy showcasing differing styles and yes definitely getting the balance right between boogie woogie and blues. To top things off are the sultry velvety vocals on the sassy Your Heart Is As Black As Night and the soft interpretation of I Just Wanna Make Love To You gives a coolness effect and conjures up images of smoke filled jazz clubs certainly intrigued to see them play live. Majestic hard working and professional band a real treat.
COLIN CAMPBELL