BLUE HWY Carpe Diem: Live At The Coach House.
Far West Mississippi Recordings FMWR-3016.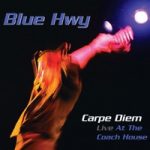 Formed in nineteen ninety-three, in California, B.H. played an attractive mixture of Southern Blues and Rock, they consisted of: John Harrelson; guitar, vocals, Rob Donofrio; bass, vocals, "King" Roger Ehrnman; tenor sax and Rob Campos; drums. Their vigorous and foot tapping style garnered them quite a following and they proved their worth by supporting such artists as; Koko Taylor, John Mayall & The Bluesbreakers, Ben Harper, Rod Piazza & The Mighty Flyers, Coco Montoya and Charlie Musselwhite. Due to the failing health of John Harrelson the band decided to cease activities in two thousand, later, in response to the demand of their fans there was a reunion concert in two thousand and eight but, this was to be their last performance together for sadly, John died in two thousand and thirteen. In two thousand and fourteen the band re-formed and as a tribute to John the band have released this nineteen ninety-five live recording of a concert they performed in support of Charlie Musselwhite at the Coach House, San Juan Capistrano, California. This short and sweet burst of energy is contained in seven up-front and no holds barred foot tapping numbers, for from the moment Rob Donofrio's raw, rough and tumble vocals and rocking guitar bursts forth from of the speakers on Cut You Loose, he begins a sparking duel with the barking and honking tenor saxophone which takes up the running only to have the stinging guitar steal a solo until they run out of steam. Fire And Gasoline, stretches and flexes the saxophone's emotionally wailing muscles, with John Harrelson on vocals, while the slow burning, Full Time Lover allows Rob Donofrio's vocals to entwine with the alluring saxophone as the guitar richly and emotively weaves in and around them.
BRIAN HARMAN