Advertisements

Around the world Casey Hensley is noted as a powerhouse vocalist and songwriter. She has taken the modern blues genre by its roots and puts real feeling into her vocal artistry.
Influenced by the greats, certainly Janis Joplin and big Mama Thornton come to mind when listening to her piercing vocal style, it is no wonder she has everyone talking. Part of her success is how she forms a band; she has had regular high profile guitarists, Laura Chavez and Kid Ramos to synchronise with her outstanding vocals. On drums she has Candye Kane's son Evan Caleb Yearsley. They mix styles of blues, soul and rock and roll and if you catch their live shows they are an experience never to be forgotten. Casey's first album was a live release which garnered much praise. Her second release Good As Gone was released last year during the pandemic, again accentuating what an outstanding performer she is. This and many other topics were discussed in a recent chat; it went something like this…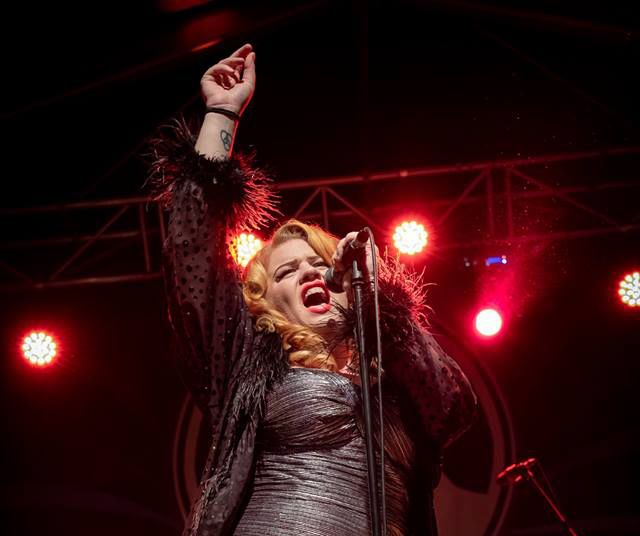 Thanks for taking time out to talk to Blues matters, where are you today?
Advertisements

I'm here in my house in San Diego, thanks for this chance.
How have things been for you as an artist during this pandemic?
Not too bad now but it has been hard. This is probably the longest I've not been performing on stage, in my life. It's weird. I've been focussing on writing, re-booking my tours and hoping that it all works out! I'm missing the live aspect of playing and connecting with people of course. It's a special thing, you get addicted to it, and it's like a drug or something. I have dreams about performing on stage now, I just need it! My last gig was in a Casino in November. I've mostly been doing videos for Festivals and things. I shot one for a Festival in Portugal two days ago.
Have you been doing live streams?
We've done some, yes. Now people are being vaccinated I'll be doing more.
How did you celebrate International Women's Day?
I listened to musical women that I love. I listened to Aretha Franklin, Janis Joplin, Etta James, a whole bunch of music. They are all influences to me. I have male ones, Otis Redding. I listened to a lot of led Zeppelin growing up, Allman Brothers and stuff like that. Also listening to, Amy Winehouse and Sharon Jones. My influences are from all over the place!
The music industry is still male orientated do you think?
I think it's getting better but we have a long way to go! There are still a lot of Festivals where there's only one woman on the bill. There are so many good woman singers and guitar players. There are double standards for women in this industry I think. Some folk say I should sing "sweeter" you sing too strong! I can think of a dozen male blues vocalists who have never had that.
Growing up what type of music did you listen to?
My parents are huge music fans; there was always a lot of music in the house. A ton of blues! The first concert I went to was to see Tommy Castro; I was sitting on my father's shoulders watching. Blues was always in my life. I listened to Aretha and Etta. I set up my teddy bears and di concerts for them when I was younger. First time on stage was five years old. First time in a studio recording original songs, I was eight; I've been doing this all my life.
So you were eight years old when you wrote your first song?
I was seven; the song was deep, all about relationships and love. It was something about missing someone, I'll have to try and find it sometime! It was deep, I went there!
Did you always want to be a musician?
Oh yeah! When I was in High School, a lot of my teachers said "Have you a back-up plan?" No, this is what I love, you only get one life and this is what I want to do! After School, I had a psychedelic rock band and played a lot of Clubs and bars. I was mostly a studio singer before that. I did a lot of movie trailer work for Universal. I found my niche quickly as I have such a bluesy voice. It seemed an obvious direction to go in for me.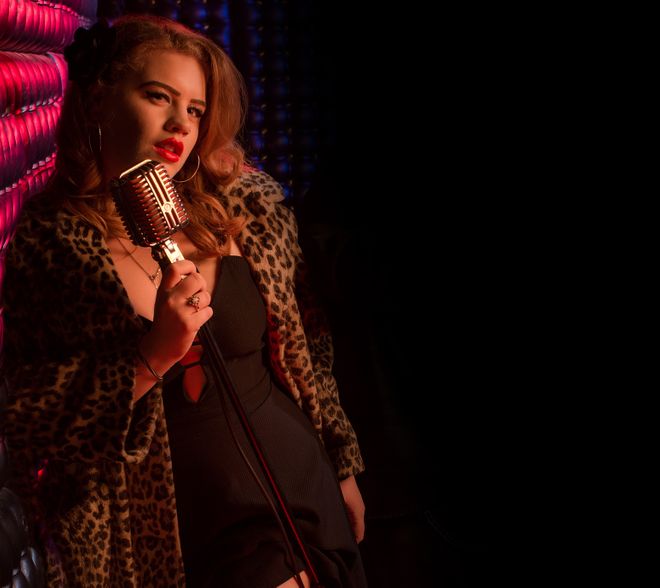 When did you first find out you could sing so well?
My mum would push me in grocery carts and I would be singing along to the radio, people would come from other aisles and remark about my singing. In the car with my parents, my dad would tell my mum to put down the sound on the radio. She said "That's your daughter". I used to charge my family to hear me sing!
Do you remember the first time you went on stage and how that felt?
It was at a Mall and it was televised! My parents told me to move on stage, the audience will like that. I didn't know what they meant. I was swaying most the time, must have made the crowd seasick. It sounded good, I loved it. I was hooked; I was between five and seven years old. I went to a Performing Arts School. It taught me how to work with a band and live musicians. I found out about music history. I did some Classical music in College. I wanted to focus on my career.
How do you keep your vocals in such good condition?
I do vocal warm ups all the time. I work on runs and songs. Been listening to a lot of old Gospel stuff, Stax recordings. Singing a long and keeping my chops up!
How would you describe your vocal style?
It's strong and powerful. I don't hold back. It's all feeling! I try to be clear but have attitude, I mix things up! As long as the feeling of the song I'm singing comes across, I want to tell the story the right way. When I was in my teens, I wanted to do more soul and blues singing. Blues is great to make a career out of. My favourite show of last tour was in Amsterdam at the Maloe Melo Bar. Being on stage is natural, I don't get nervous. I'm the same person on and off stage, for good or bad!
What was it like bringing out a release during this pandemic?
I worked on this record a whole year and then this happened. It's my first all originals album. It's a good representation of who I am as an artist. For me it was disappointing and that's why I'm still trying to push it. I got to record it at San Diego. This record is my baby and I'm going to push it until I can't anymore!
Care to go through the tracks from Good As Gone?
Good As Gone- I wanted to write a song to make women feel empowered, especially when in a difficult relationship. That's what it's about.
You Should Be So Lucky- That's the song I wrote about the boy that was cheating on me! This was written about a boyfriend I had a long time ago!
If I Pray- I wanted this to be open to interpretation. It was a therapeutic song for me to play. My dad had diabetes and almost passed if he didn't go to Hospital. This is my cry to the universe that I'd had enough! It makes sense when you see what's going on in the world just now.
Be My Baby (What Do You Say?)- I have not performed this live yet, it's one of my favourites. I wanted to do a fun swing style song. Laura Chavez is a great swing blues guitar player.
Love Will Break Your Heart- I wrote this when I was getting ready to go and do a show. I wanted the horns. I wanted a slow burning soul song. I got to do it live for this Festival in Portugal.
Searching For A Man- Lyrically I thought this sounded like a country style song. I was worried it wouldn't blend with the other songs but it seems to. People like it!
What's A Woman To Do- I wanted an upbeat Motown feel to this song. I had the horn parts in my head. I sang it to Jonny Viau and Steven Ebner who play the horns on the record and Laura and she brought this to life. It was better than I imagined it could be.
Don't Want It To Stop- I wrote this about my current boyfriend Evan Caleb Yearsley (The drummer of the band). I sat at the piano and wrote it in five minutes, when he was out doing groceries! I'm proud of it, love songs are harder for me to write.
All In- I love singing all genres of music; I don't like to keep myself in a box. I hope people can understand this. I wrote this about the Big Blues Bender Festival in Las Vegas. I love blues and gambling, it's genetic. I wanted a song to play when we had a poker night, this was it!
As a songwriter have you a technique, lyrics first or what?
It depends on the song. For two of them, I had horn parts in my head then figured out what to do with them. Usually I write lyrics first. Then I bring the ideas to Laura and she understands what I want. I never force it or come back to songs I don't work that way. I fit them for my voice. It's cool when you are your own artist!
What's the best advice you have had musically?
To keep going and never stop. The longer you do it the more you learn. It's what you love, don't let people influence you! Not everybody will like you that's okay! Believe in yourself, have fun! I try to be upbeat and know how lucky I am doing this. I'm selling myself here, but it's a team effort with people who believe in me and what I'm doing.
What does the blues mean to you as an artist?
It's the foundation of music. We need to support young blues artists. They're the ones who will keep it going. I want to keep this music alive we need to preserve it. San Diego has many great blues artists, Laura for one, Earl Thomas, Candye Kane came from here, Kim Wilson is here, James Harman, it's a great blues scene. The Belly Up is my favourite place to play. The stage is beautiful and the sound amazing. Sound wise I like playing small intimate venues but also like Festivals. I'm happy being an entertainer I love playing on any stage.
What do we not know about you that you could maybe tell us?
I spend all my free time on the beach. I like skateboarding, am very athletic, a tomboy. I just got a new tattoo. I'm an open book I put it all out there on Social media! I'm a regular twenty eight year old apart from having this blues career. I like doing "real" music. Mainstream songs with formulas are like chipmunk music, high pitched female vocals, that would get old for me very fast. Doing blues makes me happier!
What plans for the future do you have?
Trying to stay afloat! In this business you never know how it will go. I've been to countries, I never thought I'd go to and met lots of people. I'm excited as to where the future takes me. I'm hoping for a tour in the fall of this year but waiting to hear.