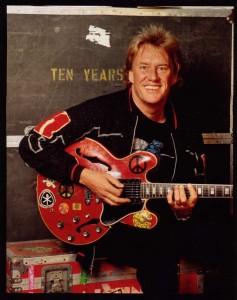 On Wednesday, March 6th, the legendary rock guitarist Alvin Lee died following unforeseen complications arising from a routine surgical procedure to correct atrial arrhythmia.  The outpouring of grief from across the world since then is a tribute to what Alvin achieved in his lifetime.  His early influences were his father Sam's collection of jazz and blues 78s.  This mainly American influence stayed with Alvin, and his internationally renowned band Ten Years After would ultimately tour the USA 28 times in seven years.  His incendiary performance at the Woodstock Festival in 1969 propelled Alvin both literally (by helicopter) and metaphorically to superstardom, gaining a reputation as the 'fastest guitarist in the west.'  In fact he developed into a skillful, versatile player of immense subtlety and sensitivity when required. His solo career following Ten Years After started with the album, 'On The Road To Freedom' in 1973 and ended just under 40 years later with 'Still On The Road To Freedom', the latter taking the listener on an engaging musical journey linking past and present.  Last year Gibson nominated Alvin the greatest musician ever to have played an ES-335 guitar, deservedly ahead of Eric Clapton, Chuck Berry and BB King. I first met Alvin Lee in Spain 10 years ago and was amazed at his warm, unassuming manner and lack of ego; he was the antithesis of what I expected from such a famous musician.  He responded to my requests for an interview when I first started writing about the blues and subsequently he always treated me as a friend rather than a journalist.
As a student in Nottingham, England in the 1960s I had been brought up on the music of The Jaybirds and marveled at the emerging talents of their bandleader Alvin Lee. I followed his career with Ten Years After and the highs of Woodstock and 'I'd Love To Change The World.'  I preferred his solo albums, his collaborations with George Harrison, his blues songs and his most recent band featuring Richard Newman and Pete Pritchard.  Alvin eschewed fame and commercialism, finding 'freedom' from both in the latter part of his life with Evi his wife and soul mate.  Whenever I visited Alvin he would ask me to listen to his latest composition and watch my reactions carefully. 'Well, your feet are tapping Dave so that is a good sign.'  His home reflected his immense artistic as well as musical talents, with abstract paintings of exceptional quality kept under wraps rather than adorning the walls.  Modesty prevented Alvin speaking about his achievements and he always talked me out of describing him as one of the best guitarists in the world despite the many accolades he received affirming this status during his illustrious career.  During our many conversations he spoke at length about his childhood, his influences, life on the road and how he nearly did not survive the 60s era.  It is ironic that Alvin should have died in the tragic circumstances of a routine procedure and I can hear a voice from above saying that was not part of the plan!  We should be grateful for his legacy but we always want more.  I spoke to him recently and he was looking forward to the Paris gig with Johnny Winter; "I'm coming to get you one more time", he would joke.  I would have been there as one of Alvin's legion of loyal fans as well as a blues writer on that occasion next month, waiting with baited breath for the opening lines of 'Rock and Roll Music To The World'.  We should not take anything for granted but just be grateful for, and celebrate, everything that Alvin Lee brought to this world in terms of his humanity, generosity and the classic and timeless music which will live forever.
Some of his most memorable quotes to me over the years include:
I write all the time, my inspiration comes from within my mind. George Harrison once said that I have a very avant-garde mind to which I answered  "Yes, avant garde a clue!"  Writing, recording and playing with other musicians is both a labour of love and a hobby. Maybe even an obsession. It certainly beats playing bowls or darts.  
There was a time when for me being on tour with a Rock & Roll band playing practically the same thing every night got boring, and believe me if that gets boring you have a big problem because where do you go from there? That's where the road to freedom comes in. 
I still wake up on my birthday and play Jerry Lee's 'Whole Lotta Shakin' that's my kind of rock and roll.
There was this one time in America with a really loud, crazy audience. I was standing in the wings waiting to go on and this guy was chanting Alvin f***ing Lee.  I thought this sounds like a good audience and I walked out and this guy was holding a pitcher of beer in each hand and he suddenly yelled, threw his arms in the air and poured beer over himself. It's always good to play in front of intellectual audiences. 
My dad was an avid blues collector so I was brought up with Leadbelly and Big Bill Broonzy. The music was around me all the time and seeped into my brain and fibres; thank God he wasn't playing James Last! 
(On the music scene today) Good music is still there but the motivation now is to be a pop star whereas in the 60s the motivation was to be a musician.  That romanticism to be a working musician and to lead a musician's life was more intriguing to me than being a rock star.      
(About his daughter, Jasmin)  There were always musicians round at our house and she has a natural empathy for working with musicians and understands what kind of environment they need to bring about the best results. She has a management company and has opened a new recording studio complex in the heart of Soho called Dean Street Studios. I am very proud of her because she is following her natural path.
(On the subject of blues) I figured for a white guy to sing and play the blues you have to write and sing about what is personal to you.  As much as I like to sing about getting the freight train from Mississippi to Chicago I have never done it.  I can imagine the situation but the blues to me is generally real thoughts which go through my mind, like in Motel Blues and Bluest Blues. The blues is a way of getting melancholy moments out of your system. It is better than taking it out on your friends and pets.
And finally…….Music is magic when you think about what it does to people.  When I think of music when I was a teenager, for example, when I hear Buddy Holly's 'That'll Be The Day', I can see myself standing on the waltzer at Goose Fair in Nottingham watching the girls, I can hear the loud, blaring music and see the flashing lights from the fairground rides and I can smell hot dogs and diesel fumes; the memories all come back from the song. And when I hear Del Shannon's 'Runaway', I am standing in the Lacarno Ballroom watching the girls spinning round on the dance-floor with their petty-coats flying and their bee-hives bobbing, the memories, the smells and the atmosphere all come back, its pretty amazing.  Being involved in music is a privilege and being able to create it, write it and then make it still gives me a big buzz.
Thanks for the music and the memories Alvin
Dave Scott (The Bishop)- BLUES MATTERS!